Day 1: ICELAND'S SACRIFICIAL LAMB?
When we awoke at the Guesthouse Elda in Reykjalið this morning, the skies were bright blue once again. It's funny how Akureyri was supposed to have the good weather, but that only came when we left town…
After packing up and loading up the car, we went into the busy dining room area where the included breakfast was served. It consisted of the usual assortment of bread, ham, cheese, eggs, cucumber, tomatoes, butter, jam, etc. with orange juice, apple juice, milk, coffee, and water.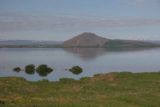 But this breakfast also included syld and kverabrauð as well as smoked trout. The syld was something I hadn't seen since the koldtbord breakfasts in Norway. I was hesitant to try the kverabrauð after our smoky-tasting experience last night at Gamle Bærinn. However, one taste today and it seemed to actually taste pretty good. This breakfast had to rank up there with the one we had at Hotel Ólafsvík.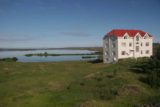 We next briefly took photos of the Mývatn area given the nice weather. Now, we could see that in the distance, there were more volcanic peaks that had some red in their bare exteriors. The lake was also calm enough to be somewhat reflective.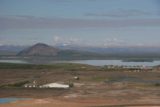 After taking our photos, we left town at 8am. The midges weren't quite out yet, but we could tell as the day would heat up later on, they'd be swarming around here once again.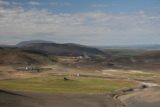 On the way out of town, we decided to make a quick detour to the Krafla area before we bid this area farewell. On the way over there, we caught a nice panoramic top down view of the Myvatn Lake before continuing on.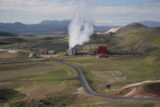 Then, we drove into the Krafla area where we drove through an interesting geothermal plant complex. There were some pipes that were bent to form an archway above and around the road so no one would run over them (or at least collide with them).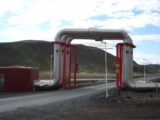 Then, we climbed up out of the little valley and then further onto a car park next to Stóra-Víti, which was a colorful lake filling in a crater over several cycles of snow, then thawing, then snowmelt, and finally evaporation.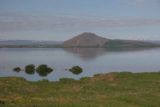 The crater lake looked very deep and probably might contain some trapped gases beneath if the crater it was on happened to be active.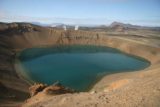 We spent a few minutes walking up the surprisingly slippery (due to the loose sand and gravel on the narrow crater slopes) path towards the opposite side of the rim.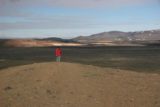 The whole time we were skirting the rim of the crater, we made sure to keep our footing despite the loose gravel conspiring to make the steep hills a bit slippery.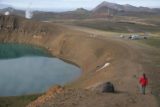 The colorful mineral-laced lake juxtaposing the colorful rim of the crater always kept drawing our attention. Under the mostly sunny conditions of the day, it was quite a photogenic sight, and it kind of reminded us of what a smaller version of Crater Lake in Oregon might look like (even though we hadn't been there yet).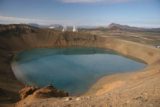 We only walked a fraction of the crater before we felt we had our fill of this attractive crater lake. Then, we turned back and had to face the slippery hills once again as we had to be careful not to fall into that lake.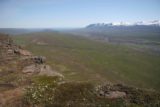 By 9:15am, we finally left the Krafla area and then did some extensive driving first towards some waterfalls that were a little bit of a detour from Egilsstaðir before heading to Egilsstaðir itself.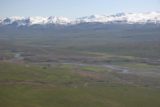 The lengthy detour to a pair of waterfalls were from our GPS pre-trip waypoints. It turned out to be near the Vopnafjörður area, and the waterfalls were known as Selárfoss and Draugafoss.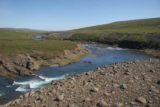 When we finally made it all the way out to Selárfoss, it was about 11:30am. The falls was really nothing more than rapids with a fish-ladder as opposed to a waterfall. We didn't think it was really worth the trouble to see this one, but the area was busy with anglers and local families swimming in a nearby facility.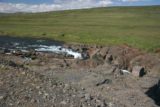 Fortunately, the lady working at the swimming facility let me use their restroom when I asked her in Icelandic about it. Given the long driving involved, I really needed to use the facilities.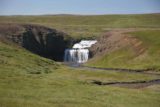 About a half-hour later, we stopped the car at a makeshift roadside pullout near where the GPS told us where Draugafoss was supposed to be. It turned out that the waterfall was quite a ways away from the main road we were on. But I did manage to see the waterfall in the distance and so I approached it.
After a few minutes of walking on the grass to get closer to the falls, I realized that I had forgotten to bring my camera so I went back to the car to get the camera before I finally went back to where I was originally.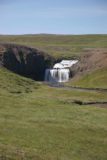 As I was getting closer to the waterfall (but still seemingly a ways away), I could see that Draugafoss was indeed an impressive waterfall that kind of reminded me of something we would've seen in Forsæludalur had we not have so much trouble figuring out the "trail."
But then I found out that the issue with this waterfall was that it was not signposted nor was there a formal pullout nor trail, which I was finding out right now. I was only able to scramble as far as a direct view of the waterfall, but that was when I realized that it was futile to go further as I would have to cross the creek downstream of the falls to get a closer look.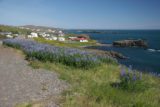 With Julie waiting in the car, I decided to just take my photos and return to the parked car. Thus, the rather distant view of Draugafoss would have to do as far as my experience with the falls was concerned.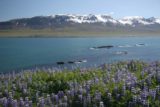 So we drove back towards the Vopnafjörður, which when we spent more time here, we came to realize that it was a very beautiful fjord and town.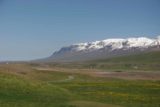 Across the fjord's deep blue waters were snow-capped peaks watching over the area. Wildflowers were also in bloom to futher decorate the scenery.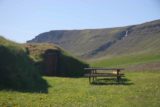 We then continued exploring a bit more of the Vopna Fjord area as we went further inland beyond the headwaters of the fjord and made a brief stop at Bustafell's turf farm.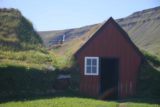 What attracted us to go in this direction was that there was what appeared to be a big waterfall further up the valley. However, we didn't get much of a view beyond the farm as we didn't venture any further though we really did want to.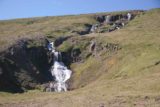 It was now around 2:30pm when we were back near where the Ring Road went from unpaved to paved again. However, we saw an unexpected series of waterfalls from the fast-moving road.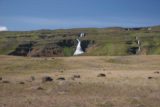 Two of them had paved pullouts. The ones with the pullouts looked very significant, but there wasn't any other infrastructure to indicate otherwise so I reckon most people miss these.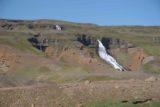 I guess with the amount of driving through mostly featureless terrain (aside from the raw and rugged beauty of the lack of developments mixed in with mountains and plains), these waterfalls definitely stood out and caught our eyes.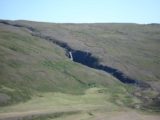 Before making the final push to Egilsstaðir, we took another detour to Lagarfoss. What compelled us to do this detour were some signs that indicated such.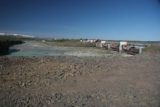 But once we got to where the falls was supposed to be at around 3:45pm, that was when we realized that this waterfall was dammed up to generate hydroelectric power.
So that explained why there were some large and attractively blue lakes in the area. And given the mostly blue skies, it really was quite scenic, but we'd imagine it would've been even better had the falls been allowed to flow.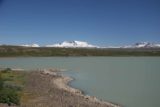 Given the fact that the controversial Káhranjúkar Dam was also near Egilsstaðir (where we were headed immediately after this), it made me wonder whether East Iceland was the country's sacrificial lamb to try to harness hydroelectric power and somehow jump start the economy since their fishing industry seemed to be in trouble.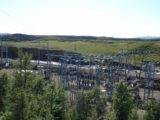 Anyways, we finally made it to Egilsstaðir at around 4:30pm. And after checking into another nice Hotel Edda under rather warm weather (22 degrees Celsius), we headed back into town to look for something affordable to eat.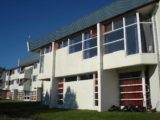 Having gorged ourselves on the BBQ buffet last night, we tried some crepe at this local place near the Bónus Supermarket. We weren't too pleased with our crepe, and I guess it just shows that we should've stuck with what Icelanders do best – seafood, lamb, and American fast food. Oh yeah, we had another softís (soft serve ice cream) in waffle cone. You can't go wrong with that!