Day 1: THE THEME OF THIS TRIP
After deciding not to do the Skinandi Waterfall hike based on yesterday's observations, we slept in and awoke to bitterly cold weather and threatening skies. As we were packing up and getting ready for breakfast, I looked out the window and noticed that the rear right tire (facing me) was flat. Seemed like the theme of this trip would be flat tires, especially since we just had one on the very last day in the Western New York leg of the trip.
So without further adieu, I bugged the owners of the guest house hoping I wouldn't be disturbing them or waking them up as it was still around 8am. Fortunately, Eline the hostess who answered the door was all smiles and gladly summoned Jon to help out. Jon used his tractor as the jack and changed in the full-sized spare in no time.
Upon looking at the flattened tire, he said, "That tire looks worn out."
When comparing the full-sized spare with the existing tires still on the Suzuki Vitara, it was like apples and oranges. The spare tire still had its deep treads while the remaining three tires looked like they could go at any time as well. Julie insisted that when we get to Akureyri later on today, we get in touch with Budget and demand the other tires get changed.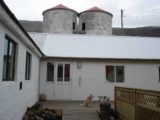 Anyways, I thanked the hosts for their help and then proceeded to have brekkie with Julie after packing up and loading up the car. The breakfast was the usual affair with bread (brauð), butter, and juices. When brekkie was over, it was time to leave. Jon had already left to do the farming chores, but I gave Eline one last goodbye in Icelandic and exchanged pleasantries (still in Icelandic) as she was thrilled that a foreigner was trying to learn the language (she's Dutch but lived in the country long enough to be fluent in Íslensku).
She was about to take a foursome of Dutch women for a horseback ride and I felt like I was putting on a show for everyone. I was a little embarrassed, but I was quite happy to get in some Icelandic practice at this time.
"Það er aldeilis!" Eline would exlaim. (translated to mean "That's impressive!")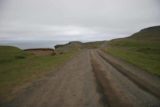 "Nei," I would say.
"Jú," she'd retort back.
So with that, I said, "Takk og bless!" with a wave and a wide smile and was on my way.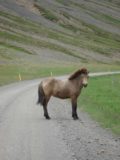 And with that, we left a little after 10am and headed to Akureyri with a detour to Ketubjörg.
On the way to Ketubjörg, there was a moment when one Icelandic horse kept trotting in the middle of the unpaved road instead of going into the grass so we had to be patient with it. At least that left us with some photo ops of the beautiful Icelandic horse looking right at us.
It took a while to get to Ketubjörg, but we eventually got there about an hour and a half later at around 11:30am.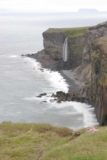 There was a signpost Ketubjörg, which was encouraging. It was overcast, windy, and bitterly cold. After going over the stile (some small steps traversing a wired fence), we were standing atop seaside cliffs overlooking some rough-looking seas as well as looking down at a waterfall diving right into a pile of rocks next to the ocean.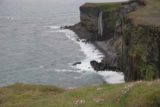 It was a picturesque sight and the birds flocking and flying about the area really added to the already wild atmosphere. Of course the frigid arctic winds (5 degrees Celsius not counting the wind chill factor) also kept our noses running and our bodies shivering.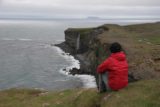 We also had to be careful not to stray too close to the edges of these sheer cliffs because it would most certainly mean death from the straight force of impact on the sharp rocks and even the frigid waters if somehow the fall didn't finish the job.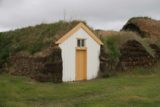 At 12:15pm, we drove back towards the Ring Road but not before making an unexpected stop at a busy spot called Glaumbær where there were some turf farms. Unlike the Norwegian turf farms, these really looked like the ones you might expect hobbits to live in.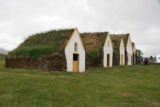 We didn't expect that this place was as busy as it was. In fact, we noticed there were a handful of tour buses so unbeknownst to us as we did our trip planning, this unexpected stop turned out to be one of those popular stops even though we had never heard of it before.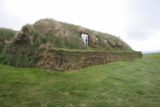 Since we had a little time on our side, we took our time to explore these farms a bit more. There was one that had an opening so we were able to peer in and see how it was basically a pretty run-of-the-mill shed. But I wonder how well this building would do if it sought out LEED certification.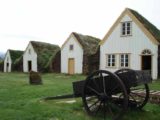 Some of the turf farms actually looked a little modern despite some leftover barrels and wagon carts lying about on the premises.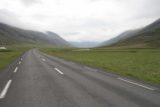 At 1:45pm, we left Glaumbær and continued onwards as we finally got back to the Ring Road and followed it to Akureyri. Along the way, the highway weaved within valleys alongside glacial rivers and a few minor mountains.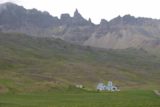 As we were zooming by at 90km/h, there were several waterfalls that were visible from the road, but most of them lacked signposts or pullouts so we didn't stop form them. A particularly striking part of the drive got us into a wide idyllic sweeping U-shaped valley (Öxnadalur) flanked by jagged mountains. One of the peaks looked like it ended in a sharp point with a pair of smaller points on either side. It was probably the one thing we had the patience to stop for. We could've easily made several stops for waterfalls and valley views along the way.
We finally got to Akureyri late in the afternoon at 3:30pm, checked into another Hotel Edda (aka a school turned into summer hotel), then got in touch with an auto repair shop affiliated to Budget to try to rectify our tire situation. We met the contact who happened to be a young-looking Icelandic lady (possibly just out of school) at the airport and she had us follow her to an industrial wharf area where there was what looked to be an auto shop.
At the auto shop, the workers there couldn't believe we were given a vehicle with four worn tires. At first, I was worried I would have to pay for all four tires to be changed as that's what the lady (named Berta) initially told us, but she eventually got in touch with the Budget in Reykjavík and ultimately told us that we're not responsible for the tire changes.
As the tire changing took place, we chatted with Berta and one of the mechanics about various topics such as Icelanders having multiple jobs, the guy's car collection, his connection with Hrísey Island, and Akyreyri restaurants. Eventually, the car was ready by their closing time of 5pm and we could see right away that the tires were new and had treads on them (as they were supposed to in the first place).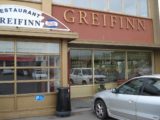 And with that, we headed back into town to have dinner at a busy place called Greifinn, which was an LP recommendation). We had more fish as well as the salad and bread bar that came with it. After the dinner, we treated ourselves to a soft serve at a joint called Brynja's despite the chilly weather. For a place that was supposedly famous up in this part of the country, Julie didn't seem too impressed with it.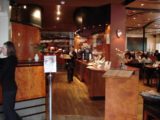 Anyways with things seemingly returning "normal," we kept our fingers crossed in the hopes that no other tire would go flat especially in remote places. We were fortunate to have our flat happen at the guesthouse in Hof í Vatnsdalur because it ironically might have been more difficult to get the ordeal rectified as fast as we did in Akureyri…