Day 1: THE GREEN LAGOON?
We arrived at the Keflavík Airport just before midnight, but there was still enough daylight outside to make you think it was just past sunset at 6pm or so back at home. After collecting the SUV hire at the airport, we had to drive for an expected 45 minutes to get into Reykjavík to spend the night. However, something wasn't right with our GPS map software as it seemed like we were navigating through a black plain whenver the GPS was hooked up (though the map would suddenly reappear when the GPS was not hooked up).
When we got into town, we pulled over the side of the nearly empty city streets and tried to figure out what was wrong. I swear we were just sitting on the side of the road for what seemed like another hour or so. I think it got to the point that a couple of Icelandic kids came out to us and wondered if they could help. When they learned we were going to the Metropolitan Hotel, they verbally told us where to go and we were on our way.
Having finally arrived at the Metropolitan Hotel in Miðbær Reykjavíkur (Center of Reykjavík) at 2:30am, we had to adjust to the really cramped room, which reminded us of our stay at the Vossestolen in Norway. For over $260 USD/night, it was awfully expensive, but all what was on our minds now was figuring out whether we'd be able to sleep and then get up a few hours later when it's still quite bright outside.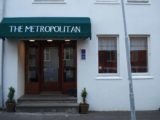 Julie and I had trouble waking up for the 7am breakfast despite the alarm. The breakfast was similar to the koldtbord breakfasts in Norway except there weren't any cold herrings offered. After the breakfast, we spent the next couple of hours at R. Sigmundsson Garmin Dealer, who helped us get our GPS navigation scheme working. Basically, our old etrex wouldn't work with the Iceland map so we actually had to buy a more up-to-date Garmin GPS unit for us to be back in business.
The GPS unit we had looked like some kind of OEM model as it was basically a circular featureless contraption with a USB cable sticking out of it. Clearly, this was what had to be hooked up to our laptop while this unit would be sitting on the dash.
Then, we went to the much-anticipated Blue Lagoon (Bláa Lónið). Once we got to the lagoon, it really felt like we were partaking in something taken out of a Glen Ivy spa in Temecula. Of course, the difference here is that geothermally heated water from a neighboring geothermal power plant sends its runoff into these pools surrounded by volcanic rock.
The facilities here were very modern and visitor center area was run very efficiently. For example, after paying admission, you get a bracelet with an RFID tag on it, which did everything from admission to locking/unlocking your locker.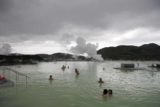 What's more, when you leave, the turnstile won't turn until you surrender the bracelet so they could re-use it. If that's not forward-thinking, efficient, and low impact, I have no idea what is. If only we could adopt some of these ideas back at home and not be so wasteful perhaps people around the world might not hate Americans as much. But anyways, I digress…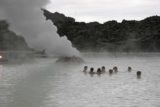 Since the lagoon was not chlorinated, we had to shower before going into the lagoon. So we obliged and then finally went into the big thermal lagoon area. However, the color of the bathing pools themselves were more green than blue, which was misleading considering all the literature out there showing photos of people bathing in water that was as blue as the name suggests.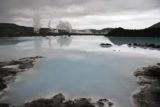 "False advertising," Julie complained.
We wouldn't see any blue lagoon until we left the spa area and walked on a track that went through a calm area where the water was indeed blue (but no one could bathe in it as the water was cold).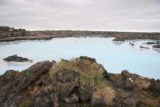 We figured that with all the human contact going on, perhaps that might have altered the chemistry of what otherwise would have made the water this blue. It had to be more than coincidence that the water was so colorful where people weren't around.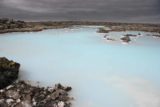 It turned out that our time spent out here was actually quite enjoyable even though we were no longer in the water. We saw a few birds flying about and it was very tranquil as we were quite busy trying to capture the scene with our cameras. Sure, we fancied bathing in waters this color, but perhaps the reality of it was that maybe the pictures and postcards might have been doctored or taken so far back in the past that it would not be realistic now.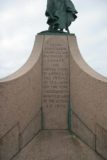 After the Blue Lagoon, we spent the remainder of the day walking around downtown Reykjavík. We started off by visiting what was perhaps Iceland's most striking building known as the Hallgrímskirkja.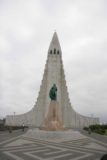 It was a pretty cool-looking building almost resembling an organ or something eventually rising up to some spire or minaret at the very middle of the front facade of the church. The building was fronted by some interestingly patterned flooring as well as a Leifur Eiriksson statue with some blurb about the United States and Iceland sharing an anniversary at this spot in 1930 AD of the original Alþing nearly 930 years later.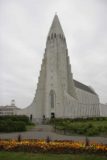 We spent some time trying to take photos though it seemed like we weren't able to go inside (I don't recall if it was closed or it required an entry fee that was too steep for us to pay).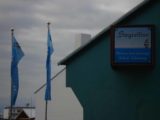 Afterwards, we walked around the center of town aimlessly looking for places to eat for dinner. We had to look long and hard because we struggled with sticker shock as every place offering what we thought would be good gourmet Icelandic dishes would cost us over $70 USD just for a main dish. We eventually settled on this place near our Hotel called Sægreifinn. At around $40 for the whole meal consisting of their delicious lobster soup and fish kebabs of scallops and trout, it was reasonable by Icelandic standards.
And with our stomachs finally somewhat satisfied, we settled back into our hotel, which turned out to be quite centrally located, to get some much-needed rest in anticipation of our first waterfalling of the trip tomorrow doing either the Golden Circle or Glymur depending on the weather when we first wake up…
Visitor Comments:
Got something you'd like to share or say to keep the conversation going? Feel free to leave a comment below...
No users have replied to the content on this page