Day 3: GOLDEN CIRCLE
Today was the day we were to do the long awaited Golden Circle of Gullfoss, Geysir, and Þingvellir. We had hoped our plan of flip-flopping with the Glymur excursion yesterday would yield good weather on this day, and well, it certainly looked like we were spot on when we awoke to blue skies in Reykjavík (perhaps shedding its name a little given the relative lack of clouds since it meant "Smoking Bay").
Apparently, there were some people still staggering in the streets. We had read about the insant bar hop that young Icelanders would go on, and I was willing to bet that the folks still out here must've been on one of those tours all night long.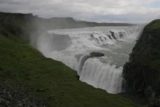 So after our brekkie, we left town after 8am.
However, as we did the 90-minute drive towards Gullfoss, the skies became dominantly overcast once again. It seemed like good, clear weather was hard to come by these days.
Nonetheless, we got to the car park for the falls at around 10am and took what photos that we could while battling pockets of swarms of midges.
Julie and I spent some time walking right up to the brink of the upper waterfall while skirting the turbulence of the lower waterfall. Having a river as wide as this fall in two steps at right angles to each other was very unusual to us, and perhaps that was the main reason why Julie really thought highly of it.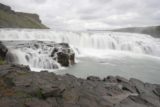 Even though the overall height of the falls wasn't that great (said to be about 34m in total), we thought it was the uniqueness of the falls complementing its size was what made it deserving of the attention it had gotten prior to our trip.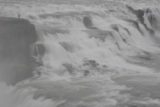 I vowed to return to Gullfoss thinking the weather might improve for rainbows later in the afternoon. However, when we got back to the parked car, Julie was already ecstatic that she could get wi-fi internet from the parking lot at Gullfoss since this was the first time we were able to get internet in the country.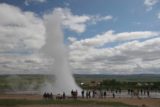 By about 1pm, we backtracked and arrived at Geysir (actually the area is more formally known as Haukadalur Valley). The place was called Geysir after the namesake geyser that supposed was how the word "geyser" came about in the first place.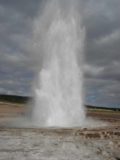 Even though we were hoping to see the great Geysir go off, it was the smaller geyser Strokkur that was putting on a show. It appeared that Geysir doesn't really erupt regularly and we could tell it wasn't going to perform when we were there since no one was gathering around it. Strokkur seemed to go off usually every 5-10 minutes or so. Sometimes it would shoot up real high and other times it put throw up a dud.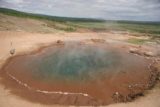 It was fun watching what would come out next, but we also checked out other thermal springs and vents around the area. Apparently there was more to this place than just the pair of geysers.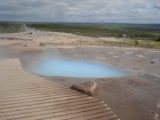 We noticed some people were hiking further up a hill though we weren't sure why. We figured since we came here for the eruptions and Strokkur would have to do, we decided against following those people and headed right back to the car.
So before we got carried away with any more Strokkur performances, we were in the car and headed back to Gullfoss at 2:15pm.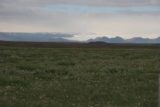 As we were driving back to Gullfoss, we could see there were some pretty impressive glaciers way out in the distance. They looked massive, but without any research or knowledge of how much time it would take to make it all the way there, we were merely content to just pull over the side of the road and just take our distant shots.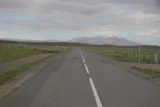 The road actually kept going beyond the Gullfoss car park, but it seemed like it would get onto one of the many 4wd roads that would eventually cross the great Iceland interior, which was said to be one of the largest deserts in all of Europe. We would probably have to be real prepared to do something like that, and we were perfectly content to just take the Ring Road to the north later on in this trip.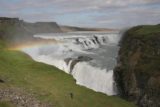 Anyways, it was nearly 3pm when we returned to Gullfoss. The skies were still overcast, but there were patches of blue skies between the clouds. When the sun peeked through the clouds, Gullfoss' mist did indeed put on a rainbow.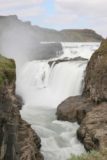 Of course, I took advantage of this and spent the next hour re-shooting the waterfall from all sorts of angles.
I did notice people crossing the ropes to get onto the soggy grassy plateau below the overlooks. I'd eventually join them and battle even more midges, but I reckoned the photos weren't that much better (if at all).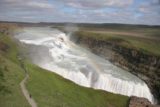 But what was really cool was going back to the uppermost overlook, where you could see a faint but huge arcing rainbow with people looking like ants besides Gullfoss.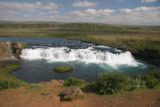 It was nearly 4pm when this bit of waterfalling ended. We then went looking for the Faxi waterfall, which I'd like to think of as Gullfoss, Jr. After getting to its signed turnoff, we checked out the falls from the top along with a handful of other people.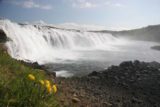 But from up here, the base certainly looked easily accessible and inviting. So we went down there and proceeded to get right next to the salmon ladder flanking the left side of the falls. It was misty and quite a challenge to take photos without water getting on the lens down here.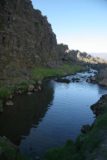 Finally it was past 4:30pm when we got back to the car and started heading for Þingvellir (pronounced like "thing vetlir"). It took a while to get there from Gullfoss, but we'd eventually get to the car park at 5:40pm for Lögberg (Law Rock) which is within view of Öxarárfoss, the last waterfall of this busy day.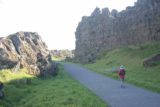 Þingvellir was the historic place where assemblies (called alþing) took place and laws were written down. We spent quite a bit of time walking around the hallowed grounds while reading all the interpretive signs. This late afternoon, it was very quiet as the skies were bright and the sun was still strong.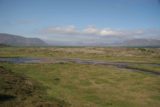 But in addition to the history of this area, Þingvellir also happened to be a dramatic example of a great rift valley where both the North American continental plate and the European continental plate were drifting apart from the Mid-Atlantic ridge.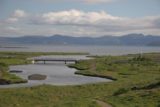 There was evidence of some volcanism here as most of the walkways were right next to the old lava formations. One spur path of the walkway led us up to an overview where we were able to take in the whole context of the rift valley, which now looked like one giant plain with some rivers and lakes cutting through where the land was at its lowest.
The drifting action must've had quite some time to grow its separation because the other side of the valley was way off in the distance.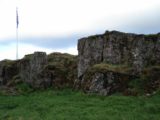 We figured that since we weren't quite sure what the must-see stop at this place was, we were content to use this overview as our turnaround point.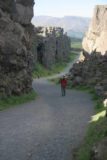 So once we had our fill of randomly walking about at Þingvellir, we then walked back amongst the lava rocks on our way back to the car park. But before we would return to the car, we still had to get our last waterfall of the day visited.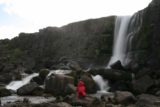 Walking around Þingvellir was already draining as we spent the whole day touring, but that still didn't deter me from bagging Öxarárfoss. My knees were acting up from the strenuous Glymur hike yesterday so climbing up to the falls was a painful affair. Even more annoying was the fact that we were looking against the sun once we were at the falls so that kind of made it tricky to take long exposure photos as we were hoping to do.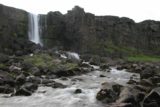 Even though it was getting late in the day, I patiently awaited the clouds to momentarily block the sun to get what photos I could of the man-intervened waterfall. I had read that this waterfall was man-made through water diversion back in the days of the assemblies at around 1000 AD. I forgot why that was the case or how I learned of this tid bit.
In any case, our Golden Circle excursion pretty much ended at 7:30pm and we made our way back to Reykjavík. During the drive, we couldn't help but notice the heaps of campervans and SUVs going the other way (almost as if there was a whole caravan of them). Was there some function, party, or gathering going on? We wouldn't know the answer, but it certainly got our attention.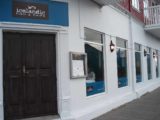 The day finally ended with a dinner at the Icelandic Fish and Chips near our hotel in Reykjavík. Despite seeing somewhat reasonable seafood prices compared to other cafes and restaurants, we still ended up paying around $50US for battered haddock and cod along with a mango salad, potato, skyr (an icelandic yogurt dessert), and a mango chutney mayonnaise. Indeed, it was definitely more than what the name of the restaurant would suggest it only had (i.e. the fish and chips).
It was a long but eventful day, but now we have to pack and get ready for some serious driving towards Iceland's West and Westfjords.
Visitor Comments:
Got something you'd like to share or say to keep the conversation going? Feel free to leave a comment below...
No users have replied to the content on this page