While I realize that answering this question really depends on who's doing the asking, we can only speak from experience so we're going to break down how we were able to get to Iguazu Falls from Los Angeles.
On top of that, we managed to arrive at and spend most of our time on the Argentina side of the falls. I'm sure there is also a similar amount of effort to get to the Brazil side of the falls, but we'll have to spare those details until we actually have done that option ourselves.
Therefore, I'd imagine this page would be most useful to foreign visitors wishing to get to the Iguazu Falls on the Argentina side from outside of South America. Nonetheless, just seeing the logistics of how we pulled off this trip would also shed light on how much more or how much less effort would be involved if you were to make this trip a reality.
Where is Iguazu Falls and what does it take to get there?
Iguazu Falls sits in the east-central part of South America on the Iguazu River (Rio Iguazu) right on the border between Argentina and Brazil. A relatively short distance further downstream, the Iguazu River meets with the Parana River, and that's where the border of both countries with Paraguay is.
Given the close proximity of all three countries in the area, it's sometimes referred to as the Triple Frontier.
Since we're based in Los Angeles, Iguazu Falls was pretty much on the opposite side of the hemisphere so while the distances were long, there were no direct flights to neither Puerto Iguazú (the nearest town to the falls on the Argentina side) nor Foz do Iguaçu (the nearest town to the falls on the Brazil side).
In order to get to Iguazu Falls, we first had to fly from Los Angeles (LAX) to an international hub that served South America. In our case, we flew from LAX to Miami (MIA). This flight took us around 5-6 hours.
Once in Miami, we then caught a connecting flight to Buenos Aires, Argentina. This flight took us around 8.5 hours.
Once we arrived in the international airport at Buenos Aires (EZE; short for Ezeiza Ministro Pistarini Airport), Julie had a pre-arranged remise or taxi (done prior to our trip with a tour operator) which took us from the international airport to the domestic airport.
When trip planning the flight connections, we had to budget at least an hour for this drive alone because the Ezeiza International Airport was in the outskirts of Buenos Aires, especially in covering the distance to arrive at the domestic airport (El Aeroparque Jorge Newbery; AEP).
Once we finally made it to the domestic airport, we then caught our flight to Puerto Iguazu (IGR), which took us around 90 minutes of air time.
And then, after finally arriving at Puerto Iguazu Airport, we then had a pre-arranged remise (private car transfer) as part of us going with a tour operator prior to arriving at the airport so there was someone waiting for us to take us to our accommodation.
Regarding the local logistics in the Iguazu Falls area, I'm sure what we did to handle it wasn't the cheapest option, but Julie did it for the piece of mind, and it definitely worked in our favor when we first made it here back in the Labor Day Weekend of 2007.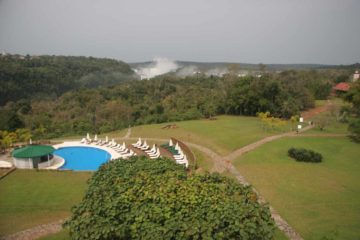 In fact, that local tour operator who also acted as our local guide accompanied us for much of our three full days here, and he helped us navigate through an ordeal where our regional return flights were cancelled. However, he helped us get onto an earlier flight that wasn't cancelled so we could get back from Puerto Iguazu to Buenos Aires (and our international flight home). Imagine trying to navigate that minefield on your own in Spanish!
I don't know how common or how much our tour operator went above and beyond the call of duty, but I don't think we would have made our international flight home if not for his help. That's something to keep in mind when trading between spending more money for piece of mind with a trusty tour operator or trying to wing it on your own.
Alternatively, we could have caught one of the taxis at the airport itself, but in order to do this, we would have to ensure that our Spanish was decent enough to at least communicate with the cab driver.
So to summarize the overall logistics of covering the distances between our home and Iguazu Falls, here's how it broke down…
On the return trip, we took a different route…
Naturally, these transit times will differ depending on where you're at, but at least this gives you a rough idea of how much time to budget for travel days. At the end of the day, we needed at least 24+ hours to cover all the flights, connections, queues, ground transport, and any other unforeseen delays.
Visas and Vaccinations
Visa Requirements and Passport Issues
In addition to the logistical hurdles covering the long distances between home and Iguazu Falls, there were also logistical issues on both the political and health side of things.
Once we knew that we were going to make a trip to Iguazu Falls happen (you know this when you commit money to the cause), we also knew that we wanted to experience both the Argentina and Brazil sides. So that meant that we had to abide by the Visa and Passport Requirements for both countries.
When we booked our trip in 2007, all we needed was our passport to enter Argentina. There was no Visa requirement for US citizens at the time. However, Argentina has since instituted a reciprocity fee in 2008, but then they suspended it in 2016. Such policies could just as easily change again so for the latest information, you may want to consult the Argentina government sites for the latest requirements. As a courtesy, the US State Department may have up-to-date information on this kind of stuff as well.
As for the entry requirements for Brazil, there was a Visa required to enter Brazil when we made our trip. Visas are basically permission by the host nation to permit a foreign national to enter the country. It was basically a stamp on a page of our passport signaling that the Brazilian authorities endorsed our visit to their country. So we needed at least a blank page to accommodate this Visa on our passport. The passport also had to be valid for at least 6 months after the end of our trip.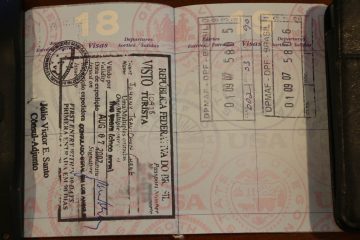 However, in order to secure this Visa, we first had to apply for a Tourist Visa. This was doable through the Brazilian Consulate, which required an application fee of $110 USD in Postal Service Money Order only at the time of our application. The turnaround time was said to be 10-15 business days, which meant that we would be without our passport for at least 2-3 weeks!
Even though we could have submitted the completed form directly to the local office in Los Angeles, we didn't want to take the chance of not having our passports when it came time to leave for the trip. Especially since we were short on time, we paid around $90 to have both our passports expedited.
The Visa application itself was quite an ordeal.
On top of the fees surrendered, a valid application must contain a passport-sized photo, a valid printed itinerary of your time in Brazil (meaning you have to book a tour providing such an itinerary), foreign airplane ticket, and of course the fully completed form. In other words, you must have all your travel arrangements fulfilled PRIOR to even applying for the Visa!
While we've heard anecdotal hearsay from other tourists who managed to do a day trip of the Brazil side of Iguazu Falls without a Brazilian Visa, we've erred on the side of caution and did what we were supposed to do in order to avoid any further complications with delays, detainment, or other unforeseen consequences.
Once all this was done, we got back our Passports with the Visa stamps, and we were finally good to go. We had to show our passports with the Visas at the border when crossing into Brazil.
For all that trouble, it might be worth noting that the Visas lasted for 5 years, which would be fine if we had planned on coming back to the country in that time. Unfortunately, we never took advantage of this, and unless things have changed, we'd probably have to go through this again if we were to finally visit Brazil for real.
Vaccination Requirements
As of our trip in 2007, there were no vaccination requirements that would've denied us entry to Argentina. I wasn't sure if there were additional restrictions or vaccination certificates needed had we been coming from one of those countries prone to Yellow Fever (a mosquito-transmitted disease) in the last 90 days (and this probably included Brazil), but it didn't apply to us at the time.
That said, mosquito-born diseases and water-born illnesses were a real threat so getting vaccinated (or at least putting on mosquito repellant) was like an insurance policy protecting our long term health after this trip was over.
The big caveat in our case was that most medical insurances did not cover vaccinations. We tended to get lots of mosquito bites (even though we generously apply DEET) so we didn't want to take any chances. Thus, for our battery of injections and pills, we paid over $600 per person for boosters or vaccinations of Yellow Fever, Hepatitis A, Hepatitis B, Typhoid Fever, MMR (Measles, Mumps, and Rubella), and Malaria pills.
We also had to keep in mind that Dengue Fever (definitely present in South America) didn't have a preventative vaccine nor cure. So we had to be especially vigilant with minimizing our exposure to mosquitoes by applying DEET and wearing long sleeves (even though it was hot and humid there).
Length of Visit
How much time should you spend at Iguazu Falls?
Based on our experience, I'd say give yourself at least 3 days and 2 nights (not including the travel days) to allow enough time to see the falls from both the Argentina and Brazil side on your own plus time for an excursion or two.
This was precisely what we did though we probably could've used the third night so we could've spent more time in good weather at the falls (conditions were best on the day we had to leave).
However, even as I say this, it might still feel a bit rushed if you're staying in Puerto Iguazu instead of inside the National Park since you'll need to either take a bus or arrange for a taxi to even get into the park.
Moreover, in hindsight, I really wished I had another two nights staying on the Brazil side so we could visit other attractions outside the immediate Iguassu Falls area like the Saltos de Mocona or even the Itaipu Dam, time permitting.
Certainly the more time you spend there, the less rushed it will feel and the more time you'll have to explore other options.
You'll also give yourself a greater chance of experiencing the falls in good weather with the bigger time window. The drawback to a longer stay will be cost and time (especially if you're on limited vacation time).
Visitor Comments:
Got something you'd like to share or say to keep the conversation going? Feel free to leave a comment below...
No users have replied to the content on this page