This itinerary covered a three-week trip to mostly Central and Northern Italy.
Julie and I traveled alone on this trip since we thought Tahia was too little to deal with the inevitable cigarette smoke as well as the additional logistics involved when you bring a third person along.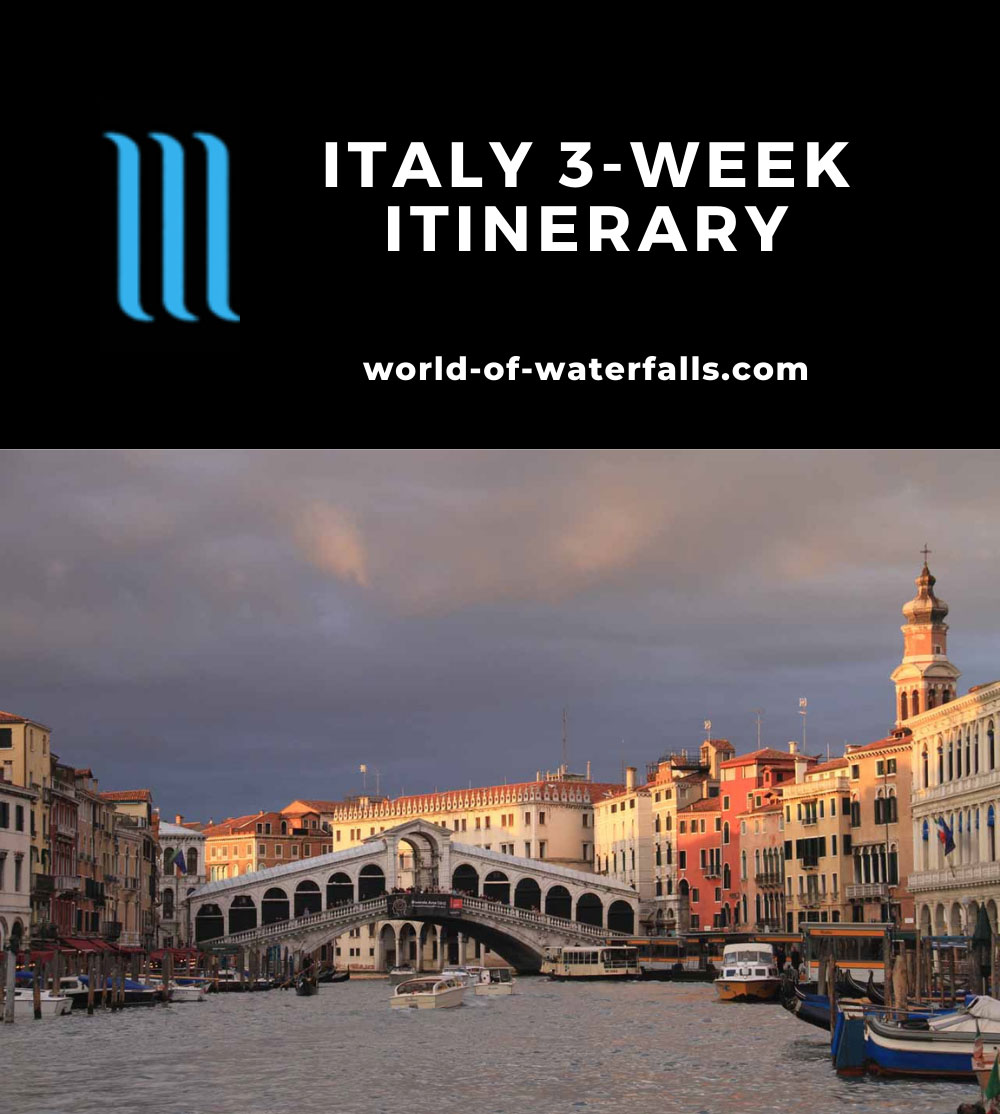 The basic philosophy of our trip planning was that we sought to mimize the driving whenever we were spending time at any of the metropolitan cities – Rome, Naples, Florence, Venice, and Milan. Inside such cities, we relied on mass transit as well as bullet trains to get between some of the cities. We also did an escorted tour of the Amalfi Coast (though in hindsight, I might have been able to manage self-driving there).
Here are some highlights and how we managed to pull this trip off, which you may find useful in your trip planning efforts…
Trip Highlights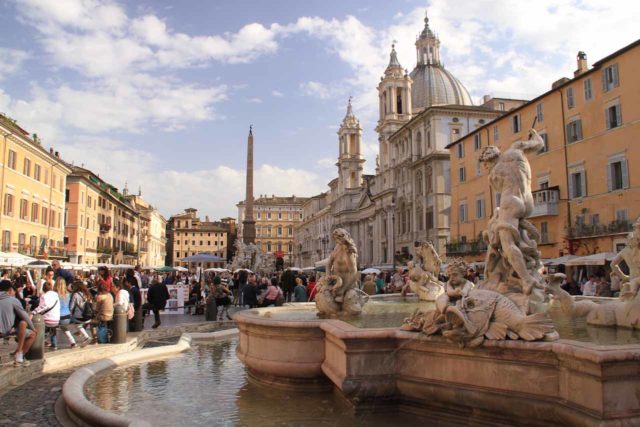 Rome – It feels like shortchanging the city by only providing a single entry on this page when there could have been many, but this page would get way too long if I allowed myself to do such a thing. Indeed, we were captivated by many piazzas and sights that were all busy with tourists and locals alike. Such spots included the Spanish Steps, the Trevi Fountain, the Pantheon, Piazza Navona, and the Campo dei Fiori among others.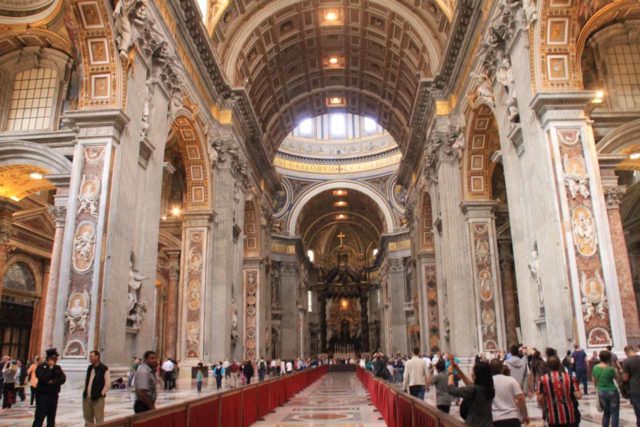 The Vatican and Sistine Chapel – This was essentially ground zero of the Roman Catholic Church, which still wields considerable wealth and influence to this day. But imagine the height of its power back when the Romans were in charge with such gaudy displays of art, grandeur, and just straight up power and wealth. Although I was conflicted about seeing such concentrations of wealth, it is an integral part of European history and identity, and thus you gotta take it for what it is.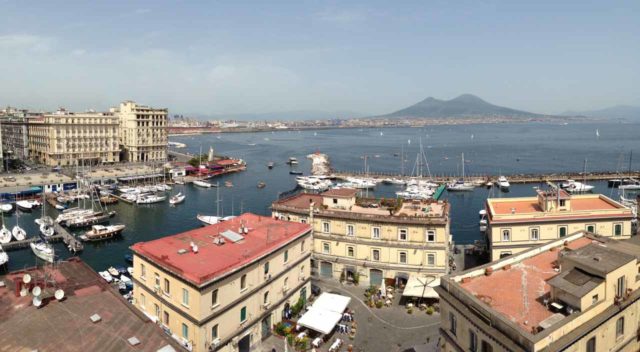 Naples – This city was supposedly the home of the original Italian pizza, but it also featured a surprising mix of old world charm with an edge as well as gorgeous views across the bay of Mt Vesuvius.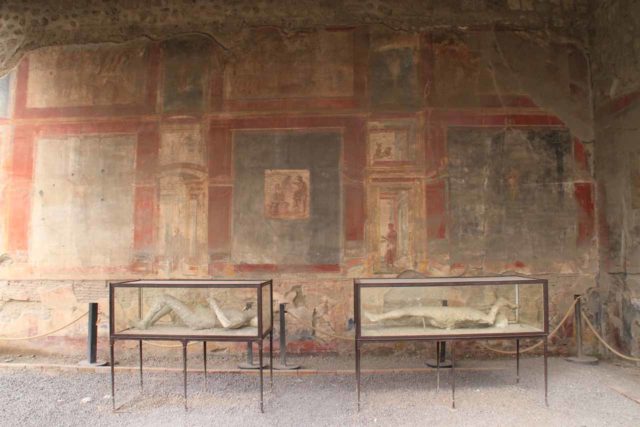 Pompeii – Visiting this place was almost as if time froze. Indeed, we could clearly see how people lived back then right until the final moments when the pyroclastic flow from Mt Vesuvius buried (and essentially preserved) the ancient Roman city.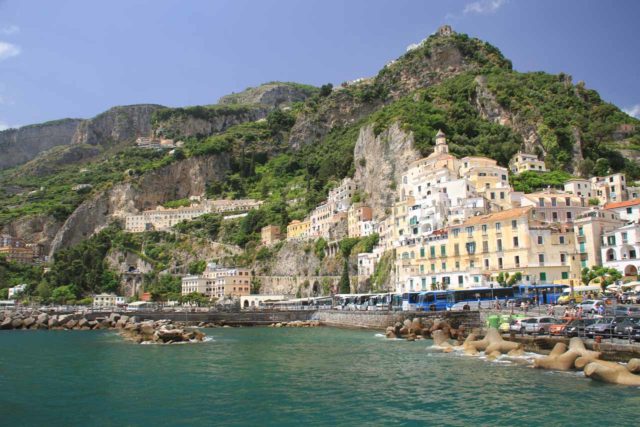 Amalfi Coast – The coastal towns clinging to cliffs and mountains that plunge right into the Mediterranean Sea was something to behold. We managed to make stops at places like Villa Rufolo and Amalfi before spending the night in Positano.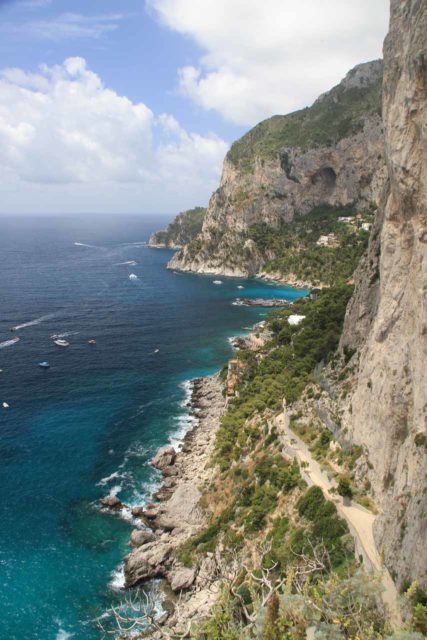 Capri – This island off the Amalfi Coast featured colorful offshore waters, plenty of shops, charming buildings, panoramic vistas, and even a natural arch! We spent the better part of a day here, and certainly found the experience to be very relaxing yet very satisfying.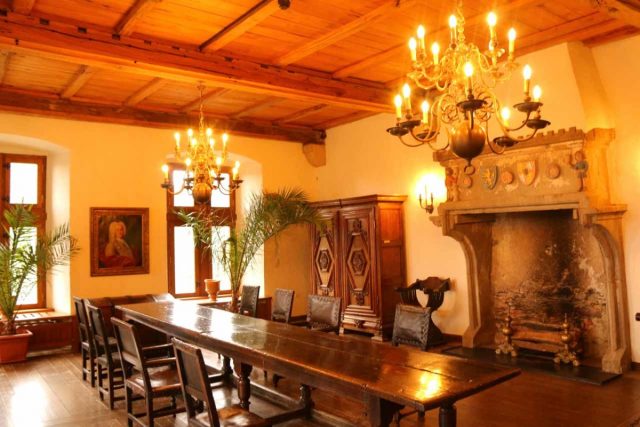 Cascata del Rio Verde – We had to go quite a ways off the beaten path to see a waterfall in the Abruzzo Region, but that was really what made the overall experience worth it. For it became the excuse to get unusual vistas, see a greener side of Italy in the Apennines, and just chill out from the lack of people around.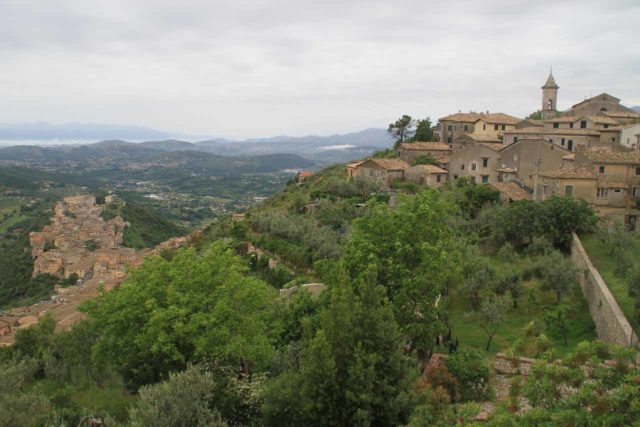 Civitavecchia d'Arpino – This old village sitting further up the hill from the town of Arpino was worth my morning exploration for the views and for checking out some of the historical structures within. I felt like I was the only person up here because of my early start, but even at later times of the day, I wonder how many non-locals even know about this place?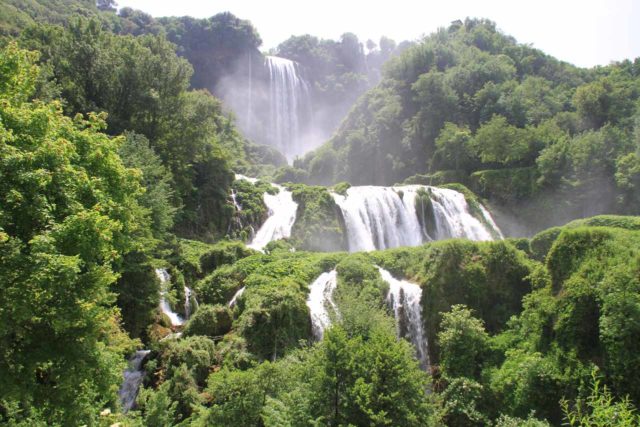 Cascata della Marmore – Even though this was technically a man-made waterfall (made by Romans), it was one of those less-is-more waterfalls where we waited until the water's release ended when the falls transitioned into a more moderate flow, and that was when we got our snaps and really savored our experience at seeing this historical waterfall.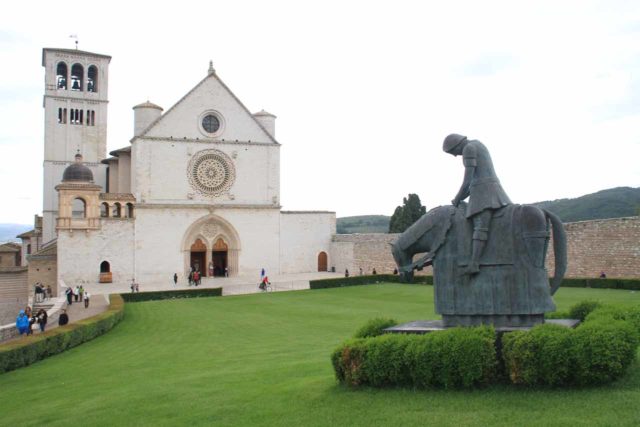 Assisi – This religious site featured an impressive church and catacombs. Unfortunately, we weren't allowed to take pictures inside to bring home the memory of this place. Plus, the town itself was perched atop a hillside revealing rolling pastures all around. Indeed, this was worth the detour to reach, especially at a time when we started to get cathedral'ed out.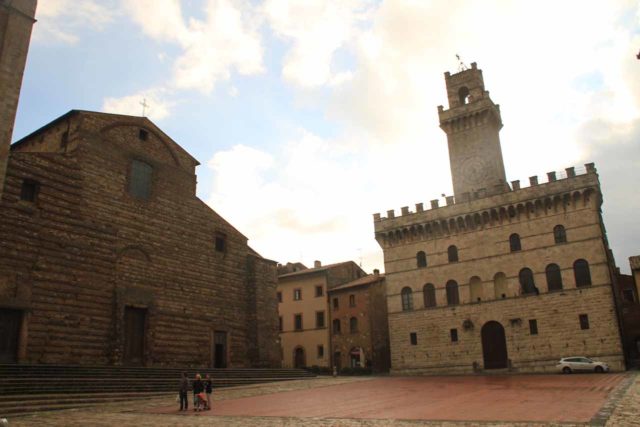 Montepulciano – We went to this medieval town largely because Julie was following the Twilight books and movies, and she knew that the last movie was filmed here. Still, this town did possess the now-familiar Italian medieval charm, but it also had gorgeous vistas of the rolling Tuscan hills further accentuated by surreal sunsets when the storms were clearing.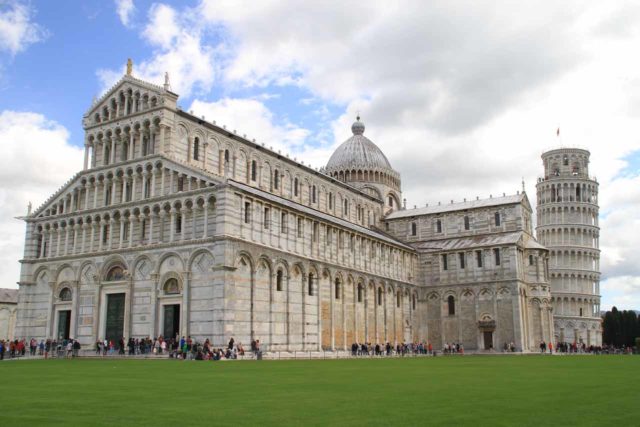 Pisa – Even though it was a bit out-of-the-way to reach from Toscana and it was well-touristed given its fame, it was still impressive to see in person, especially considering some of the adjacent buildings as well. Of course this tower wasn't the only leaning one we encountered on this trip, but it was by far the most well-known.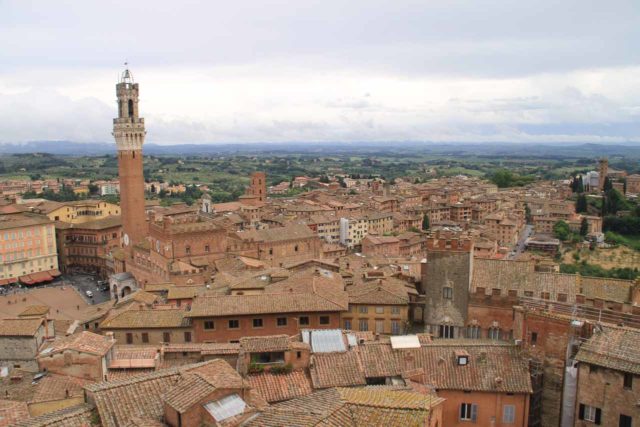 Siena – This Tuscan city was often compared with Florence as one of Italy's most beautiful cities, but we kind of had a raw deal when it was raining during our visit. Still, despite the subpar conditions, the city still showed off its beautiful self, and we even got to experience its grand Duomo, including waiting our turn to go up to its top to get the view you see pictured here. Piazza del Campo was also a nice place to have a takeaway picnic lunch sitting on the ground and watch people go by.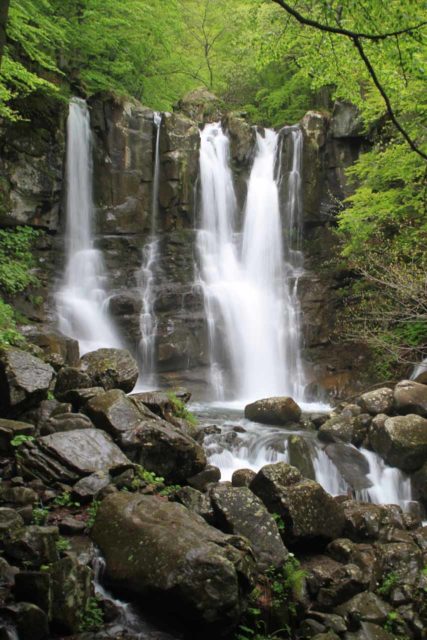 Cascate del Dardagna – We definitely had to work a bit to find this waterfall, which was near the Sanctuary of Madonna dell'Acero, but it turned out to be quite the serene hike and it included at least three main drops. Considering that this slice of nature was not far from either Bologna or Florence, it gave us the recharge we needed before facing the Renaissance city of Florence.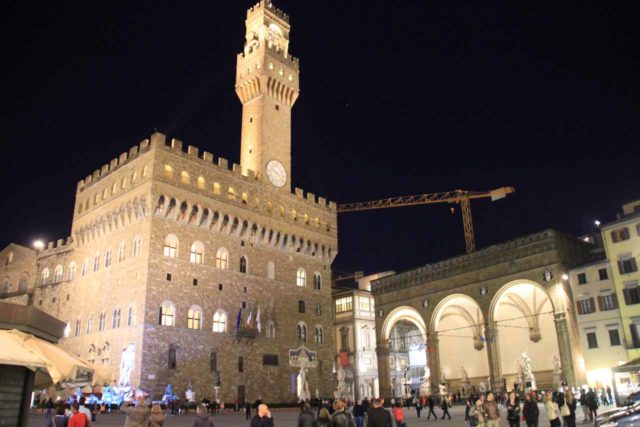 Florence – This city felt like just about everywhere we went, we were walking through a living outdoor museum. Everywhere seemed to possess works of art in the architecture and in the statues. And it just had that buzz about it from all the people that converge to experience the beauty and history on offer here. Like with Rome, it almost feels like an injustice to have one entry in this list of highlights as there's a lot going on here from the Duomo (and Campanile), Ponte Vecchio, Art Galleries, the statue of David, Piazza della Signoria (and the Loggia dei Lanzi), and much more.
Julie and I even found the long lost dish from our wedding at a Tuscan restaurant here called brazato. That's definitely something we have never found back at home in any Italian restaurant. It seems like a uniquely Tuscan dish. Anyways, that was yet another highlight amongst highlights in this magical city.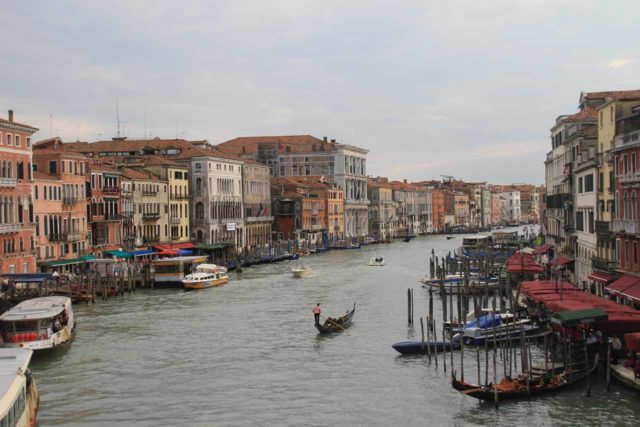 Venice – Often copied but never close to the real deal. Indeed, there's nothing like this city of canals as it has a size and scale as well as the history that's unmatched around the world. You really do need to use boats to get from place to place quickly (i.e. it's not a fancy reason to boat around just because like you'd see in other tourist towns trying to re-create the Venetian experience). In fact, this place is so large that it's easy to get lost in the alleyways and narrow canals mazing their way throughout (some even with dead-ends). And that getting lost in the moment feel can be a good thing!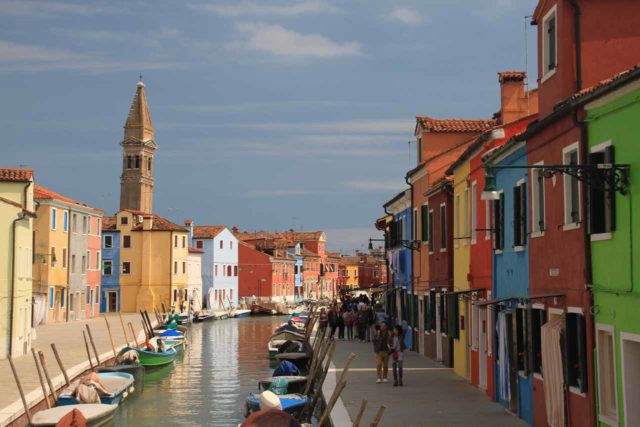 Burano – Intimate canals, colorful homes, and a leaning tower of its own? This Venetian island had its own charm and character, and it was far quieter and more relaxing than its more well-known counterpart. It was worth the additional boat ride to get here to experience this memorable slice of Venice.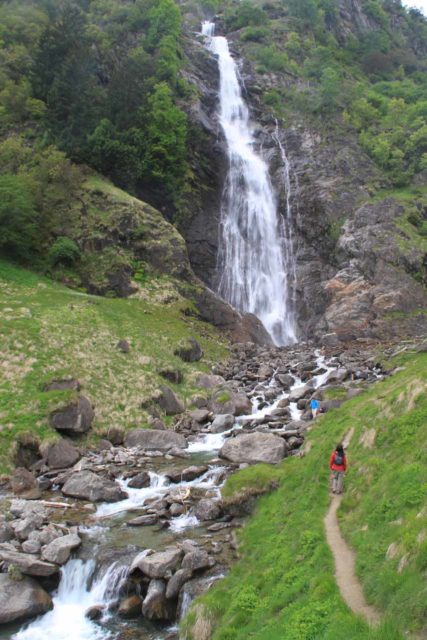 Cascata di Parcines – This waterfall was our waterfalling introduction to a more German-speaking part of Italy in the far north. And indeed, it felt like we were transplanted into another country as we saw more wooden chalets and timbered homes that reminded us more of Switzerland than the stone buildings seen further south in Italy. Oh yeah, and the waterfall itself was quite impressive in and of itself.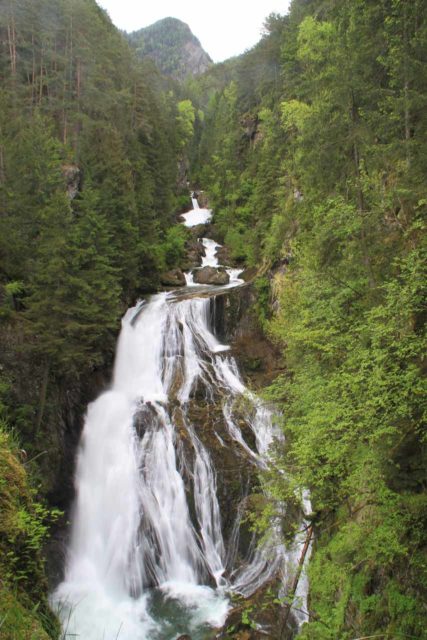 Cascate di Riva – This impressive series of waterfalls was our waterfalling excuse to get all the way to Campo Tures for more alpine scenery mixed with some medieval touches. Although we had to deal with a bit of rain on this excursion, it didn't diminish the beauty of this place as well as that sense that we were in a part of Italy that not a whole lot of tourists bother to see (i.e. not crowded).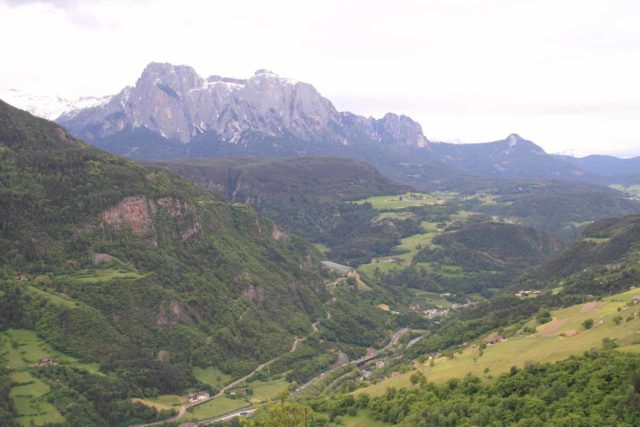 Barbiano – This small town was the launching point for the uphill hike to reach the Cascate di Barbiano. And while this multi-tiered waterfall was attractive in its own right, it was the mind-blowing vistas and panoramas of some of the Dolomite peaks that really stole the show and made me feel like we were on top of the world.
Oh yeah, the town also featured its own leaning tower as well as having that quaint stone medieval feel, for that nice little after-hike pick-me-up.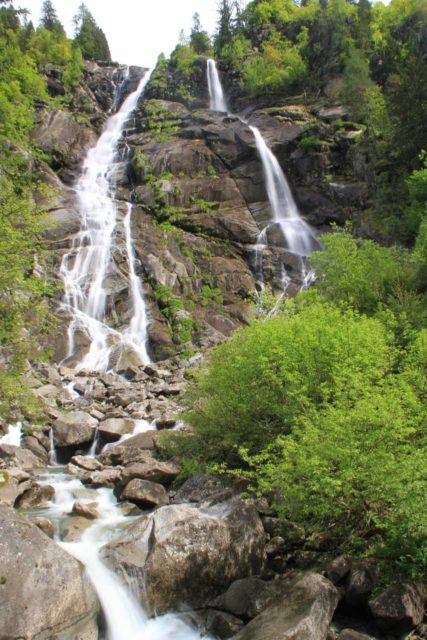 Cascate di Nardis – This attractive double-barreled waterfall allowed us to not only see a more wilder and naturesque side of Northern Italy, but we also saw a nearby waterfall in the Cascate di Lares. Indeed, it was idyllic and it chilled us out before we returned to civilization in Trento.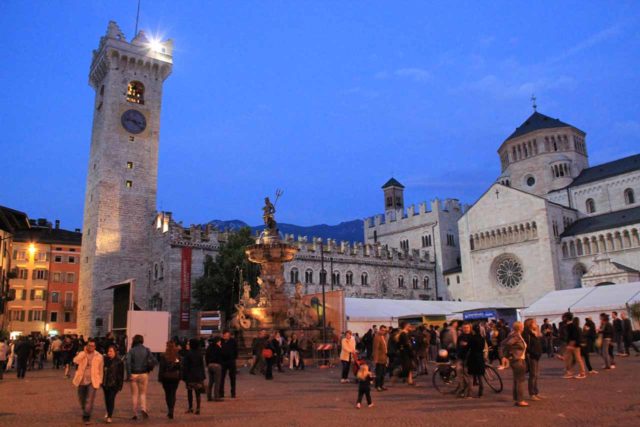 Trento – This historic city (home of the Council of Trent) also featured an interesting mix of German and Italian influences in its architecture and food. With a happening plaza and a charming centro storico (historical center), it was well worth spending the night here. Heck, we were even able to see an attractive waterfall that I dubbed "Cascata di Trento".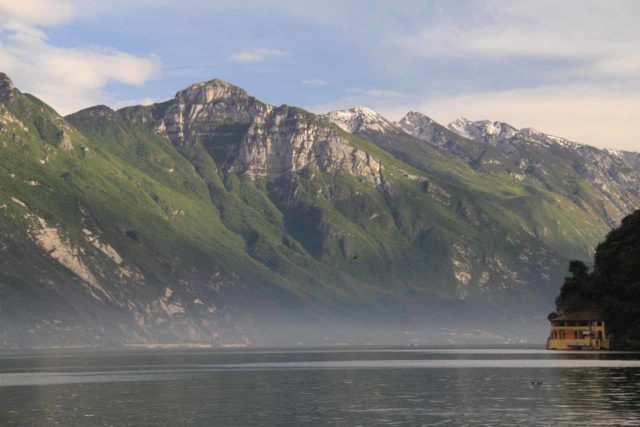 Riva del Garda – When it comes to lakeside towns, there's not many that can match the beauty of this town. For it sat at the far northern end of Lake Garda, which itself was backed by steep mountains, and the town itself featured the cobblestoned streets, stone buildings, and even a tower (Bastione) perched on a hill that we were able to climb up to and get even more mindblowing vistas of the town juxtaposed by the lake.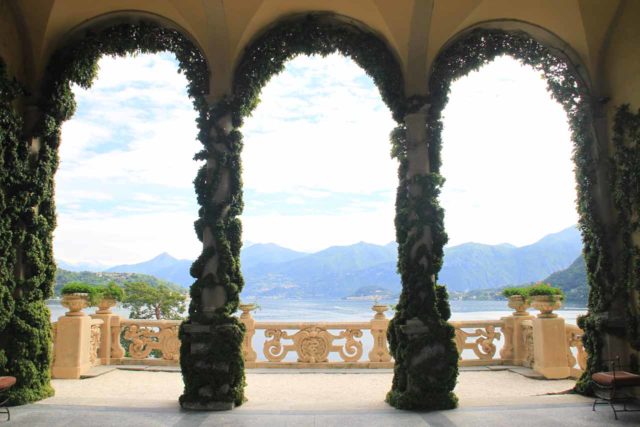 Lake Como – Although this is a big lake with towns dotted about its perimeter, we managed to stay in Lenno and visit Bellagio. We also checked out the beautiful Villa Balbionello, which featured prominently in the Star Wars II movie.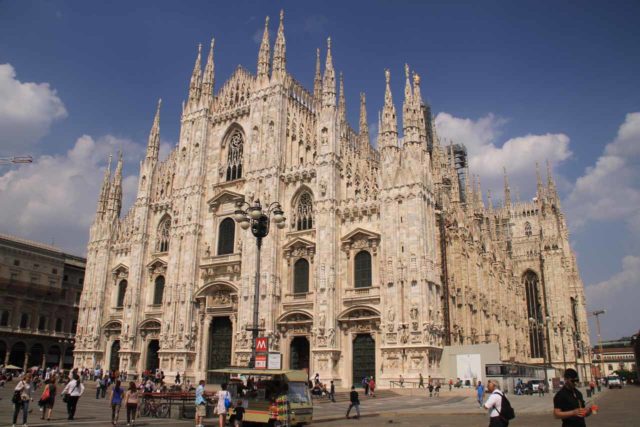 Milan – This city was the last stop in our Italian (mostly) self-guided tour, and in this fashion capital, we checked out the cathedral as well as the galleria (that looked a lot like the one we saw in Naples). We also checked out a little canal part of the city called Navigli, which had a bit of an edgy charm to it.
Trip Advice
On this trip, we had timed it in the hopes of thinking that late Spring and early Summer would be the ideal time to visit this Mediterranean country (based on the similarities of the climate with our own, which also features a Mediterranean-like climate). That said, this trip surprised us in many ways, and here's some of the lessons learned…
Learning Italian Helps: In order to prepare for this trip, I spent upwards of five months self-learning Italian with a combination of books and CDs while on the train (both reading and listening or following along) or just listening while driving in the car. While the language is distinctly different from both Spanish and French, I had enough of a working knowledge of both languages to essentially jump start my Italian learning.
By the end of this trip, I was proficient enough in the language to carry on a nerve-wracking dialog with an elderly lady over the phone in order to arrange for a ride both to and from the accommodation near the Fiumicino Airport. Even if real-time conversations isn't up to par (it never is unless you've actually lived and/or worked speaking only that language for at least a year), it helps with reading signs and printed material where you're not under pressure to come up with something right away. It also helps to not only train your ears and mind to the language itself, but it also enabled me to pick up expressions that were commonly used that we heard over and over again during these three weeks of the trip.
Travel Insurance Since this trip was at least three weeks long, we bought this in order to have some piece of mind just in case the unthinkable happens. Although we didn't take out a claim regarding this trip, we both did suffer from food poisoning which certainly caused some bouts of nausea and vomiting for nearly a week. We attributed it to bad mussels or something from the Amalfi Coast that would up ruining any chance at enjoying food in Toscana and Umbria, but it just goes to show you that you never know what can happen that might impact the money spent on the trip let alone the enjoyment factor.
Smoking: Although smoking is prevalent throughout Europe, it was particularly bad when seated in any outdoor establishment. Often that means having to sit inside the restaurant which meant losing out on the ambiance and people watching. Also, sometimes the second hand smoke wafts inside the restaurant itself, and if there's little to no ventilation, that second hand smoke accumulates and could be worse than if sitting outside.
This was the main reason why we didn't bring our daughter on this trip, and in hindsight, it was probably a good call considering it was practically unavoidable almost everywhere we went in Italy. We were also very cognizant of the impact second hand smoke would have had while she was still developing (not to mention other logistics we would have had to contend with).
Pickpockets: Although we didn't have to deal with this, Julie was once on a European Tour with her Mom years ago, and a couple of the tour participants had lost their purses at the Trevi Fountain in Rome. It just goes to show you that these thieves are professionals, often work in teams, and some even just use their motorized scooters to snatch and drive away in one motion.
We've employed some techniques like money belts, wearing backpacks in the front in crowded places, and generally only bring what we need for the day and nothing more while locking the remainder away in the accommodation in a locked luggage (we tend to be wary of safety deposit boxes because things are easily forgotten in there).
Autostradas (toll versus free): One thing we learned about driving in Italy was that the high speed freeways or highways (called autostrada in most of Italy, but also called autobahn in the German-speaking parts of Northern Italy) tend to have much better conditions and flow. In other words, there are fewer rough spots, potholes, and drivers generally adhere very well to the keep-right-except-to-pass convention that we tend to see little of in our home state of California.
That said, the highways without the tolls noticeably had rougher conditions and the roads were more crowded. Needless to say, the driving was less enjoyable though Italians in generally adhere to the keep-right-except-to-pass rule so at least that was one less source of stress while driving on holiday.
Travel Itinerary
Days 1-2: Fly from Los Angeles to Rome
Overnight: Flowerome (Rome, Italy)
This was a travel day where the long haul flight essentially went overnight (plus the 8-hour time difference), and we arrived in Italy around noon time. From there, once we arrived at our accommodation, we had lunch, checked in, then explored Rome seeing things like the Spanish Steps, Fontana di Trevi, Pantheon, Piazza Navona, and Campo dei Fiori.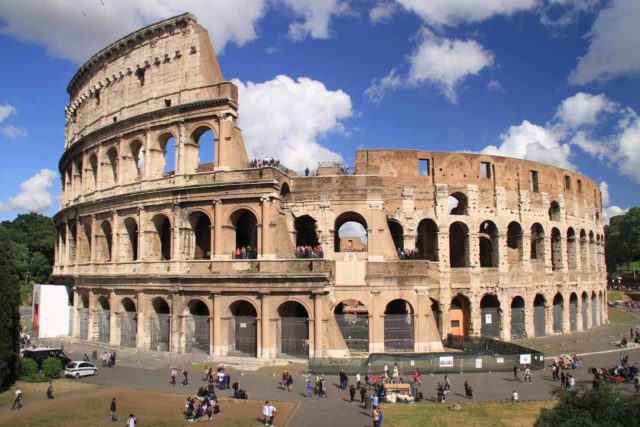 Day 3: Day Touring in Rome
Overnight: Flowerome (Rome, Italy)
We started the day going right to the Vatican and the Sistine Chapel which required waiting in line. Afterwards, we then checked out the Colosseum, Il Palatino, the Roman Forum, the Central Historical Museum, and Il Palazzo di Vittorio Emanuelle.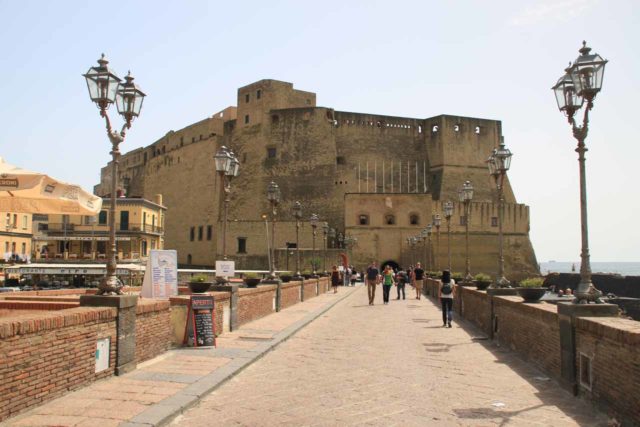 Day 4: Bullet train from Paris to Naples
We caught an early morning train that took us from Rome to Naples. Once in Napoli, we were able to check in, leave our stuff, then tour the city. Among the sights were Castelo di Capuano, Porta di Capuano, Castel di Nuovo, Galleria Umberto I (looking much like the more upscale one in Milano later on in the trip), Piazza del Plebiscito, Views of Mt Vesuvius, Castel dell'Ovo, and the Naples Historical Center.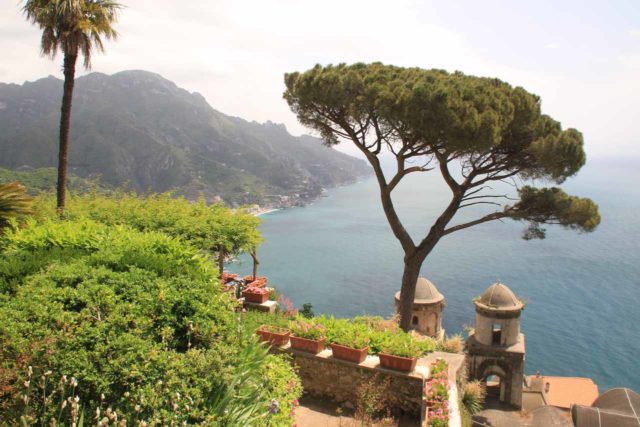 Day 5: Paid Tour from Naples to the Amalfi Coast
We had pre-booked a custom tour to do the Amalfi Coast out of the fear of driving in Italy not knowing how hectic it might be (i.e. the pre-conceived notion we'd be facing third world driving conditions in a first-world country, which turned out to be false). In any case, our tour took us to Pompeii, Ravelo, Villa Rufolo, the town of Amalfi, and finally arriving in Positano.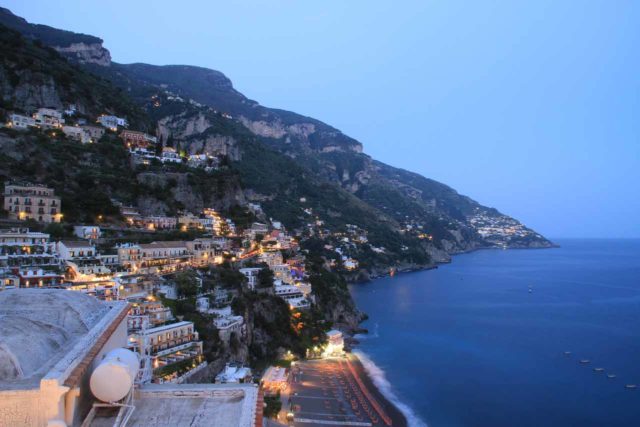 Day 6: Day Tour of Capri
On this day, we had a day at leisure to tour the island of Capri right from the dock at Positano, where we were staying. While on Capri, we visited the Gardens of Augustine as well as the Arco Naturale.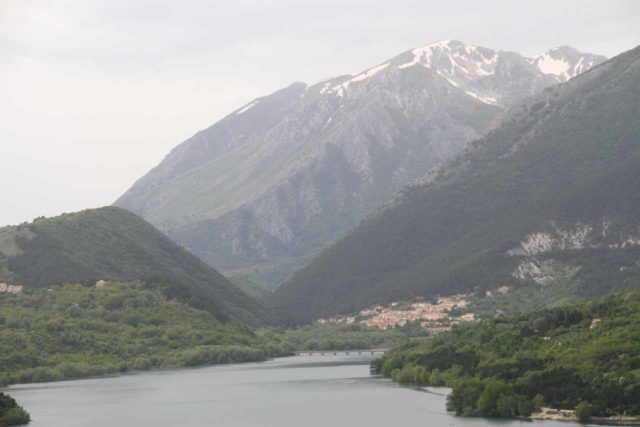 Day 7: Tour back to Naples, then drive to Arpino
On this day, we started off by having the Amalfi Coast Tours driver drop us off at the rental car agency we had pre-booked with through Auto Europe. Once the car was in possession and we had set up our GPS, we then drove out to Abruzzo to see Cascada del Rio Verde, Lago di Barrea, and then drive back west to town of Isola del Liri. The town harbors the Cascate del Liri. Finally, we settled in Arpino further up the mountain from Isola del Liri.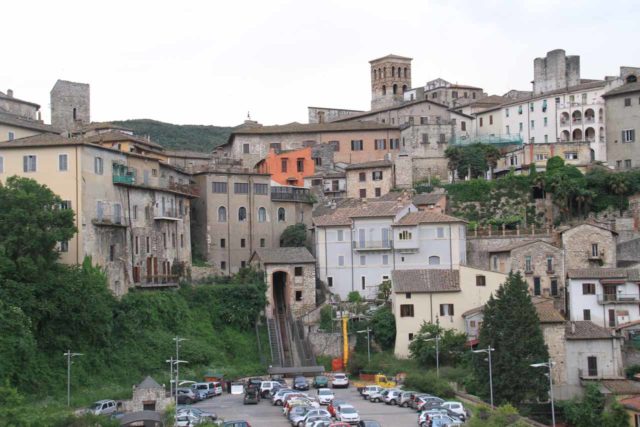 Day 8: Drive from Arpino to Narni
I spent the early morning exploring on my own Arpino and going up to the Civitavecchia, which was a historic ruin. Julie was already suffering from food poisoning at the time. After checking out, we then visited the Cascate del Liri before driving out to Cascata delle Marmore as well as the Basilica di San Francesco d'Assisi. At the end of the day, we had dinner in Narni before returning to our accommodation.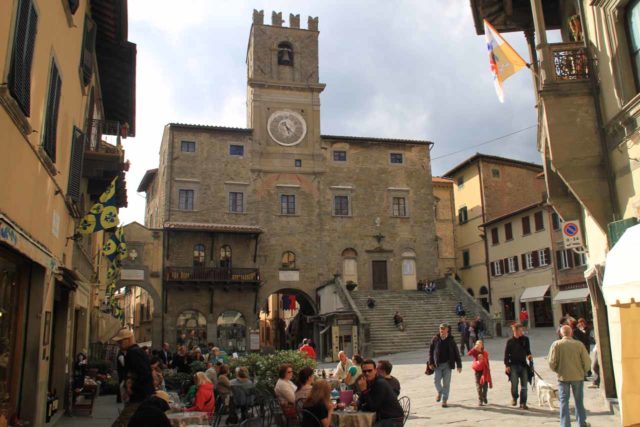 Day 9: Drive from Narni to Montepulciano
After leaving Narni, we drove out to Cascata del Sasso before cutting west towards Toscana and visiting the town of Cortana before finally arriving in Montepulciano.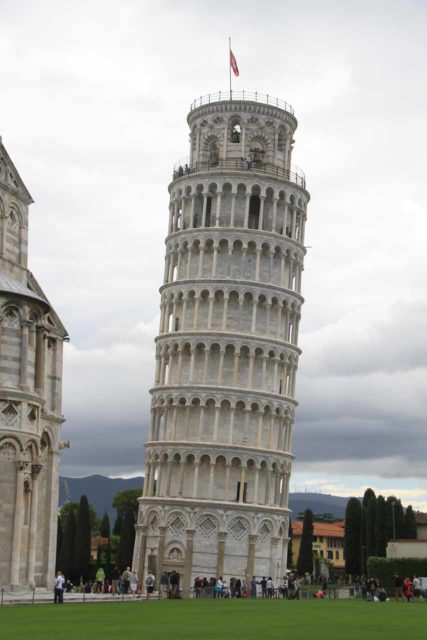 Day 10: Day tour driving around Toscana
On this day, we made the long drive all the way out to Pisa, where we saw the famous Torre Pendente (i.e. the Leaning Tower). Then, we checked out the town of Lucca before returning to Montepulciano to check out the medieval town's center.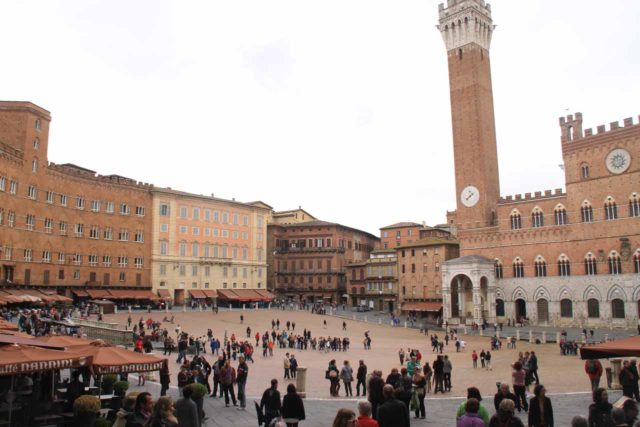 Overnight: Agriturismo Il Rigo (San Quirico d'Orcia, Italy)
On this rainy day, we drove out to Siena (where we visited the Duomo and Piazza del Campo). After spending the better part of the day there, then we drove to Val d'Orcia to experience the rolling hills of Toscana that you tend to see in the literature.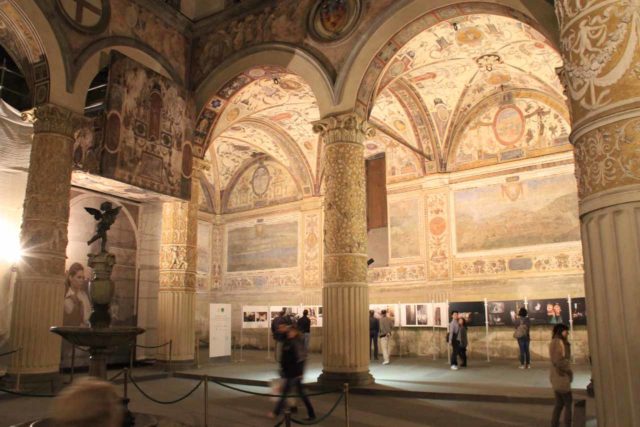 Day 12: Driving from San Quirico d'Orcia to Florence
Overnight: Hotel Club (Florence, Italy)
After leaving Val d'Orcia, we drove out to Cascate del Dardagna as well as the adjacent Sanctuary of Madonna dell'Acero. Afterwards, we drove to Florence to return the rental car, then spend the rest of the evening exploring the beautiful Renaissance city seeing things like Ponte Vecchio, Piazza della Signoria (Loggia dei Lanzi), and Piazza del Duomo.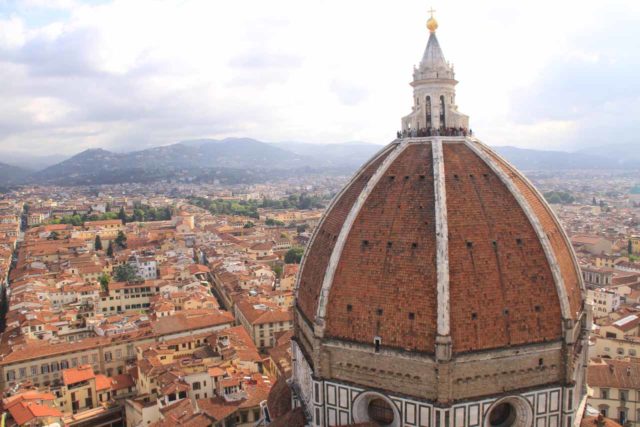 Day 13: Day at leisure in Florence
Overnight: Hotel Club (Florence, Italy)
On this day, we went into Il Duomo (as well as going up the Campanile), checking out the Piazza del Duomo, Ponte Vecchio, Piazzale di Michelangelo, and Piazza della Signoria (Loggia dei Lanzi).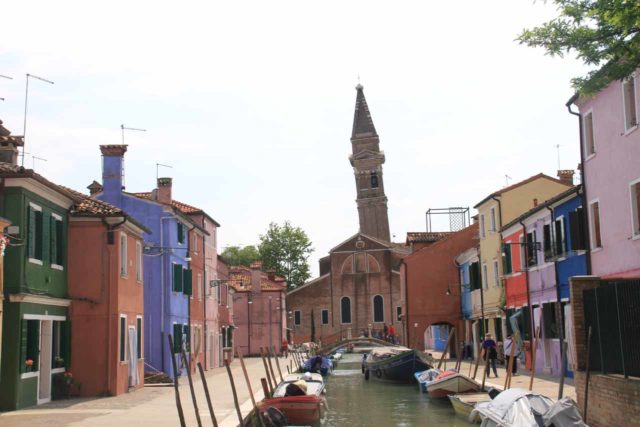 Day 14: Train from Florence to Venice
Since the morning train was sold out, we actually had time to visit Galleria dell'Academia (statue of David) before catching the bullet train to Venice. Once in Venezia, we visited the Grand Canal, Rialto Bridge, Piazza San Marco, and took the boat taxi out to Burano.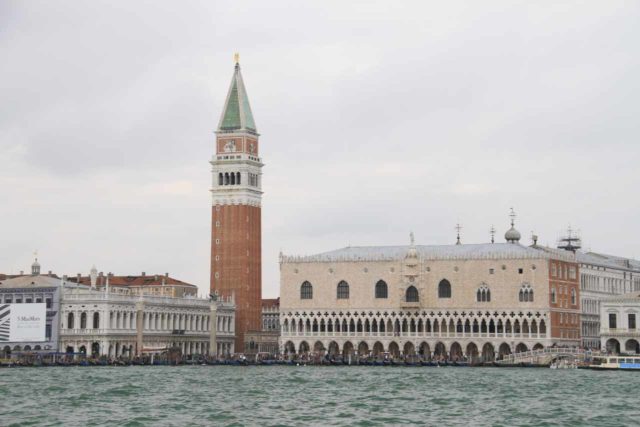 Day 15: Day at leisure in Venice
On this day, we once again visited the Grand Canal, Rialto Bridge, and Piazza San Marco. We also visited the Campanile as well as the Basilica di San Marco, and we allowed ourselves to get intentionally lost a little bit just exploring Venice's alleyways and maze of smaller streets.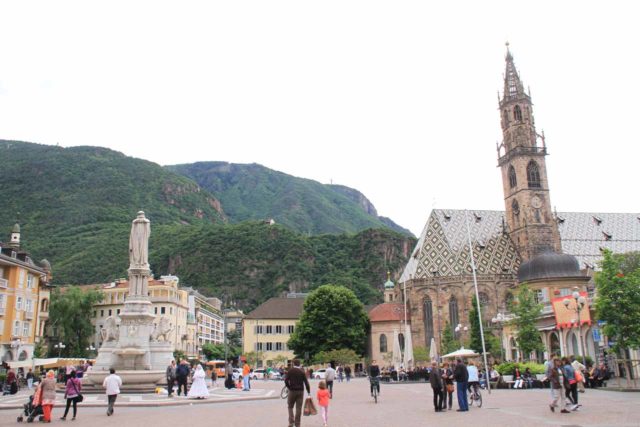 Day 16: Driving from Venice to Bolzano
After taking the train out of the main part of Venice, we then went to another rental car agency to pick up the car and drive it to Bolzano. After checking in, we then drove out to Cascata di Parcines (Wasserfall Partschinser).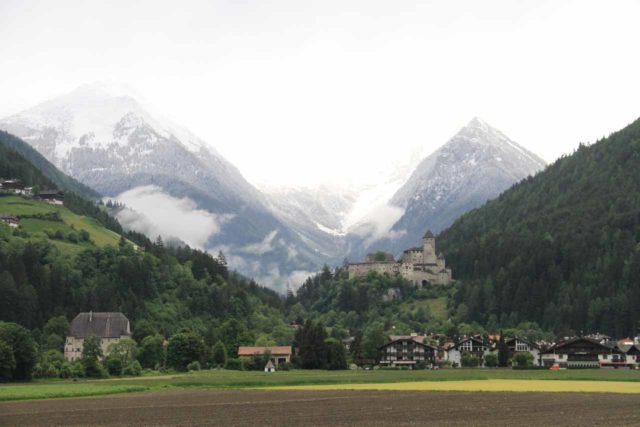 Day 17: Driving around the Dolomites
We started the day by driving out to Campo Tures (Sand in Taufers), where we then visited Cascate di Riva (Reinbachfalle). We then drove back to Barbiano, where we did the hike to Cascate di Barbiano (Barbianer Wasserfalle). Then, we returned to Bolzano to do some last bit of touring the city.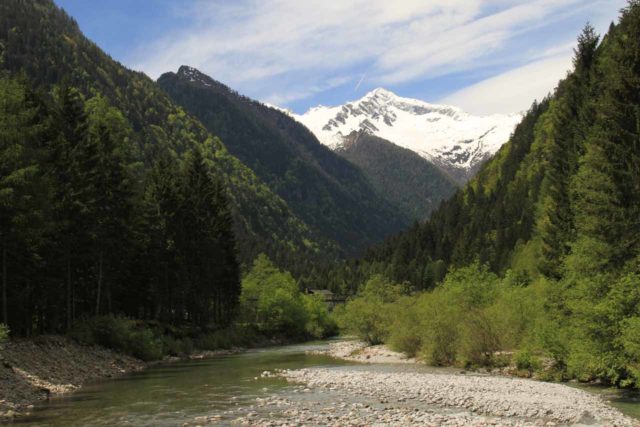 Day 18: Drive from Bolzano to Trento
On this day, we drove out to visit Cascata di Nardis and Cascate di Lares. We then drove into Trento to spend the rest of the day touring the city. Whilst there, we visited the Piazza del Duomo, Centro Storico, and Castello di Buonconsiglio.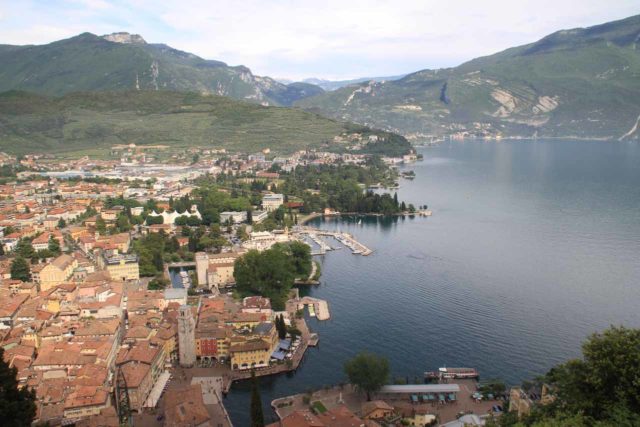 Day 19: Driving from Trento to Riva del Garda
Overnight: Hotel Sole (Riva del Garda, Italy)
After going up to the roof of our accommodation to check out the "Cascata di Trento" from a distance, then we drove out to Lago di Ledro, walked to Cascata del Gorg d'Abiss, and then we visited Cascata del Varone. Finally, we ended the day in the scenic Riva del Garda exploring its waterfront and Bastione.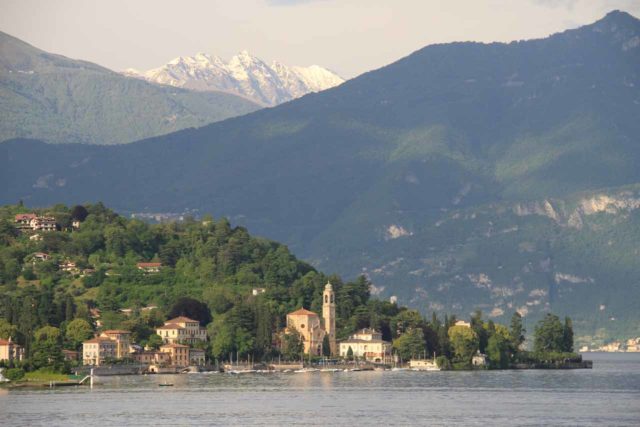 After checking out a little more of Riva del Garda in the morning, we then checked out and left for the Italian Lakes further to the west. We ultimately visited Bellagio after cruising by boat over Lago di Como, and then settled in on Lenno.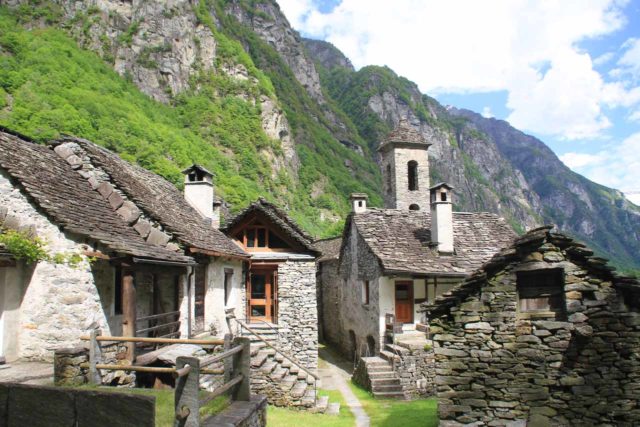 Day 21: Drive from Lenno to Locarno
Overnight: Ibis Locarno (Locarno, Switzerland)
Due to the hours of Villa Balbionello, we had to wait until today in order to tour the property made famous by Star Wars Episode 2. After visiting the estate, we then walked back through some street markets in Lenno before chcking out and driving out to Switzerland. We ultimately visited Cascata di Bignasco and Cascata di Foroglio while seeing Lago di Lugano along the way. We ended off the day in Locarno and checking out its city center.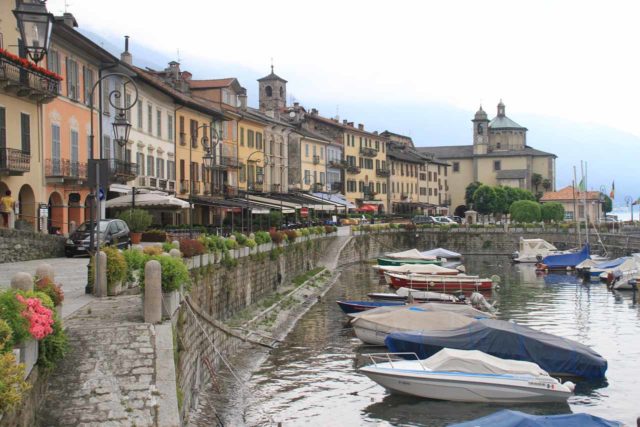 Day 22: Drive from Locarno to Milan
This was a long driving day where we drove along the western shores of Lago di Maggiore. Along the way, we visited the L'Orrido di Sant'Anna and Cannobio, where we had lunch. Ultimately, we returned the car in Milan by the airport, then took the bus back into the city so we could visit Il Duomo, Piazza del Duomo, La Galleria, and Navigli. After dinner, we then took the bus back to our accommodation by the Milano-Malpenza Airport, where we would be ready to fly out the next day.
Day 23: Domestic flight from Milan to Fiumicino
This was an uneventful travel day where our flight wasn't until later in the afternoon. In hindsight, we probably should have stayed closer to the city center of Milano and then take the bus to the airport. Either way, we made it to Fiumicino (where the international airport was) and settled there.
Day 24: Fly Home
This was just a travel day (though we did have to stomach a delay with our flight due to a workers strike).
Best Places We've Stayed At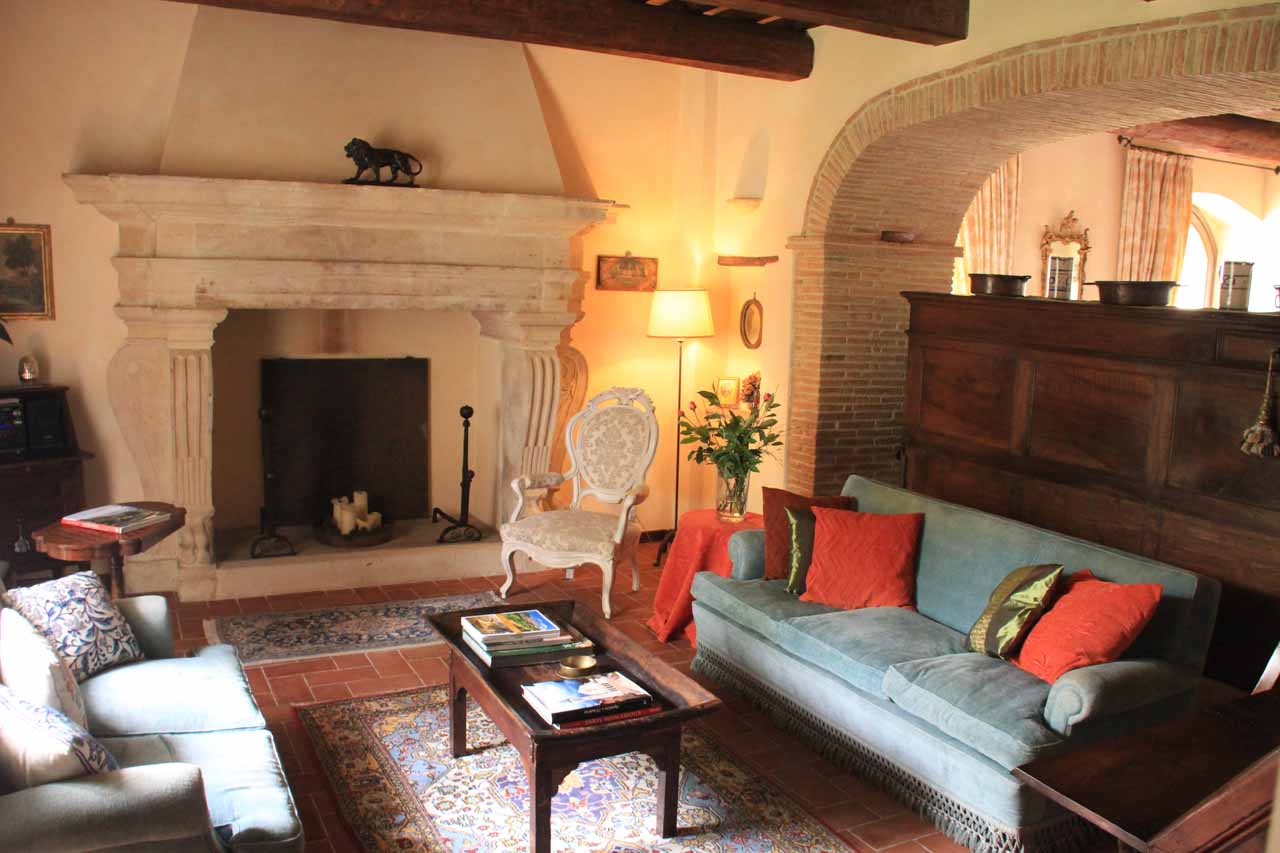 Torre Palombara, Narni – This accommodation felt like we were living in an estate with a large field surrounding it. Inside, the place was decked out with fancy furnishings that had this air of elegance about it. And it was too bad that we had only spent one night here, and we had probably spent more time in the toilet here due to food poisoning from a few days earlier. Still, this place was comfortable and I could see ourselves coming back if given the opportunity.
As for its location, just to the west was the town of Narni (the inspiration behind the Chronicles of Narnia), and to the east was Terni and the Cascata delle Marmore.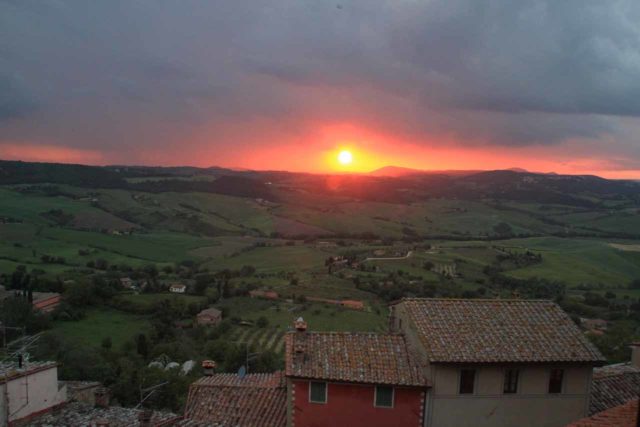 Camere Bellavista, Montepulciano – Although this accommodation was fairly basic, this place was all about the view. And indeed, it delivered in a big way on that front, especially at sunset when the clearing storm clouds made the sun even redder than normal. In fact, the Italian translation of this place meant Beautiful View Rooms.
This place was actually inside the town walls so we had to park outside the walls then lug our stuff up several flights of steps before we got the permit from the innkeeper so we could drive into the town walls (a ZTL area; i.e. forbidden traffic) and park right outside the accommodation so we wouldn't have to make another walk like that with luggages again.
What to Bring
On this drip, we didn't really feel like there was any special equipment that was necessary besides what we highlighted in the list of equipment that we bring on all of our trips.

Related Trip Reports
Waterfalls included in this itinerary
Visitor Comments:
Got something you'd like to share or say to keep the conversation going? Feel free to leave a comment below...
No users have replied to the content on this page