This Japan Itinerary marked my third time in the country (1st in nearly 7 years), Julie's second time (1st in nearly 13 years), and Tahia's first time. It primarily covered the main touristed cities of Tokyo and Kyoto, but it also included Takayama, Nikko, and Nachikatsuura.
Unlike our 2009 trip, where Julie and I got around almost exclusively using public transportation, on this trip, we self-drove and took more control of the timing of our itinerary.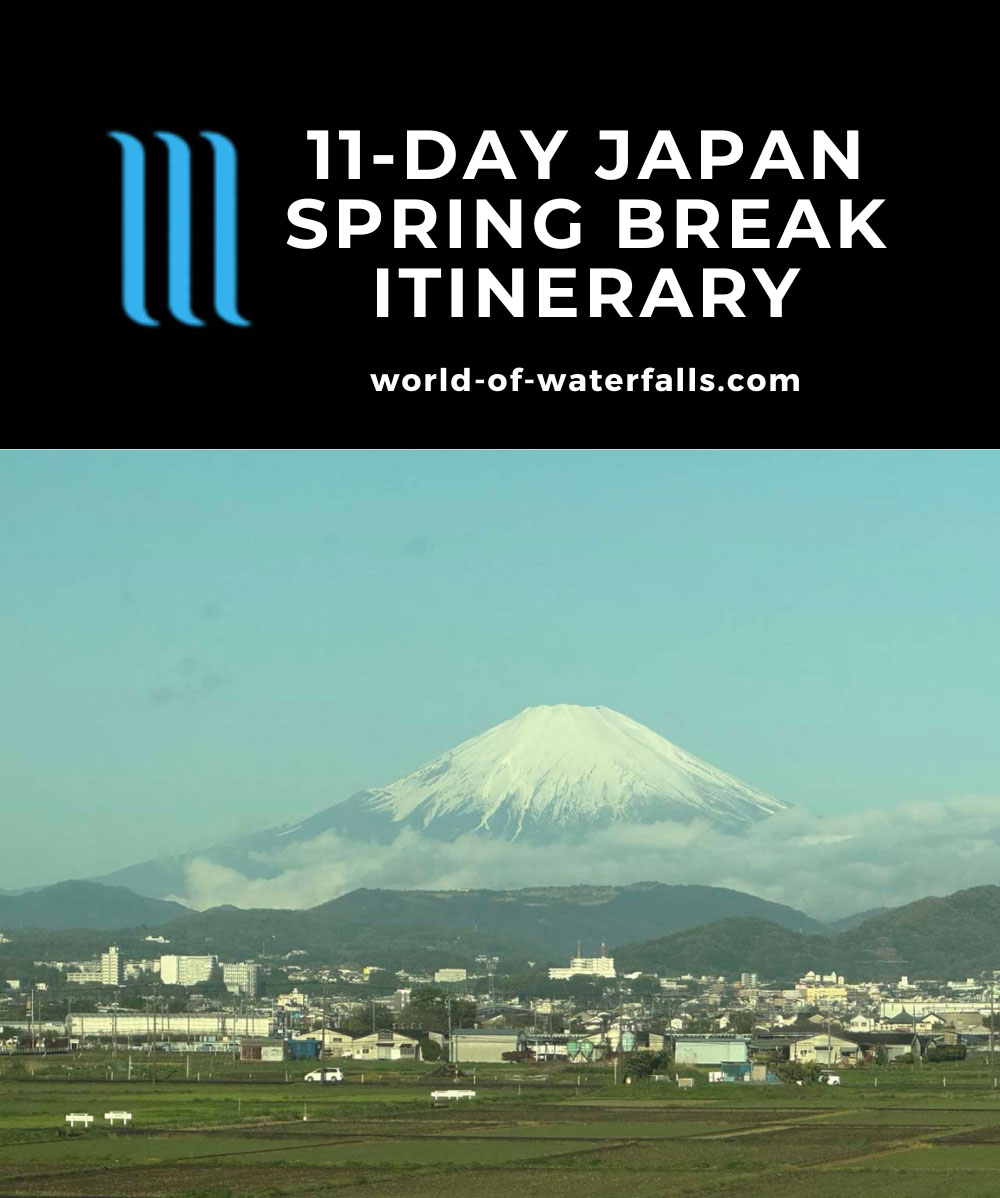 This also marked an opportunity to job our memories a bit and see whether the places we've been to before have changed (and if so, how have they changed?).
We also were keen to see how our daughter would react to new experiences, especially since this made for a very different Asian visit compared to Bali last Summer (or Winter in the Southern Hemisphere).
Indeed, we managed to fit in quite a bit on this trip, and it affirmed something I personally knew about the last time I was in Japan in October 2016, which is primarily that self-driving really is the way to go despite language barriers, paying tolls, figuring things out as you go, driving on the left, etc.
So in this page, we're sharing what we did, which in turn tells you what's possible and what's involved…
Trip Highlights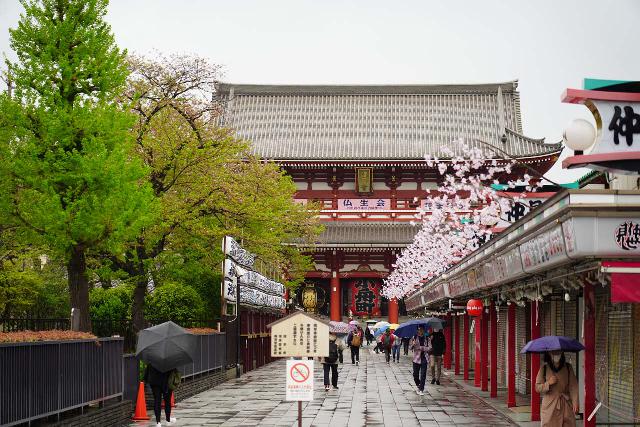 Senso-ji Temple – I could have just lumped a bunch of attractions together and say Tokyo was a highlight, but that would really sell the things we enjoyed visiting short. Case in point, our early morning visit to the Senso-ji Temple was every bit scenic as it was atmospheric despite the rain. There's a reason why this place is popular, and that there's so many TripAdvisor reviews about it, and even though this wasn't my first time doing this, I definitely considered this place a highlight.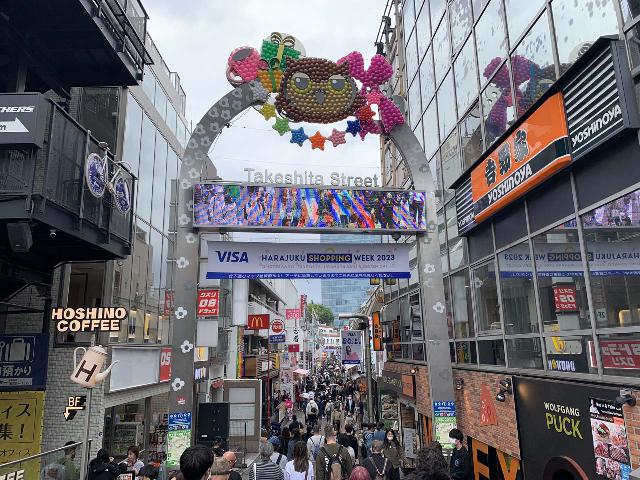 Takeshita Street (Harujuku District) – Tokyo is full of happening neighborhoods, but one that stood out to us was the happening Takeshita Street in the Harujuku District of Tokyo.
This spot featured a lot of treats as well as pretty cool souvenir shops as well as the atmospheric crowds that add energy to this place. I never recalled this street being that crowded when we first came here in June 2009, but now it's pretty much a walking street where it's pretty much wall-to-wall people (with minimal space considering people were wielding umbrellas due to the rain on our visit).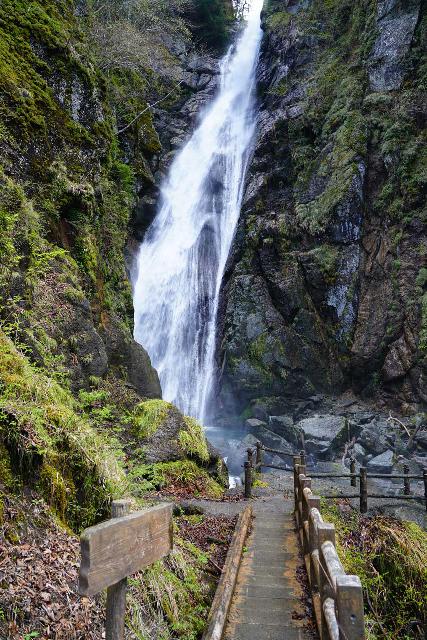 Abe Great Falls – I always say that a trip doesn't begin until we visit a waterfall, and that icebreaker waterfall on this trip was this giant near the Umegashima Onsen in the Shizuoka Prefecture. Surprising us, we saw that there were still remnant cherry blossoms in these mountains as well as the delightfully naturesque scenery and sounds as this place was as uncrowded as it gets (a major contrast to the crowds we experienced in Tokyo).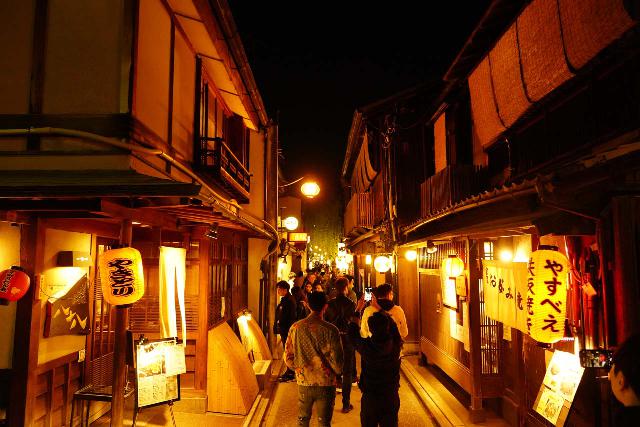 The Pontocho Alley – like Tokyo, Kyoto could have easily been its own highlight, but that's selling its individual experiences short. Case in point, the Pontocho Alleyway was the perfect excuse for us to explore a part of Kyoto that Julie and I didn't really get to experience on our first visit 14 years prior. Indeed, this was a walking street lined with traditional architecture doubling as shops and restaurants. Night time is the perfect time to soak in this ambience, and we even extended our visit by walking over to other shopping arcades nearby like the Shinkyogoku Arcade, which included the Nishiki Market.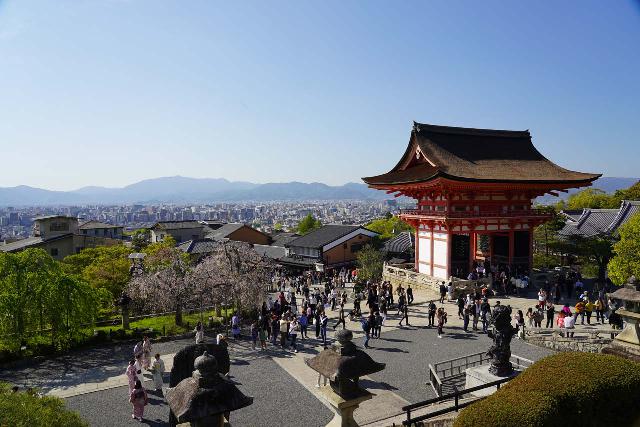 Kiyomizu Dera – Even though there we also visited the Kinkakuji Shrine (the golden temple) and the Fushimi Shrine (the torii gates), I begrudgingly put this on the list of highlights even though it was every bit as chaotic and crowded as the other sights. I don't know if social media basically amped up these sights, but I still remember when this place was uncrowded and I have the pictures to prove it from our first trip. Nevertheless, I chose this attraction as a highlight because not only were the temples and the views towards Kyoto impressive, but the walking street down from its doorstep towards the busy streets below were pretty much a daytime walking street with the odd cherry blossom still around though definitely past its peak flowering period during our visit.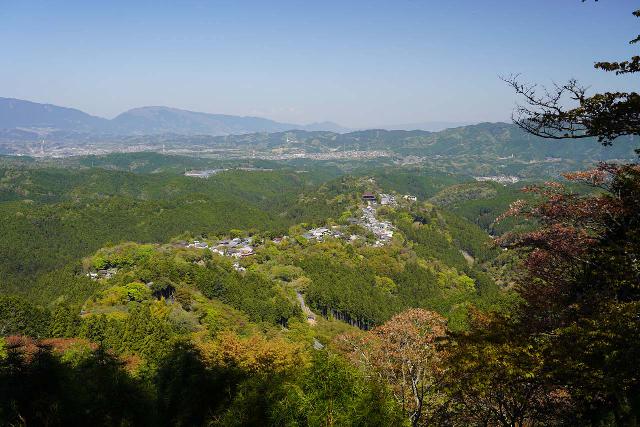 Mt Yoshino – even though we missed the sakura by about a week or two, this place still was peaceful in the morning and atmospheric in the late morning on the way back. Granted the main appeal here is the cherry blossom bloom, but you can't beat the views as well as the remnant sakura still around. While Julie and Tahia had mixed feelings about visiting this place, I thought it was at least less chaotic than the Kyoto sights inundated by the social media lemmings phenomenon.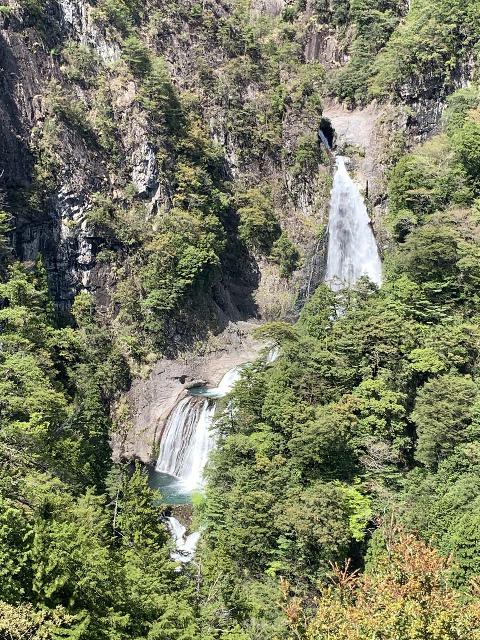 Fudonanae Waterfall – this was a roadside stop for us on the long drive between Yoshino and Nachikatsuura through the Kumano Mountains, but we were the only people here while the "motionless 7 falls" put on quite the show for us. It was another new waterfall entrant in our catalog of waterfalls in Japan, and it certainly delivered on the scenery as well as the fact that it was uncrowded so we had a peaceful experience.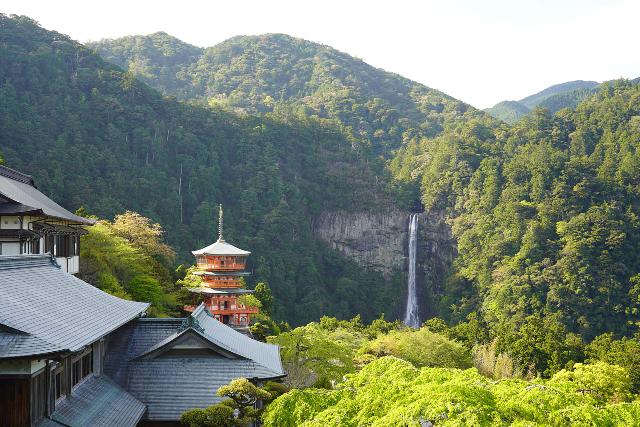 Nachi Waterfall – this place topped our list of favorite waterfalls in Japan, and after going this second visit, it still emphatically belongs there. This time, our visit wasn't as rushed so we got to stroll around the Seiganto-ji more while also going down to the bottom of the falls like before for that full experience. Indeed, sometimes experiences from the past tend to be romanticized and nostalgic, but this time was every bit as pleasant as the first. Heck, we even saw a few more intrepid gaijin around here, which was noticeably absent on our first visit when we were the only gaijin around!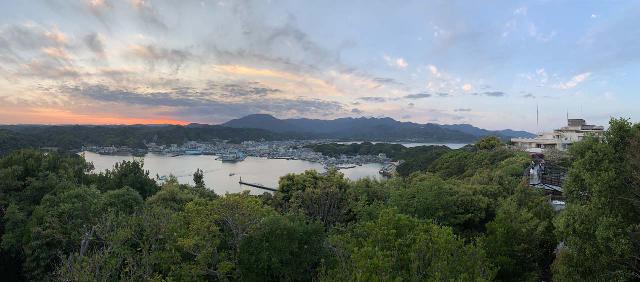 Hotel Urashima – even though I'm devoting a bit of this page further below as one of the accommodation highlights in Japan, I wanted to give props to this place for also doubling as a scenic and experiential highlight as well. After all, we got to bathe in the Bokidou Cave Onsen (which has multiple rooms in a sea cave) and we got to go up to the top of the property for great sunset views over the town of Katsuura. Julie and I also stayed here on our rushed first visit back in June 2009, but this time around, we made sure to slow things down and really enjoy all that this place had to offer! Oh yeah, and did I mention, one of the best cherry blossom displays were still in Katsuura Town?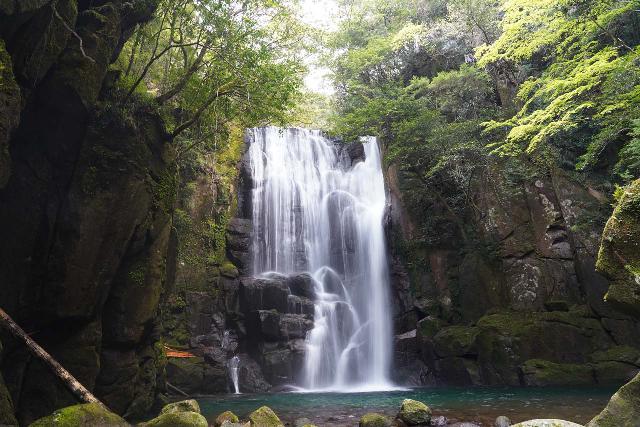 Kuwanoki Waterfall – this was one of the waterfalls that was gazetted on Japan's Top 100 Waterfalls List, and it was even more surprising that it was located very close to the city of Shingu. What I got out of this experience was a lot of zen complete with peace and quiet in Nature along with an outdoor shrine, and a little bit of adventure without the place being inundated with crowds. In fact, I was the only person here during my visit. What more could you ask for?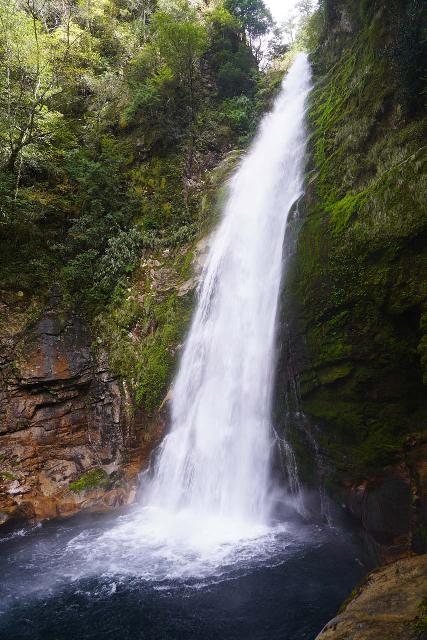 Sasa Waterfall – this was another one of the Japan's Top 100 Waterfalls though I had to do a bit of a drive deep in the Kumano Mountains for it as it was near Totsukawa, and I had to change out a flat tire, which I must have popped while driving the single-lane roads to get there. Nevertheless, this was a giant waterfall in a deeply vertical gorge though it was a real scary and sketchy scramble to get the view you see in the photo above!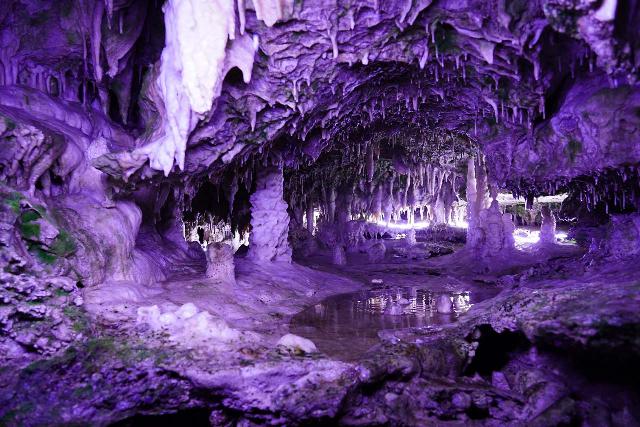 Hida Great Limestone Cave – we opted to visit this spot as more of a hedge against bad weather, which was the case when we first showed up to Takayama, but it turned out to be quite the pleasant surprise as we got to witness various formations and chambers throughout the three-part tour as well as an interesting no-photo museum at the start. I didn't expect this to be such a long self-tour (considering how most cave visits we've done in the past tend to be short or a bit crowded), and I was glad that we did it. By the way, this place was nearby a legitimate waterfall even though it had its own series of man-made and man-modified ones…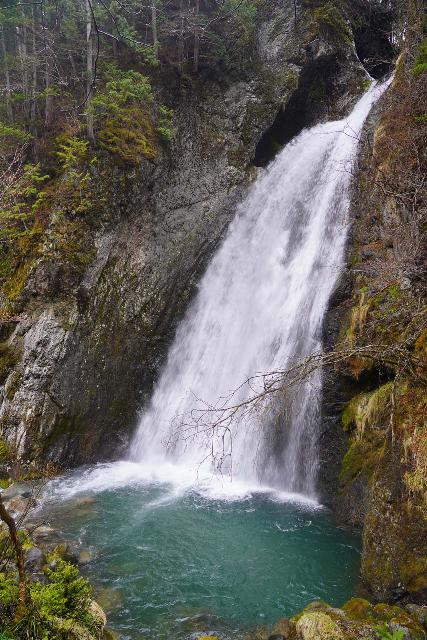 Hida Choshi Falls – this was a convenient waterfall since it was not much of a detour off the 158 road, and it was barely 5 minutes drive from the Hida Great Limestone Cave. So it was the perfect bad weather pairing even though the weather already started to calm down during our visit. By the way, they named this waterfall because it resembled a type of sake bottle, and I suppose if you're familiar with them, then yeah I can see the resemblance…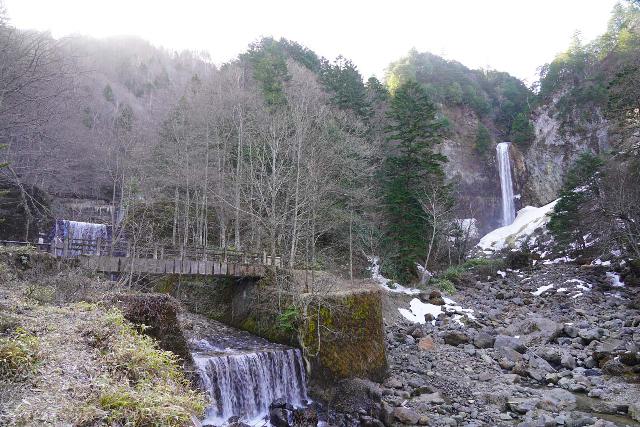 Hirayu Waterfall – even though Spring was probably not the best time to visit this waterfall due to snow closures, I still contend that it belongs on our list of best waterfalls in Japan. Of course the circumstances of our Fall visit in 2016 contrasted mightily with our Spring 2023 visit, and the only way to truly find its place on our list would be to come back in the Summer, which we intend to do!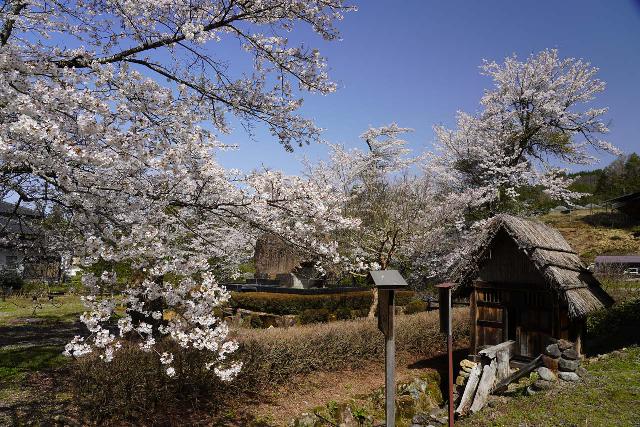 Arakawa's Residence – this former mayor's residence near Takayama not only acted as a bit of a small museum a bit outside of town, but it also marked the best cherry blossom display that we managed to see all trip long! Indeed, it was that blossom that compelled us to make a stop here, and I was glad that we did it, because as you can see from the photo above, the bloom was not bad even though the peak of the sakura was a week or two earlier!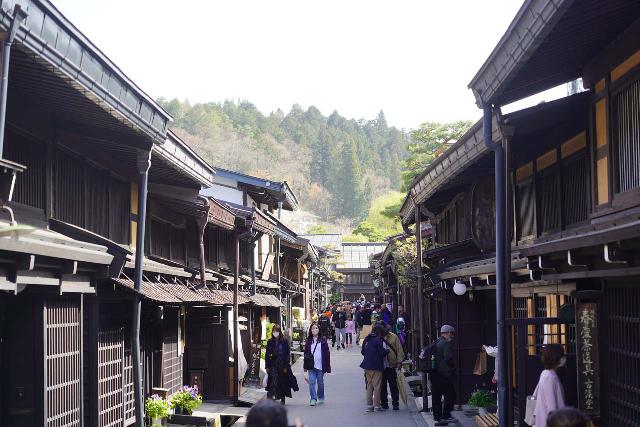 Sanmachi Street – Takayama was a pleasant small city that's easily walkable, and the main focus of the walking is this walking street full of shops as well as sake tasting joints that were really fun. There was also a nearby fortress that doubled as a shrine at the Takayama Jinja as well as cherry blossoms alongside the Takagawa River to really add more color and atmosphere to the whole experience. We're definitely coming back here on our Summer trip!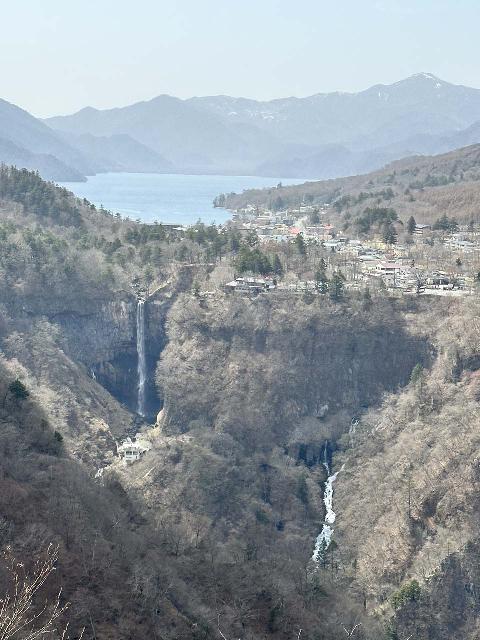 Kegon Waterfall – this waterfall marked another return visit of one that we put on our list of favorite Japanese Waterfalls, and like Nachi, it certainly belonged high up on our list as our second visit demonstrated. This time, however, we did something different by adding the Akechidaira Ropeway to the experience so we got to see a nice panorama as pictured above as well as the context of Mt Nantai (which undoubtedly had something to do with the formation of this waterfall as well as the lake). It goes to show you that there's always something new to experience, and no two experiences are the same even for the same waterfall!
Yudaki Waterfall – this was another repeat visit for us, but I think Julie didn't remember her first visit as much. So she was quite surprised by this visit, and it even compelled her to call this one of her favorites on the trip! Oh by the way, I also snuck in a quick loop hike to the Kotaki Waterfall further downstream to really complete the experience.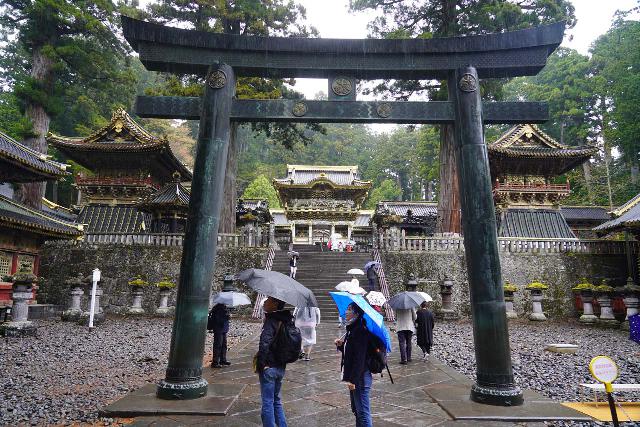 Nikko's World Heritage Shrines – the main draw to the small city of Nikko is its UNESCO World Heritage Shrines and Temples. The most famous of these is the blinged out Toshogu Shrine (pictured above), but we also took the time to visit the Taiyuin Temple as well as the Nikko Futarasan Jinja Shrine. Just further up the hill was the much quieter and more humbler Takino'o Shrine along with the Shiraito Falls.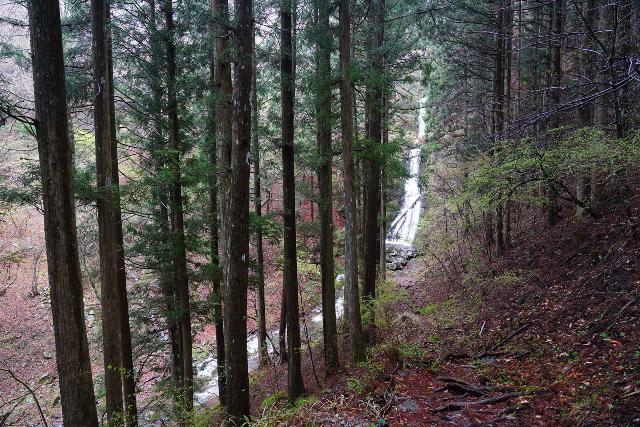 Jakko Waterfall – it took the closure of the nearby Urami Waterfall, but I guess it was meant to be because I was pleasantly surprised by this waterfall with a pair of buildings making up the Jakko Shrine to boot! Even though it was raining fairly hard during my visit, I was all alone, and when that happens, this place just screams "atmosphere"!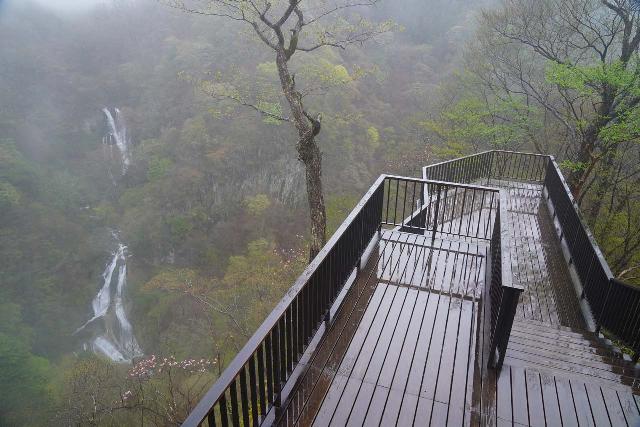 Kirifuri Falls – this was another repeat waterfall visit, but instead of the thick foliage of the Summer, this time it was rain clouds and the odd remnant cherry blossom juxtaposed with a more voluminous multi-tiered waterfall. Indeed, I had to be patient with my late afternoon visit, but as you can see from the picture above, at least that patience somewhat paid off!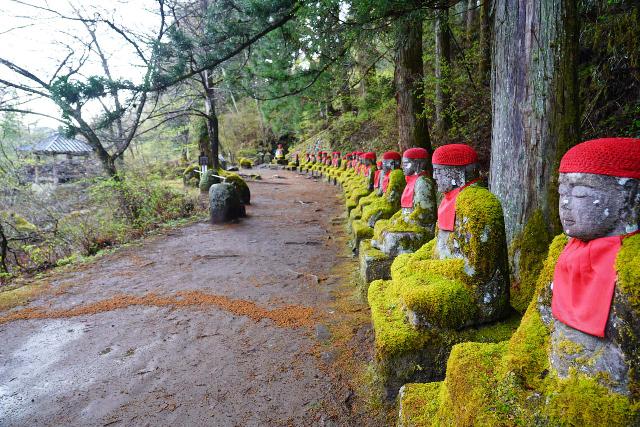 Bake Jizo and the Kanmangafuchi Abyss – this was yet another atmospheric repeat visit in Nikko. The first time I was here, I remembered how eerie this place seemed to be since there was no one else around except for the 74+ jizo statues seemingly watching us. The second time around however, I noticed more gaijin around, and it seemed like word is getting out that there's this atmospheric and scenic quiet spot flanking the Daiyagawa River through Nikko.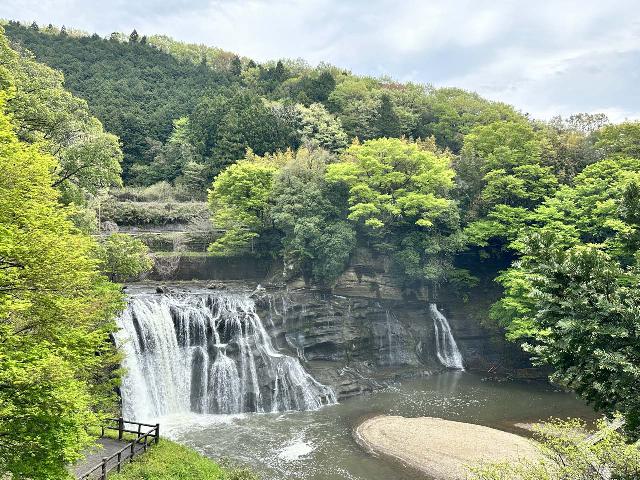 Ryumon Waterfall – this may not be on the Ministry of the Environment's list of Top 100 Japanese Waterfalls, but that doesn't take away from the fact that it's impressive. I guess in times of higher flow, the falls could expand out to 60m wide or so, but as you can see from the photo above, its Springtime flow was a bit more humbler than that. Nevertheless, this was a nice, scenic stop on the way to the Narita Airport to end off this magical Japan trip.
Trip Advice
During our 11 days in Japan, we took lessons from my first two trips there to double down on self-driving as a way to be very efficient with our limited time while affording us the flexibility to get off the beaten path and away from the tourist crowds. Even though our trip went past the sakura peak bloom by about a week or two, Japan seemed to be the IT tourist destination this year as it seemed like everyone came here from overseas. So what did we learn from this trip that we could share with you? Read on and find out…
Self-Driving: While I'm touting the virtues of the freedoms of self-driving, especially to get away from the tourist crowds (which were all concentrated in Kyoto and Tokyo, it seemed), it did come with some baggage. For example, I had to change into a spare tire after getting a flat tire in the Kumano Mountains (before getting legit tires at a shop in Shingu). The language barrier didn't make it obvious how we were going to get in touch with the rental car company, but at least we had cell coverage, which allowed Julie and I to communicate (I was alone when this happened), and she managed to get the Hotel Staff to call Toyota Rent-a-Car to get an operator to try to call me for further instruction while I was driving on a spare. It all worked out, but it goes to show you that with freedom comes responsibilities.
Speaking of freedom, it's also not free because we paid about 26k yen in tolls as well as the usual rental fees, insurance coverages, gas, and parking. But I still contend that this is the way to go because we did a lot in our 11 days that would have easily have forced us to spend over 2 weeks to do on a more typical JR Pass type itinerary.
Accommodations: One thing we learned about this trip was that you tend to get more of the tatami-style places and ryokans in more rural towns while you get more cramped accommodations in the cities. Case in point, we stayed at tatami-styled places in Katsuura as well as Nikko while the spaces were cramped in both Tokyo and Kyoto. In Takayama, it wasn't tight, and they even had an on-site onsen on the top floor.
So that's something to consider, especially since it's already hard enough to find accommodations to suit 3 people (most places are meant for 2 people). And our upcoming Summer trip will involve 7 people, which created all sorts of logistical nightmares since Japan is ill-equipped to handle such large groups!
Cell Coverage: Japan is actually quite well-connected throughout the country (it enabled me to communicate with Julie while I was dealing with a flat in the Kumano Mountains).
The way we worked it out was that Julie used an old photo to put in a SIM card that works with Japan's local cell network so that was our GoogleMaps device. Unfortunately, I couldn't do that on the existing roaming plan on my phone unless I forked over $50 per month extra to make my roaming high speed. Without it, I couldn't navigate with Google Maps, and I was pretty much relegated to do all internetting via Wi-Fi where available. However, I could text and talk using WhatsApp.
Cash Still King: It seemed like Japan took steps to be a little more cashless (like putting a balance on Suica Cards to pay for stuff beyond public transportation), but cash was still king most places. This included all the coin-op cafes as well as some gas stations (which really hurt us in the wallet). At least accommodations could handle it as did most sit down restaurants we went to. Besides, we were getting pretty decent exchange rates in the country (the best spots were surprisingly at the Narita Airport and a kiosk beneath Kyoto Station), and we still have some unspent cash that we'll definitely need for the upcoming Summer trip.
Travel Itinerary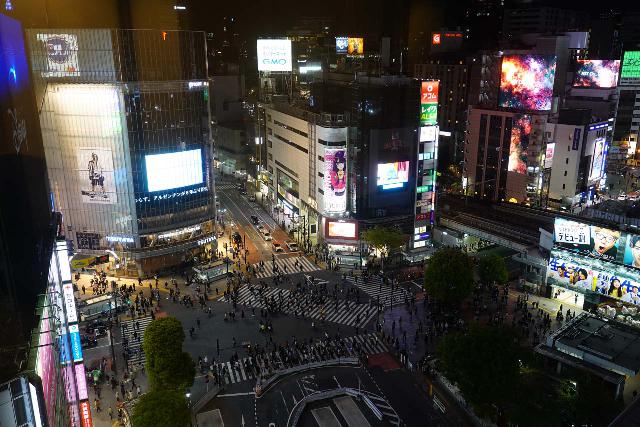 Days 0-1: Flight from LAX to Narita and then transit to Shibuya District in Tokyo
This was a pretty brutally long travel day where we didn't make it to our accommodation until after 9pm. With jetlag already kicked in, we only briefly explored the alleyways neighboring the Shibuya Crossing for a ramen dinner and a little bit of the busy atmosphere in perhaps Tokyo's busiest intersection.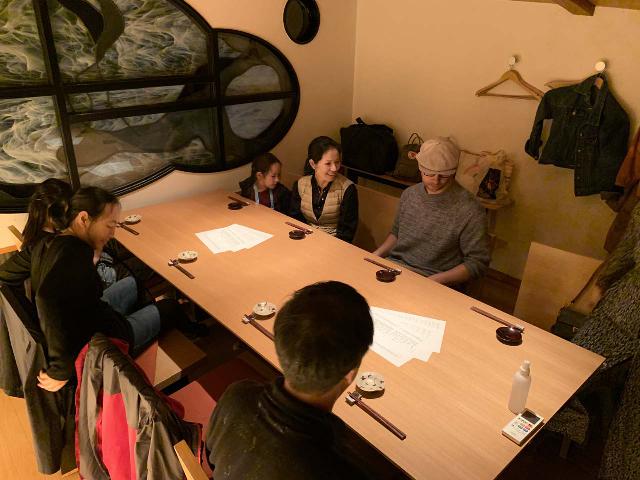 Day 2: Touring Tokyo
This was a very busy day where we visited the Senso-ji Temple, the Imperial Palace exterior, the Meiji Jingu Temple, Takeshita Street in Harajuku District, Shinjuku, and a dinner with family. That last activity made for a pretty special occasion even though it had been raining all day long (it was pouring all night long).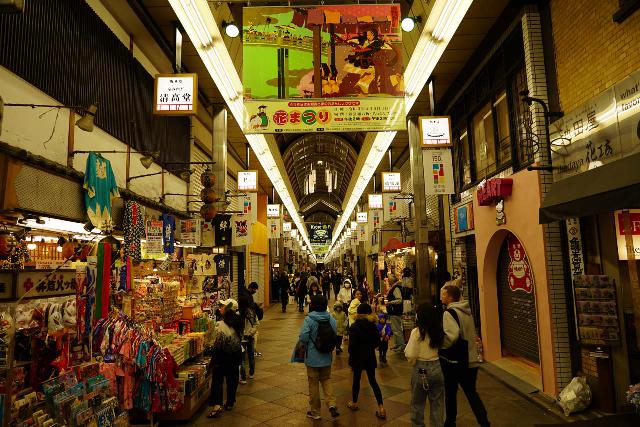 Day 3: Transit from Tokyo to Kyoto via Odawara
Overnight: Cross Hotel (Kyoto, Japan)
On this day, we started off by taking a high-speed train to Odawara, where we then picked up our rental car. From there, we made a detour to the Abe Great Falls before making the long drive to Kyoto. After a nice steak dinner, we then did a night tour of the Pontocho District, including a bit of an extended walk taking in the Shinkyogoku Covered Arcade as well as other shopping areas and walking streets along the way.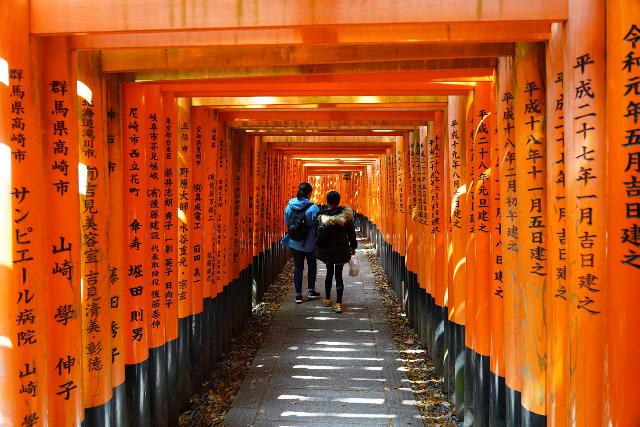 Day 4: Touring Kyoto
Overnight: Cross Hotel (Kyoto, Japan)
This was another busy city day where we visited the Kinkakuji Temple, the Fushimi Inari Taisha Shrine, and the Kiyomizu Dera Temple with atmospheric walk afterwards. Believe it or not, I actually ran into my coworker at the Kinkakuji Temple totally unplanned, which was about as random as it comes (but it's actually not the first time I ran into a co-worker on our travels). Anyways, I was fighting off the effects of food poisoning, which kind of put a damper on our ability to have raw food (which is torture in Japan).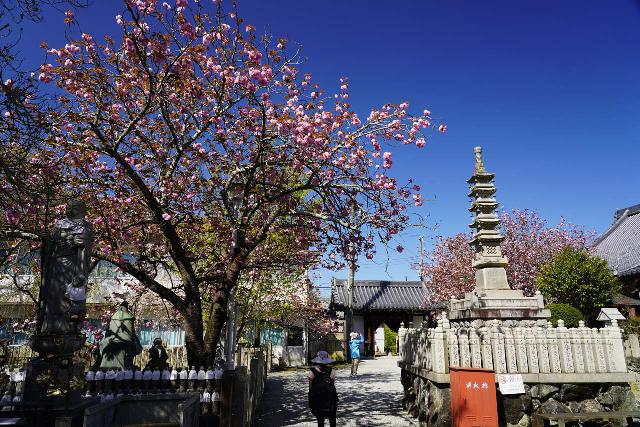 Day 5: Transit from Kyoto to Katsuura by way of Yoshino
Overnight: Hotel Urashima (Nachikatsuura, Japan)
On this day, we made a long drive from Kyoto to the opposite end of the Kumano Mountains on the south coast at Nachikatsuura. Along the way, we spent the better part of the morning walking up Mt Yoshino (no cherry blossoms though) and then we stopped by the Fudonanae Falls as well as the Nachi Falls (with the Seiganto-ji Temple) before ending up in Nachikatsuura.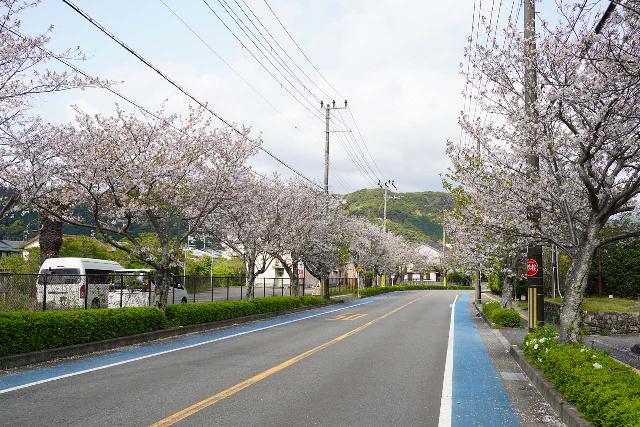 Day 6: Chasing Kumano Mountain Waterfalls
Overnight: Hotel Urashima (Nachikatsuura, Japan)
On this day, it was pretty much a divide-and-conquer day where I went solo chasing waterfalls while Julie and Tahia chilled out at the Hotel Urashima. Of course, before separating for the day, I also got to bathe in the Bokidou Sea Cave Onsen, which was quite an experience in and of itself. Anyways, I chased the Kuwanoki Falls as well as the Sasa Falls, but most of the afternoon was dominated by trying to address a flat tire issue. Right at sunset, I managed to fit in a self-tour of the top of the Hotel Urashima and soak in the other sea cave at the Bokidou. We also had an adventurous dinner where no English was spoken, and we ended up with one of our best meals of the trip!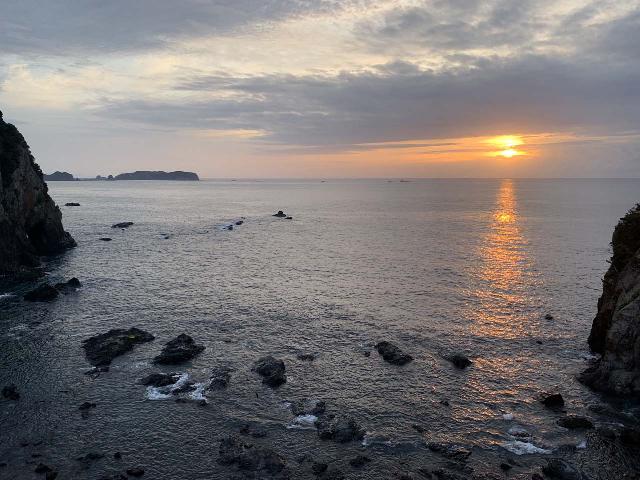 Day 7: Drive from Nachikatsuura to Takayama
This was basically a long driving day just as our string of good weather was broken by a bit of rain as we got into the Japan Alps around Takayama. Before settling into Takayama, we visited the Hida Great Limestone Cave and the Hida Choshi Waterfall, which were both decent bad weather excursions.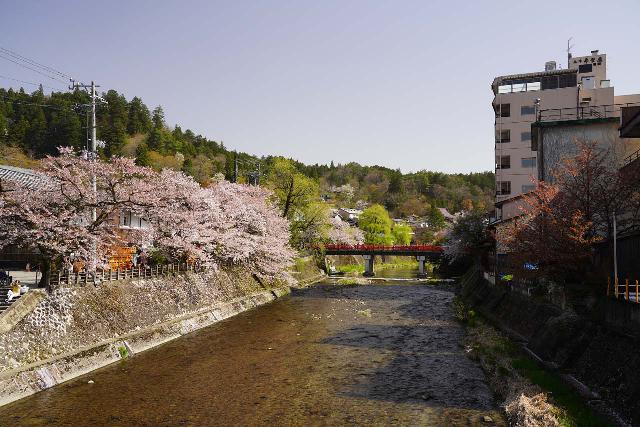 Day 8: Takayama and Surroundings
On this day, we did an early morning visit to Hirayu Great Falls before briefly visiting the Hirayu no Yu in Hirayu Onsen. Next, we stopped by the cherry blossoms at the Arakawa's Residence before touring Hida no Sato and finally the atmospheric Sanmachi Walking Street in Takayama. After Sanmachi, we then had a surprisingly long visit to the Takayama Jinja Shrine, which was really more like a castle tour than it was a religious shrine.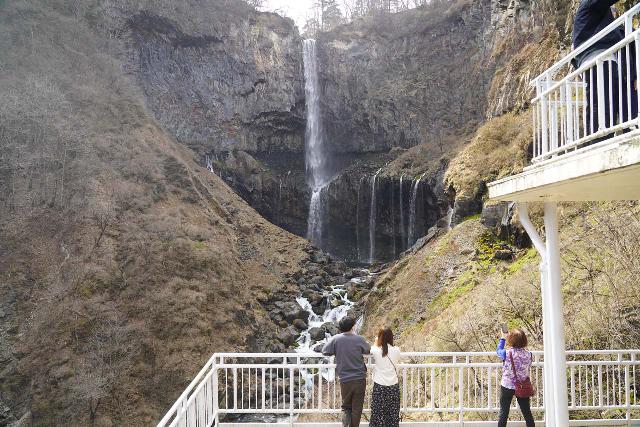 Day 9: Drive from Takayama to Nikko
Overnight: Kozuchi no Yado Tsurukame Daikichi (Nikko, Japan)
This was another long day of driving, where we cut through Matsumoto and attempted to visit the Fukiware Waterfall. Unfortunately, that waterfall was closed (was it out-of-season in Spring?), and we couldn't even get to Nikko via the direct route along Route 120. So we took a longer two-hour detour leading us to the Akechidaira Ropeway, then we visited the Kegon Waterfall, Yudaki Waterfall, and the Kotaki Waterfall before settling in at Nikko.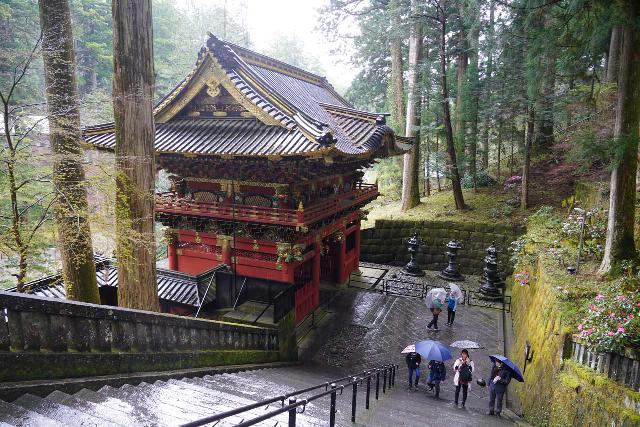 Day 10: Touring Temples in Nikko
Overnight: Kozuchi no Yado Tsurukame Daikichi (Nikko, Japan)
On this day, we pretty much spent the better part of the morning touring the Nikko Futarasan Shrine, the busy Toshogu Shrine, and the Taiyuin Temple. In the afternoon, we divided-and-conquered where I visited the Jakko Falls, Nikko Shiraito Falls with the Takino'o Shrine, and the Kirifuri Falls.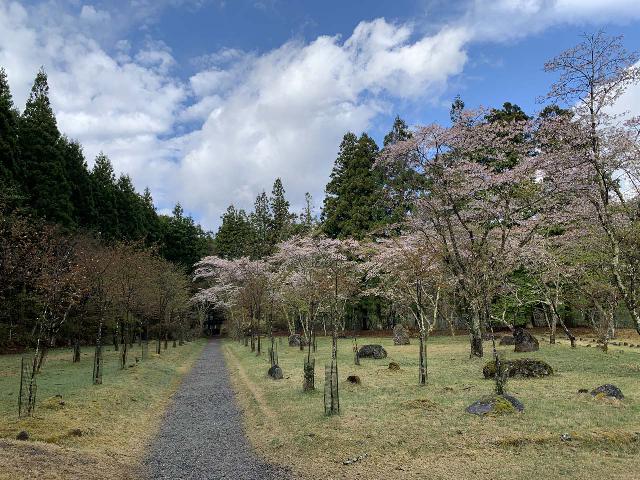 Day 11: Driving from Nikko to the Narita Airport then flying home
Overnight: Home (Los Angeles, California, USA)
On this day, I did an early morning visit to the Kanmangafuchi Abyss before we visited the Ryumon Waterfall on the way to the airport.
Best Places We've Stayed At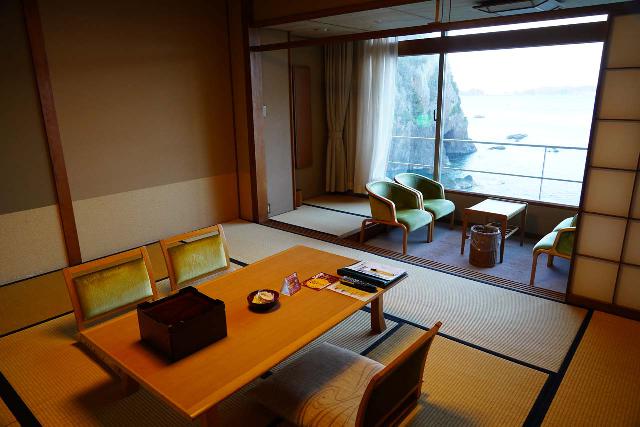 Hotel Urashima – We stayed at five different accommodations during our Spring Break Trip in Japan, and this one was definitely our most memorable one.
For starters, we were treated to a spacious tatami-style room (especially after being cramped in both Tokyo and Kyoto), and it faced the ocean where we got to look out at a sea cove as well as the sun rising in the east.
In addition to our room, we also got to bathe in two different sea cave onsens, where one was close by our building with a view of a sea arch in a narrow sea cave corridor.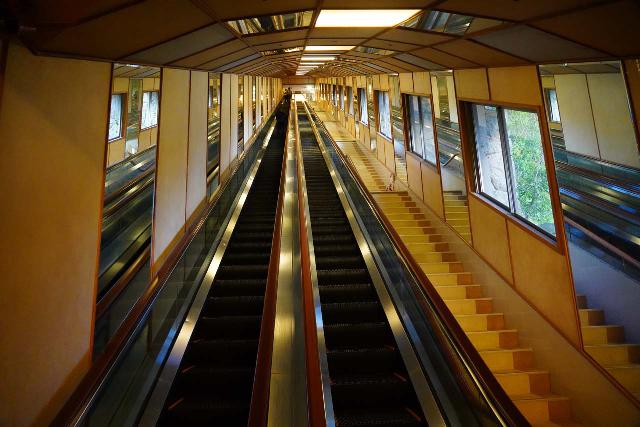 The other one was the famous Bokidou Sea Cave, which featured multiple pools and rooms all within a large sea cave facing the rising sun in the east.
As if that wasn't enough, the place even featured an outdoor top-of-the-hotel garden and shrine with views back towards Katsuura as well as out towards the sea at islets and off-shore islands. And this place was accessed by a very long escalator that they call the "Sky Walker".
Heck, we even had our most adventurous dinner at a Japanese Restaurant (after not going for the buffet a second time), where we had to figure out how to order without knowing how to read Japanese. We eventually figured things out and got by, and the result was one of the most memorable meals we've had, which included a crazy delicious Kumano Wagyu Beef Steak dish.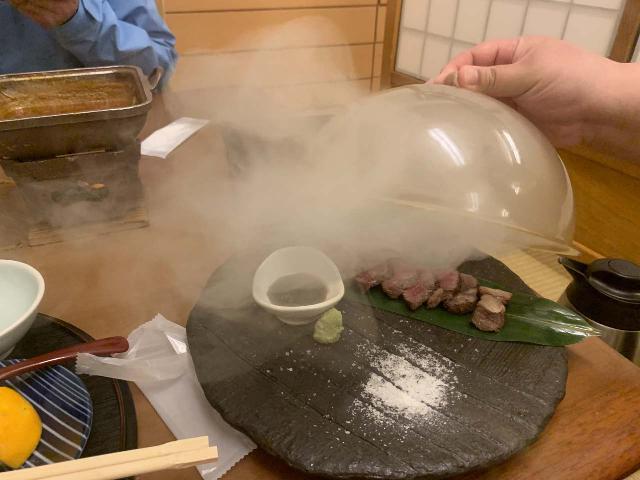 Now if I had one complaint about this place, it was probably the hard floor and low amount of cushioning to offset that hard floor. At least we can't complain about boat schedules because we self-drove to their car park, where a shuttle took us conveniently right to their front lobby without needing to go by boat.
Indeed, it's amazing what you can discover when you slow down, and heck, this place was so big that there are probably still hidden onsens and other nooks and crannies that we didn't get a chance to explore in the two nights we were here (and the one night we were here back in June 2009).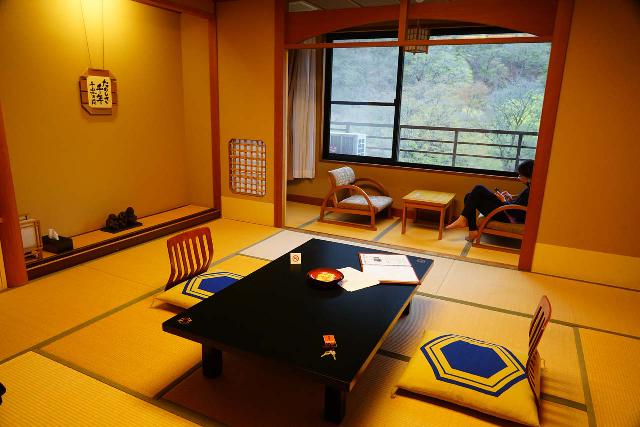 Kozuchi no Yado Tsurukame Daikichi – This turned out to be one of our most memorable stays primarily because of the full service we were getting here. After all, Julie picked this place for the Daiyagawa River views, but I think the included meals, the friendly service, and even the rooftop onsen (especially on a rainy day like it was for us) really made us glad that we stayed here while we were in Nikko.
Indeed, we slept to the sounds of the river rushing by while also sleeping like logs given the cushioning provided to offset the tatami mat.
The rooftop onsen was also nice, and we even decided that we were better off showering on the rooftop onsen instead of in our bathroom since it was already atmospheric to begin with, and we got to bathe in the onsen waters as well.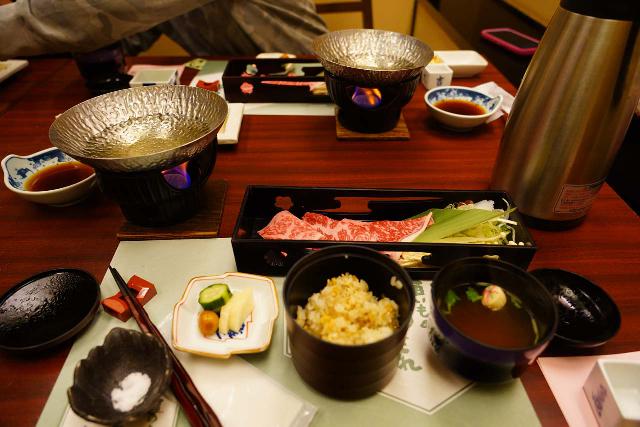 Parking wasn't a problem for us since they had spaces at the bottom of the backside of their yellow building, and I even managed to walk about 1km from the hotel to the Kanmangafuchi Abyss or the Bake Jizo statues.
By the way, speaking of location, this place was quite close to the Shinkyo Bridge as well as the UNESCO World Heritage Shrines like Toshogu, Taiyuin, and Nikko Futarasan Jinja among others.
Indeed, this place caught us by surprise, and we were glad to have stayed here.
Trip Reports
Waterfalls included in this itinerary
Visitor Comments:
Got something you'd like to share or say to keep the conversation going? Feel free to leave a comment below...
No users have replied to the content on this page