This was a quick weekend getaway trip to celebrate Valentine's Day a week early.
The timing was about right because we managed to avoid pretty heavy Winter storms in the Anza Borrego desert while also leaving Julian right before the next round of oncoming Winter snows.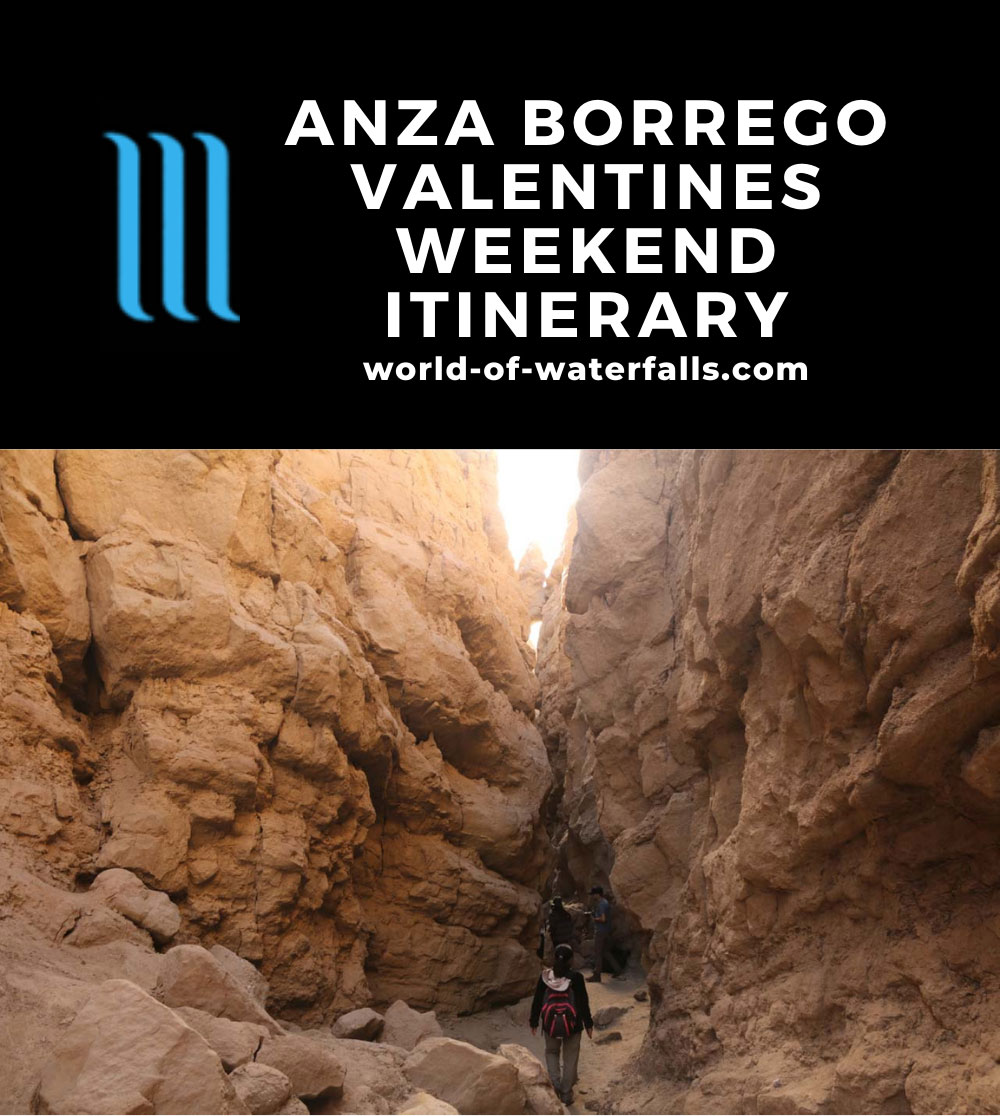 Had we waited until the following weekend to celebrate closer to Valentine's Day, who knows how much snow would have fallen and impacted the experience?
Here's a brief summary of what we managed to do on this trip…
Trip Map
This map and its markings were produced by this app.
Trip Highlights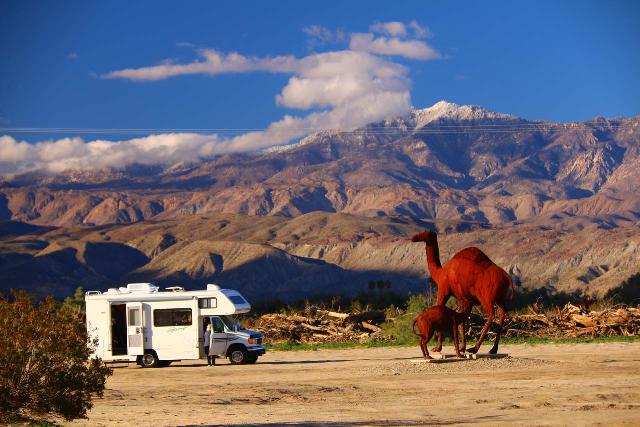 Galleta Meadows Estate – this was a series of metal sculptures spread out over the Galleta Meadows Estate in the town of Borrego Springs. What made these sculptures stand out were the attractive mountainous and desert backdrop as they also seemed to be iconic symbols of the Anza Borrego desert.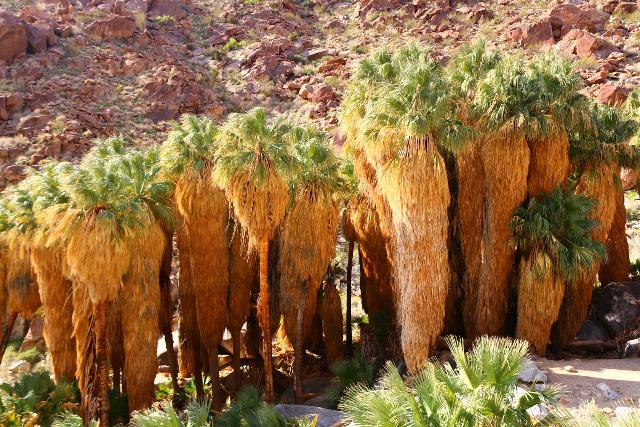 Borrego Palm Canyon Nature Trail – although the primary motivation for us doing this hike was to visit the Borrego Palm Canyon Falls, this oasis of native Peninsular California Fan Palm Trees was said to be the largest such natural oasis of its kind in California. This miracle along with attractive desert blooms and the possibility of sighting bighorn sheep really made this experience stand out to us…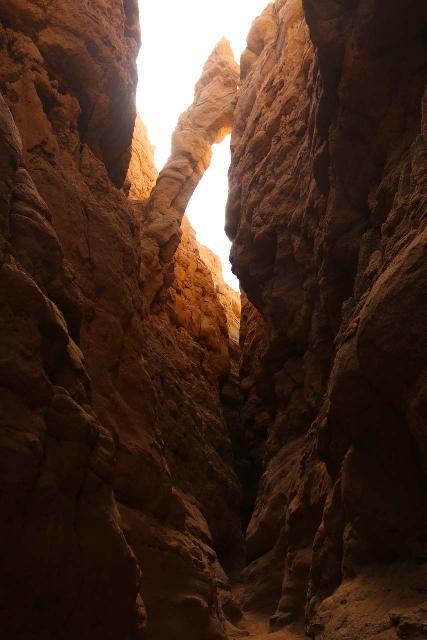 The Slot – this slot canyon experience was about as close to the slot canyon experiences of Southern Utah and Northern Arizona that we were going to get in the state of California. Not only was it fairly easy to experience this spot, but the adventure of having to squeeze between narrow slot canyon walls as well as other hikers sharing the experience with us further added to the atmosphere.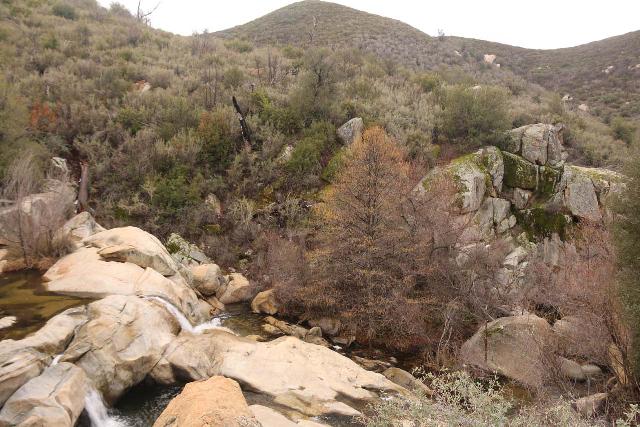 Green Valley Falls – even though the Green Valley Campground was not open for the season during my visit, it was still a nice and quiet experience walking through the campground and eventually to both the upper and lower waterfalls. Both waterfalls were attractive in their own right, but the lower waterfall was the one that had all the potential to be a Summertime play waterfall. That made us wonder if we should come back in the Summer for such an experience!
Trip Advice
Normally we don't think of snow when it comes to San Diego County, but this trip seemed to have its share of it (or at least the threat of it). Indeed, we were probably very lucky that we didn't suffer from any weather complications from a Winter storm (unlike the very first time Julie and I had visited Julian over ten years prior).
Here's some other lessons learned from this trip…
Avoiding Winter Weather Unless you're here for snow play, we found that we could avoid snowfall in the Julian area by retreating to the Anza Borrego Desert near Borrego Springs. That's because this desert sat in the rainshadow of the mountains that the town of Julian resided in.
So while Julian had gotten some rain and snow during this weekend's visit, we hardly had any of that weather while hiking and touring around Borrego Springs.
Stargazing Potential We didn't know this at the time, but we opted to spend our nights in Julian since we were familiar with the town. But in hindsight, we could have cut off about 45-60 minutes of driving in each direction had we allowed ourselves to stay in the low key town of Borrego Springs.
Why do this, you might ask? Well, it turned out that Borrego Springs was an International Dark Sky Community, which meant that it's a town committed to limiting or eliminating light pollution. That way, the night skies would be brilliant for stargazing. While other desert locations like Joshua Tree National Park also allowed for this possibility, you can get pretty creative in Borrego Springs with juxtaposing Galleta Meadows sculptures with the Milky Way Galaxy, for example!
Chilly Temperatures One thing we learned on this trip was that it was bitterly cold in the town of Julian at around 4,600 ft. Meanwhile in the town of Borrego Springs, we didn't even need windbreakers of a thick jacket since it was both warmer and even sunnier down here than up in the mountains.
Black Ice With the cold temperatures in and around Julian, we had to be very wary of driving too fast, especially early in the morning or even at night time when the temperatures plummet. If there happened to be water on the road, it could re-freeze into ice, which can be hard to see. If you take the turns too fast over black ice, you will slide off the road. So the only defense against this is to take it easy on the roads and use the pullouts to let the faster drivers pass you.
Travel Itinerary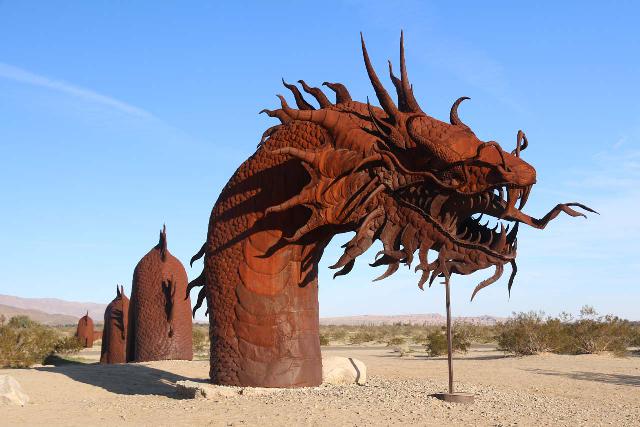 Day 1: Drive from Los Angeles to Julian
Overnight: VRBO Accommodation (Julian, California, USA)
After getting a very late morning start, we drove to the town of Julian after a lunch stop. After checking into the accommodation and getting settled, we then drove to Borrego Springs to explore the Galleta Meadows before sunset. In the evening, we kept it low key by self-cooking and having soup to stay warm against the bitterly cold temperatures.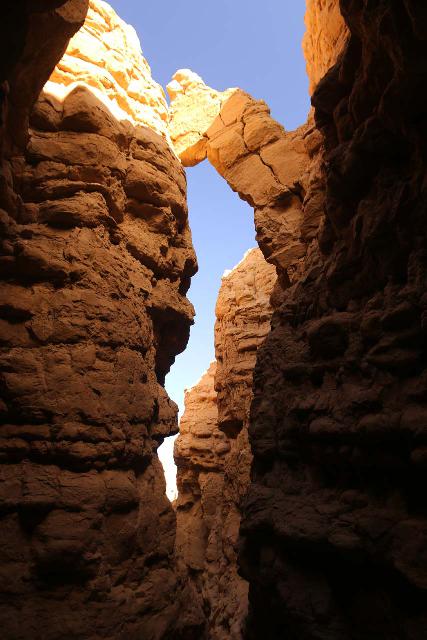 Day 2: Borrego Springs and the Anza Borrego Desert
Overnight: VRBO Accommodation (Julian, California, USA)
We started off the day with a hike on the Borrego Palm Canyon Nature Trail to experience the Borrego Palm Canyon Falls. We then had lunch at the Casa del Zorro while trying to figure out what to do in the afternoon.
After lunch, we ultimately decided to visit The Slot since it was more reasonable to fit in that excursion before it would get dark as opposed to visiting Maidenhair Falls. We also knew that Oriflamme Canyon Falls was no realistic since we didn't have a 4wd vehicle.
After experiencing The Slot, we then fit in a few more visits to the Galleta Meadows sculptures before returning to Julian for a romantic dinner at Jeremy's on the Hill.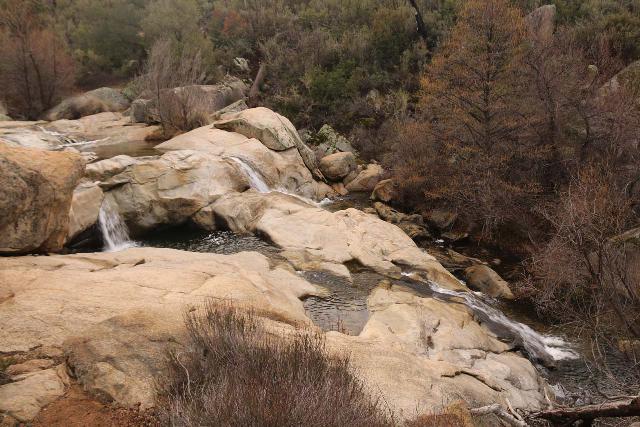 Day 3: Return to Los Angeles
While Julie was getting packed up and making herself breakfast, I made an early morning excursion to the Green Valley Falls. Ordinarily, this would be a very short excursion, but because the Green Valley Campground was closed for the season, I had to extend my hike by parking further away along Hwy 79 then walking to the Falls Picnic Area before even getting started on the official hike.
After the excursion, we then briefly experienced apple pies in downtown Julian as well as another spot closer to Santa Ysabel. Then, we went home.
Trip Reports
Waterfalls included in this itinerary
Visitor Comments:
Got something you'd like to share or say to keep the conversation going? Feel free to leave a comment below...
No users have replied to the content on this page