Kaieteur Falls was one of the more remote waterfalls we've visited around the world, especially considering it was more of an "off-the-beaten-path" world class attraction.
As mentioned in the main Kaieteur Falls page, the falls had largely escaped commercialism and development (at least during our visit back in late August 2008). So while this was a blessing for us nature lovers, it also made it rather difficult to visit.
But with all things considered, I guess the logistical challenges were all relative. That's because while it was not easy to tackle Kaieteur Falls logistically, the amount of actually roughing it in the bush was relatively minimal compared to say our excursion to Angel Falls.
In any case, the point of this write-up is to convey to you what we had to go through in order to make our visit to Kaieteur Falls a reality. Based on our experiences, perhaps that can give you some personal insight to what it would take for you to make your visit happen.
Where is Kaieteur Falls and what does it take to get there?
While there are a handful of ways to view the falls, we're going to describe the way we did it, which also happened to be most popular option.
That option was the day trip to and from Georgetown, Guyana. Other options would involve multi-day tours that are probably more eco-friendlier but they would demand more physical fitness, schedule flexibility, money, and time.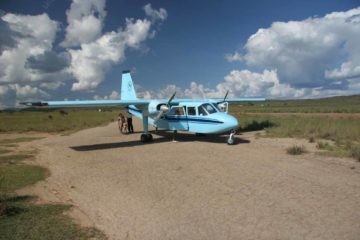 Our day trip (which I'd imagine would be the most typical kind of tour to Kaieteur Falls) involved lots of flying in a small twin propeller (or twin prop) plane.
Given the size of the plane, it also meant that we would feel any sort of turbulence (which was a bit scary when you consider the crash rate of small planes like this was far greater than for larger planes).
Nonetheless, the small plane was necessary because the airstrip near the top of the falls probably wouldn't support any larger kind of craft as those would require even more runway than what was currently set up.
Of course, there were other logistical hurdles (especially pre-trip logistics) to even make it to Georgetown, and that's where I'll start this section.
First, we started off by trying to secure a tour to Kaieteur Falls. Unfortunately, most tour operators required a minimum number of people to partake in a trip to the falls. This was understandable especially with fuel prices inevitably rising due to oil's dwindling supply.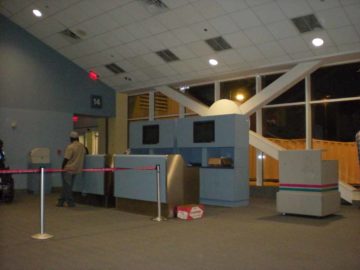 For the tour company that we ended up going with, this minimum was four people. However, depending on the situation and the tour company, I've also seen this minimum start as high as eight people!
Since Julie and I normally traveled as a duo, we were slaved to the circumstances of existing bookings. In the case of our Labor Day Weekend trip, there just so happened to be a group of six people going on the Sunday that we planned to be there.
So we had to start from this hard date, and then find flights from Los Angeles to Georgetown, Guyana and back surrounding that Sunday. There were no other bookings available at the time on other days around that weekend.
Being a South American destination (though Guyanese people associate more with the Caribbean than South America), flying to Guyana from LA meant we had to connect in Miami, which was the American Airlines hub to South America.
The flight time between the Los Angeles International Airport (LAX) to the Miami International Airport (MIA) was around 5 hours.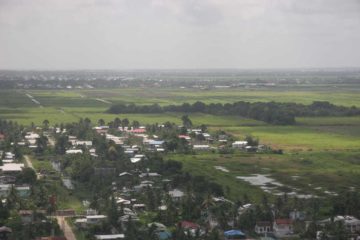 Then, we had to fly to Georgetown with a connection in the Port of Spain in Trinidad and Tobago. The flight time between Miami and Port of Spain was around 3.5 hours.
Finally, the flight between Port of Spain and Georgetown, Guyana was about an hour. Of course, there were lots of waiting between flights, and there were the inevitable unforeseen flight delays (especially at the Trinidad and Tobago Airport in our case) so we had to make sure we left enough time for the connections to try to avoid further complications with missed flights.
Once we overnighted in Georgetown, the next morning at 8am, we then were transported to a local airport. That was where we then caught our flight to Kaieteur Falls as well as Orinduik Falls and back.
The travel logistics on this day (i.e. the ground transport and day tour) was all part of our pre-arrangements with the tour operator.
When we landed at the remote airstrip at the top of Kaieteur Falls (roughly an hour flight from Georgetown), we then allowed 90 minutes to 2 hours viewing the falls while doing some light walking with a native Amerindian guide.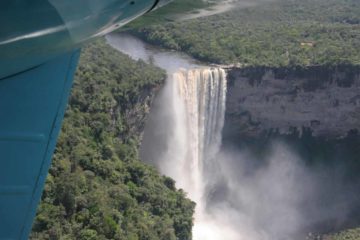 Our tour included a picnic lunch, which was a rotisserie-style or BBQ chicken, I recalled, which was had after all the waterfall touring of Kaieteur Falls.
When we had to hop back in the small plane, our tour also included a half-hour flight even further towards the border with Brazil, where there was the Orinduik Falls.
I understand that they sometimes nix this waterfall in favor of some other site if the river at this waterfall would be too flooded to safely swim or soak. Fortunately for us, we were able to enjoy this waterfall for another hour or so.
Finally, when we made the return flight to Georgetown (which was said to be 90 minutes though I swore it felt longer than that), we were back in our accommodation in Georgetown at 5pm. Barring unforeseen circumstances, I'd imagine that our arrival time between 5-6pm would be typical (making it roughly a 9- to 10-hour day tour).
The next day, we had to do the international logistics in reverse. This included a connection in Port of Spain, Trinidad and Tobago, and then another one in Miami, before finally returning to Los Angeles.
Finally, let's summarize the transport logistics of this tight Labor Day Weekend 2008 trip.
Naturally, these transit times and connections will differ depending on where you're at and when you travel, but at least this gives you a rough idea of how much time to budget for travel days as well as how to prepare for the uncertainty of including a tour that requires a minimum number of people.
Day 1 – ~06:00 Fly out of LAX to MIA
Day 1 – 14:10 Arrive at MIA (Miami International Airport)
Day 1 – ~17:00 Fly out of MIA to Trinidad & Tobago
Day 1 – 21:15 Arrive in Trinidad & Tobago Airport
Day 1 – 23:00 Fly out of Trinidad & Tobago Airport for Georgetown (flight was delayed)
Day 1 – 00:00+1 Landed in Georgetown, Guyana
Day 1 – 01:30+1 Finally arrived at our accommodation in Georgetown
Day 2 – 08:00 Transported to airstrip for Kaieteur Falls Tour
Day 2 – 10:50 Arrived at airstrip by top of Kaieteur Falls
Day 2 – ~13:00 Left Kaieteur Falls for Orinduik Falls
Day 2 – ~14:00 Arrived at airstrip by Orinduik Falls
Day 2 – ~15:00 Flew out of Orinduik Falls for Georgetown, Guyana
Day 2 – ~17:00 Arrived at our accommodation in Georgetown
Day 3 – 06:00 Flew out of Georgetown
Day 3 – 19:30 Finally back at home in LA (after connection in Trinidad & Tobago and in Miami)
Granted, fitting in an adventure like this over a Labor Day Weekend (even if it was a long weekend) was a bit rushed. I'd imagine you'd typically want to add at least 2 or more additional days (obviously the more days, the more fulfilling the experience) to do Guyana justice. Needless to day, I was dead tired when I returned to work the next day!
That said, sometimes bending over backwards to experience special places like this was necessary, and looking back on it, I had no regrets!
Visas and Vaccinations
Visa Requirements and Passport Issues
As of our visit back in late August 2008, there were no special requirements to procure a Visa to enter Guyana. All we needed was our passport, which per usual practice, had to be valid for at least 6 months after our departure date from Guyana.
Vaccination Requirements
Our trip was also uncomplicated as far as vaccination certificates were concerned.
However, I must say that even though there wasn't any specific vaccination requirements that could have potentially denied us entry to Guyana, Julie and I had a battery of preventative vaccinations in preparation for other trips to both South America and Africa.
I thought of this as sort of an insurance against the real threat of mosquito-transmitted illnesses or water-borne illnesses.
We also generously applied mosquito repellent to further reduce our chances of an infected bite.
The big caveat for vaccinations in our case was that most medical insurances did not cover them.
We tended to get lots of mosquito bites (even though we generously apply DEET) so we didn't want to take any chances. Thus, for our battery of injections and pills, we paid over $600 per person for boosters or vaccinations of Yellow Fever, Hepatitis A, Hepatitis B, Typhoid Fever, MMR (Measles, Mumps, and Rubella), and Malaria pills.
We also had to keep in mind that Dengue Fever (definitely present in South America) didn't have a preventative vaccine nor cure. So we had to be especially vigilant with minimizing our exposure to mosquitoes by applying DEET and wearing long sleeves (even though it was hot and humid there).
Visitor Comments:
Got something you'd like to share or say to keep the conversation going? Feel free to leave a comment below...
No users have replied to the content on this page