This itinerary covers our first visit to Kaua'i. This trip took place during the expensive holiday week between Christmas and New Years.
And even though we stayed on just this island for slightly over an entire week, we did switch accommodations twice in that span to alleviate the driving burden on specific days.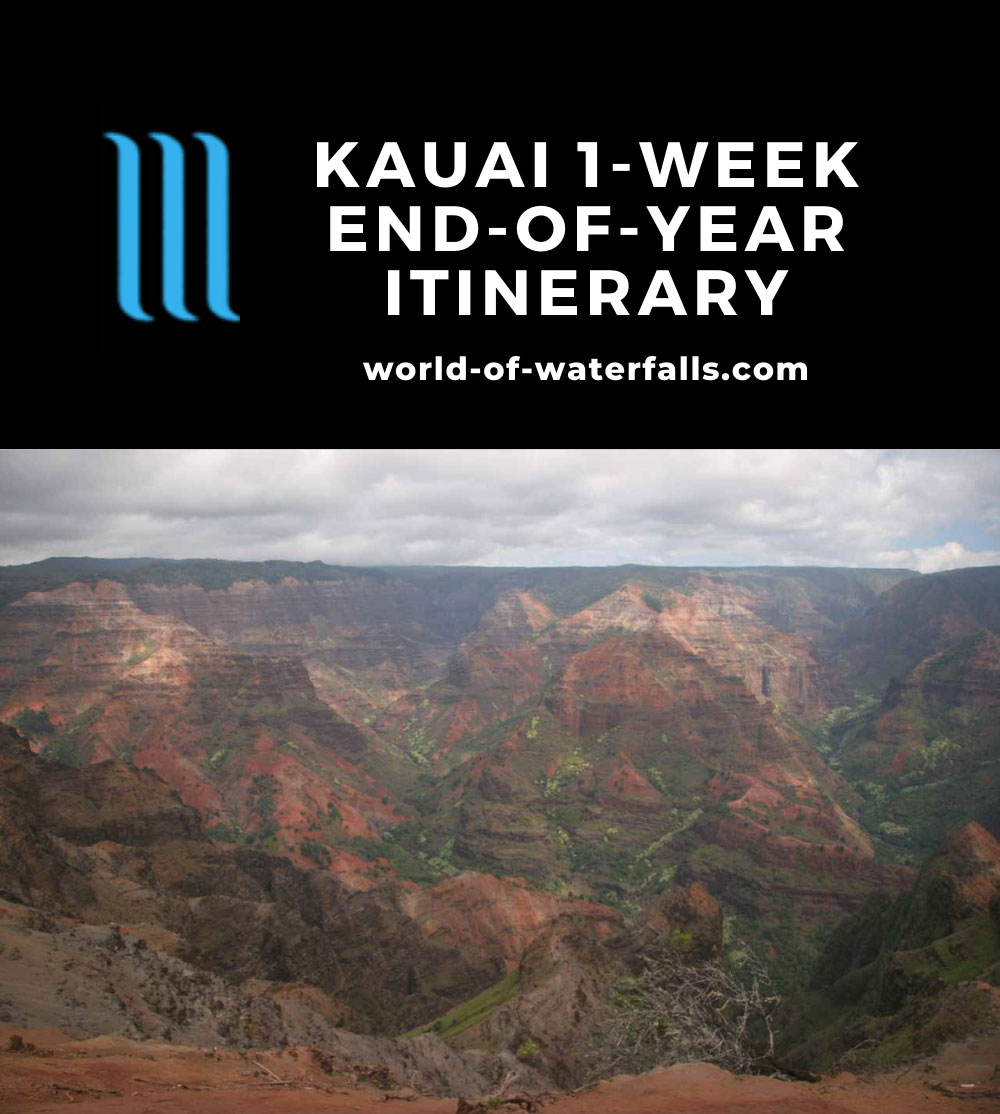 Although this island was said to be the rainiest of all the Hawaiian Islands, our visit seemed to have coincided with a little bit of a drought, which meant most waterfalls seen on the helicopter rides weren't performing that well. However, it also meant that the weather was good enough to do other rare things like experiencing a chopper landing on the Alaka'i Swamp above the rim of the Wai'ale'ale Crater.
And speaking of chopper rides, we wound up doing three of them on this trip! It was all due to a screw up over missing Manawaiopuna Falls on the first ride so we managed to get comped from that company. We also paid a competitor to see what we should have seen in the first place as well as to get a sense of how the experience differs.
Here are some of the highlights and trip logistics as a result of this trip…
Trip Highlights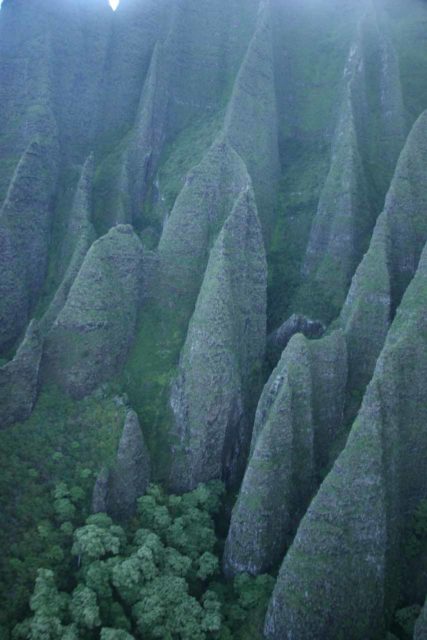 Helicopter Flight – While this has been cynically called the Kaua'i Mosquitoes due to how annoying they are for people on the ground, there's no denying that if you're in one of these and flying over the incredible scenery of the island, that it's breathtaking enough to possibly move you to tears! Among the scenic highlights of such a tour were the fluted cliffs of the Na Pali Coast, Waimea Canyon, Wai'ale'ale Crater and the Alaka'i Swamp, Hanalei River Valley, and remote waterfalls.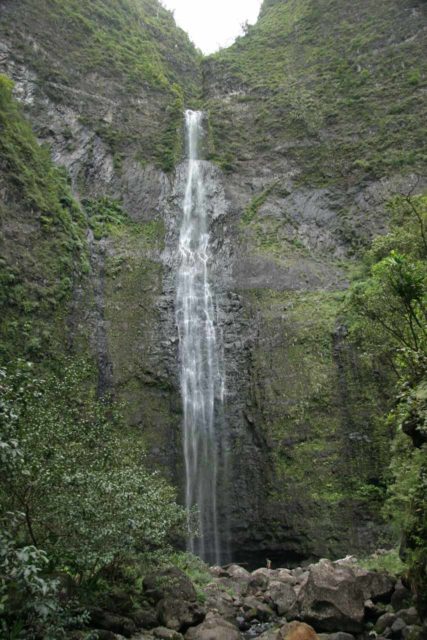 Hanakapi'ai Falls – Of the waterfalling excuses to check out the Na Pali Coast and a taste of the Kalalau Trail, I'd say that this waterfall has to be the must do. Although it wasn't easy because it requires about 8 miles round trip, the first two miles of the trail provides just enough of a taste of the Na Pali Coast scenery while the beach at the two-mile point was also quite scenic (if not scary from the thunderous waves). But after working your way another two-miles inland, one look at this 200ft waterfall and you may be as inspired as I was about this place.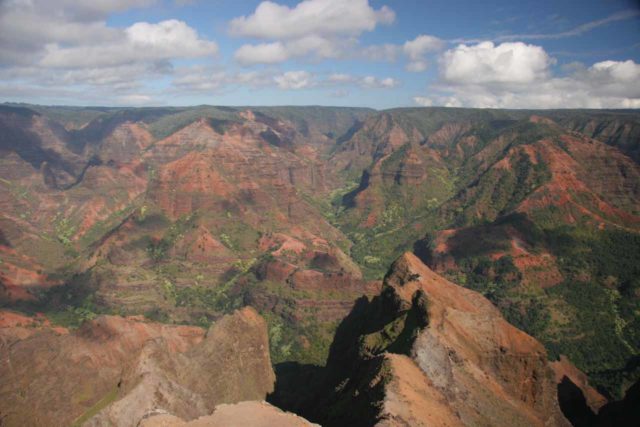 Waimea Canyon – There's something to be said about the fact that there happens to be a Grand Canyon on the Garden Isle, and indeed, this canyon has the jaw-dropping features that bring you back to the famous big ditch in Northern Arizona. With reddish cliffs interspersed with tropical greens, it's quite a sight to behold on the drier western side of the Garden Isle. Plus, there's a few waterfalls nestled in there like Waipo'o Falls and Wai'alae Falls.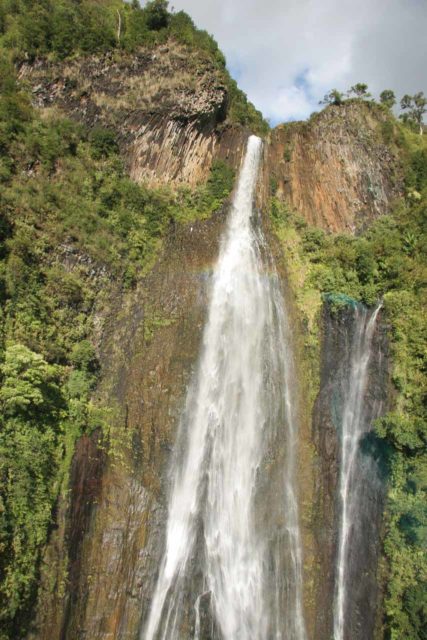 Manawaiopuna Falls – This was the waterfall that featured prominently in the movie Jurassic Park and indeed it's a big one set back in the Hanapepe River Valley on private land. I believe no Kaua'i chopper flight would be complete without at least letting its passengers check this place out.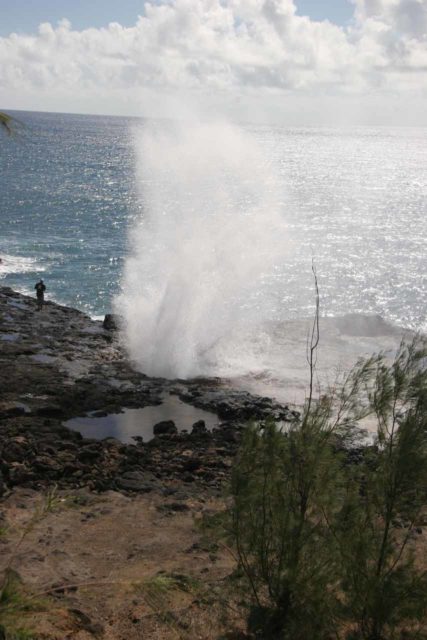 Spouting Horn – There's something mesmerizing about witnessing a big blowhole that shoots up water like a geyser, and there's an easy-to-see one on the south side of Kaua'i near the big mega resorts. We happened to see this at a time when there was a fisherman near the blowhole to give us a sense of how high up the water goes though I'd recommend not getting anywhere near the blowhole if you don't know what you're doing.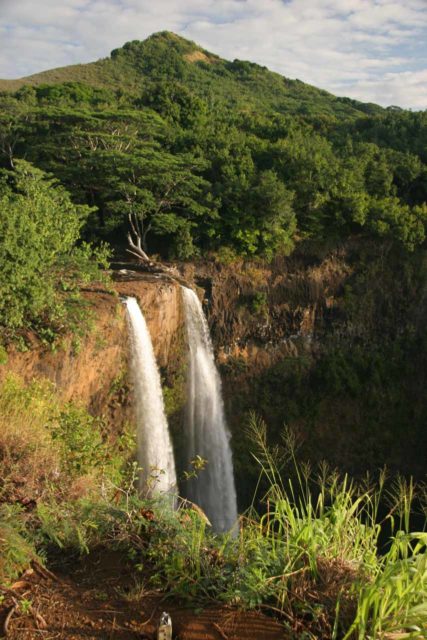 Wailua Falls – This was one of the easier waterfalls to visit but it doesn't take away from the fact that this double-barreled falls was very beautiful. In fact, it even featured on the opening credits of Fantasy Island TV show.
Travel Itinerary
Day 1: Fly from Los Angeles to Kapa'a
This was a travel day, where we flew to Lihue to pick up the rental car, then we drove north to our accommodation in Kapa'a.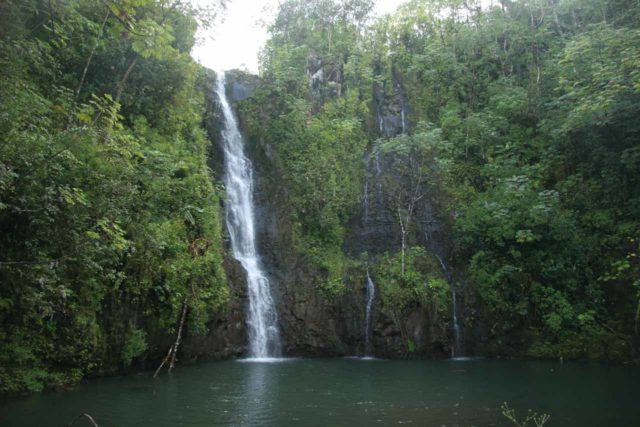 Day 2: Helicopter and East Kaua'i
We began the day with a drive over to Hanapepe where we caught a doors-off helicopter flight over Kaua'i, where we encountered many waterfalls. Then, we headed to the southeast of the island to visit Kipu Falls as well as the Spouting Horn blowhole. Finally, we explored Ho'opi'i Falls before returning to our accommodation.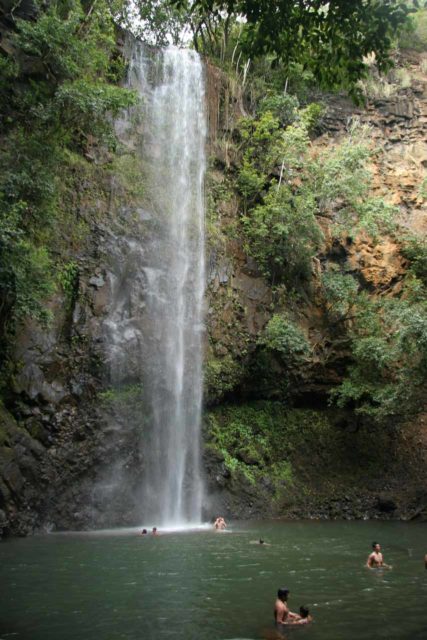 Day 3: More of Eastern Kaua'i
On this day, we started off by visiting Wailua Falls before making another roadside stop for Opaeka'a Falls. Next, we continued west to do a canoe tour dropping us off and picking us up so we could hike to Secret Falls.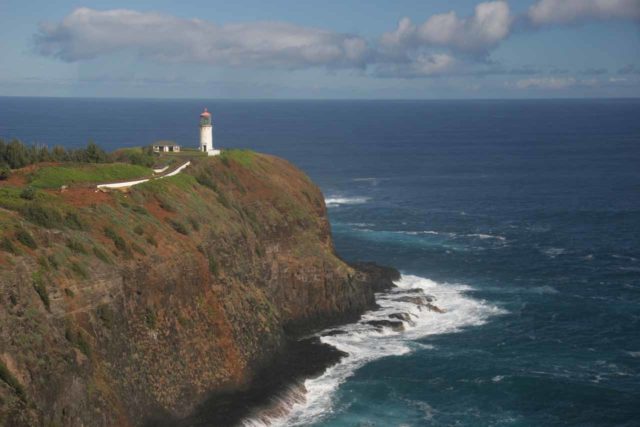 Day 4: Drive from Kapa'a to Princeville
Overnight: Sea Lodge Condo (Princeville, Hawaii, USA)
After leaving Kapa'a, we drove north towards Princeville. Along the way, we checked out the Kilauea Lighthouse. Then, after settling in to our condo in Princeville, we then did the hike to Hanakapi'ai Falls.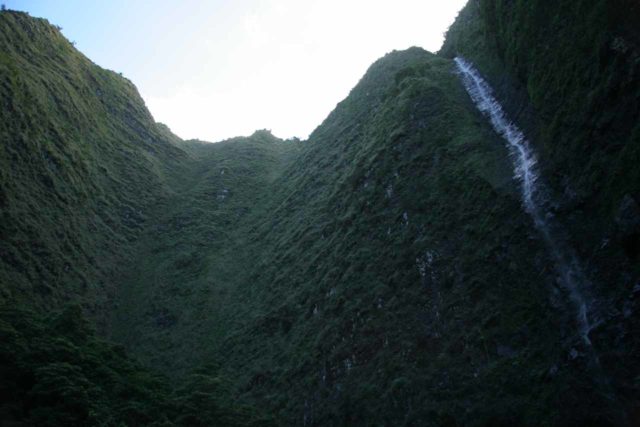 Day 5: Day Hike on the Kalalau Trail
Overnight: Sea Lodge Condo (Princeville, Hawaii, USA)
This was a full day of solo hiking along the Kalalau Trail with the sole purpose of visiting Hanakoa Falls (a distance of about 13 miles but was very difficult).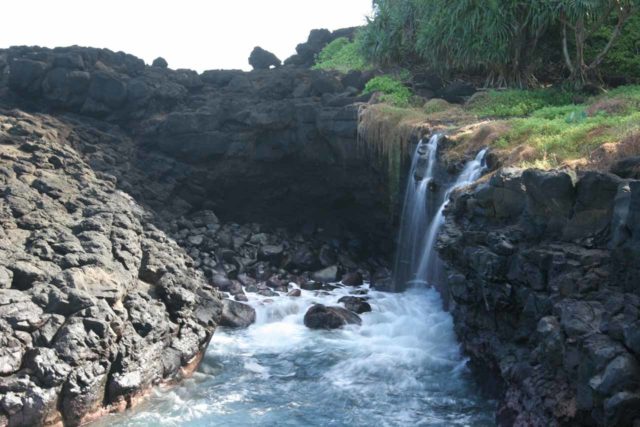 Day 6: Helicopter plus day trips around Princeville
Overnight: Sea Lodge Condo (Princeville, Hawaii, USA)
This was a day of waterfalling where we spotted Kalihiwai Falls and Unnamed Twin Falls en route to Lihue to catch a helicopter flight. On that chopper flight, we saw Manawaiopuna Falls, Wai'alae Falls, and other waterfalls. At the end of the day, we also visited the Queen's Bath Waterfalls.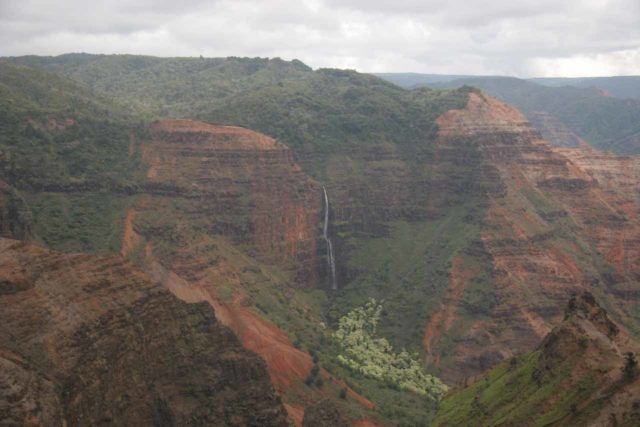 Day 7: Drive from Princeville to Waimea
On this day, we drove back to Hanapepe to do the makeup helicopter flight and finally see Manawaiopuna Falls with the doors off. After the flight, we drove up to Waimea Canyon to check out Waipo'o Falls and Wai'alae Falls from a distance. We even went as far as the Kalalau Lookout as well as checking out the Smith's Luau at night.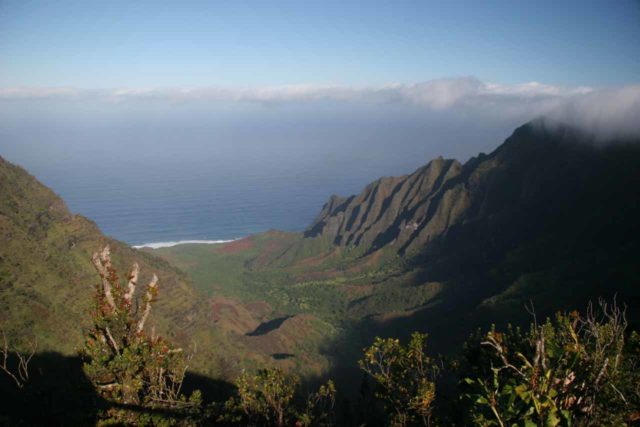 Days 8: Fly home to Los Angeles
We had the morning to go back up the Waimea Canyon. We went all the way back to the Kalalau Lookout as well as the hike to get an even better view than the roadside one at Pu'u O Kila Lookout. Then we returned to Lihue to return the rental car and catch our flight home.
Trip Reports
Waterfalls included in this itinerary
Visitor Comments:
Got something you'd like to share or say to keep the conversation going? Feel free to leave a comment below...
No users have replied to the content on this page