This itinerary covered a very spontaneous and last-minute weekend trip in an attempt to capitalize on an extended monsoon season that bled into early October.
We took advantage of this anomaly in the climate to time a visit for the Grand Falls, which was not the first time that Julie and I would see the waterfall flowing.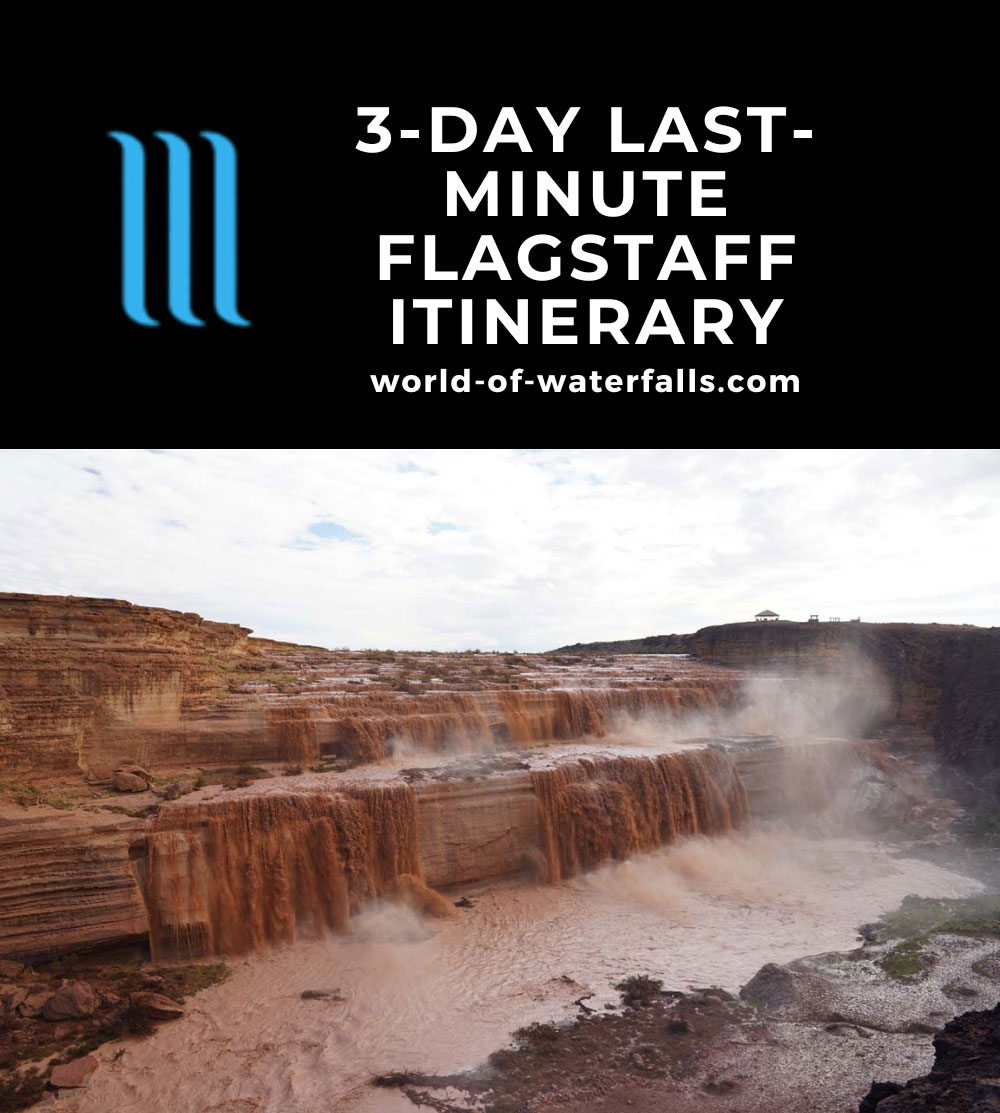 However, it was the first time that we would witness this waterfall flowing during the monsoon, which was actually quite different from the Spring visit back in March 2009.
We also brought along our daughter on this weekend trip, and we managed to do this without causing her to miss school and without missing out on her Girl Scouts meeting on Sunday afternoon.
Here are some highlights from this weekend itinerary…
Trip Map
This map and its markings were produced by this app.
Trip Highlights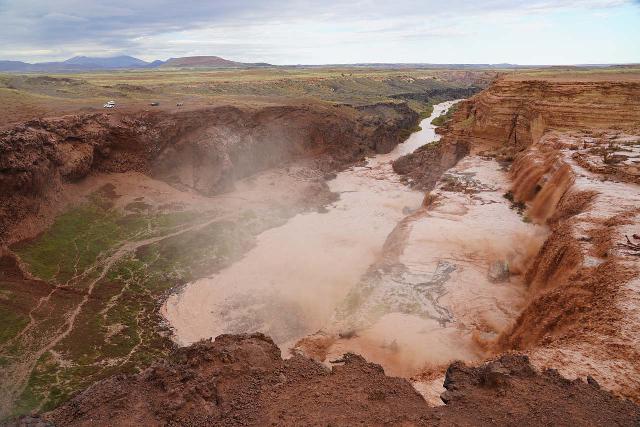 Grand Falls – this was the first time that we witnessed this waterfall in its "chocolate" state (as our prior visit in March 2009 didn't really count since it wasn't that brown). The difference here is that we had witnessed something caused by a flash flood, which meant the Little Colorado River scoured the river banks and muddied up the river, so to speak.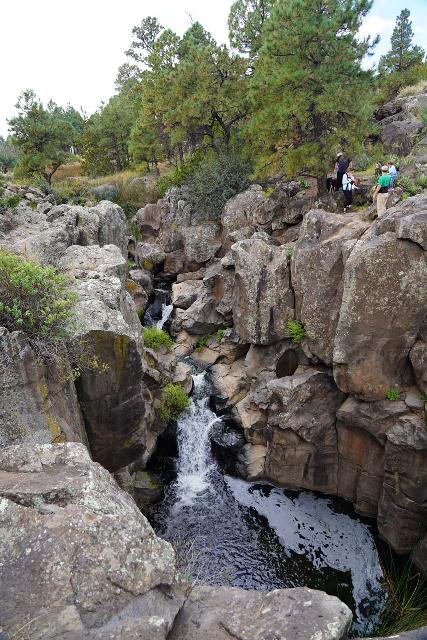 Picture Canyon Waterfall – this was a surprise waterfall that I had never expected to find since it had largely escaped my attention over all the years that we've chased waterfalls and arches in Northern Arizona and Southern Utah. So it was nice to have the convenience of visiting this within the city limits of Flagstaff, but I do feel like we could have experienced so much more had we extended the hiking here, which is something I'm keen on doing upon a return trip here.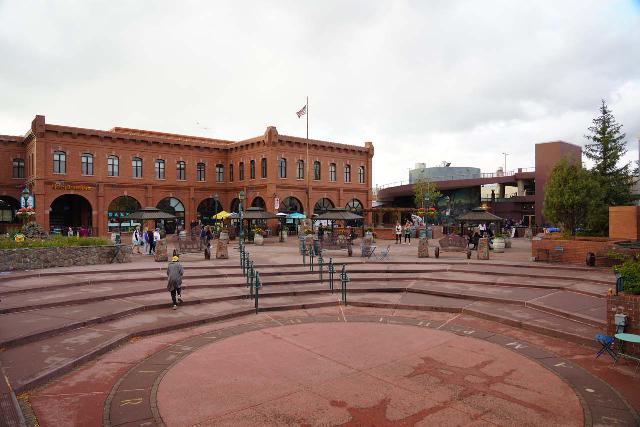 Downtown Flagstaff – this city was one of the places that we had always viewed as nothing more than an overnight stopover on our road trips in the American Southwest. However, on this weekend trip, we finally got around to experiencing the downtown scene here, and it was surprisingly bustling and charming. It's definitely something we'll look forward to experiencing more of when we return.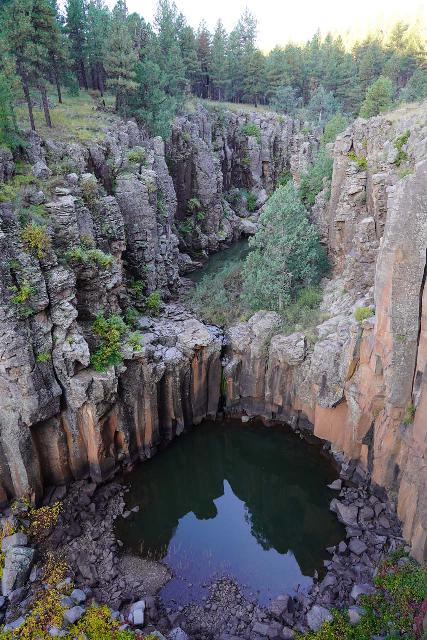 Sycamore Falls – even though this pair of waterfalls at the head of the Sycamore Canyon (south of Williams and west of Sedona) didn't flow during our visit, I was intrigued by the red rock canyon scenery here, and it opened my mind to future visits and hikes in the area when the opportunity presents itself…
Trip Advice
There were a few lessons learned from this very short weekend trip, which I'll get to below…
Columbus Day Weekend Price Surge: Something that we didn't expect on our last-minute trip was that we happened to be visiting on a "long weekend" since apparently enough people in Arizona observed Columbus Day to warrant a nearly tripling of typical room rates. Indeed, we paid over $300 per night when a typical room rate at say the Country Inn Suites is about $125 a night!
And for the record, I know our daughter's school didn't observe Columbus Day so this wasn't a long weekend for us.
Grand Falls Flow Window: We had been alerted by the Navajo Tourism Board to a streamflow gauge indicator of the Little Colorado River at Winslow, Arizona. That was the key data that we would use along with the National Weather Service forecast to determine whether it was worth the long drive (and rental and accommodation expenses along with gas) to pursue the Grand Falls. And well, as you can see from the photos on this page and on our write-up, we were pretty successful leveraging this data to inform our last-minute trip. So even though it wasn't a cheap weekend, at least it was a successful one!
Sycamore Falls Flow Window: Unlike the Grand Falls, the Sycamore Falls had an even more limited flow window because its drainage area for both of its waterfalls were significantly smaller than that of the Little Colorado River drainage. Therefore, you really have to time a visit for a full-on widespread thunderstorm in order to see the waterfall perform, or try to time a visit for snowmelt on a year where Northern Arizona gets enough snow to run off enough water over the Sycamore Falls. The bottom line is that this waterfall is not nearly as reliable to predict and time a visit.
Extended Monsoon: One thing that caught me by surprise was that the monsoon season, which typically occurs in the hot late Summer months, actually kept going beyond September and into October. I don't know how typical this pattern is, but it could very well be a consequence of climate change, where the warming planet makes snowfall less likely but flash flooding more common in these parts now. It's definitely something to keep an eye out for when trying to plan trips around the timing of waterfalls.
Gas Prices: The year 2022 has been a year involving a spike in inflation, especially as it pertains to gas prices (largely being blamed on the Russian invasion of Ukraine). While a lot of world events are beyond our immediate control, one thing that we did notice that we could control was the difference in gas prices between California and Arizona.
In California, we're required to use a specific blend of gas that is supposedly less polluting, but it essentially made gas prices upwards of $6.50 per gallon and more like $7.50 per gallon or more!
However, in Arizona, we saw that gas prices were typically less than $5 per gallon so I actually took advantage of this by filling up 91 octane gas in Arizona and refrained from fueling in California (until I had to return the rental car).
That way, I'd at least benefit from the fuel efficiency of high octane gas and pay far less for it in a state like Arizona, where they're not required to make a special blend of gas that may (or may not) be as polluting (since the special blend may not be as fuel efficient which causes you to use more gas for the same amount of power anyways).
Travel Itinerary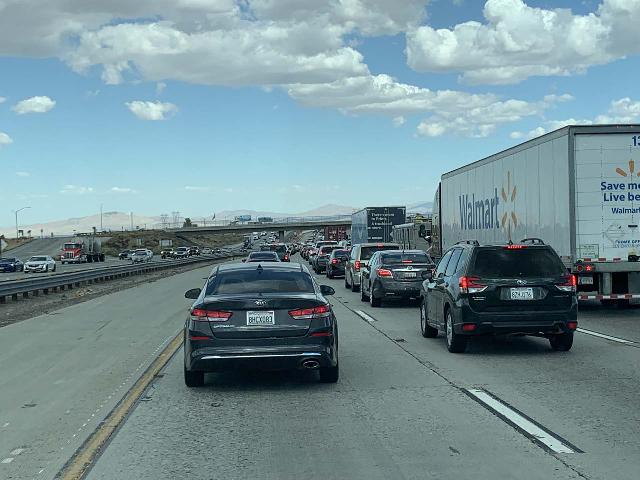 Day 1: Long Drive to Flagstaff
On this day, we had to wait for our daughter to get off school before making the long drive out to Flagstaff, but this involved having to sit through some heavy traffic that started as early as the Pomona area and continued through Victorville. Only once we got out of the Greater Los Angeles area did the drive get smoother, but then we had to deal with darkness after we got to Kingman at around sunset.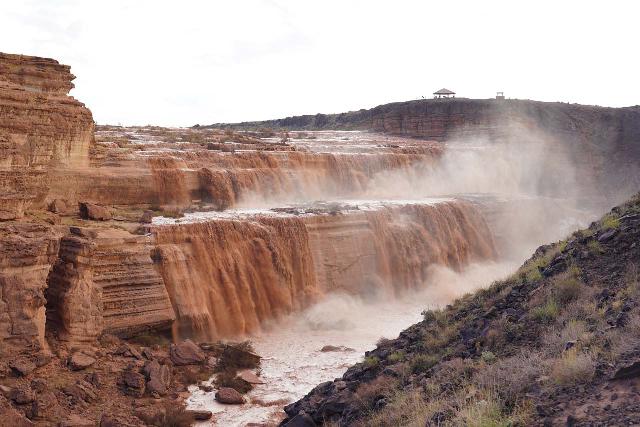 Day 2: Waterfall Chasing
On this day, we wasted no time by heading out to Grand Falls before thunderstorms were forecasted to overtake much of Northern Arizona (while also trying to not waste any more time with the rapidly diminishing flow of the Little Colorado River).
After our successful morning visit, we then spent a brief time doing a short hike to the Picture Canyon Waterfall before retreating into downtown Flagstaff for a pizza lunch.
In the afternoon, we divided-and-conquered where Julie and Tahia took advantage of the indoor pool at our accommodation, while I tried to take advantage of the thunderstorms in the area to visit Sycamore Falls on my own. Unfortunately, that waterfall didn't flow so I had to retreat to Flagstaff and rejoin the family for an early dinner in downtown Flagstaff.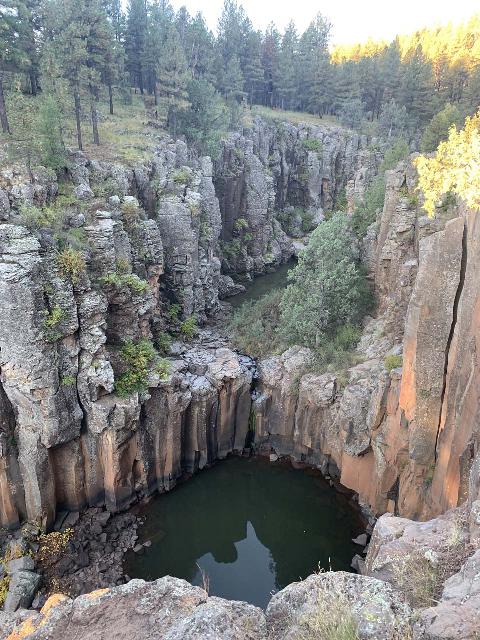 Day 3: Long Drive Home
This day started off with an early departure from Flagstaff with a detour back to the Sycamore Falls (upon learning that I had apparently missed witnessing the first of the two waterfalls).
Then, after that quick visit, we drove home eventually getting there in the early afternoon (despite having to deal with some pretty heavy traffic around the Victorville and Tejon Pass area), which pretty much persisted through even as we passed through Anaheim Hills…
Related Trip Reports
Waterfalls included in this itinerary
Visitor Comments:
Got something you'd like to share or say to keep the conversation going? Feel free to leave a comment below...
No users have replied to the content on this page