Day 6: A PAINEFUL CHRISTMAS EVE
It was 7am when we received our breakfast of freshly-squeezed orange juice, milk, croissants, toast, and numerous spreads. Not long afterwards, we got our stuff together, checked out of the Santa Monica Aparts, and proceeded to drive off to Torres del Paine on a full tank of diesel.
With our somewhat early start, we expected to be able to make it Torres del Paine without too much difficulty like overtaking slower trucks or tour buses. We did have some fears about whether we'd get lost since there were more than one border crossing and the roads down here weren't guaranteed to be well-signed nor well-maintained.
But in any case, by 8am we proceeded to leave El Calafate and drive south along Ruta 40, which then continued at a junction as an unpaved road. The next hour or so along this gravel road pretty much featured rabbits and ostriches scurrying about to get out of the way. A few birds picking at roadkill or crossing the road also were seen.
Surprisingly, the unpaved road was very wide (easily able to accommodate at least four or more cars in parallel it seemed) so overtaking wasn't too much of a concern. The only real concern was possibly losing control of the car due to the gravelly surface if we went too fast or if rocks get thrown around in our direction and chip our windshield.
Way out in the distance, we could see what looked like pinnacles. I indicated to Julie that those might very well be the famed Torres del Paine (or Towers of Paine). They didn't seem that far away, yet we knew it was still supposed to be around a 6-hour drive. Plus, it seemed like we were actually moving away from the towers.
Nonetheless, the road would eventually rejoin a paved road near a gas station and we turned right. From there, the road smoothly continued amongst desolate desert lands. There was even a salt flat with flamingoes in it.
While on the paved road, we consciously looked for a turnoff that would lead us to the most northerly of the Chilean border crossings in the immediate vicinity. Our fold out map said that a nearby landmark to look for was some place called La Estancia Cancha Carrera. So I kept that in mind as we actively looked for turnoffs that were significant enough to be a legitimate road.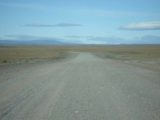 Finally, we saw a sign that said "Paso Cancha Carrera." There was no sign indicating Torres del Paine, which generated some doubt, but the Cancha Carrera name was unmistakable so we took the turnoff and got back onto an unsealed road.
After a few minutes, we arrived at what appeared to be someone's driveway and a chain-linked barricade blocking further progress on this road. At first we thought we had gone the wrong way, but upon further inspection, we saw an Argentinean flag and we heard some voices from inside the humble-looking building. Perhaps this was the border control facility?
So we stopped the truck and proceeded to walk in with the paperwork provided by Hertz along with our Passports. Sure enough, we were welcomed with signs about border patrol saying something to the effect of "Dear Mr. Tourist…" So this must be it.
Apparently, we interrupted their game of table tennis (Ping Pong) as we heard the characteristic sounds of the ping pong ball hitting the table and paddles. But when we got to the window, three border patrol workers slowly went from grins and smiles to business as they looked over our papers and had us fill out some customs forms. None of them spoke english so fortunately we knew enough spanish to keep things rolling.
A few more people showed up after us including an elderly Japanese couple that didn't speak any spanish. Julie was kind enough to help them with the border patrol requests and questions before we were done. While the officers were busy and our paperwork was complete, Julie lowered the chain, I passed the barricade, Julie put the chain back on, and we took off.
A few more minutes of driving later we got to another border patrol station. This one must be the Chilean border patrol and customs as evidenced by the Chilean flag waving outside.
Once again, we stopped the car, took out all our paperwork, got rid of the free apples we brought from Santa Monica Aparts, and entered the building. There were separate windows in this facility and we attended each one filling out forms and furnishing paperwork as we went. It didn't seem all that busy this morning so within another half-hour, we were out of there.
Just beyond the border post, there appeared to be some souvenir shops. We didn't bother stopping for those nor did we figure on stopping for any more fuel (even though there was a sign indicating there was one around). The needle was still on the "F" so perhaps in a show of cockiness, we pressed on to Torres del Paine knowing there wouldn't be any gas in the park.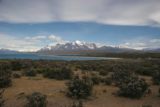 It didn't take long before we started to get more roadside views of Torres del Paine. We stopped at a mirador with a view of the southeast end of the Paine Massif seen over the shores of Lago del Toro – another one of the lakes that looked like it got colored by glacial runoff.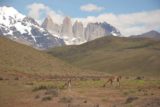 The next several minutes, we continued into the park with seemingly every turn presenting another photo op.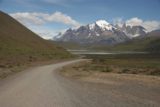 From llama-like guanacos grazing before the Torres del Paine to the Cascada del Río Paine fronting the massif in a way reminscient of the Snake River before the Grand Tetons, today was shaping up to be one of those stop-and-go days where we would constantly ask each other whether we should stop for a photograph. Yes, there were that many to consider, and obviously we couldn't stop for all of them so we had to choose!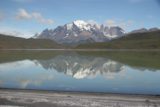 One particularly memorable photo stop was at the near shores of a small lagoon called Laguna Amarga. Here, there were black gravel shores fronted by salt flats. The lagoon itself was rippling but calm enough to produce some wavy reflections of the Paine Massif. We shared this stop with another mini-van full of tourists, but there was plenty of room to share.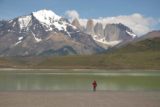 Next, we arrived at the entrance to the Torres del Paine National Park. We stopped the car to pay the admission of 15,000 Chilean pesos per person. We didn't know it at the time, but that turned out to be over $30 USD per person! That pretty much wiped out 2/3 of our Chilean peso cash supply as the office only accepted cash.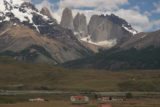 Personally, I wouldn't mind paying such prices if I knew the funds were going towards conservation and infrastructure. But already we noticed how decentralized the park was and started to get the sense that the park money was to enhance exclusivity to the resorts as well as perhaps lining the coffers of certain interests. I guess coming from Argentina, the prices we've noticed in Chile were bordering on rip off.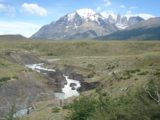 Still, the scenery was superb and I guess they're just milking it knowing tourists would still shell out the money to take in such world class scenery.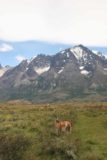 Onwards we continued through more photo stops at places such as Lago Nordenskjöld, Hostería Lago Pehoé, Lago Pehoé itself, and Explora en Patagonia.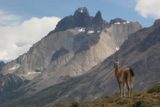 Once again this stretch of our autotouring included numerous photo stops. But this time, we got to see the backside of the Paine Massif which featured the Cuernos del Paine. And the sight of these glacial lakes fronting the massif was something to see.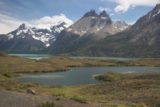 Near Lago Pehoé, we also caught a glimpse of Salto Grande, which actually didn't look all that impressive from the unsealed road hugging the lake. But we knew later in the trip we will get up close to it.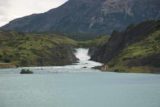 We then spent time visiting the Hostería Lago Pehoé where the lodge was extremely well situated on a small island right in the middle of the lake. A rickety bridge allowed access to the lodge, which featured awesome views of Los Curenos del Paine over the lake. The winds were blowing hard again by now so it made us a little uneasy being on the rickety bridge knowing there was frigid water beneath us.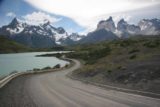 The location was all that the lodge had going for it though. Julie wasn't at all impressed with the rooms there as she did her little impromptu hotel visit. The menu didn't look impressive either so we passed on having a lunch here.
But despite the accommodations, we definitely enjoyed the lakeside vistas we were getting from this little island on a Patagonian Lake. We were surrounded by the turquoise waters and there were some unusual flowers blooming in the foliage all over the island as well.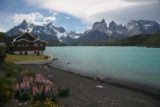 Next, we went to the Explora Lodge. This was supposed to be the real high-end luxury accommodation in the park. With its modern decor and well-placed boardwalks, we took the obligatory photos with the Cuernos backing the posh accommodation.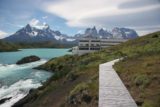 However, our motivation for coming here was to see Salto Chico. It was on the backside of the property and there was this hideous-looking building right next to the powerful waterfall, which drained Lago Pehoé. It was clear they're tapping the waterfall to power the accommodation. Not my cup of tea, but I guess they have to make their money, right?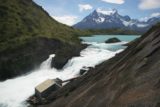 Finally after the visit to Explora, we drove quite a distance further away (including another rickety bridge that somehow supported the weight of our truck) from the Cuernos to get to our accommodation at the Hostería Lago Tyndall.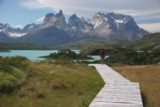 It wasn't our first choice, but when we made our bookings nearly three months ago, everything was already booked except this one! Beggars can't be choosers and we had read bad reviews about this place so we came in with lowered expectations. Besides, at least we had a place to stay that didn't involving worrying about our tent getting blown away in the wind.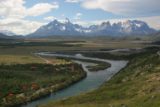 But just prior to arriving at our lodge, we did get nice views of the Paine skyline over the Río Serrano from a mirador on the top of the washboardy road on the other side of the river. None of this was on any of the maps so the access road to our accommodation must've been created after they drew those maps.
And so we arrived at the Tyndall. Since there was no gas in the park, we kept an eye on our fuel meter. It currently stood at around 3/4 tank. I was a bit worried about how this would impact the amount of exploring in the park we could do, but I guess we'll have to deal with it later. That's what I get for being cocky.
Regarding the Tyndall, after having seen other lodges in the park, this one looked rather average – especially at $200 USD per night. I wondered how much the other accommodations costed (well, we knew the Explora was beyond our budget).
In any case, one of the first things we noticed was that many of the prices stated in the lodge were in US dollars instead of Chilean pesos. Obviously, they must get lots of Americans or other foreigners here. Nonetheless, we checked in to our basic room and then walked around in search of a place for dinner knowing that Lago Tyndall got less than flattering reviews.
The nearest one was at Hostería Río Serrano. This one was way more upscale, but their Christmas Eve buffet at $24,800 Chilean Pesos (about $50USD per person) was beyond reason. So we eventually settled on the $20 USD per person buffet back at Tyndall. It met our lowered expectations and was quite filling after not having had anything substantial since breakfast.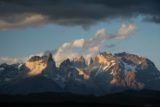 The lodge invited each guest to have champagne at 11pm, but Julie wanted to get her sleep to rest up for tomorrow's anticipated hike to Torres del Paine's base. In the mean time, I stayed out on the balcony by the dining area to try to get alpenglow photos of the Cuernos del Paine.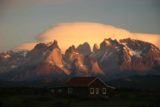 In the process, I got sucked into an engaging conversation with a Dutch couple and a German couple who were also chilling out at the balcony.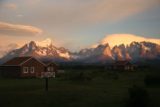 It started with the German couple talking about their experiences hiking to the base of Torres del Paine. Since that was where we were going tomorrow assuming the weather cooperates (and it turned out the Dutch couple was doing it too), we listened intently as they recounted their experiences. And, not surprisingly, it sounded like the hike was long and grueling, and I started to get the sense it might even be harder than the Laguna de Los Tres hike we had just done three days ago. In fact, that German couple didn't even make it to the destination as the last section of the trail over a steep jumble of boulders was what did them in.
Eventually, the topic shifted to other random things like George Bush, Arnold Schwarzenegger (Germans that I meet always seem fascinated by this when they hear I'm from California), Africa, New Zealand, Australia, etc. etc. Such are the characteristics of a good conversation when you can switch from topic to topic and still retain interest in everything being said.
Though I did jokingly tell the Dutch couple not to complain to an American about having only 24 days of vacation.
Ah yes, it's times like this where I really relish traveling and meeting people from different parts of the world. Where else can you share travel stories as well as discuss things like politics, other travel destinations, learn about other cultures, etc. all with like-minded individuals who are out here for essentially the same reason as we were?
Sometimes I'm amazed at our similarities regardless of who we are or where we come from; at least when we allow ourselves to pursue travel and a life of learning while expanding our horizons.
In any case, I excused myself when it started getting cold on the balcony. By then, it was around 10pm and well past sunset. So I rejoined an already sleeping Julie and tried to get what rest I could in anticipation of tomorrow's big excursion…