Day 7: A PAIN-EFUL CHRISTMAS
We awoke at 6:30am and ate a pretty average breakfast at 7:15am. At least they let us toast the bread (actually they grill the bread to toast it) and made some scrambled eggs. It's the kind of pick-me-up we needed to have energy for our hike today – an anticipated 9-hour hike to the base of Torres del Paine. The view of Cuernos del Paine from our spot in the dining hall was also quite pleasing.
We knew today was an excellent day to go hiking as there wasn't a cloud in the sky above the Paine Massif.
We also saw the Dutch couple from last night, in which case Julie introduced herself. It looked like they were also doing the same hike today. Perhaps we might see them on the trail?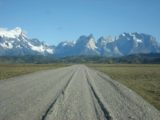 After picking up our boxed lunch, which we had booked yesterday, we headed into the truck and wasted no further time in getting to the trailhead for the Mirador de las Torres hike at Hostería Las Torres. We left at around 8am.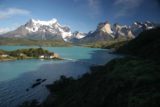 We had to make haste because we knew the trail wouldn't be easy and we wanted to give ourselves the maximum amount of time to do it at a pace that wasn't rushed nor conducive to injury. However, we did have a few stops along the way. The first was the park boundary. Since our accommodation was outside the park boundary, we had to re-enter the park and show that we had paid our parks admission. Then, we made a brief stop at a spot overlooking both Hostería Lago Pehoé and Lago Pehoé itself. With the pleasing morning light, it was very scenic. The only bad thing was the shadows.
We bypassed photographing Salto Grande in the pleasant morning light, which in hindsight was a mistake not to stop that moment.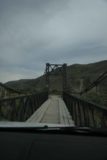 In any case, we got all the way back to the park entrance on the Torres del Paine side and then took the road that led downhill towards some narrow bridges bypassing the Río Paine. I couldn't believe how rickety and narrow the second bridge was. We actually had to fold our side mirrors in to pass that one.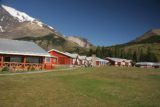 After the bridge, there was still a little further we had to drive. There were numerous deep potholes on the road to our destination, and I kept wondering to myself why things are so expensive here yet the infrastructure seemed to be lacking. Perhaps the remoteness of the park made it expensive to ship things here, I thought. In any case, we finally arrived at the bustling Hostería Las Torres.
By now, it was about 9:15am. After a brief stop in the bathroom at the lobby of the hostería, Julie and I got our stuff together and proceeded onto the trek. With numerous hikers both behind and ahead of us, we knew it was going to be a busy hike, but at least there wouldn't be a chance of getting lost.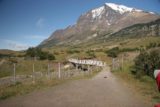 Soon after the trail crossed a bridge over the Río Ascensio, the trail started climbing. In fact, the trail would climb relentlessly for what seemed like forever. Given the fact that today was a sunny day and there was hardly any wind, we were immediately sweaty with frequent water breaks.
Somewhere in the middle of the initial uphill climb, Julie pointed towards the mountain and exclaimed to me, "Look, there's a waterfall over there."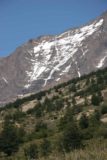 Both of us paused to take a look, but something seemed different about this white streak that was tumbling down the mountain as it lacked the consistency we were used to when cascades flow down slopes. That's when I realized what was going on and told Julie, "Bu, that's not a waterfall. It's an avalanche!"
Indeed we could hear it. There was faint thundering even from our distant position on the trail. Then it was accompanied by a sudden rush of white with rumbling sounds echoing from the slide. Finally, the rush would diminish and leave a smaller streak of white trickling in its wake.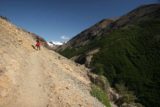 I don't think we've ever witnessed an avalanche in person before (even if it isn't as massive and those we're used to seeing on TV). But it was kind of cool to see Mother Nature at work.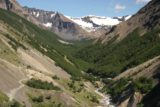 After passing a trail junction (which joined with a trail that hikers doing the "W" from the west were coming from), the trail climbed a few more minutes before finally reaching the apex. At that point, we caught our first glimpse of the V-shaped canyon sliced by the Río Ascensio and the trail hugging the steep slopes of the canyon.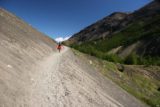 We could tell at this point that the trail was undulating. And with each downhill section we're going through now, we knew it would be a painful uphill stretch on the way back.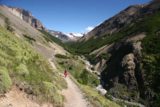 Nonetheless, we proceeded. The trail narrowed considerably in many places along this stretch. Some parts were actually badly worn with some moderate exposure to the slope dropping around 200m into the river below. Some sandy traverses in the trail indicated how avalanches or landslides must be frequent here during winter and early spring. Fortunately for us, most of the snow are only at the highest elevations as we had passed the summer solstice a few days ago.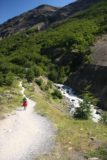 At 11am, we finally reached a developed refugio called Alb. El Chileno (I have no idea what the Alb. stands for) with its neighboring windmill and picnic tables. Instead of crossing the bridge over the river to get to the shelter, we pressed on as the trail now hugged the river.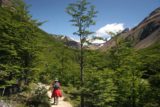 The trail continued to undulate up and down with a net elevation gain as it passed through a grove of seemingly alpine trees. It provided some moderate relief from the hot day with little wind, which seemed foreign to us as our Patagonian experience thus far had some episode of strong winds every day.
In any case, we trudged onwards noticing some cascades against the sun tumbling on the mountain on the other side of the river. The Torres del Paine were still nowhere in sight as their views were blocked by the immediate hills and slopes before us. Apparently, we'd have to get to the end of the trail to even get a glimpse of the reward. Thus, there's no way we're NOT going to finish this trail having come all the way this far…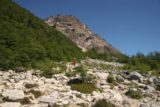 Finally at about 12:15pm, we bypassed a trail junction and started to ascend some boulders. "So this must be what that German lady was talking about yesterday," I told Julie as I knew from German couple's description last night about this last section of trail.
At first, it didn't seem all that bad as the trail was pretty easy to follow with the orange dots painted onto strategic boulders and the relative lack of steepness.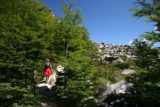 The trail then started to get steeper. Having already hiked nearly 3 hours to even get here, we decided to take a break and have our boxed lunch within the shade of some sheltering trees just before the trail climbed further up past their end.
We consumed the rather ordinary roast beef sandwich with plenty of water to wash it down and a few pieces of chocolate. All the while, we were also watching other hikers struggling to make their way both up and down this bouldery section. We noted where they were going so we knew where the trail continued next.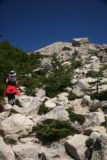 Refreshed and ready to go, we got up and proceeded to join the masses and climb up the jumble of large boulders. It didn't take long before the "trail" revealed the climb that was before us.
"Oh my god," said Julie incredulously. "We have to climb that?!?"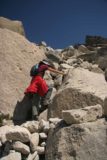 Sure enough the pile of boulders seemed unending as it appeared to touch the deep blue cloudless sky. There was a huge boulder way up near the top and that looked like the landmark we could use as our guide if we every missed any orange dots.
Indeed, the going was slow as the "trail" got increasingly steeper. It got to the point where we were using our hands as much as our feet to climb boulder after boulder. To our relief, there was some light breezes starting to come in to cool us down somewhat.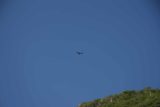 There was even a curious condor hovering over all of us perhaps wondering out why there's all those tiny two-legged creatures down below moving around the jumble of boulders.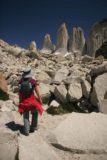 After nearly an hour of climbing since our lunch break, we bouldering persisted, but after being assured by some American hikers making their way down that there was only five minutes to go, we started to see the signature towers (torres) rising above the boulders.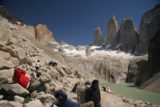 Within a few more minutes, we finally arrived at our destination. Under the deep blue skies, the towers rising over a mix of glacier and snowfields producing streaks on the walls at its base feeding a clear greenish lagoon further below was truly a sight to behold.
Plenty of other hikers made it here before us as they were strewn about the perimeter of the bouldery amphitheater soaking in the scenery while resting their tired bodies. There was even a guy flying a kite in the wind on the shore of the lagoon below.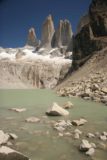 As Julie was resting, I took this time to get to the shore of the lagoon to take even more photographs. I could only imagine what a scene this must be if you camped before the boulder section and got up here in time for sunrise in good weather. I guess I'll have to leave that up to the backpackers who had the presence of mind and good fortune to capture that and publish it for the rest of us.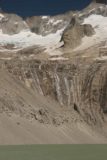 Especially alluring were these cascades streaking down the granite wall beneath the towers and the feeding glaciers. I don't know if these count as waterfalls, but they sure were something you don't see everyday.
The winds started to pick up again, but they were nowhere near as strong as what we had experienced on each day of this trip. We lingered here for about an hour to give ourselves a chance to get those obligatory we-were-here photographs with the help of other people willing to snap the photos for us.
But by 2:30pm, it was time to start heading back.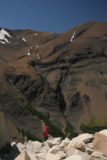 And so we pried ourselves away from the divine scenery and made our way down the jumble of boulders.
The going wasn't easy as there were plenty of stretches where it was better to sit and scoot than to try to nimbly hop and tip toe down boulders (slick with loose gravel on them) and risk a nasty spill.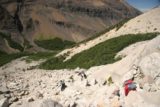 Still, we found ourselves going down much faster than we did going up. But it was jarring to both our feet and our knees so we couldn't wait to return to a more foregiving part of the trail back amongst the trees.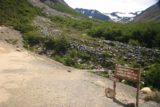 While it was a momentary relief to return to the trees and leave the boulders behind, there was still a ways to go to even return to the Alb. El Chileno refugio. At least the path is mostly downhill with some minor uphills.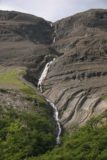 By 4:30pm, we returned to the familiar windmill and refugio by the river. But not before catching a nice view of a cascade not too far upstream from the refugio. Somehow we missed this view on the way up, but with the better afternoon lighting, we didn't miss it on this go around.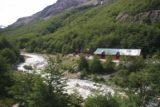 After the refugio, there was one last bit of strenuous hiking left. As anticipated earlier this morning, there were some significant painfully uphill stretches up ahead (parts that were previously downhill on the way in). Indeed, here it was before us. Lots of slow, uphill hiking.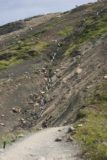 There were also horse trains carrying supplies going the other way on the narrow, exposed trail to break our momentum. Yet the horses didn't seem to hesitate one bit while traversing the narrow paths with dropoffs. They seemed quite used to the terrain.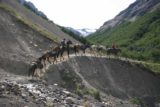 In any case, we knew this was the last significant stretch of uphill hiking before it was all downhill to the hostería. And given our tired bodies at this point, that downhill stretch couldn't come soon enough!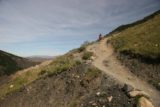 As we slowly made our way back up on this difficult stretch, we noticed that light clouds had all of the sudden started to overtake us. So much for the cloudless sky, we thought. Regardless, we got our picture perfect weather and who cares about what happens with the skies at this point?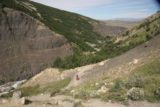 My knees were really feeling sore at this point. They were already sore at the boulders, but now it got to the point where they'd hurt depending on how I landed on each step and how far each knee had to bend.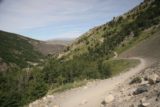 After finally reaching the apex of the last climb, we reached the anticipated downhill. There was the Hostería Las Torres looking tiny out in the distance, but at least the destination was in sight. A sign at the junction with the rest of the "W" trail said there was still 90 minutes to go, but somehow I had the feeling we'd be back in much shorter time than that.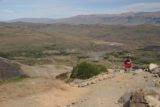 So as Julie slowly made her way down, I alternated between trail running (pretending to be like a bighorn sheep running downhill) and waiting for Julie. The trail running was confined to the steepest downhills, which were actually quite frequent.
Still, my knees didn't like the pounding from going downhill so my pain tolerance was being tested. There were some steps that I took where I had to straighten my leg as I walked to avoid more pain to my knees.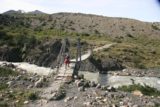 Finally, at the bottom of the downhill, the trail flattened out for what seemed like the first time in several hours. There was one more short uphill stretch past the bridge over Río Ascensio (funny how you start noticing even the minor hills when you're tired), but just beyond that, the Hostería Las Torres was mercifully before us.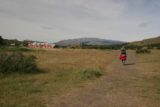 By 5:45pm, we finally returned to the car, where we put away our packs but kept the camera so Julie could take more photos of the hostería in her own little informal visit for her work.
Dinner wouldn't be until 7:30pm so we killed time just lounging around in the lobby of the hostería. It was actually quite hot in there as the glass ceilings and windows turned the lobby into a greenhouse.
As we walked around towards the restaurant, which was a few paces outside the main lobby area several buildings down to the north, we noticed a resting Dutch couple on the grass area. After recognizing the faces, we realized that it was the Dutch couple I was conversing with last night.
They relayed their disappointment to me that they didn't make it far past the Alb. El Chileno. I could tell they probably thought it wasn't worth it because you don't see the towers until the very end.
"I wish I had your knees," the Dutch lady said to me. I'm not sure she really wants that though. I logged too many miles playing basketball and now hiking on them. They're arthritic even though I'm in my mid-thirties. When people express shock at my age and my knee condition, I'd always tell them, "It's not about age. It's about how many miles you've put on them."
In any case, they were waiting for their shuttle back to the Hostería Lago Tyndall. Since we self drove, we could at least enjoy a dinner here before returning.
The Dutch couple smiled and waved at us. They had that look of understanding when they saw me wince in pain as I limped my way towards the restaurant with Julie.
And so at 7pm, we had ourselves some pre-dinner drinks. Julie had an expensive Coke, while I tried something different – a Calafate Sour. Considering we had Chile's national drink, the Pisco Sour, during last night's Christmas Eve buffet, I thought we'd try something along those lines. It was delicious but not as sweet as the cocktails we're used to having (we never were wine connoiseurs nor were we into alcohol in general).
Finally at 7:30pm, they let us order from the menu in lieu of yet another dinner buffet. And so that was what we did. I had myself a delicious rack of lamb chops while Julie had another fish dish. The food was quite well prepared though we knew we're paying around $70 USD for all of this (plus the drinks). So yeah it was a pain in the wallet, but we had to reward ourselves for such a painful Christmas day.
It was about 8:45pm when we left the hostería and made the uneventful, nearly 90-minute drive back to our accommodation. By now, the clouds were overcast so there wouldn't be another chance at any alpenglow shots last last night. But that was fine. Just one less thing to occupy us when our thoughts were on a hot shower and a bed.
When we returned to the accommodation, the fuel tank was now around 2/3 tank. I reckoned it was still not enough fuel to make me comfortable about having some more driving to do the next two days without being able to fill up. Inside our humble room, the shower was still warm, but not quite as warm as yesterday. I guess it was better than nothing.
Then, we managed to sleep despite being able to hear through the paper-thin walls other peoples' conversations and kids running around through the halls. Reminded me of my college days living on campus, but at least we were way too tired to pay any mind to this…