Day 9: A REAL PAINFUL BORDER CROSSING
Knowing that today was a day we were going to return to El Calafate and really do nothing else, we thought we could sleep in and have a late breakfast.
It was about 8am when we had breakfast. Clouds still dominated the landscape like yesterday so we weren't motivated to do any more photo runs before leaving the park.
After breakfast, we got our stuff into the truck and settled our hotel tab. Then, we headed back to El Calafate but this time taking a different road than the way in.
Not much was going on during this drive except a bunch of curvy unsealed roads. When we finally got to paved roads, something didn't seem right. I suspected that we missed a turn somewhere because I never remembered seeing this much paved road when we came from El Calafate a few days ago.
Realizing our mistake, we U-turned and headed back the other way (north). Sure enough, the paved road then degenerated into gravel road again. But eventually at 10:20am, we made it back to the Chilean border patrol.
Julie wanted me to find a place to pump gas with our remaining Chilean pesos. Unfortunately, it wasn't easy to find. The reason why was because there wasn't the conventional fuel station we were used to seeing. Instead, it was nothing more than a couple of little shacks (one for diesel; the other for unleaded) in the neighboring quiet town.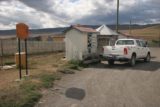 No wonder why this gas station is so hard to find!
After doing this deed, we then returned to the border patrol area at Cerro Castillo where we were greeted by a line of cars and a tour bus.
Julie managed to get inside the building and wait in line. The border patrol officer told me in english to wait in the car because there were too many people inside the building. It was a good thing I managed to get Julie the paperwork for the car just before I was asked to wait outside.
Other drivers were in a similar predicament.
Eventually, the tour bus crowd was far enough along with their paperwork and passports that I was finally allowed to join Julie in line. It was a good thing because when all was said and done, we were immediately behind the tour bus now (instead of behind the hordes of cars).
Just before 11am, the guards opened the gate for us and we rushed down the unpaved road towards the Argentina border patrol. There, we had to wait in another line behind the tour bus passengers. As cars were piling up behind us, we patiently waited our turn.
After another hour had passed, we finally were given the OK by the border patrol in spanish and did the usual drill of lowering the chain barricade, driving past, then re-erecting the chain barricade.
Finally at noon, we were able to drive off and head back to El Calafate. As we headed back, we were hoping to see flamingoes in the salt flat, but we were unsuccessful this time around.
As we approached El Calafate, we managed to drive through a few pockets of squally thunderstorms, but they were few and far between. Certainly they weren't enough to wash the car. Instead, they just left spots.
We finally made it back to El Calafate at 2:30pm with a little less than a quarter tank left. I was amazed at how we were able to do a round trip from El Calafate to Torres del Paine with lots of driving within Torres del Paine on one tank of diesel.
I wondered aloud to Julie how an SUV running diesel can accomplish more on a tank of gas than a small passenger car running unleaded gas. In the big picture, I wondered why we don't have more compact cars running diesel for fuel efficiency. Is diesel really more polluting than consuming more unleaded gas and releasing their toxic byproducts? Or is that something the oil companies and corroborative car companies want you to believe?
After checking into the familiar Santa Monica Aparts, we returned the rental truck back to Hertz with no drama. We even returned it a day earlier than expected so we saved another $200 USD there. We then proceeded to walk back to the center of town along Av. del Libertador.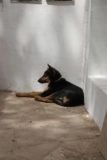 The stray dogs were still there.
Eventually, we had dinner at Casimiro Biguá, which wasn't anything special, but it was decent. We at least relished in paying Argentinean prices again and not having to put up with the ridiculous Chilean prices at Torres del Paine.
And so ended our run exploring Patagonia. The rest of this evening and tomorrow was spent just killing time in cafes and walking around El Calafate waiting for our late afternoon flight to Buenos Aires while connecting in Bariloche.
Indeed, we'd leave nature and return to the city on this next phase of the trip…