Day 2: MAL DEL ESTÓMAGO
We awoke at about 6am and it was difficult to get up. However, something didn't feel quite right as I headed straight for the bathroom and fought a bout of diarrhea. I didn't think anything of it at the time and I thought maybe it was a consequence of some constipation in the earlier part of this trip.
After a rather fresh tropical breakfast of pineapple, papaya, plantains, bread, and some strange pink sausages, we joined up with José and Asho.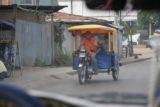 First up, they made a break for the Ahuashiyacu Waterfall. Having fun taking photos of motocars in broad daylight, we drove through Tarapoto and ended up along some well-paved road leaving the east side of town.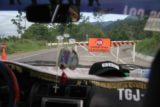 Then, we went on some road that ultimately would lead to Yurimaguas. After a few minutes along the road, we were ultimately stopped by a sign watched over by a guard in uniform.
José got out of the car and tried to negotiate with the guard.
After a few minutes of dialog, José got back to the car and I could tell he was unsuccessful.
So off we went towards the indigenous town of Lamas, clearly disappointed that the very reason of going to Tarapoto in the first place was all for naught.
After perhaps an hour or so of driving, we went up some winding road branching off the main highway. Before long, we were in the rather rustic town, but José was looking for someone and apparently he/she was hard to find.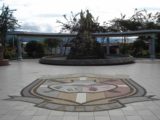 So Julie and I spent some time taking photographs in the town square.
After driving around for a few minutes and watching José ask locals about something, they finally went down some steep unpaved road towards a truly indigenous-looking section of town. This must be Lamas.
At that point, we got out of the car and listened to an indigenous person talk to us with José translating. It was a bit difficult to follow the spanish from the local. Maria in Cusco warned me that the spanish there is much clearer than elsewhere, and I was beginning to understand what she was talking about.
During that time, my stomach was not feeling very well and I had this in-between urge to go number 2 but also felt that nothing solid was in there. Uh oh.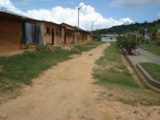 So I tried to keep my bladder and stomach in check the whole time we were being talked to within the indigenous complex. After several minutes of dialog and showing us posters, we all got in the car and went to the mirador overlooking Lamas.
When we got out of the car, I started feeling nauseous and my stomach didn't feel like it could hold on much longer.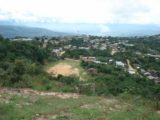 So while Julie, the native lady, and José were out checking out the mirador, I headed right for the bathroom of the local restaurant. I didn't worry about the fact that the toilet didn't have a toilet seat and it was probably pretty unsanitary by western standards, but I had to do what I had to do and release.
After the stored liquids were released out the other end, I rejoined Julie and company, but not long after taking a few photos at the mirador, my nausea had gotten worse.
Immediately, I headed back to the bathroom and the people in the restaurant probably started to suspect something wasn't right with me.
In any case, back into the familiar toilet I was hovered over and before I could do any more thinking, I threw up into the toilet bowl. The barf was a nasty blend of papaya from breakfast as well as stomach acid and bile I'm sure. It tasted nasty and all subsequent burps thereafter had a twinge of toxicity. I tried not to think about the fact that some of the toilet liquid splashed back up into my face. But at least I immediately felt better.
After wiping my face and parts of my shirt, I headed back outside. After the usual inquiries about whether I was ok or not, we left the mirador and returned to the awaiting Asho in his car.
From there, we dropped off the indigenous lady in the town center and then continued our drive towards Pomacochas, which was probably another 4 hours or so away.
Knowing there was a long drive coming up, I decided to try to sleep off any bouts of discomfort. My stomach was already building up more liquids and I was sure another bout of diarrhea was coming. But I tried to make sure I could hold off until our next stop.
By ???pm, we were in the town of Moyobamba. We made a brief stop there so Asho could fill up on some gas as well as purchase some Electro Lights to help with my dehydration from all the diarrhea.
After another hour, we were in the town of Rioja. It was there that Asho dropped us off to eat at some local dive while he drove off to see his sister.
After doing my business in the bathroom over there (at least I didn't hurl), Julie forced me onto the BRAT diet (i.e. bread, rice, apples, and tomatoes – though the latter two meant dealing with Peruvian water from the jungle).
This was the first restaurant in Peru that had the familiar green sauce we were so accustomed to like El Riccoto and El Pollo Inka, but it was too bad I was on that BRAT diet so all I could have was soup and I couldn't even eat the hen that was in it. The roasted hen (Aji de Gallina) that José got also looked very good.
After our late 2pm lunch, Asho picked us up again and then came the long haul to Pomacochas.
Driving through what seemed like a blur of mountain roads, coffee and rice plantations, and Amazonian Rivers eventually joining at sea level to the Amazon River in the jungle down below, I spent most of the time sleeping.
The few times I did wake up were when some police were doing checkpoints for what José called "bad people" as well as another stop where there were tiny monkeys on trees next to the road.
We also had a brief discussion about the Sendero Luminoso (the "Shining Path" which were cocaine traffickers that used to be prevalent in Tarapoto and other Amazonian surroundings). I guess those were the "bad people" that José might have been referring to.
Finally at around 5pm under a mix of rain and overcast skies, we were at the town of Pomacochas. We could see the lake in the distance as well as more run down buildings common in a lot of these small villages we had passed through along the way.
Considering the building quality of most of the village, the Puerto Pumas Hotel was rather posh though humble by Western Standards. Still, we couldn't have come any sooner as I made another break for the toilet.
By about 7pm, Julie and I rejoined José and Asho and we walked in the rain to a local restaurant just down the street. Trying to ignore the barking dogs, we were having a bit of fun talking mostly spanish to José while José was practicing his english to us. Asho didn't speak english, but his spanish quips were quite comical.
In the restaurant, I was still on the BRAT diet. It was painful because everyone else had fried trout (truchas fritas), which looked delicious. All I could have was kingfish soup, which José said what sounded like "pejerey".
After thinking about this, I realized that the Chachas way of saying kingfish in spanish was really a shortened version of "pez de rey." I think what Maria told me in Cusco in terms of a foreigner understanding the local spanish was probably spot on by now.
The waitress seemed particularly perky and smiling alot. A pair of small dogs in the restaurant provided some entertainment. A television was on showing some telenovela (spanish soap opera).
The rain intensified as we left the restaurant and returned to the hotel. By then, I returned to the toilet to do more diarrhea before showering and tending to our dental hygene. The sink water had a tinge of yellow, which after my stomach ailment (or mal del estómago), made me extra cautious about swallowing any of the water.
In any case, we survived the night, but Julie took most of the hot water. I had to deal with a mostly cold shower before we both went to bed. My sleep was a bit uncomfortable thanks to my continued mal del estómago.