Day 3: THE ANGRY CHINATA
It was about 6am when we awoke. After an uncomfortable night of rest caught between wanting to throw up and not being able to, I paid a midnight and early morning visit to the toilet to let go of more diarrhea.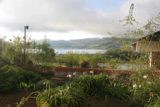 At least in contrast to yesterday evening, we awoke to sunny weather with a few patches of small clouds. Pomacochas Lake had a whole different look on this day and I guess the sun brought a different kind of energy on this day.
After a 7:30am breakfast of pretty much bread (toasted hamburger buns) and scrambled eggs with mate de coca for drinks, it was about 8am when we got into Asho's car with José and headed over to Yumbilla Falls. José told us this was going to be about a five-hour return hike so it wasn't going to be an easy day, but then again, this is the first bit of serious exercise we're about to get on this trip.
At 8am, we left the hotel, picked up some Electro Light in town, and then headed along a twisting series of mountain roads as it descended towards the town of Pedro Ruiz. Within the shadows of distant hills, we could see the top part of the waterfall called La Catarata de Chinata. José mentioned it was 580m tall, which puts it about the same height as Sutherland Falls in New Zealand.
We got to Pedro Ruiz some time around 9am where we spent some time waiting for a boxed lunch to be complete and ready to go. While we were waiting (it took a while), we noticed there were actually tourists, which were the first ones we've seen since we've entered the Amazonas region of Perú.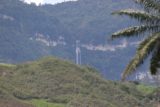 After what seemed like forever, we left Pedro Ruiz back the way we came where there was an unsigned dirt road leading sharply uphill towards the tiny village of Cuispes. Asho stopped the car at the Cuispes town center where we exited the car, registered with the municipality, took a few partial photos of Chinata, all the while waiting for the local guide to come by.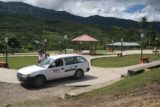 Finally by 10am, we followed the local guide (named Olmedo) who was a short native guy wearing rain boots. I guess he knew we were in for some muddy conditions.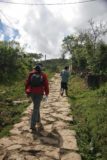 As we walked uphill along some stone walkway between some village homes, there was a scary moment where a dog came out and rush out to Olmedo. It really looked like he was going to get attacked until an angry owner yelled at the dog and the dog backed off. Kinda scary.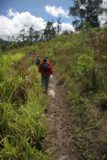 Not long thereafter, the trail quickly degenerated into a muddy mess as it left town and climbed uphill. Olmedo explained that it had rained here pretty heavily last night. And boy if we were to endure 2.5 hours of these conditions, it was going to be a long, soggy, and hot day.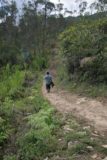 But from looking at the clouds, Olmedo predicted that it would rain this afternoon despite the currently sunny conditions.
Initially, we skirted the edge of someone's pasture. All throughout this section, it was pretty muddy, and it became apparent why Olmedo was wearing rain boots.
Eventually, the path went beyond the pastures and into more wild scenery. We could see more trees and mountains dominating the landscape with fewer buildings the further we went.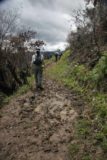 Soon, the terrain widen up as we could see pretty far up ahead as we were pretty much surrounded by mountains and low-lying shrubs. I lost track of how far we had walked at this point, but we were still anxious to see what Yumbilla looked like in person.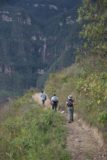 And so we plodded along (Julie was wishing she put on the newly bought gaiters from REI) until at about 11:30am, we finally got to a part on the trail where we got pretty decent views of the goal for today – La Catarata de Yumbilla.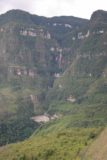 José said this waterfall was 890m tall, which would make it one of the tallest in the world. However, you could only see about 600m of its numerous drops. Plus, its volume looked rather thin. Clearly this was a case of a waterfall that may be tall, but not very impressive.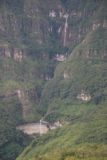 After taking the obligatory photos of the falls, we were given the option of proceeding towards the base of Yumbilla or heading back to town. Considering how unimpressive the falls were, we opted to return to town. I made my own intentions known that I wanted to get to the top of the hill to see Chinata.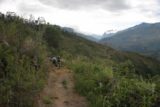 And so we sloshed our way back to Cuispes. Towards town, it almost looked as if we were walking through someone's fields which were a slight improvement over the muddy mess we had gone through earlier this morning.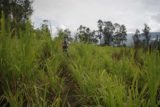 By 1pm, we got back to Cuispes. Julie decided to return to the town square and wait us out. She didn't want to endure any more of the muddiness on the way to Chinata.
As José, Olmedo, and I continued onwards, it started to rain as Olmedo predicted. Since José didn't have his gear, we had to wait for someone to supply some sort of plastic so José would stay relatively dry.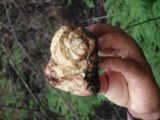 The trail to the mirador for Chinata was even muddier and more treacherous than that for Yumbilla. The increasing rain didn't help. The trail was also steeper and more overgrown in places. The rain poncho I was using tended to get in the way. In one particular hairy stretch of sloped slippery rock, I fell and bruised my elbow.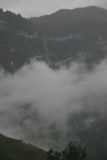 After a grueling 45 minutes, we finally made it to the mirador. Unfortunately, the bottom part of the falls were blocked by clouds. Apparently, we missed the good part by just a few minutes because the clouds were now rising and obscuring our view of the falls.
Just great! All that effort for a blocked view of Chinata.
At least the rain subsided somewhat so I removed my rain poncho revealing my damp clothes from humidity and heat as my poncho wasn't very breathable.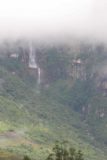 So there we stood on the mirador for over an hour watching the clouds just hovering over most of Chinata.
Despite our efforts of blowing from the mirador and telling the clouds in spanish to "¡Vete!" ("Leave!"), the familiar mantra was "No se mueve" (it's not moving).
During our long wait, an old native woman made her way to the mirador barefoot! It didn't seem like much to her nor her donkey, which just goes to show you how comfortable the Chachas people (heck, most Peruvians for that matter) are with mountains.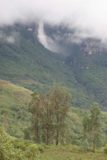 Suddenly, Olmedo mentioned to José that Chinata suddenly grew. When José relayed it to me, we could at least hear Chinata thunder even though we must've been nearly a kilometer away or more from our viewpoint. We could also see the tiny cascades below the vertical falls grow.
I don't think I've ever seen a flash flood growing a waterfall live before. That was kinda cool. It was too bad we couldn't capture too much of it on the camera because those damned clouds refused to reveal the upper two tiers.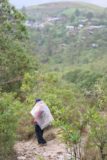 Finally at 3pm after waiting an hour and the rain starting to fall again, we gave up and headed back. After slipping and sliding our way back downhill, we made it back to the village at 3:30pm.
Julie was pleased to see us. I guess she was having too much fun (or were the mischievous local boys having too much fun?) back at the village square. Of course when we turned around to see what was left of Chinata, to our horror, the top of the falls could be seen!!!
What!?!?
It was that kind of day I guess. Chinata refused to show itself until we left. Asho said in Spanish that Chinata was angry with us for visiting Yumbilla first.
Oh well, we left around 4pm. During that time, Julie showed me a calendar with photos of Yumbilla from the base. Those calendar photos really made me regret my decision not to go all the way to the bottom. In any case, que será será (whatever will be will be).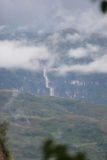 That's life and waterfall hunting isn't always successful as Nature is unpredictable and we play by her rules.
Sympathetic to my disappointment, José had Asho pull over where we could get a view of the swollen Chinata. I managed to get a few partial views of Chinata with my new telephoto lens, but man it was a hassle to switch out the lenses and the views weren't all that great from the distance we were at.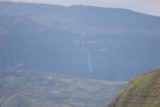 At around 5pm, we were back at the hotel.
During the drive, José mentioned that climate change was affecting the local weather here in Perú. He said he used to be able to predict which months would reliably have rain, but after this latest January had no rain (it's one of the more rainier months), he couldn't make any more guarantees of conditions.
After showering and spending heaps of time trying to clean up the mud off our boots, pants, and ponchos, we walked with Asho and José back to that restaurant we ate at yesterday.
I still wasn't fully recovered from my stomach ailment so I was still relegated to my BRAT diet. However, I couldn't help myself and had to eat some of that fresh kingfish in the soup.
That waitress seemed to have a real bounce in her step and really smiled a lot. Julie made José blush when she thought the waitress was flirting.
After dinner, the stars were out this night. That must be a good sign for Gocta tomorrow as we didn't want to come all the way here to be disappointed with Gocta as well!