Day 4: GOCTA, AT LAST!
It was another partially cloudy morning though it was considerably more cloudier than yesterday morning. This made me worry about Gocta getting clouded over. But in any case, we got up at our usual time of 6am and left Pomacochas at 7:30am this time.
Sensing that the usual pattern was good weather in the morning and rain in the afternoon, we made sure to get as early of a start as possible on this day.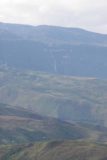 Along the familiar winding road back down to Pedro Ruiz, José got Asho to stop the car at a few pullouts where we could get cleaner looks at Catarata Chinata. With the telephoto lens, I managed to get the best photos of the waterfall that I could. I'd have to settle for this since the closer viewpoint yielded a disappointing experience with los nubes (clouds).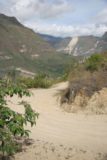 After getting another boxed lunch in Pedro Ruiz, we continued south then took another unsealed road up a hill towards the town of San Pablo. During the drive up, we learned that apparently, José's father came from this town so I guess he had some kind of connection to this place.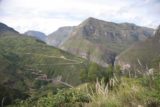 The unpaved road was a little bumpy but Asho made it seem like it was a piece of cake. The road was narrow and dust was flying everywhere. There were plenty of switchbacks along the way, and there were a couple of spots where I was able to take some photos from within the car.
By 9:15am, we were in the town square of the humble village. Once again, we registered ourselves with the officials and waited for the local guide for today – Lucho, a tall indigenous guy with a collared shirt and rubber rain boots.
It was still pretty hot this morning, but by 9:30am, we were off.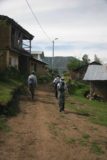 Initially we had to walk through the village itself. It didn't seem like this was a typical way to visit Catarata Gocta given the lack of signage, and so clearly a guide would be needed if any visitor was desiring to visit Gocta without knowing the lay of the land nor those who might not welcome trespassers.
It wasn't long before the village was behind us and the trail immediately started to descend downhill before going on a relentless uphill climb that never seemed to end.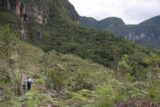 It was during this time that I realized the camera would continuously give me an Error-99 whenever the zoom was on less than 35mm at anything less than f/5.6 aperture. It took a while to even figure out that was the new operating region, and I kept thinking to myself what else could go wrong on this trip?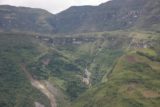 José thought it could be from my little fall on the way to Chinata yesterday. Yeah, that could be, but earlier in this trip this zoom lens was already exhibiting signs of getting stuck when I switched from wide angle to normal zoom (24mm seemed to be the threshold of getting stuck). Julie and I both started to wonder whether dunking the camera in water in a near flash flood in Maui over a year ago might have been the beginning of the end.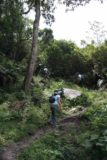 Anyways onward we continued as the trail continued to climb rather relentlessly. By now, we were pretty much used to the altitude (at least that what we thought) so we weren't experiencing headaches or anything of the sort. Of course, we were also at around 6000ft and not 10,000ft like in Cusco.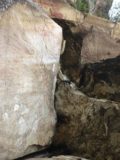 At about 10:45am, Lucho showed us some rock art paintings up a steep spur trail. The steepness of the steps didn't help my knees. Still, the rock art was interesting and added a bit of variety to this hike.
As we continued to hike along a wide ledge, we could see Cocachimba (our place to stay this night) across the valley as well as the road that went to it.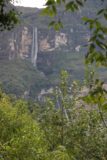 Continuing a few paces further, we finally started to see Catarata Gocta up in the distance between some foliage. It looked oh so tantalizingly close, but we knew that we still had quite a ways to hike. And so we trudged on.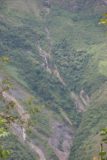 Further along the trail, we could see a lacy cascade called Golondrina as well as a teaser glimpse of the top of La Catarata Gocta. That spurred us on some more; after all, this was the main attraction we were after in Northern Perú. Eventually, the scenery shifted from exposed ledges to a pleasantly shaded and cool forest.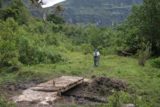 Next, we reached a farm where there was a small footbridge marking its end at the far end of town. The farms in mountainous terrain like this was a stark contrast to the flatter industrialized farming we were used to back at home in Central Valley or perhaps in even the Plains States. But up here, it seemed like no land goes to waste, and the mountain people certainly seemed to know how to scrape out a living and thrive in these parts with terraces, and even plots of land like this finding use for someone.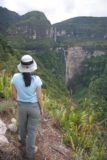 By about 11:30am, after a short downhill spur and Lucho using his machete to cut Julie and I a hiking stick, we finally reached a mirador to see the two tiers of Catarata Gocta in all its glory.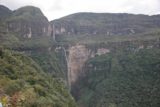 The view up here was precarious as it's easy to get closer to the ledge to get a more straight look.
"771m," José said. I was more apt to believe this figure because Stefan Ziemendorf and fellow German engineers actually came out here and measured the falls with their tools. Not much later, National Geographic came out here to verify the results. They deemed this one to be the third highest in the world.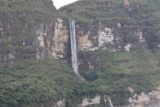 Of course, this is a very disputable claim since Yumbilla in a neighboring valley is said to be 890m. But regardless of height semantics, Gocta was clearly the more impressive one. I tend to think of this height versus beauty debate in much the same light that New Zealand's Sutherland Falls competes with the allegedly taller Browne Falls.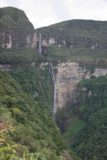 Another cool thing about this waterfall was the story of how it allegedly got its name. Unlike Yumbilla and Chinata, which the locals didn't seem to know where the name came from, we were told that Gocta (neither a Spanish nor Quechua word) owes its name to monkeys resident in the area. Locals said monkeys in the area tended to make a sound with a glottal Goct (like the Scottish loch), and eventually the name Gocta came out of that!
So I guess this impressive waterfall is forever linked with native monkeys here! Heh!
After chilling up here for nearly an hour, we headed back up to the main trail by 12:30pm. From there, we continued onwards to the base of the 230m Upper Gocta Waterfall.
The trail continued to climb uphill from here.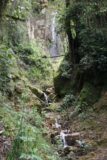 Passing by more jungle scenery plus a footbridge with a view of the upper Chorro Negro (Black Falls), the trail then continued on before it started to get to the final section, which seemed to have quite a few locals doing trail work.
It was unusual to see other people on a trail that was otherwise pretty empty except for us. But since these people were locals doing trail work on the final section, it was much appreciated.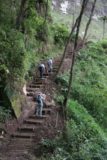 By the way, that final section started with some stairs that continued the steep climb up to the base of the Upper Gocta Waterfall. Apparently, the town of San Pablo was eventually gearing itself up for an alternate way to experience the waterfall instead of just from Cocachimba (which we were about to do tomorrow).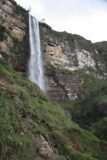 Once we got up to the top of the stairs, we could see the uppermost tier of Gocta quite vividly (albeit a little obstructed). That just kept us going for just a bit more as we knew the end of the trail was near.
It wasn't long before we reached perhaps the most vertical part of the trail. This section consisted of a ladder. And it was certainly one place where we really had to concentrate and make sure we didn't fall because falling here would probably be fatal.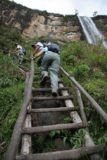 Once we made it up to the top of the ladder, we were finally in front of the long upper tier of Gocta. It was about 1:15pm when we made it here.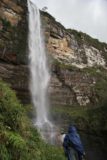 Now that we had worked so hard and basked in our accomplishment, of course we took the obligatory photos here as well as trying to keep the camera lens dry while getting sprayed on when the mist was blown in our direction.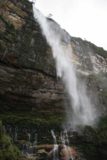 While we were admiring the waterfall, it was interesting to see how the shape of the waterfall kept changing depending on the direction of the wind. We always suspected that waterfalls tend to generate their own weather, and here we were getting another demonstration of it.
Eventually, the wind would calm down and then we could see the waterfall assume its more classical plunging rectangular shape. And with that, we started to make our way back down.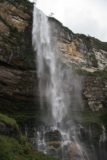 By 1:45pm, we left the falls and precariously made our way back down the ladder then the stairs.
José repeatedly told the locals in Spanish that they were doing great work on the trail. He was in a position to appreciate their work because the last time he was here (around a couple years ago), the trail was much muddier and these ladders and stairs didn't exist.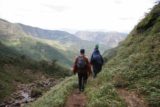 Going back was much easier as the trail was pretty much all downhill on the way back with a few minor uphill stretches.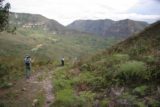 By 4:30pm after a few light showers, we finally returned to San Pablo. The entire hike ended up taking about 7 hours, but we were quite relieved that we had finally seen La Catarata Gocta, known only to the western world in 2006 when Ziemendorf first laid eyes on it after checking out the sarcophagi at Karajía.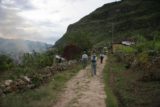 Asho was having fun as he blasted music into the walky talky, which Lucho was carrying most of the time as the authorities wanted to test it out in case of emergency in a future excursion.
I think by now, Julie and I were getting used to the idea that José liked to call Asho "Bubú". It was a strange coincidence since "Bubu" was a nickname Julie and I like to use on each other.
And so Asho drove us back down to the main highway then the unpaved road leading to the village of Cocachimba. The strange thing about this turnoff was that it actually had a sign of Gocta! I think that was the first time we had seen a signpost highlighting a waterfall attraction up to this point.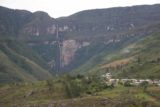 As the road got closer to Cocachimba, we could see both tiers of Gocta towering over the casas (houses) from the village. Asho stopped the car a couple of times so we could take these photos. Julie began to wonder whether the difficult hike to the upper mirador of Gocta was even worth the effort if we could just go to Cocachimba for a view of both tiers. The locals walking around the area probably thought we were loco (crazy).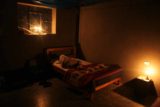 Once we got into town, José knew Julie preferred to stay in a room than in a tent. So he talked to a villager who offered a very rustic room with dusty concrete flooring, two beds, old wool sheets, and no electricity. A pair of candles did all the lighting.
To shower, we had to settle for a very cold shower.
José and Asho slept in the campsite right across the main road from us.
Dinner was in the adjacent building where a hazel-eyed lady cooked for us as we dined under romantic candlelight. Again, no electricity in town except for the street lights, which were hydroelectrically powered from miles away.
The dinner was pretty much french fries (papas fritas) and tacachos preceded by native soup.
After getting settled in our humbled rooms, we slept in our sleeping bag liners and tried to sleep through the roosters and the dogs making noise outside. Of course the hard bed didn't help matters too much either…