Day 5: CAUGHT IN A PUBLIC WORKS PROJECT
At 6am, both Julie and I woke up mercifully thanks to the rooster doing its thing. With the uneasy sleep from last night (part of me wanted to sleep under candlelight, but I knew that was a big fire risk as well as smoke-inhalation health risk), I decided to rewear the pants from yesterday as well as the shirt I used for Chinata a couple of days ago. Sure they stunk, but I knew we'd be returning to a room with a hot shower (keeping fingers crossed) tonight.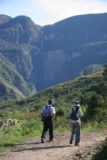 Anyhow after a quick breakfast, we met with our local guide Telésforo and started hiking just before 8:30am to a bright clear morning sky.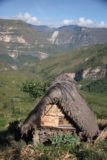 It definitely felt like this trail to Gocta was more developed than the one we took yesterday. We saw more signs here, but we would find out soon enough that it didn't necessarily mean the trail was any easier than yesterday's.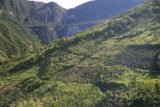 The hike started with Telésforo providing some interesting tidbits. For example, he was the original guide that took Stefan Ziemendorf to Gocta back in March 11, 2006. Ziemendorf, who now lives in Chiclayo, also happened to marry the niece of Telésforo. What's more, José learned that Telésforo is his uncle as he's related to his father from San Pablo.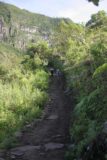 Boy, you talk about a small world, and our guide seemed to be at the center of it all!
In June 2006, National Geographic came to film the falls and confirm the claims and measurements made by Ziemendorf and his team.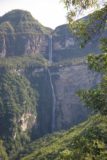 The measurements that they came up with of 230m for the upper leap and 541m for the lower leap might be suspect since there was some elevation loss between the two tiers. But then again, maybe they counted those cascades as part of the upper drop or lower drop. Nobody really talks about these things, but without doing so, it really was just a bunch of hand waving.
So who knows if the height measurements were accurate or believable or not?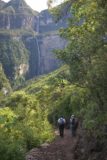 Strangely enough, the San Pablo trail we took yesterday was actually older. The trail we're taking today didn't even exist until Ziemendorf. The older trail was there for some farmers to tend to their land not too far from the upper falls. But clearly the locals knew of the falls and had stories about them, but it wasn't really a big deal to them… until now (as tourism could be a means to lift the community out of their perpectual poverty)!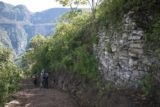 Telésforo told us that Gocta actually flowed better when Ziemendorf saw it. Today, it was more or less average flow despite the downpour and flash flood of Chinata a couple of days ago. I guess it just goes to show you how localized the weather is in the Northern Highlands as apparently Gocta didn't get any of the rain we had experienced back then.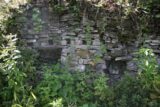 We'd eventually get to a point on the trail where it looked like there were some ruins besides the trail. If the ruins were authentic (we had no reason to believe they weren't), then that would suggest that there must have been a bit of history with this waterfall and the Chachas people who have been here for centuries. It all kind of added to the allure of doing the hike we were on as the pleasant surprises just kept adding up!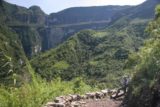 Next, we made a brief rest as we rounded a bend as the sun continued to beat its heat down on us. By this point, we were already pretty comfortable with our filth (something you have to accept when doing muggy rainforest-type hikes for long distances), and we were kind of in a rhythm.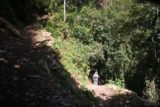 Continuing on, we had to descend a long series of switchbacks. Most of it was in shadow for the time being, but we knew that this was going to be a pretty brutal stretch when we return.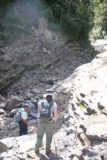 By 9:45am, we made it to a ravine without a bridge over the Golondrina Stream. Actually, the bridge was in the process of being renovated and the water from the stream seeped beneath the loose boulders stream about the wash.
We had to take a steep detour to get through this section, but negotiated it without too much of a problem.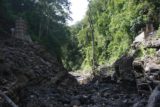 We wondered when this bridge would be complete. We certainly could've used it given that we were starting to get pretty tired at this point.
From here, the trail continued to undulate up and down passing by the rincón perdido (lost corner), which featured a shelter and some machine to make a powerful concentrated form of sugar.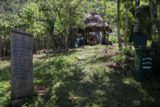 We also passed by a little snack bar where the locals plan to build a backpackers site. Certainly the tourism infrastructure isn't all there (this Cocachimba trail was completed in 6 months not that long ago), but I'm sure the trail will be a bit easier when the work is expected to be done by around May or June of this year.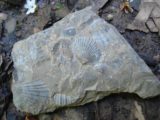 The trail at this point was hugging a ledge overlooking the stream with views of Gocta all along the way. Passing by a landslide area, we also noticed several fossils of sea shelled organisms strewn throughout the ground. We were saddened when José mentioned that many locals would take these fossils as there was no means of enforcement and policy to keep the sites pristine here.
That's too bad.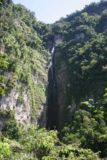 As we got closer to the falls, the upper falls started to hide behind the lip of the lower falls. We also looked to our left across the ravine to see the lower plunge of the wispy Chorro Negro (Black Falls), which we saw the upper part of it yesterday.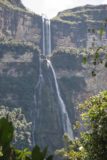 By 11:30am, we were at the Lower Mirador where we could only see the lower falls as the upper falls was hidden from view behind the lip of the lower falls.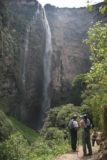 Down here, we took some photos and had ourselves a little snack. Seeing Gocta from this perspective certainly made up for our disappointment with Chinata a couple of days before. In fact, Telésforo had a good laugh at our expense when José talked to him what happened (when clouds refused to move until we left over an hour later).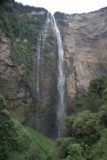 After 12pm, it was time to pry ourselves out of this area and head back. The sunny morning gave way to overcast skies in the typical pattern of fine in the morning and rainy in the arvo.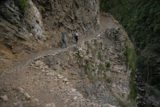 We knew there was some extensive uphill hiking as well as a handful of up-and-down sections making for a rather nasty return hike.
Nonetheless, the brief rain kind of helped cool things off a bit. However, after getting past the yet-to-be-finished bridge over Golondrina, then came the long uphill climb.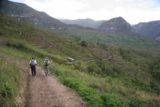 As we got closer to the end of the climb (after what seemed like over an hour later or so), we took a brief break (giving mosquitoes a chance to get their blood from us) listening to a pair of stories pertaining to La Catarata Gocta.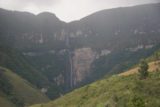 One regarded a guy receiving joyas (jewels) from a mermaid at the pool at the base of Gocta, another story was about some girl with needles in her privates, and the last one was about Telésforo's uncle being possessed by some demon or resident bad spirit whose body now resides somewhere in an inaccessible part on the far side of Upper Gocta.
With all these legends and pleasant frontal views of all of Gocta along this trail, when José asked us which one was better, it was easily the Cocachimba trail that yielded the better experience. However, the San Pablo trail had its own different charm and different perspective. And make no mistake about it, you will work for your experience regardless of which trail you take.
Mercifully by 3pm, we were back at Cocachimba. We saw a pair of German backpackers who spoke excellent spanish going the other way to the falls. They were in the midst of a 6 or 8 month trip on a shoestring, and apparently they walked from the main highway to Cocachimba and then continued to the falls. Considering how we suffered through this hike, I had to give them props for being such strong hikers.
In hindsight, Julie and I couldn't believe how Gocta was not a world class hike yet. After all, it had it all – a giant waterfall, fossils, ruins, birds, mammals, and flora. I'm sure this will change in the future as more people learn about this place and provide something other than the Gringo Trail in Southern Perú, which some 90% or so of foreigners to the country visit without seeing the other parts.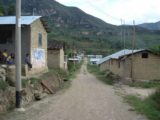 We had a hearty late afternoon lunch consisting of hen soup and roasted hen over rice with fries (they're quite big on potatoes in this country).
When lunch was done, we learned that we had to wait for a bit because of another road construction effort that closed it until 7pm. Julie spent that time reading Lonely Planet while I took this opportunity to practice my spanish with José.
We left Cocachimba some time after 5pm and reached a long queue of cars at around 5:30pm. We still had to wait 90 minutes before we could finally get to the town of Chachapoyas tonight.
Mercifully at 7pm, we were able to proceed. The road construction was actually quite extensive (about 20km long) and it took over 45 minutes to get through the rough bi-directional mostly 1.5-lane road. Again, this was all in an effort to improve access to Chachapoyas and the archaeological sites relatively nearby. It also became apparent why they close the road for work instead of just letting one lane pass through (like they usually do in the States).
It also dawned on me that this was also probably what happened with the road to Yurimaguas, which kept us from seeing the Ahuashiyacu waterfall. Realizing that we were caught in a massive public works project, I guess we took comfort in the fact that our experience was sacrificed for the greater good of the country.
Finally at around 9pm we made it to the bustling town of Chachapoyas and our hotel. Sympathetic to both Asho and José to spend time with their families in town, we got some take out pizza and chilled out in our room to CNN and NBA playoff basketball on the tellie.
With most of the difficult walking out of the way on this trip, we looked forward to a more relaxed trip going forward. However, as the night wore on, I would eventually come down with a sore throat, which I reckon probably came from José.
Seems like I just can't catch a break on this trip!