Day 6: "CHINITAS"
After sleeping in on this day, we caught up with José and Asho at 8:30am. Leaving the Gran Vilaya, we headed over to Kuélap, which we knew was something José and much of the Peruanos in this part of the country were proud of. It was sort of their answer to the well-marketed and well-visted Machu Picchu.
We certainly noticed more tourists in both Chachapoyas and the rather long 2.5-hour drive up to Kuélap.
Even though Kuélap wasn't far from Chachapoyas (Chachas for short) on the map, it took forever to get there. I guess that's the nature of the sinuous mountain roads here.
At a particular stop well before Nueva Tingo, we were at a pullout with a view across a valley of some ruins against the mountain with notches. It was here that my camera zoom lens now refused to zoom past 24mm. How annoying!
I guess this lens pretty much run its life on this trip. The silver lining is that it mind as well better happen now rather than the longer Australia/Africa trip coming in a little over a week.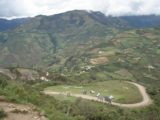 At 11am, we arrived at the car park for Kuélap. From there, we took a 20-minute uphill hike (we're now around 10,000ft again) to the south wall. At the wall, we could see a few stilts adjacent to some walls as José was quick to point out there was some restoration efforts going on and not reconstruction, which occurred at Machu Picchu.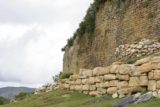 I guess the difference is that restoration is about keeping true to maintaining the way the ruins were as they were found while trying to protect them against the elements.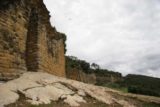 Reconstruction on the other hand relies on archaeologist theories wrapped around limited facts which can be controversially subject to fantasies and historical inaccuracies, especially when you have tourism money at stake.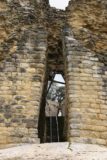 José's private tour took us around the east wall past the first entrance and towards the second entrance. From there, we ascended the more overgrown 2nd east entrance into the middle level.
Even though we had been acclimated more or less to the altitudes in Peru, each flight of stairs still took a bit out of us so we naturally took our time.
There were interesting views of the scenery to be had up here, but we continued up another level to the upper pueblo where there was a military tower as well as a few other preserved structures.
After doing a tour up here, we went back down to the middle level and checked out some of the decorated circular dwellings as well as some of the most-preserved walls in the site.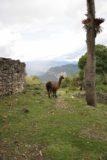 Somewhere in the middle of the tour, José was busting up laughing as he noticed some lady well behind us who tried to get close to a llama and ended up getting spit on by it!
I didn't see the act, but I could see the lady frantically wiping her face.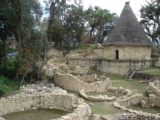 After that bit of comedy, we continued our private tour and eventually got to a point where we could see a reconstructed house with straw conical roof (this was the only reconstructed part of Kuélap). Apparently, that's keeping them from being considered for UNESCO World Heritage even though Machu Picchu got such treatment despite extensive reconstructions…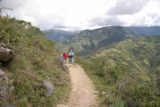 Since Kuélap sits on top of a mountain, we also managed to get pleasant panoramas even though the rain was starting to come down by now. All in all, we thought Kuélap held its own in terms of photogenic beauty, but it lacked the drama and awe of Machu Picchu. Still, it was nice to be away from the mad crush of crowds and we hope for the sake of the Chachas people that this attraction gets more notoriety in the future.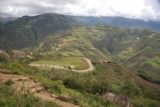 After 2pm, our tour ended and we walked downhill back to Asho.
Then, we took the slow drive back to Chachapoyas, arriving at around 5:30pm. This let José and Asho spend time with their families again. In the mean time, Julie and I walked briefly around the main square of Chachapoyas having ourselves some Amazonian food (e.g. tomalitos and juanes) at a local bakery while taking photos of the main square.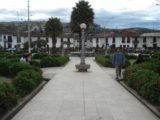 It seemed like everywhere we went, the locals would stare at us. We also heard the word "chinitas" quite a bit as it probably translates to "little chinese people" though the use of the feminine ending probably meant it wasn't exactly a flattering term for us.
I guess this feeling of always being stared at kind of abridged our intention of photographing more of Chachapoyas Square. Instead, we went into the very quite Chacha restauant.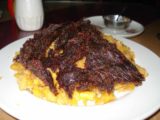 With my stomach feeling better, I felt like confident I could finally try the fried trout I missed out on at Pomacochas. Julie got another dose of tacachos, though I could tell she was probably sick of it by now.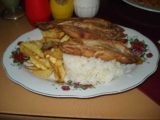 We were back at the hotel before 8pm where we tended to our hygiene and slept at 9pm in anticipation for our early morning start tomorrow at 5am. That would give us a better chance at getting through 20km stretch of road construction on the way back to Pedro Ruiz before they closed it for the day at 6am.
With a flight from Chiclayo to Lima and then from Lima to LAX on the line, we weren't about to take chances cutting it close…