Day 7: THE LONG ROAD TO CHICLAYO
With our early bedtime last time, we woke up at 4am pretty well rested. There wouldn't be much hiking today, but we knew getting from Chachapoyas to Chiclayo would be an arduously long drive so an early start was mandatory.
At 5am, Asho picked us up and then on the far side of the main square, José made his way to Asho's car. Soon afterwards, Asho topped off on what looked like an already filled tank of gas.
From there, we wasted no time getting out of Chachapoyas and past the construction zone. By after 6am, we were back in Pedro Ruiz. This time however, we hung a left at the T-intersection of the main highways and went on a road we hadn't been on before.
Passing by a military base, we could see La Catarata Chinata revealing itself behind the base. Julie thought this might have been the best view yet of the falls (though who knew what we would've seen from the Chinata Mirador by Cuispes?).
Shortly after passing by a toll road out of Pedro Ruiz, Asho pulled over before a surprise waterfall we didn't expect to see. This one was called Corontachaca. It was quite tall and had a pretty lacy structure to it.
Given the low light, I was able to take a long exposure photo of the falls despite the forced high aperture.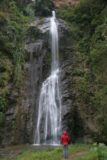 José went on to tell me this waterfall was 90m (around 270ft or so) tall. But having seen many waterfalls before, I doubted his claim as this one seemed more like 90ft tall. I don't know of this made up for missing out on Tarapoto's Ahuashiyacu Waterfall, which is reputed to be 50m tall, but heck, we'll take this one.
With a couple more hours of driving through dramatic mountain scenery, we started to notice it started raining.
In one particular washout, José pointed out that a bus got stuck here and the swollen wash sent the bus all the way to the river killing some 30 people or so.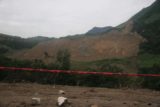 Another landslide that happened about a month ago looked like the whole mountain went down. Except with this one, it actually blocked the river and diverted the water into a neighboring village which was consequently destroyed. This disaster managed to destroy the road and choke off access to Chiclayo for about 15 days.
Little did we know these weather-related slides were a sign of things to come…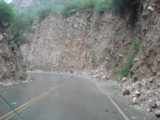 By about 8:30am, the rain was coming down hard. Lots of areas had rocks falling onto the road. Asho consistently drove on the oncoming traffic side of the road.
We crossed three major washouts as the rain was coming down hard. Especially on the second crossing, we beared in mind the tragedy of the bus caught in the flood. With the water raging, I didn't think we'd make it past this crossing.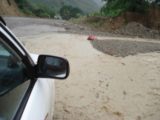 Still, this didn't deter Asho and despite me blurting out, "No Way!" to an undeterred José and Asho, we managed to make it. Whew!
About 9:30am, it seemed like the worst of the menacing rains were over. About half an hour later, we all took a break in the calm weather at a humble roadside restaurant where we had Lomo Saltados.
At 10:30am, we left the resturant and continued on our way to Chiclayo. As we ascended up to a mountain pass deep in the Andes, it looked like there was some commotion around an overturned truck where it appeared someone died. Lots of locals were on the scene, but the sight of this tragedy really hit home just how dangerous these mountain roads really were.
We thought the worst of the weather and obstacles was over with at this pass, but actually the drama continueda little while longer before we felt that the weather finally started to let up.
The weather remained relatively benign on this side, but we witnessed plenty of parts where the road was taken away by a raging river as well as other rockslides that went onto the road. José and Asho both said most of this damage came from a freak storm about a month ago. Fortunately for us, most of these problem spots had detours.
Still, it was hard not to ignore the fact that anything could happen to conspire to prevent us from going home. With our luck on this trip, who knew?
Nonetheless, it seemed all the damage we've witnessed mostly came from that storm a month ago. I recalled from the lady who's living in Cusco told us on the Machu Picchu train that she and her brother-in-law had some pretty harrowing experiences just a few weeks ago in Northern Perú related to torrential rains. Could this be the same storm?
It was mind boggling to think about how Peruvians living here and depending on this road had to deal with such fury from Mother Nature.
The next 3 hours or so was a blur. Both Julie and I slept and before we knew it, we were in Lambayeque at around 2pm.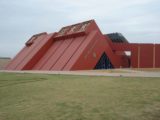 There, we checked out the museum of Sipán, which was loaded with artifacts of precious metals, pottery, and other excavations. Even though we weren't all that into archaeology, the Tomb Raider or Indiana Jones aspect of these excavations made Sipán rather interesting.
Still, we only had time to check out perhaps half of the exhibits as we still had lunch to go and a plane to catch at around 6:45pm.
At 3:15pm, we were at a rather busy restaurant called El Pacífico. With my stomach intact again, I seized this opportunity to try some local ceviche. Asho and José did the same. I ate this stuff despite my cold getting worse. Julie had some kind of "lobster soup" (sudado de langostino). Pretty fresh and good.
At 4:15pm, Asho weaved through the rather busy and stressful city streets of Chiclayo and headed for the airport. By 4:45pm, we arrived at the rather small airport.
We bid each other a fond farewell (with firm handshakes and embraces). After spending nearly a week together, it certainly felt like we were saying good-bye to friends.
Going forward, José was going to guide a Russian tour starting tomorrow morning. Asho was driving back to Chachapoyas alone. We were worried about how much rest and awareness he'll be having considering it's nearly 8 hours or so to get home.
And by 6:45pm, our flight to Lima took off and ultimately arrived at Lima about an hour later. Plenty of time to wait for our midnight departure, where we'd catch a red-eye back to LAX. Upon arrival, I was going straight to work, while Julie would take our stuff home and try to get some rest…