Day 3: DO YOU HAVE YOUR VOUCHERS?
At 7am, we packed up, checked out, and met with Giovanni at the lobby of the Hotel Laja Real. It was now daylight so we could finally see the city in action even though we were only going across the street. And even though we didn't have far to go, it seemed like you really need to have both patience and cajones to drive here. I mean, in LA we have pretty crappy traffic, but here there seemed to be less of a sense of road rules. Nonetheless, Giovanni got us through and even pointed out to us the plane of Jimmy Angel, which was sitting right in front of the airport.
After parking the car, we asked Giovanni about luggage we wouldn't be bringing to Canaima since we knew we'd be riding in tiny little propeller-based Cessnas. That was when he opened his trunk and we left our remaining luggage there. After showing our vouchers to Rutaca (the airline taking us to Canaima I guess), getting our boarding passes, paying our departure taxes, and saying our good-byes to Giovanni, we still had a few more minutes to check out the Jimmy Angel plane.
Jimmy Angel was an American aviator who was the first westerner to discover Kerepacupai-merú (or Kerepakupai-merú), which meant roughly "falls from the deepest place" in the Pemón language. I think he was also in search of gold which was why he even bothered to be here in the first place. In any case, in 1937 he landed his plane atop Auyantepuy (or Auyantepui), which meant "Mountain of the God of Evil" or "Devil's Mountain" (the latter is a lazy way of translating this since the natives didn't practice Christianity) in the Pemón language. But it was so marshy at the top that he couldn't get his plane to take off. So he and 3 others (including his wife) had to trek for 11 days climbing down the thick jungle and vertical cliffs of the tepuy before returning to civilization to relay his confirmation of the falls to the rest of the world. And the rest was history, and the falls were named after Jimmy Angel for his feat.
Tepuys are table-top mountains rising to heights of over 1000m or even 2000m in some cases. When not shrouded in clouds, they really reminded me of the mesa formations in the Southern Utah/Northern Arizona deserts, except the tepuys had more green on them and they seemed grander in scale. Auyantepuy seemed to be the dominant plateau around Angel Falls and from looking at the maps, I wondered how Angel Falls could even be permanent as its apparent source was neither from a lake, snowmelt, glacier, or river. It was almost as if the top of the plateau was a magnet for clouds condensing into rainfall. Really unique and cool.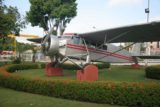 So Julie and I took our obligatory photos of the restored airplane and then someone from the airport beckoned us to check in to security. I guess our flight was about to take off so we had better get moving.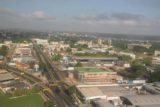 The plane took off at around 8am. After seeing the context of Ciudad Bolivar, it didn't take long before the plane flew over far less developed parts of the country.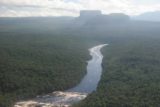 Most of the flight was through some clouds high up in the sky, and when there were openings below, we could see that the terrain was basically all rainforest.
We landed in Canaima at around 9:15am. The flight was pretty smooth and the hum of the propeller engine even made me want to lull to sleep. The scenery from the air was pretty much a homogeneous mix of the green of rainforest treetops and the odd river and lake here and there. But then things got more dramatic as tepuys started showing up as we got close to Canaima.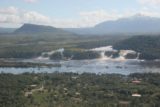 Just before landing, the scenery culminated with dramatic aerial views of several waterfalls spilling right into a lagoon. That must've been the Canaima Lagoon, and it appeared the village is right on the edge of that lagoon.
When the plane landed, Julie and I wondered if this was supposed to be the flight going over Angel Falls (since we had already paid for it). She had me ask the pilot in spanish if it was it. But the pilot said it was too cloudy over there and we'd have to try to fit it in on the way out.
And so we headed over to a sheltered waiting area after picking up our basic day packs from the Cessna. There, we paid our park entrance fees and surroundered a voucher when someone asked in broken english, "Do you have your vouchers?"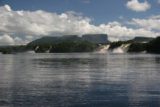 So Julie and I waited for probably around half an hour wondering if we had been forgotten. We both used this time to put on DEET and sunscreen and buy some local maps. Finally, another person came to us and asked, "Do you have your vouchers?"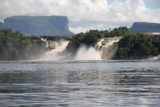 We quickly responded that we had just surrendered it to the first person who asked that question. No drama ensued thereafter and eventually we'd follow a guide who walked us beyond the airport to the gorgeous shores of the Canaima Lagoon. From there, we could see the cluster of waterfalls in the distance. So before hopping into the motorized canoe, both Julie and I snapped some photos.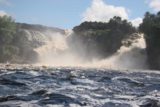 Even as the canoe was going, we were taking photos. The guide seemed to notice our enthusiasm and took the canoe into the turbulence of the lagoon near the waterfalls. It was a bit difficult to photograph the waterfalls this close due to the accumulation of mist on the camera lens, but it was cool and refreshing to get the spray to offset the humid, tropical heat.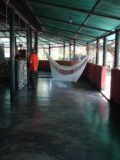 Not long thereafter, the canoe landed on the opposite side of the lagoon just across from Hacha Falls (Salto Hacha). We were then led up a short trail where we were shown to our camp (campamento). At the campamento, there were a pair of hammocks as well as a bed on the perimeter of a large dining area. I guess the hammocks were for us. The campamento was merely a large tin-roofed shelter but essentially outside. They did appear to have private "indoor" en suites, but I think those costed more. Aside from a few workers sweeping the floors, it was only Julie and I. We wondered if we would have the place all to ourselves.
After putting our packs down and getting settled, Julie was resting in the hammocks while I was a bit restless and headed right back to the shores of the Canaima Lagoon to take photos of Salto Hacha and the surrounds.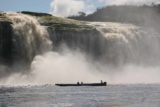 During this brief photo run, another canoe passed before Salto Hacha and ultimately stopped near where I was taking photos. That canoe had another coupole (one spanish-looking guy with somewhat long hair and a guitar with a Caucasian woman). They were led to the camp in the same manner as we had been just moments before. So much for having the camp to ourselves, I thought.
When I was done taking photos, I rejoined Julie at camp. That was when we introduced ourselves to the couple that just settled in. They were Canadians named Dustin and Fairlight (sp?). It didn't take long to bond with this couple as english was once again the common tongue when communicating. It also didn't take long for one of the workers to ask the couple, "Do you have your vouchers?"
At about 11:30am, Fairlight and Dustin wanted to go back to Canaima village to check it out and do some shopping for supplies. Julie and I tagged along. But when we landed, the guide told us that we were supposed to come back to the lagoon at noon for lunch (as apparently we had pre-paid for it). So that kind of put us in a rush.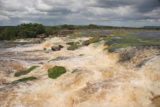 So all four of us sort of aimlessly walked into the village south of the lagoon. A sign caught me eye saying "Salto Ucaima" and so that was what we walked to. It was about a 15-minute one-way walk and we'd eventually get to an overlook above some hydroelectric contraption at the top of the falls. All the while, we small-talked with each other.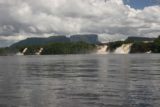 But before we could fully enjoy the falls, it was getting late as Julie and I had to rush back to the Canaima Lagoon for the awaiting guide. Dustin and Fairlight were left to their own devices exploring the indigenous village.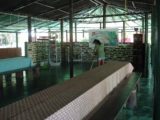 Finally, I broke the ice and said "Hi" to the nearest person, who happened to be a young lady named Maga (pronounced "Maya"). She said she and her friends are Norwegian and that got me excited as it had instantly brought back pleasant memories of our trip to Norway over 2 years ago.
It wasn't long before we were seated at the table and served lunch. That was when we learned who were camping with us this night and that they had just returned from the Angel Falls excursion. The Norwegians were composed of two couples named (forgive me if I've mispelled the names) Maga, Arild, Solveig, and Andreas. There was also another couple composed of Miguel (Venezuelan) and Valentín (Belgian).
During that time, one of the workers came up to the Norwegians and were asked if they had their vouchers even though it was evident they had surrendered them long ago. Julie and I wondered aloud about how disorganized things were run here. It really seemed like you have to take the initiative and remind them what your itinerary says.
Julie and I inquired to the incumbent group about what Angel Falls was like since they had just done it. Most people complained that it was a long, bumpy ride (4 hours), and that they used their life jackets as seat cushions. They said the river level was somewhat low and they even scraped a rock at some point. Of course we asked how the falls were flowing, and they said it was definitely flowing. They even got to swim at some pools beneath the waterfall, which they said were an additional half-hour or so from the Angel Falls lookout (an hour's worth of hiking after leaving the boat).
We passed more time getting into a lengthy conversation about various things Norwegian (mostly because of my curiosity and enthusiasm for wanting to test my knowledge of the Norwegian language). We discussed things such as the parks system, mountain huts, midnight sun, beautiful spots in Norway, etc. We also talked about differences American National Parks since Andreas had quite an interest in it. We even talked about other parts of the world like Zanzibar (Tanzania), Iceland, etc.
We also had a little fun talking to Miguel and Valentín about the differences in the spanish language depending on whether you're from Spain, Mexico, Venezuela, Argentina, etc. We especially got a good laugh out of pronouncing "Gracias" (gra-thias? or gra-see-as) or "Ella" (ei-yah or eish-jah). Miguel also filled us in on some other places in Venezuela worth checking out.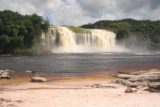 After lunch, Julie and I spent a short amount of time going back to Hacha Falls. There was another tour chilling out at the beach by the lagoon. It also looked like that same group had boated from a spot next to Hacha Falls. We would learn later that it was possible to go behind that waterfall!
At 2:45pm, the guide José led a fairly large group further into Isla de Anatoliy to Sapo Falls and Sapito Falls (Salto El Sapo y Salto El Sapito). It took around 30 minutes or so to get from camp to the lagoon before Sapo Falls. This lagoon was considerably calmer than the Canaima Lagoon. The reddish tint of the water and the shores of the sandy beach was also quite unique.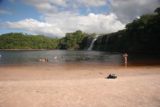 Sapo Falls had nowhere near the power of Hacha Falls. Nonetheless, it was a relaxing spot to cool off from the tropical heat and chill out. Sapito Falls was a bit more recessed from view so it was hard to see from where we were beached.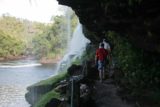 After spending another half hour relaxing (and joined by another tour group), we walked back into the jungle and towards Sapo Falls' backside. This was the trail that the late local guide Tomás Bernal built.
This trail followed the underside of overhangs sheltering most of the trail from the falling water of Sapo Falls. However, there was one part where you did walk through the waterfall so that was why José had us put stuff into a large garbage bag he was carrying to keep things dry.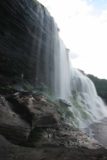 On the other side of Sapo Falls, we chilled out some more to bask in the view. I took this opportunity to use the rocks to help steady the camera and take long exposure photographs (since I couldn't fit our tripod into our carry-on luggage).
Next, we climbed up to the top of Sapito Falls. It was there that we had expansive views upstream of tepuys in the distance. There were also dark clouds looming ahead and threatening to dump their load on us. An iguana was resting on a rock at the top of Sapito Falls, which created interesting photo opportunities, though it would've been nice to have a telephoto lens.
After heading back to the top of Sapo Falls for more panoramic views, we returned to camp (5:15pm) just in the nick of time to seek shelter from rain. That was when the Norwegians told us about their little informal excursion to the back of Hacha Falls. They suggested that we do the same, but I think after our long day of traveling and doing Sapo Falls, we were spent.
Fairlight and Dustin had also returned from their informal exploration of Canaima village. And so everyone was back (along with another pair of Canadian guys who went with us to Sapo Falls) to clean up, have dinner and spend the night.
The shower was primitive and cold. Couldn't complain since it was in the wilderness and we could've gone without showering at all like in most outdoor backpacking pursuits.
And with that, we settled into our hammocks at around 9:45pm. Even though Julie and I were spent, I had trouble falling asleep in the hammock. The rain picked up again in the middle of the night shortly after I made a brief bathroom break. It was hard to fall asleep to the sounds of rain clanging on the tin roof…