Day 4: ANGEL FALLS AT LAST
It was about 6:45am when Julie and I awoke. Dustin and Fairlight were already up and about since she was a birding enthusiast. As we were getting ready for the day, I took the time to walk to the Canaima Lagoon again and see how Hacha Falls is doing.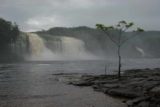 Upon arriving at the scene, the falls looked like it was flowing more than yesterday thanks to last night's rain. Even parts of the beaches looked submerged.
Of course the current conditions got me wondering about whether we'd be able to see the falls since clouds were everywhere. Well at least the boat ride shouldn't be as bumpy since I'd bet the rivers were more swollen.
We all had breakfast at around 8am. Apparently, the Norwegian group learned that they had to leave Canaima early and spend most of the day at the airport in Ciudad Bolívar. That kind of sucked for them.
I also observed quietly Miguel and Valentín meditating. Miguel would explain to me later that they met on some meditation get-together earlier in the trip. Imagine meeting your love interest on a trip in an unfamiliar place somewhere else in the world. Given the unlikelihood of finding love in such a situation, we all thought that was really cool and lucky of them to get to experience that.
Anyways, all of us got onto the motorized canoe to boat back to Canaima village at 9:30am. Dustin, Fairlight, Julie, and I were anticipating our 10:30am tour to Angel Falls. Given how unorganized things seemed to be, we weren't taking any chances being left behind at the campamento when we should be out in the river going to the falls.
And so at 9:45am, we said goodbye ("Ha det!" in Norwegian) to the Norwegian group as well as the pair of Canadian guys who also spent the night at the campamento. Miguel and Valentín stayed behind at camp. And the rest of us were told by the tour rep to wait here at the local souvenir store. He said someone will come by in 5 minutes.
At 10:40am, we were still waiting to go on tour. We were beginning to worry that we might not get to the Angel Falls camp (let alone the falls) in time before it gets dark.
Finally at 11am, someone picked us up in his pickup truck, took us to the airport to pick up the last guy joining us (a Spanish journalist named Francisco), and were led once again by the indigenous guide José. We saw the two Canadian guys from camp who were still there, and they were pissed that somehow they missed their flight and they're having them take a bus somewhere. The truck would eventually drive past the Mirador Salto Ucaima to the put-in point at Puerto Ucaima. That was where we boarded the motorized canoe with our stuff and got going on the Carrao River.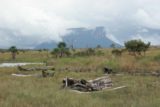 It was barely 15 minutes before the boat stopped near a small village by the Mayupa Rapids. Naturally, we were led to a souvenir shop where you could pick up local handicrafts (or even a blowgun though I somehow think that wouldn't make it through customs). We walked for 15 minutes more to the shores of El Río Carrao upstream from Los Rápidos de Mayupa awaiting the boat with our stuff.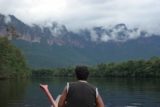 Finally at 12pm, we started the 4-hour boat ride upstream to Auyantepuy and Angel Falls. Throughout the boat ride, we looked at our surroundings consisting of trees, birds, and clouded tepuys looming here and there. As we got closer to the monolithic Auyantepuy, we could see ephemeral waterfalls dropping beneath the clouds.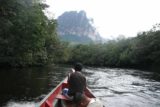 The boat ride would continue this way for what seemed like a very long time. Heeding the Norwegians' advice, the life jacket seat cushions helped, but my ass and thighs were still getting sore. Rapids were few and far between on the Carrao River. But eventually, the canoe would go into a feeding river called the Churún River. It was narrower, more full of rocks, and had more rapids to give us a bit of a thrill as they always threatened to drench us. But the boat was skillfully driven to minimize that from happening.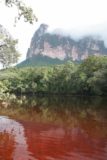 At some point on the river ride, they made a short pit stop. That was where they let us go on a potty break and heed nature's call. I opted to stay in the boat and take photos of the looming tepuy ahead of us and the strangely blood-red river. It was unusual to see a river of such color. I commented to José that the river had the color of sangre (blood), but he countered with, "It's like Coca-Cola."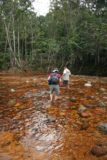 At 3:45pm, we finally docked at a turbulent part of the river and began walking. It was a good thing that Julie and I wore our Keens because it wasn't long before we had to do a stream crossing. That slowed things down for Fairlight, Dustin, and Francisco giving swarming mosquitoes a chance to get their shots in at us.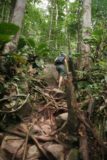 Eventually, we'd continue the soggy, slippery, and rough jungle trek going uphill most of the way. Although it was cloudy (again, we worried about coming all the way this way only to not see Angel Falls), it was still muggy. The hour-long hike was definitely nontrivial, but eventually, we'd make it to the Mirador Laime (also signposted as Mirador Salto Ángel) some time just after 4:30pm.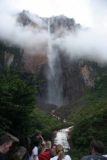 It was quite crowded at the "overlook" which really consisted of a big slab of rock with enough of an opening to gaze right up at the world's tallest waterfall. The falls would come in and out of full view thanks to the fickle nature of the swirling clouds. It wasn't easy to get a decent photo with all those people around.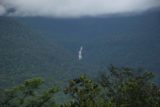 I noticed there was also an alternative overlook spot where the lower cascades of Angel Falls were blocked. But perhaps there might be more elbow room there. So I went over there, met a trio of Germans, exchanged pleasantries and took photos of the falls as well as the scenery behind as there was another waterfall across the river and the Vei-tepuy, which was part of the larger Auyantepuy.
Upon learning that I was from Los Angeles, the Germans were quite fixated on the fact that "the Terminator" was governor of California. In their minds, anything must be possible in America. But I told them that Arnold Schwarzenegger was actually doing his best to run the state but there were simply too many people in government preventing that from happening to protect their own wealth or that of their supporters. Such is politics I guess, much to the detriment of the rest of the population.
In any case, the Germans' tour group was leaving and that pretty much left just Dustin, Fairlight, Francisco, Julie, and I at the mirador (lookout). José engaged in conversations with other locals guiding tours. I'm sure José has seen the falls a zillion times and must be sick of it.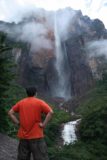 When Francisco and I asked him whether he was tired of the falls, he candidly said it's not really the falls he's tired of. It's more the high maintenance people and their demands, especially in the high season of July and August. He usually goes to the falls every other day. Sometimes there are as many as three groups from the same campamento going to the falls each day in high season!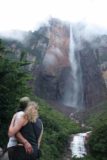 During our time alone at the mirador, fortune smiled upon us and the clouds momentarily parted enough for us to see the falls once again. Naturally, we all seized the opportunity to take our photos as often as we could knowing this doesn't happen all the time.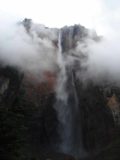 So at 5pm, we started making our way back down. It was getting dark and the thick jungle canopy made it even darker so we had to watch our step and take care not to twist an ankle or knee on the knarled slippery tree roots and rocks on the trail.
At 5:45pm, we made it back down to the stream crossing where the rest of the group was busy crossing it. At 6:15pm, we finally were picked up by the canoe and returned to camp. As we dropped our stuff under another tin-roofed shelter with hammocks, José told us that we could bathe in the river water for our cold "shower."
Well no one used soaps or shampoos or anything, but it was refreshing to wash off all that DEET and sweat.
It was also a bit scary to be in the river when it's moving fast, but there were rocks to check the flow of the water. But we were very careful not to stray too far out into the river, where there were definitely currents conspiring to sweep you away!
Although it was almost dark, we could see Angel Falls dropping beneath the clouds. So clearly we had a pretty ideal camping spot to see the falls the next morning (if the weather would cooperate).
At 7pm, we had dinner. They served us chicken and pasta and the portions were unusually large. I guess they expected more people on this trip than they brought food for. In any case, we gorged on the food since we had just completed a very long day of travel and hiking.
After dinner, Dustin, Fairlight, and I talked about traveling the world. Julie and I were fascinated with their adventures because they tended to travel without itineraries. They basically go on trips for several months and let the circumstances move them wherever they may. It was kind of the antithesis of how Julie and I travel since we're usually on limited time and seek to maximize that limited amount of time through research and planning.
Julie went to bed early since she was coming down with a cold and she was starting to have chest congestion.
As the conversation continued, I learned that Dustin was one of those laidback guys who lets life come to him. Their current 5-week trip around Venezuela, which he claims is his shortest trip, is really a delayed honeymoon (he and Fairlight have been married a year ago). And in their usual MO, their honeymoon lacked neither an itinerary nor a plan. They just travel wherever chance takes them, and Angel Falls was no exception.
So we reflected upon our experience today. We had a good laugh juxtaposing the descriptions of the river portion of the trip from two different people. The Canadian guy named Scott said there really wasn't much to see on the river. However, Miguel was enthusiastic about his description of the experience citing the experience of looking up at tepuys, jungle, and wildlife. I think we all agreed with Miguel even though most of the tepuys were clouded over on this day. I think the Canadian guys fancied more partying than their time in nature.
Dustin also relayed stories about getting robbed in India and Guatemala, and having his car stolen while living in Spain. Fairlight was on some of those trips with him. It was especially interesting to see how they dealt with such situations without food, money, nor passport (though he lucked out in one situation where he got back his stuff except his wallet was out of money).
But they also talked about hiking to cratered lakes atop volcanoes in Nicaragua, chilling out in beaches and islands like Los Roques in Venezuela, and even exploring Panama and Costa Rica.
It was amazing to hear such travel stories because it's really hard to have such opportunities back in the states (especially with our miniscule vacations compared with most of the world).
Of course, we also fancied visiting other parts of the world like the wild Canadian north, the South Pacific (since they love beaches and islands), and other parts of Europe and Africa. So many places to see, so little time.
At 10pm, we finally settled into our hammocks and slept. That was when the skies dumped their load and it rained hard. Once again, I tried to sleep under the noise but it probably wasn't until another hour later before I finally fell asleep.
It would rain all night like this…