Day 5: YOU CAN TAKE YOUR PHOTOS NOW!
At 6am, there was enough daylight to wake up. It was still raining and I started to resign myself to the fact that there wouldn't be a glorious morning view of Angel Falls from camp. I wondered if this type of prolonged rainfall was typical, or if the rain is concentrated more around Auyantepuy than say Canaima. For all we know, it could be fair weather back there.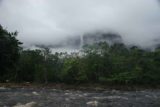 And so we quickly got packed our sleeping bag liners, our clothes and towels (which were still wet as nothing dries out here in the tropics), and our flashlights and headlamps. It was a good thing we brought an extra trash bag to keep the wet clothes isolated from the dry ones. Though the hiking boots we carried along with us really seemed like rather useless dead weight.
At 7am, we had breakfast. It was back to the usual smaller proportions (unlike last night's chicken and pasta dinner) of pancake and eggs with ham. During that time, all of us were engaged in a more political conversation as Dustin had relayed to us about one of the guys they met on this trip who's conversation always went back to how bad Hugo Chavez was regardless of what the topic of the conversation started with.
Francisco, who was a political writer working out of Caracas and taking a break to go on this excursion, filled us in about the tiff between Chavez and the Spanish monarch King Juan Carlos which resulted from a heated summit in Chile where Carlos asked Chavez, "why don't you shut up?" in spanish.
Imagine political leaders having the type of drama and verbal exchanges the way ordinary people telling one another to shut up or hurling insults and vice versa. Quite comical when put in that light.
But we were really getting involved in learning better how the Venezuelan political landscape was. It was very informative and it seemed that President Hugo Chavez, who fashions himself after El Libertador (the liberator) Simón Bolívar, was very popular amongst the rural communities and poorer areas around the country. This included many of the indigenous peoples in and around Canaima National Park.
Already deep into our conversation at the breakfast table, José suddenly interrupted us as he said matter-of-factly, "You can take your photos now!"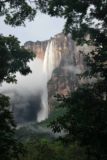 Suddently the conversation stopped in its tracks and all of us rushed to the front of the camp where we could see Angel Falls gloriously swollen and basking in the morning light.
It looked much thicker and more impressive than yesterday afternoon. Clouds had momentarily parted enough to even see the line of Auyantepui surrounding the waterfall. It was indeed a very cool sight, and we were really glad we got to stay at a campamento that allowed us to get this view of the falls.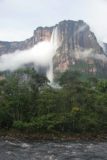 So we spent the next half-hour posing for photos, helping each other take our desired shots, and of course I went nuts seizing the moment taking as many photos as I could of the spectacle.
I guess this momentarily put out of Fairlight's mind her disappointment at not being able to swim beneath Angel Falls yesterday (thanks to our late start). But José did say we would swim at some place he called the "Happiness Pool," which I had misconstruced as the "Japanese Pool" thinking it was the thick spanish pronounciation of the latter name.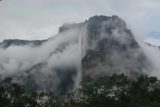 It was about 8am when we took our packed belongings and boarded the motorized canoe. Just as we were leaving the campamento, the swirling clouds had returned and started covering up el salto Ángel.
So back on the boat we were, but this time we were going with the current. Travel was much much faster and we saw numerous tour groups going the other way this early in the morning.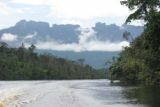 Photo opportunities of Auyantepuy from the river were few and far between because most of the clouds were low and nearly completely shrouded our views of it and other surrounding tepuys.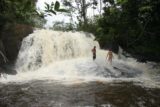 At 9:45am, we arrived at a short waterfall feeding into El Río Carrao. There, we spent a few minutes taking photos of the short waterfall. Dustin and Fairlight took the opportunity to get into their swimming attire and actually walk into the waterfall. In fact, José led both of them into the waterfall, where they disappeared behind the white curtain of falling water.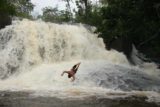 After having their fill of the falls, the couple swam back to put on their dry clothes again. Meanwhile, José did a dive from the waterfall before re-entering the boat.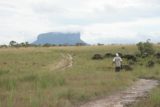 And with that, we left at 10am. It didn't take much longer to return to the village near the Mayupa Rapids again. Once again, we checked out the indigenous handicraft and souvenir store before rejoining the canoe on the other side below the rapids.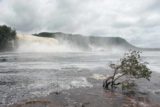 After that, we motored the final stretch to the Anatoliy Island upstream from the Canaima Lagoon Waterfalls. From there, we grabbed our stuff and hiked back to camp, where we arrived at 11:30am.
The camp had a different feel to it as there was a completely different group there. We didn't get too much of a chance to get acquainted with them as this group had some French-speaking people, a family, and an American out of Florida named Nathaniel, who we did meet.
But it was pleasant to see Miguel and Valentín again.
We had time for one last lunch before we had to return to Canaima Airport for our scheduled 2pm flight to Ciudad Bolívar. During that lunch I spent most of the time talking to Francisco about what Los Angeles was like in spanish. It sure was nice that he was patient enough to slow his spanish down to a more or less comfortable level for me to keep up.
At 1pm, it was time to say our farewells, especially to Francisco, Dustin, and Fairlight for being great company in our tour group to Angel Falls. We joined Miguel, Valentín, and another group of people (one who Julie thought was a tour guide who was actually from Latvia).
It wasn't much longer before we were back at the Canaima airport and waiting for our flight. Julie made sure they knew we still were owed an overflight of Angel Falls by having me talk to the workers in spanish. We gave up our voucher upon hearing that familiar question, "Vouchers?"
We continued talking to Miguel and Valentín about La Gran Sabana, which was where they were going to next. They didn't intend to climb Roroaima, but they were hoping to see Salto Aponwao (or Salto Aponguao). I wished we could've seen that on this trip, but we had already made bookings before finally receiving the up-to-date Lonely Planet Venezuela book. Damn!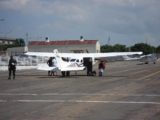 Anyways, our flight was about to take off on time at 2pm when the pilot stopped to pick up two stranded Americans. Apparently, they had missed their flight to Puerto Ordaz and we ended up having to stop in Puerto Ordaz before returning to our destination of Ciudad Bolívar. It sucked for us since we wouldn't have as much daylight to explore the colorful historical district of the city (since things close after 5:30pm and it gets more dangerous to be out and about at night).
Julie and I reckoned that this couple was supposed to catch a larger plane to Puerto Ordaz, which had left moments before us. We also suspected that something similar happened to the pair of Canadian guys who got left behind yesterday just before our Angel Falls boat trip.
I guess it just goes to show you how much initiative you have to take to ensure things are according to your itinerary due to the apparent disorganization there. It also helps to speak spanish, as in both cases of strandings we witnessed, it seemed that kept the victims from really understanding what was going on.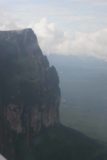 Anyways, we finally took off and flew right for Angel Falls. Julie offered to have me sit on the right side of the plane and for some reason I didn't take it. Her instincts were sound as all the sights were on her side. So I handed her the camera and let her take most of the photos from the air.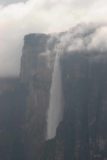 We worried the falls would be covered in clouds, but when the plane finally got to the falls, the pilot pointed Julie to look up ahead, and there it was! Angel Falls was booming like it was this morning and we were lucky to see the falls in its entirety!
I don't think the American couple who rode with us thought they were going to get this view as well, but I guess it was compensation for the screw up at the airport.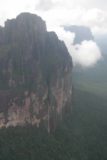 After taking the obligatory photos, the plane then proceeded to head north. Knowing there wouldn't be a whole lot of photos to take from this point forward, I let myself doze off and take a nap.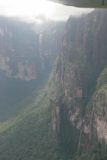 As I awoke from my nap after being lulled to sleep by the vibrations of the Cessna's engine, it was clear that we had left the dramatic tepuys behind and headed back to civilization. That was apparent by the power lines around some huge hydroelectric facility as well as a few buildings around the area.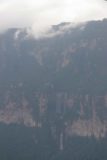 Suddenly, the small plane's engine sputtered and then stopped. The plane then started to descend. Everyone in the plane except the pilot (including that Puerto Ordaz-bound couple) looked around wondering if this was it.
Just then, the pilot reached down and pulled on something, which caused the engine to start up and get moving again. The plane stabilized and we were on our way to Puerto Ordaz shortly thereafter. Whew!
After a safe landing on the empty runway, the American couple were relieved and apologized to us for delaying our plans. They really shouldn't have apologized since it wasn't their fault. Nonetheless, they got their belongings and headed into the airport.
The pilot then proceeded to grab a tool and climbed to the top of the plane to adjust something. This certainly wasn't reassuring to neither Julie nor I. We just hoped to make it to Ciudad Bolívar without anymore drama.
Finally at about 4pm, we arrived in the airport at Ciudad Bolívar. Giovanni was there waiting for us and we explained to him what happened. We felt bad for him as he waited almost 2 hours for us.
Anyhow, he drove us through the chaotic traffic right to the Posada Angostura, which was where we were going to stay this night. He also gave us suggestions on what to see and where to eat (Mesa Luna).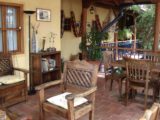 At 4:30pm, we were at the Posada Angostura, which turned out to be a very charming little place. The dining, lobby, reception, and kitchen area had a very Italian villa feel as it was pseudo-outdoors sheltered by spanish-style roofs and balconies. Our room had very high ceilings and was furnished with teak furniture and well-themed paintings. The toilet and shower was kind of strange as the window opened out into the public pseudo-outdoor dining area. I'm sure if a perverted peeping tom wanted to, he could peek through that window at us showering!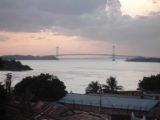 All in all, this place was far more charming and pleasant than the Hotel Laja Real. Julie and I wasted no time walking about the historic district for an hour checking out the Río Orinoco, the Golden Gate Bridge lookalike, the colorful buildings, and even the park composed of rocks.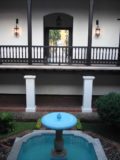 We spent most of the time in the Plaza de Bolívar where there was a nice cathedral and a government building, which we briefly checked out.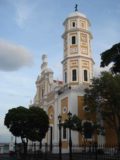 Julie had a ball photographing the colorful buildings. She also enjoyed the Spanish Steps in one part of town. All this reminded Julie of her time in Europe with her mom – especially of Italy.
Anyways, we returned to the Posada Angostura at about 6pm and hailed a taxi that took us to the Mesa Luna Restaurant. When the ride ended, it took me a while to figure out that the taxi driver (who didn't speak english) wanted us to estimate a time for him to come by and pick us up. We told him 7:30pm, which gave us about 75 minutes. I sure hope we didn't underestimate the time it takes to eat here.
The spanish-decorated restaurant had a stone fountain in the middle. We sat next to it. The food was more Italian. Julie got to try langostine while I just had pizza. I wasn't too strong with spanish words for various foods they were offering and how they were prepared so we got a chuckle out of the waiter when we tried to communicate to him what each food on the menu was (since he didn't speak english).
But the food was relatively cheap and even the bottled waters they sold us weren't all that bad either. The food was hearty though I probably should've followed Julie's hunch on going for fresh seafood. I copped out with pizza since I asked the waited what was the most popular dishes (which he said were the pizza and pastas).
Anyways, we got back to the taxi as promised as 7:30pm and by 7:45pm, we were back at the Posada Angostura.
I managed to clog the toilet (seems like toilets in Venezuela were really weak) so the bathroom had a rather foul smell all night. Both Julie and I freshened up and went to bed as this felt like luxury compared to our previous two nights in hammocks.
I then went on to watch ESPN Deportes as USC and Arizona State had a Thanksgiving Day game live (en vivo).