Day 6: STUCK WITH BOLÍVARES
Our pickup for the airport in Ciudad Bolívar wasn't until 10am so we spent that time taking photos of the charming Posada. We also had a pleasant little breakfast, but the table we were assigned had hormigas (ants) so we switched tables. The ants weren't all that surprising since we were somewhat outdoors.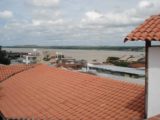 We then went up the tight blue spiral staircase to the roof of the posada where we could see the rooftops of Ciudad Bolívar and the Orinoco River. It was already hot and muggy up here (not to mention bright and overcast), but we took what photos we could before we were beckoned back down the stairs to meet up with our taxi driver.
It wasn't Giovanni so there was confusion at first, but eventually we'd figure out it was the right representative to take us to the airport. We wanted to tip Giovanni, but we were told he was in Puerto Ordaz this morning. In any case, we arrived at the airport and after leaving the current driver a tip (propina), I gave additional money trusting he would give it to Giovanni for his help.
We then did a little souvenir shopping after paying the familiar airport tax and getting through the security screening.
Our 11:55am flight with Conviasa took off on time and we landed in Caracas at 1:15pm. The airport was noticeably busier than before. But after collecting our checked luggage, we proceeded to walk back to the international side.
Once there, we checked in to our American Airlines flight, then went into another passport control area. Filling out the forms while waiting in line, we eventually got through to the "secure" area and got ourselves a bite of more arepas (they had a Budare stand there) for lunch.
While waiting nearly 3 hours for our 5pm flight to Miami, we went to the nearest Casa de Cambio to change our remaining Venezuelan Bolívares to US Dollars. That was when the exchange office had told us they wouldn't do the exchange. Apparently, they don't buy back VEBs.
We thought this was strange because we wondered how Venezuelans would change to dollars when visiting America? Anyways, we were stuck with nearly 350k in VEBs. Julie went ahead and bought a few more things, but there was no sense in wasting money on nothing, I thought.
We intended to return to Venezuela next year to see La Gran Sabana so maybe our VEBs might have some use then. However, we wondered whether they'd be useless when Chavez gets the country to change VEBs to Bolívares Fuertes next year.
Our 5pm flight didn't take off until nearly half an hour or so later but eventually, we'd get back in Miami by about 9pm. It was too bad the Foreign Exchange kiosks were closed when we were there so we weren't sure whether they might accept Bolívares and change for dollars.
By 10pm, we finally arrived at the Hampton Inn, which was even more comfortable and luxurious than any of the places we stayed in Venezuela. Plus, the toilets flushed too.
And so we would sleep soundly and make our 8:15am flight back to LA the following morning (though we did have an hour delay due to some water problem). It was the end of yet another quick yet unforgettable South American adventure, and upon reflecting on this trip, Venezuela certainly was a much better place than we imagined going into this trip. We can't wait to come back next year!