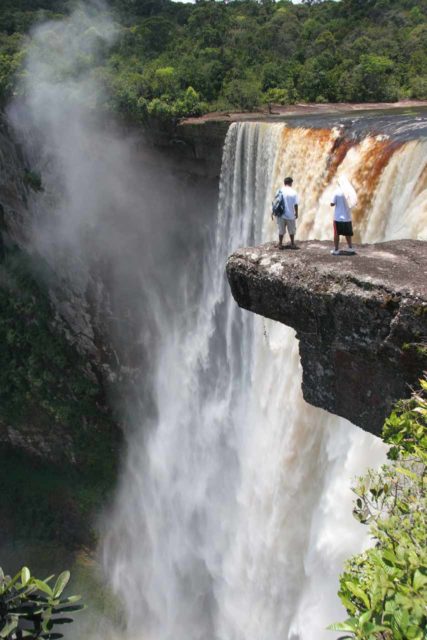 30-August 2008 to 1-September 2008:
Both Robert and Julie were laying down on the precarious table rock getting themselves a surreal look at the base of Kaieteur Falls.
"Ooo, look at that rainbow!" exclaimed Julie.
When Robert got up, he said I should do the same and get a view while lying flat on my stomach.
"I'm too afraid to do that," said I as I positioned myself to take a photo of Julie. Little did I know that I was standing quite close to the edge as I was focused on Julie.
"Oh come on!" exclaimed Robert jovially, fully aware of where I was standing as I took a photo of Julie. "You were standing less than a meter from the edge of the rock. You're so unreasonable!"
After a few minutes more of taking additional photos of the scene (trying to bring home tangible memories of this rarest of places on the planet), I finally took up on Robert's suggestion to get myself a belly-down view of the base of Kaieteur Falls from the edge of the table rock…
[Show Trip Report As Single Page]