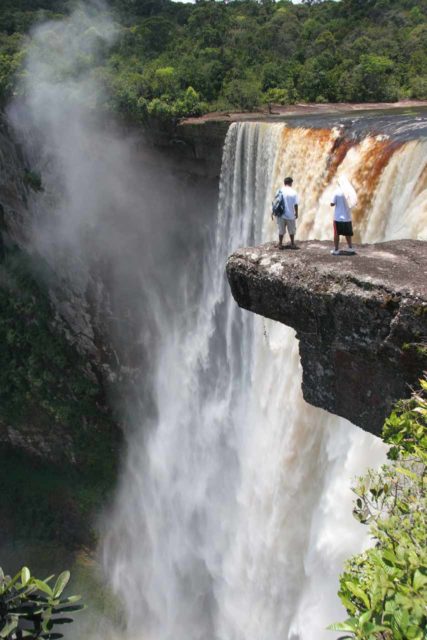 30-August 2008 to 1-September 2008:
Both Robert and Julie were laying down on the precarious table rock getting themselves a surreal look at the base of Kaieteur Falls.
"Ooo, look at that rainbow!" exclaimed Julie.
When Robert got up, he said I should do the same and get a view while lying flat on my stomach.
"I'm too afraid to do that," said I as I positioned myself to take a photo of Julie. Little did I know that I was standing quite close to the edge as I was focused on Julie.
"Oh come on!" exclaimed Robert jovially, fully aware of where I was standing as I took a photo of Julie. "You were standing less than a meter from the edge of the rock. You're so unreasonable!"
After a few minutes more of taking additional photos of the scene (trying to bring home tangible memories of this rarest of places on the planet), I finally took up on Robert's suggestion to get myself a belly-down view of the base of Kaieteur Falls from the edge of the table rock…
Day 1: A VERY LONG DAY
The day began with an early morning wake-up of 3am so that would give us plenty of time to catch our 6am flight to Miami. Having not slept until after 11pm, we were very groggy. But at least we got to use some miles to get that rare upgrade to 1st class.
The flight went by uneventfully. In between getting some much needed sleep and having food, we also spent some time reading guidebooks about Thailand in anticipation of an end-of-the-year trip there.
After 2pm, we got to the Miami International Airport. Since we had to take a different airline to connect to Guyana by way of Trinidad & Tobago, we had to walk all the way from one side of the airport to the other!
Eventually, we got to the J Concourse where we made our bookings. Unfortunately, the conveyor belt wasn't working and they made us check in our bags (even though I swear I saw other passengers able to carry on similarly sized small luggages).
It was a good thing we stayed behind and watched the porters load the bags onto a cart (instead of heading right to the security check line) because Julie's bag was almost left behind by the check-in desk!
Finally at about 3:15pm, we made it past security and proceeded to have some subpar Jamaican Jerk Chicken at the J Terminal. We had learned from one of the televisions that Hurricane Gustav had just become a category 4! On top of that, Tropical Storm Hanna was developing to the east of Florida. We were hoping that neither of these storms would cause us any problems when we return from Guyana nor when we leave for Guyana.
By 4:30pm, we took off from the airport and made the 3.5-hour flight to a stop at the Port of Spain in Trinidad & Tobago. The flight was packed.
We'd eventually arrive at the Port of Spain some time after 8pm. We were going to rest comfortably for the next 90 minutes before the flight would take off for Georgetown, but then we heard an announcement over the PA that the plane needed maintenance and we had to get our stuff and de-plane.
With the recent air disasters that took place in Spain and Iran, and the difficulties that Qantas had been having on many of their flights, we hoped that we didn't have to use the current plane to make the last hour-long leg to Georgetown, Guyana.
And so we proceeded down several corridors before finally seeing a line starting to build up at a transfer desk. We weren't sure if we were doing the right thing or not because the folks here didn't seem to provide any instruction on what the Guyana-bound passengers were supposed to do.
It turned out that we got to the right queue as we eventually received boarding passes with hand-written names, gates, and other info on there.
Talk about old school!
"Seems like nothing is working today," said Julie. "First it's the conveyor belt, then it's the plane, and now their ticketing computer isn't working."
Then, we proceeded towards another line where a crowd of people were already waiting for an elevator door to open. It was strange they couldn't just let us take some stairway back to the departure gates. Once we got out of the elevator, we proceeded to another security check, but the folks manning this station seemed very unfriendly (even by US TSA standards). In any case, we'd eventually get to Gate 14 by 9:15pm.
It didn't seem like we were at the right gate because it was empty and everyone else seemed to be huddled around Gate 12. Julie noticed that the monitor had our flight for Gate 12.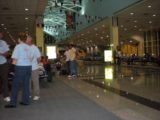 Still, there was no replacement plane in sight through the windows. So it looked like we were going to be delayed even checking in to our lodge in Georgetown. Given that our day tour to Kaieteur Falls was early morning tomorrow, it seemed that we're not going to have a good night's sleep.
Finally at 9:45pm, we saw a different plane than the one we took show up at Gate 14. By now, Gate 14 had become considerably busier. We also started conversing with a pair of elderly women from Baltimore who started living in Georgetown, Guyana for 4 and 8 years respectively.
They were surprised to hear that we'd be leaving for Los Angeles the day after tomorrow.
Nonetheless, we had learned from them that Guyana is the only English-speaking country in South America, but they consider themselves more Caribbean than South American. Not only that, they said it would be the last day of Carifesta, which was a festival and gathering of Caribbean nations to share their arts and culture. And all these nations were converging on Guyana because they were hosting this year's festival for the first time in thirty years.
That might explain why our Miami-Georgetown plane tickets were so expensive!
We had also learned that even though Guyana is east of Venezuela, they're still on East Coast Time because they don't observe daylight savings and the US does. Thus, we at least didn't have to jump ahead another hour!
Anyways, many of the passengers couldn't wait to get on the replacement plane so they went right up to the desk and asked the employees when we'd start boarding.
When we asked one of the inquiring minds what the staff told him, he told us, "Just now."
"Oh good," said Julie.
But just before we could have a sense of relief, the two elderly ladies we were talking to brought us back down to earth.
"'Just now' could be five minutes, 1 hour, or all day," said one of them. "They're never specific about what that means."
I guess it's just like Tahitians going on Tahiti time, Fijians going on Fiji time, etc. Bottom line is that no one here is in a hurry.
Eventually by 10:45pm, we finally started boarding. Once again, it was a full flight. And fifteen minutes later, we mercifully took off once again…
By 12pm, we landed at the airport. And by 1am, we finally collected our bags after going through immigration before that. The taxi driver who waited for us said (in his noticeably thick Rastafarian accent) he had waited since 9pm.
Anyways, we quickly took off in his car. He was driving rather quickly for us to feel safe. It seemed like he liked to hug the painted middle line even though there was oncoming traffic (some of whom wouldn't turn off their high beams). We also went through a couple of now-familiar road blocks (we saw plenty of these in Africa).
We did manage to see some bright lights and people loitering in the streets nearby a stadium. That must've been where Carifesta X was taking place!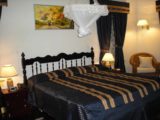 Finally at 1:30am, we arrived at the quiet Herdmanston Lodge. Even at this late of an hour, it was very humid. Plus, the mosquitoes wasted no time taking pot shots at us inside the room.
It wasn't until around 2:30am when we started to nod off under the mosquito-netted bed. But before we could get some kind of rest (knowing we were waking up at 6am), someone kept making noises outside at 3am. I couldn't tell if someone was popping balloons or what, but in any case, we probably weren't going to have more than 3 hours of sleep at this rate!
Day 2: NO REST FOR THE WEARY
Right on cue, it was 6am when we awoke. So in our semi-zombie state, we had complementary breakfast of eggs and toast. We were very careful not to eat anything uncooked or raw (given my last two food poisoning experiences in Peru and Kenya, respectively).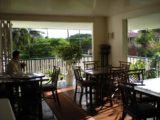 A little after 8am, we were picked up by a van from the tour company. There were already six other people in the van, and these must've been the tour participants considering we needed them to meet the minimum number of people to even make this tour possible!
A few minutes later, we were at the local airstrip in Georgetown. There, we waited until we were told to board the plane, which we knew would be a small, propeller one. Of course, with the combination of heat, humidity, and lack of sleep, Julie and I had a hard time staying awake in the waiting room.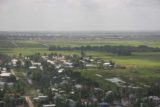 When it came time to board, we probably ended up with the worst seats on the plane as neither of us were sitting next to a window (as we were flanked by the wings). I knew this was bad for aerial photographs, but we were screwed, and I was already in a pretty grumpy mood.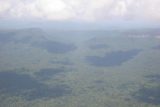 Before the plane got off the ground, it was like an oven inside the plane. Everyone was noticeably sweating. "Hurry up and take off already," I kept thinking to myself.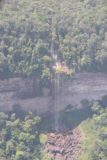 Eventually, we'd arrive at the airstrip by Kaieteur Falls at 10:50am. We did manage to get a couple of subpar snaps of the mighty waterfall from the air. However, there were plenty of other opportunities missed because we had such crappy seats.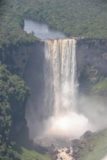 The flight to get here was mostly uneventful as we flew over nothing but heaps of trees. It was reassuring that there was at least this much forest intact. But we were also flying amongst some puffy clouds and I couldn't help but think about the classical tune "Flight of the Valkries" as we were moving amongst them.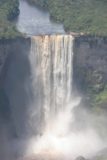 Then, I had another thought about one of the maps I had purchased from Venezuela on our Angel Falls trip. I remembered on that map, there was a region called La Zona De Reclamacion (The Zone of Reclamation). I wondered if the Guyana Shield portion stretching from the current political Venezuela-Guyana boundary all the way to the Essequibo River is a disputed region between the two countries.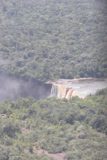 It was in interesting question whether this waterfall politically belonged to Chavez's Venezuela or the Caribbean South American country Guyana…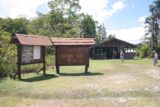 Anyways without further adieu, we de-planed, took photos of the Kaieteur Falls National Park sign, and waited for some folks to use the facilities before going on our 90-120 minute excursion at the top of the falls.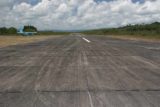 As we were starting our tour, it seemed like I was getting funny looks from the other tour participants as I was carrying a backpack, by Canon EOS 20D, and a tripod.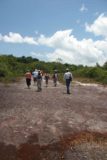 That was when the Amerindian tour guide mentioned that we must all stay together in the group and never get separated without his permission. Obviously, they thought I might be the one lagging behind the group (and probably were correct in that assumption).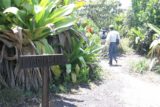 The guide took us on a pretty well-developed trail (for such an undeveloped area) explaining some of the bromeliads as well as an interesting small purplish-red type of plant hugging the hard rock on the ground. The purplish-red plant apparently attracted insects with a scent and digest them once trapped. The guide explained that this was why we didn't notice a whole cloud of insects here, which we thought was weird now that we thought about it.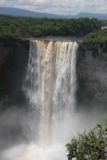 The first viewpoint we went to was called the Boy Scout's View. The guide explained that this spot used to be the endpoint of an initiation hike that young Boy Scouts used to do here as they went from the bottom to the top. From this spot, we got our first ground view of the mighty Kaieteur Falls.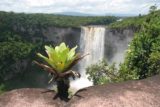 There were some foliage in the way at this viewpoint, but we could see the falls pretty directly from here.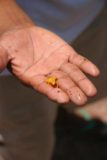 While we were up here, the guide also showed us a tiny golden frog in his hand. Apparently, these tiny creatures are native only to this area. And being so diminutive (like no more than an inch or two long), they could've easily been mistaken for insects if not for the classic frog body and bright yellowish color.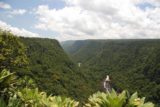 One of the tour participants named Robert was a bit amused at all the gear I was taking and how many photos I was shooting on the tripod.
"Is he always like this?" he asked Julie.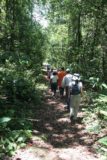 After a few more minutes of walking through a part of the trail with more forest cover, we made it to Rainbow View.
This viewpoint afforded us even closer looks at the waterfall, but in order to see the bottom, you had to get right up to the edge of the cliff! Forget about seeing much of the falls if you heeded the sign urging you to stay back at least 8 feet.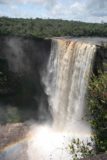 It was here that Julie and I started evaluating the falls compared to say Skogafoss.
Upon overhearing our discussion, Robert introduced himself and said he was from Oslo, Norway. I reckoned he probably opened up to us because he heard us say the word "foss" which meant waterfall in both Icelandic and Norwegian.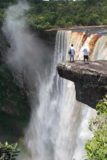 Julie and I were surprised that he was from Norway because he could easily pass for a Guyanese local. Anyways, I mentioned to him that we were in Norway three years ago. He made it here because he attended a relative's funeral in which he was one of the active participants during the ceremony, cremation, and bone extraction.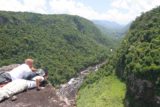 After getting our fill of this waterfall, we proceeded further to the last stop, which was right at the brink of the falls.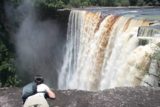 One spot that we all immediately noticed was a precarious overhanging rock with a view of the falls. I joked with Robert that he must be used to this in Norway with attractions such as Preikestolen and Kjerag.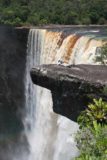 He wasted no time laying down on the ground and edging towards the very edge of the rock peering into the misty base of the falls. Not long thereafter, Julie followed suit.
As both Robert and Julie were laying down on the precarious table rock getting themselves a surreal look at the base of Kaieteur Falls, I took what photos I could.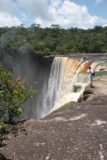 "Ooo, look at that rainbow!" exclaimed Julie.
When Robert got up, he said I should do the same and get a view while lying flat on my stomach.
"I'm too afraid to do that," said I as I positioned myself to take another photo of Julie. Little did I know that I was standing quite close to the edge as I was focused on her.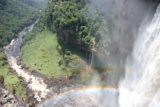 "Oh come on!" exclaimed Robert jovially, fully aware of where I was standing as I took a photo of Julie. "You were standing less than a meter from the edge of the rock. You're so unreasonable!"
After a few minutes more of taking additional photos of the scene (trying to bring home tangible memories of this rarest of places on the planet), I finally took up on Robert's suggestion to get myself a belly-down view of the base of Kaieteur Falls from the edge of the table rock.
During that time, Julie was taking photos of me. I personally couldn't wait until she was finished because the whole time I was peering down at the semi-circular rainbow and thundering mist of the falls, I couldn't help but think what might happen if the table rock suddenly gave way. After all, that's what nature does, you know!
Another tour participant from London named Simon also joined in on the fun, getting his belly-down views of the falls.
As we got acquainted, he told me some of the other places he had gone like Laos, Nicaragua, etc.
"You have very eclectic taste in the countries you visit," I told him, as his endeavors made ours seem more commercialized (though I'd consider it less commercialized than the most popular destinations like Western Europe).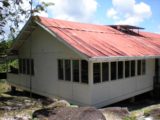 I thought it was interesting that Guyana was the meeting grounds for someone with that much sense for the underdeveloped countries and us, who go chasing waterfalls exploring rivers and lakes that we're not used to around the world (doing the opposite of what TLC recommends).
By noon, it was time to go back to the shelter near the airstrip for some lunch. The lunch consisted of a delicious chicken with some watermelon, salad, and refreshingly cool drinks.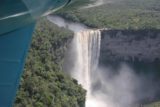 Finally at around 2pm, we returned to the airplane and flew to Orinduik Falls, which was half an hour away.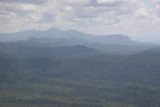 As we left the well-forested terrain of the Guyana Shield, I couldn't help but notice that trees started to become more sparse and the landscape looked more like a savannah or plain.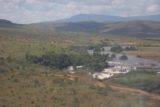 We could see Orinduik Falls from the air, which I had a feeling looked better from up here. But given our crappy seats, we had to shoot whenever we could and hope they turn out.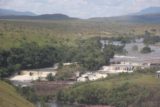 As we got closer to the landing strip, we started to get a little bit better views of Orinduik Falls, but truthfully, we just shot the photos in servo mode knowing that we could reject the bad ones later. We weren't getting another shot of this falls from this vantage point, I'm sure.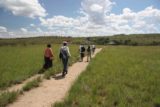 After landing at its airstrip, which was considerably rougher than the one at Kaieteur, we proceeded to follow another Amerindian guide to pretty empty two-story shack that was called the changing room.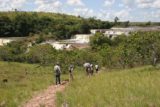 I wasn't sure how many people took advantage of this, but I took this moment to get on the 2nd floor and take photos of the waterfall, which was difficult to do given how wide it was.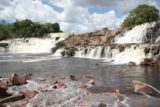 Another thing we noticed was the presence of lots of flies (perhaps midges, but they didn't look like mosquitoes). I wasn't sure if they were biting or not, but we all could've used those purplish-red plants that were growing near Kaieteur Falls.
We ended up spending about an hour near one of the middle tiers of the series of cascades. There, some of the tour participants soaked in the refreshingly cool water.
I took this time to walk further down the trail into the jumble of rocks to take more photos of the falls.
"This waterfall doesn't seem like much," said Robert. Especially when it follows something as impressive as Kaieteur Falls, we all echoed that sentiment.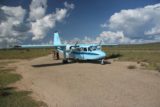 Eventually by about 3pm, we got back into the rather steamy airplane and made the long flight back to the airstrip in Georgetown. Even though the pilot had said it was a 90-minute flight, I swore it felt longer than that!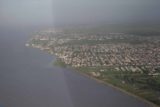 By 5pm, we were back at the Herdmanston Lodge.
Since we knew we had to get up by 2:30am tomorrow morning, we had to sleep early tonight. Thus, we settled on going for food delivery, which turned out to be close to $40USD if you count all the service charges the hotel adds on top of that! Ouch!
When Julie settled the bill, she also noticed that we were charged for the taxi guy waiting longer than expected as well as the bottled water and soft drinks in our fridge despite no indications of prices or any mini-bar setup.
It didn't make us all that happy about these unexpected expenses, but we weren't going to raise a big stink about that.
By around 9pm, I remembered falling asleep after watching some Carifesta X special and Survivorman…
Day 3: LEAVING WITH THE CARIFESTA CROWD
It was about 2:30am when we awoke grudgingly to our alarms. We wasted no time packing and eating the packed tuna sandwich breakfast given to us last night.
By 3am, we met up with the taxi driver again and headed right back to the airport.
"It felt like we were barely there when we left," said Julie.
She was right, but when we're on limited vacations, what more could we do?
Anyways, we arrived at the airport just before 4am. There was already a large crowd of people waiting to check in. Clearly, these folks came from Carifesta X, and we were leaving with them!
Julie managed to convince the check-in clerk that we shouldn't have to check in our carry-on luggages as other people had similarly-sized or larger bags to carry on. So the clerk compromised and let us carry-on just one of our two bags.
After getting our boarding passes, paying the departure tax, and checking through immigration, we waited a rather agonizing two hours in what seemed like refrigerator-cold air conditioning.
It was so cold that we could see the windows fogged up when juxtaposed with the tropical humidity on the other side.
Julie and I spent more of that time planning our hoped-for end-of-the-year Thailand trip. Amazing what can be done when you're a captive audience!
The full flight took off on time at 6am. When it landed at Port of Spain, Trinidad & Tobago, most of the passengers got off. When the flight resumed, I noticed there were a few empty rows that lucky passengers immediately snatched up to sprawl and go to sleep.
That was when Julie and I noticed the Norwegian Robert sitting at the back of the plane!
Amazed at the coincidence, we shared a few more conversations. By now, it was apparent that this could be one of those people you meet on a trip like that and still keep in contact with later on.
We arrived back in Miami at around noon. That gave us time to pick up our lone checked bag (which someone managed to lose our newly bought TSA lock), secure our boarding passes for LA, and look for the familiar Islander Grill & Bar at the familiar D Concourse.
There was a complication with our tickets though in that Julie had requested an upgrade because we had enough cumulative points between us to support it. However, their system only lets you withdraw points from one person at a time online so we ended up being two points short for the upgrade and no economy seats available to fall back on.
So we ended up forking out over another $100 just to accommodate this little snafu.
Well, at least we got to fly back on 1st class and get some decent food and ice cream to go along with it…
By 7:30pm, we finally made it back home. As we unpacked, we couldn't help but read on the news that Thailand was undergoing some political turmoil.
Just now, it seemed!
*sigh* Here we go again with the instability issues. First it was Kenya this year and now it's Thailand.
"Why does this always happen to us?" we thought to ourselves.
Anyways, the long weekend was nearly over, and with both of us barely getting any decent rest, we knew surviving the next workweek (albeit shortened) would be a challenge as we had to face the rat race yet again…
Visitor Comments:
Got something you'd like to share or say to keep the conversation going? Feel free to leave a comment below...
No users have replied to the content on this page