Days 4-5: LA ISLA SAN MARTÍN
Once again Julie and I awoke at 6am. We weren't fully packed since we got back to our room a bit late after dinner at La Rueda. So we freshened up and headed back down to our 7am brekkie.
The brekkie was pretty much the same as yesterday morning, but the pastries were not as good. The morning view of the waterfall was the same as it was yesterday – foggy. But after seeing how the weather turned yesterday, we were pretty sure it would clear up at some point. In either case, we didn't worry about it since we got our views yesterday from the Brazilian side.
We knew we still had until 2pm before we had to get back to the airport. So that left us quite a bit of time to finally do the Sendero Macuco Trail to Salto Arrechea, which was a bit off the tourist path.
However, as we were busy packing, the weather became sunny and the fog rapidly burned off. I was hoping to be out on the trail by 8am, but it actually wasn't until 9:30am that we were finally headed out to the Sendero Macuco. It didn't help matters that we didn't have water so we had to buy a couple of bottles prior to going.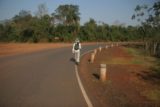 By now it was sunny and warming up rapidly. It took around 15 minutes to walk to the actual Sendero Macuco trailhead because the trail is off the road connecting the visitor center to the Sheraton.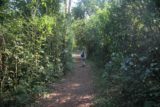 It seemed like we were the first ones on the trail as it was quite empty. Julie feared jaguars and her fears weren't exactly unfounded because a kid was eaten here back in 1991. But given the rather wide trail and the presence of trash cans spread throughout, I knew this was still a relatively frequently used trail so I doubted we'd have any such encounters. Still, you could never keep your guard down so I did have my tripod with me (not that that would do much to deter a hungry jaguar, but at least we'd have a fighting chance I reckon).
After about an hour of walking, we reached the top of Salto Arrechea, which ended at the end of some boardwalk. The falls itself wasn't exactly gushing. Julie looked down and saw there was someone down there going for a swim already. So I guess we weren't the first ones here after all.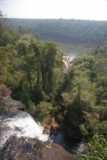 It was about almost 11am and with the good weather, Julie was lamenting that we didn't go back to the touristy catwalks to take advantage of the blue skies. I kept wishing we had started an hour earlier, but we couldn't cry over spilled milk. We were here so we mind as well make the most of it and hope we get back in time to take advantage of the blue skies later.
So we followed a steep path down to the base of the waterfall. We then took some long exposure photographs of the disappointingly thin waterfall. I could easily see this thing dry up after a few dry days.
Unlike the other waterfalls, Salto Arrechea appeared to not be part of the network of 275 waterfalls of the greater Cataratas de Iguazú. We could hear Brazilian helicopters overhead giving aerial tours of the falls so that probably helped scare most of the animals I had hoped to see on the trail (including jaguars).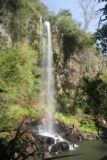 In any case, as we were taking what photos we could of Salto Arrechea, some heavy-set guy was actually baring it all. He proceeded to swim to the base of the waterfall and then pose underneath the waterfall for his red-shirted wife.
"Why is it that we always have these things happen to us?" Julie asked. She was referencing an earlier time back in May 2004 when we went to Alamere Falls and saw several nude hikers on the trail. Clearly this wasn't a very appetizing situation since every nude person we encountered were elderly males. But we patiently waited for them to depart to take a few more shots of the falls to make it worth our while.
I secretly wished if it was some hot woman in the nude that that would've REALLY made this hike worth while…
In any case, we headed back out shortly after 11am. On the way out, we passed by numerous small groups and couples going the other way. Apparently, this trail wasn't as unpopular as I had thought.
By noon, we were back at the National Park near the car park for visitors a short distance beyond the Sheraton. We then proceeded to head right back to Paseo Superior and one of the Salto Bossetti overlooks.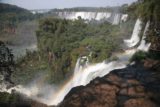 As expected, the views were magical under the cloudless blue skies. There was even a rainbow showing at the bottom. We were finally able to see for ourselves why blue skies make such a big difference when photographing this waterfall.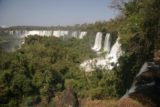 Of course, as is seemingly always the case on our trips, it had to be good weather on the day we're leaving. The forecast for the next three days also called for sunny skies. Too bad we'd be back in Los Angeles by then.
In any case, I noticed from our vantage point that San Martín Island actually had human traffic.
"Honey! The island's open!" I exclaimed to her knowing how it was closed for the past couple of days.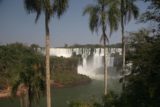 Julie quickly acknowledged that and we wasted no time getting down to the Paseo Inferior. Julie then made a quick stop at the bathroom and in my haste, I took this time running down to the familiar overlooks to get photographs taken the last couple of days in the blue skies.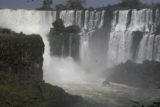 Eventually, Julie and I met up at the dock where the boat shuttle goes across the river to the San Martín Island. It was a little after 1pm when we were dropped off on the other side. So that left us with about an hour left to see the main overlook on the island before getting back to Felipe who'd be waiting at the hotel lobby.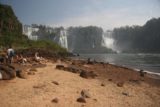 So we passed by the sun bathing beach-goers and headed right up the stairs. There was quite a bit of a climb here, but time was of the essence so we relentless continued onto a four-way intersection before hanging a right. That was the shady trail that went right to the main overlook over Salto San Martín. And in no time, we were right on the misty overlook. We could see a circular rainbow right in front of us when we looked to our left.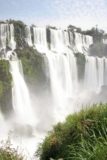 But anyways, we took advantage of our time here by taking what photos we could of the scene.
"Crazy!" Julie said again.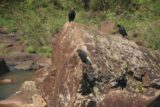 When it was about 1:30pm, Julie headed back down to the boat dock. Meanwhile, I ran to one of the other paths on the right. It led to an overlook of a fivesome of big black birds sunbathing on some rocks with some segmented wall of water off in the distance. I think it was the Salto Escondido as the name might suit it well considering these falls were indeed somewhat hidden.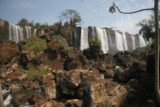 In any case, it was about 1:30pm and I had to run back to catch up to Julie. So back down the stairs I went and took the boat to the waiting Julie on the other side. From there, we made haste and jammed back up the several flights of stairs to get back to the concrete path up top. It was about 2pm when we finally made it back to the Sheraton in one big sweaty mess.
Felipe noted our state and wondered where we were at. I had told him we came from Isla San Martín and he shook his head in amazement.
"You guys went a long ways," he said.
Anyways, we re-collected our stored luggage and followed Felipe back to the waiting van. We didn't have time to change clothes or even wash off the deet and sweat. But the air conditioning of the van sure felt good.
By about 2:30pm, we were back at the airport. Our flight was supposed to be for 3:50pm but when we checked in, we saw that our flight was delayed once again to 4:40pm. Julie's original booking was for a 3:10pm flight.
This would really cut things really close for our 9pm flight to Miami considering we still had to fly for 90 minutes, catch an hour taxi to the Ezeiza International Airport and still get through all the check-in and security hassles along the way.
Given Julie's deep concern for the matter, she expressed her concern to Felipe. And it was a good thing he was there because he proceeded to negotiate with the ticketing agent and other authorities here. Apparently, he's well known in these parts and it was cool to see him working the matter.
Keep in mind that he was originally hired as part of a taxi service to get us to and from the airport and the Sheraton. Clearly he went above and beyond to accompany us through the Brazilian part of the Iguassu Falls experience and now he's helping to get us onto an earlier flight slated for 3pm takeoff.
Time was ticking and we anxiously awaited for the status of what was to come. As both of us looked at the monitor, it looked like two flights were cancelled. Guess which ones were the cancelled ones.
Yep, both our 3:10pm flight and the rescheduled 3:50pm flight were both cancelled. So that worst-case scenario I had feared a couple of days ago came true today. We speculated that Aerolineas Argentinas probably books the flight but then cancels them if there aren't enough people on the plane.
By 2:50pm, Felipe once again asked the ticketing agent what the status was. That got her to scramble around and talk to other agents. It turned out that we would be able to board the earlier flight. Our luggage got re-tagged and we were good to go with new boarding passes.
Cool!
It turned out that Felipe was way more than what we had expected. This was the latest example of someone who really looked after us. Julie gave him a hefty tip and we exchanged firm handshakes for putting up with us these past couple of days.
We wasted no further time getting upstairs and in line for the passport control and security line.
Julie had budgeted lots of time for this transfer and travel day, but sometimes even the best laid plans can be derailed. Thank goodness for Felipe. I guess in the future, we'll have to somehow perhaps allow ourselves to spend the night in Buenos Aires and not try to catch an international flight on the same day as an Aerolineas Argentinas regional flight.
Eventually, we'd board the plane. We wouldn't be sitting together, but that didn't matter. We got our flight and by about 5pm, we were at the airport (much busier than a couple of days ago), grabbed our luggage, and rode with a Manuel Tienda Leon driver who zoomed his way back through Buenos Aires to the Ezeiza International Airport.
During the drive, which was a mix of traffic and fast driving, we couldn't help but notice how the freeways here didn't have sound walls. In fact, there was little parks with lawns adjacent to the freeways. We saw numerous people park their cars on these lawns and have picnics next to their cars. Now that's something you don't see back at home.
By 6pm, we were at the Ezeiza International Airport. The lines were very long, but at least we had at least 3 hours before our 9pm flight back to our connecting flight in Dallas. Clearly the airport was very bustling and crowded. We were certainly glad Felipe helped us get the earlier Aerolineas Argentinas flight from Puerto Iguazu because we couldn't imagine how hectic things would be at least 2 hours later (leaving less than an hour to get through this mess to our international flight)!
After paying our departure tax, going through security, and changing our currency, we were back at the gates waiting for our flight. Lots of crying kids all over the place on this evening so we dreaded having to put up with this on the plane to catch some sleep.
We also managed to get ourselves a subpar sandwich to hold ourselves over. It was interesting to see how the food area was hidden but the expensive duty free items were where they seemed to be directing the traffic. The attractive and young models pushing some kind of products were also lining up the security line exits I guess to use a little seduction to purchase something.
Anyways, we got on our flight and boarded on time more or less. The grueling 10.5-hour flight was brutal since neither Julie nor I brushed our teeth nor showered. Sleep didn't come easier neither as Julie had to contend with a talkative passenger next to her while my right shoulder blade was giving me problems with the terribly erect seats backed up against the walls next to the smelly toilets.
Mercifully, we touched down in Dallas at around 7am, went through another round of collecting our bags, rechecking them in, and then going through customs and security. We managed to get to our gate in plenty of time for our 9am flight back to Los Angeles.
While we were at the Dallas-Fort Worth Airport, we were struck by how big and clean the airport was. They even had a tram that linked passengers from terminal to terminal. I sarcastically commented to Julie what oil money can buy you. I was even more amazed that they have an efficient tram system here, which was something they couldn't get right at LAX.
Our flight took off on time and by 10:30am, we were finally back in LA. The suffering didn't quite end, however, as the temperature in LA on this way was well over 100 degrees Fahrenheit. Since neither my car nor our house had air conditioning, it was a brutal way to end off this Labor Day Monday.
But at least we collected the mighty Iguazú Falls, which makes 2 out of the big 3. Only Victoria Falls is left. So we felt quite proud that we managed to make use of this Labor Day Weekend knocking off one of our waterfalling bucket list items…