Day 1: HEADACHES AT HIGH ALTITUDE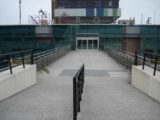 After a very long day and night of flying from LA nonstop to Lima (despite our no-check-in packing, the folks at LAN Perú forced us to check in our carry-on luggage), we caught an early 9:25am flight from Lima to Cusco (or Cuzco). From reading the guidebooks and talking with friends who have already been to Perú, we knew that Cusco was at high altitude (3362m or about 11,030ft to be exact). I couldn't recall in our past experiences when we had ever spent any extensive amount of time at such altitude. Our High Sierra hikes in Yosemite were all around 8000ft or lower. I guess we'll just have to take what comes on this trip then.
We arrived pretty much on time, picked up our luggage, and met up with our guides María and Kerry at around 11:30am. It was a pretty warm and partly cloudy day, but more importantly, we could feel right away the change in altitude as our breathing was a little bit more labored than before. I figured this will pass as we're spending the night somewhere between here and Machu Picchu before actually getting to the main attraction.
Since we were limited on vacation time and this one was preceding a larger round-the-world trip, we packed a Southern Perú and Northern Perú adventure into a span of less than 10 days. The so-called Gringo Trail part of the trip (i.e. Cusco, Sacred Valley, Machu Picchu) was only for 3 days. And right off the bat, María deferred us to Kerry, who spent time with us along with driver Wilson. The tour kicked off immediately with a drive out of Cusco and towards the Sacred Valley.
As we were leaving Cusco, we could see how it was a pretty happening and bustling place. From the plane, we could see it was a pretty big town. But as we drove past the Plaza de Armas and then through Avenida del Sol, both Julie and I thought about how this looked like a pretty cool place to walk around.
But before we could imagine how we'd spend our time in Cusco, we drove up some tiny roads up out of town, past some ruins, and ultimately on some mountain roads leading us to what I imagine would be the Sacred Valley.
Since I didn't do much planning on this trip, I had no idea where we were going nor appreciate how long our travels would be. Julie had a better idea as the Gringo Trail attractions (i.e. Machu Picchu) was what she was looking forward to.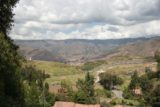 I took this opportunity to practice my spanish so I tried to speak as much of it as I could to Kerry. Before we got settled in, the van stopped at some wool-making area where there were a bunch of llamas, guanacos, alpacas, vicuñas, and other similar mammals.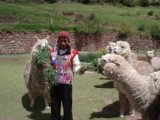 We had a cheezy, but fun, time feeding these mammals. Kerry assummed our whole tour could be in Spanish as I had tried to practice earlier, but Julie had me tell Kerry to use English. After being led through an area where children were dying and weaving products made out of the wool from these mammals, we got back into the van and proceeded to head towards the Sacred Valley.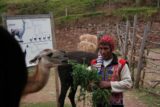 Driving through more winding mountain roads, we snapped a few photos from a pullout overlooking the fertile Sacred Valley before descending into the valley itself and noticing mountain-clinging terraces towering over some neighboring small towns.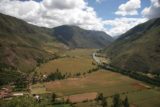 By 1pm, we entered the town of Pisac. After passing through some intriguing narrow cobblestone streets, the van stopped at a marketplace area full of Incan wools and crafts. Apparently, this is supposed to be a happening place on Sundays, but today was Saturday so we had to settle for a more subdued experience.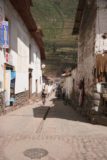 As we took a brief moment to explore the market and ponder whether to buy souvenirs, we were constantly hounded by kids insisting that we take photos with them for a fee. Despite our "No, gracias," replies, they shadowed us until we finally left the main square and into the rows of adjacent stands of Incans selling their wares.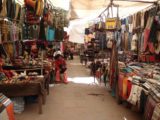 We eventually bought a few items before returning to Kerry and Wilson at the van. From there, they drove us further along the valley into some hotel with a buffet lunch.
Throughout the drive, both Julie and I were experiencing headaches. The car doesn't have air conditioning and it appeared the vehicle didn't have enough circulating air despite the partially-open windows on the front seat.
Our hunch (that the headaches were from the lack of air in the car) was confirmed when we felt better leaving the vehicle and heading towards the lunch buffet.
Julie followed Kerry to the buffet area. Before I had a chance to join them, Wilson broke the ice by conversing with me in Spanish. Apparently, he doesn't see many American tourists who speak the language so I gladly engaged him (and was appreciative of his praise of me speaking the local language). Since that moment, Wilson and I were quite chummy whenever I saw him.
I was looking forward to some Peruvian ceviche (raw fish drenched in lime juice) for lunch, but the buffet had more conservative fare of soup, chicken, potatoes, rice, steamed veggies, and plantains.
After the lunch, we continued our drive onwards along the Sacred Valley through more small towns. During the drive, we managed to discuss the politics of Perú after the topic of the Machu Picchu train was brought up. Apparently, a foreign national company has a monopoly on the train and very little of the proceeds of the tourism dollars go back to the community. In fact, Kerry pointed out that there are many other facets of the tourism industry where nonlocally-owned hotel chains and conglomerates have the marketing and means to make tourists want to avoid the services of the indigenous peoples.
I guess it's a problem seen just about everywhere in the world, but the noticeable amount of poverty we could see just from the van kind of hit home in terms of the relationship between what we as tourists do at home and abroad and how that impacts people from other parts of the world.
While on the topic, the issue of the high cost of food also came up. Apparently, Perú is no exception to the worldwide protests that were going on as the modernized world essentially trades food and climate stability for biofuel and a consumption-oriented lifestyle, respectively. Consequently, people are priced out of food and starving around the world.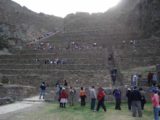 Eventually, we reached another charming little town with a market called Ollantaytambo. Here, the van stopped and we got out of the car. After a few paces of walking through the marketplace, we were face-to-face with an impressive row of stone terraces and ruins.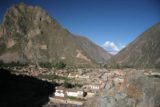 With Kerry doing some explaning about the Incan culture and what went into building this ruin, we huffed and puffed our way up the steep terrace steps towards the top of the ruins. Immediately, we could feel the low oxygen and were quickly out-of-breath. Still, it didn't deter us on this excursion and mercifully, the walking was mostly flat after the initial climb.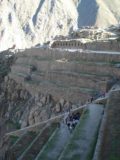 These ruins of Ollantaytambo were our first upclose experience with Incan ruins on this trip. We could sense immediately the ruins-in-the-sky feel as this structure overlooked the town of Ollantaytambo. Across the valley, we could see a mountain abutting the juncture of two valleys. On that mountain, we could see ancient storage structures and terraces perched impossibly high up the steep mountain face.
As we walked along the top of the ruins, nearly picture-postcard photos could be taken of the scene. It was quite an experience as neither Julie nor I have seen ruins such as this since perhaps our brief visit to the Mayan ruins near Cancún (Chichén Itzá and Tulum to be exact).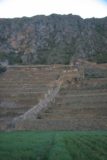 It was amazing how precise and clever the Incans were and we could tell Kerry was quite proud of her Incan heritage. Julie was especially impressed with how some of the water channels and "fountains" were still functional even to this day.
These water channels held a particular interest for me as I wondered the source of the water considering how dry this area was. Apparently, these channels were fed by springs, which themselves originated from glaciers and precipitation seepage further upslope and up the valleys. Being around 10,000ft here, it's not surprising that further upslope exist glaciers (though global warming continues to undermine their existence). We could even see some snow-capped peaks in the distance from where we were at.
As the harsh and intense afternoon sun started setting behind the 20,000ft peaks surrounding us, we returned to ground level and rejoined Wilson who awaited us. From there, he drove briefly to our hotel for the night just a few minutes walk from the neighboring train station. We only took out from our luggage the clothes we would need for the day since the transportation in and around Machu Picchu was limited and we couldn't lug our stuff everywhere. So we left the main carry-on luggages with Wilson and Kerry in the van while taking just a day's worth of clothes along with our daypacks and camera gear.
But after all that, we're finally able to unwind and check into the hotel. After a whirlwind day of touring immediately after landing at Cusco, it dawned on us that this was the first time we finally got settled, unpack, have a dinner, and shower.
Under the full moon, we slept soundly as Ollantaytambo was pleasantly quiet (a stark contrast from the hustle and bustle of Cusco).