Day 3: PROTEST IN THE STREETS
After going through our whirlwind Sacred Valley/Machu Picchu tour the last couple of days, we slept in and looked forward to a relatively more "relaxed" day of touring Cusco before flying to Tarapoto for the second, more adventurous, leg of our Peruvian trip.
We got a later start to the day (meeting with Kerry at around 8:30am), but from there, Wilson drove us over to Saqsaywaman, which was an Incan ruin overlooking the town of Cusco.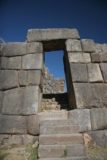 After seeing Machu Picchu and Ollantaytambo, Saqsaywaman (which sounds close to "sexy woman") lacked the glitz and drama. However, it was no less impressive as it was pretty big and extensive. After walking up a few flights of steep stone steps, we got to a mirador (viewpoint) of the town of Cusco where we snapped a few more photos while admiring the view (and minding my headaches and shortness of breath). Afterwards, we returned to the awaiting Wilson.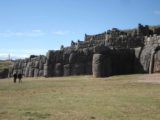 Then, we drove to a few more ruins (such as some place worshipping water as well as some ruins underground). Apparently, more and more places like these are being excavated as the Spanish conquistadors thought Incans were practicing pagan rituals and destroyed and buried many of the Incan structures. It would've been something to behold had these structures been allowed to persist intact.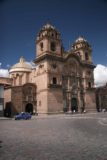 Back in Cusco, it was around 10am when we returned to the Plaza de Armas and toured the big church (La Catedral) full of precious metals and murals. Adjacent to the cathedral (La Iglesia del Triunfo – the church of the triumph) was the site where the Incans almost managed to burn a large group of tricked Spanish conquistadors before rain managed to douse the rain and allow the Spanish to regain control of the Incans.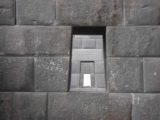 Next, we walked around another Incan structure called Qorikancha. Here, we saw some interesting structures like windows peering into more windows as well as interesting displays of Incan depictions of the Milky Way Galaxy. I guess Incans were also inquisitive astronomers.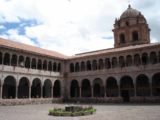 Qorikancha also seemed to feature some courtyards, which seemed awfully grand compared to the abodes you typically see in town (most people seem to be on the poor side).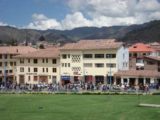 While we took some time walking around Qorikancha, we noticed a large and loud procession of parading protesters dominating a neighboring street. Kerry explained that this protest was over the rising food prices, which is keeping many poor Peruvians from eating. This procession might have also complicated how Wilson was going to pick us up and take us to the airport.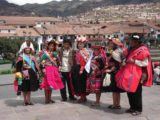 But by 12pm, we were back with Wilson and Kerry (after a pleasant farewell), and they handed us over to María, who in turn led us back to the Cusco airport. We exchanged more farewell greetings before we parted ways.
From there, we waited for our flight to Lima where we had a rather long five-hour layover for our evening flight to Tarapoto. So we were done with the Gringo Trail (my eyes were still red btw), and now comes the more off-the-beaten-path part of our trip to the edge of the Amazon Rainforest.