Days 1-2: "NOTHING IS EASY IN PATAGONIA
It was before 5am Wednesday morning when we had to get up and leave home for LAX. Having packed the day before, all we had to do was freshen up, get the stuff into the car, and leave.
By 6:30am, we were at LAX and given the mass of humanity stuffed within the terminals, it was clear that packing our stuff in a manner that allowed us to avoid having to check any luggage in was going to pay off. Sure the trip was going to be about 12 days, but our previous trip to Venezuela taught us that we could pull this off while minimizing the chances of additional lines and lost luggage.
And so we got through the E-ticket self-check-in kiosk and security without problems and waited at the departing gate with plenty of time to spare for our 8:30am flight to Miami.
Having done this at least twice before (one for Iguazú Falls and the other for Angel Falls), this felt normal even though you can never get used to the prolonged discomfort of sitting on a crowded plane and waiting for three hours at the Miami International Airport for the next red-eye 8-hour flight to Buenos Aires.
In this case, we arrived in Miami at 4pm and our flight to BA was at 8pm.
It was 7:15am on the morning of the next day (Thursday morning) when we arrived at Buenos Aires' Ezeiza Airport. We proceeded to do the usual taxi to the Aeroparque airport for the domestic flight to El Calafate. When we got checked in at Aeroparque (the smaller planes for domestic flights can't accommodate our small rolling luggages as carry-ons), we were annoyed though not at all surprised that our flight was delayed by about an hour. In any case, we made the most of it buying some maps and empanadas to hold us over.
Mercifully at 12:30pm, our three-hour flight finally took off.
A little after 4pm, the flight landed and we picked up our luggage without incident. Then, it came time to figure out how we're going to pick up our car hire from Budget.
Julie had pre-booked a car at a very low price a couple of months ago that supposedly let us go to Chile. But apparently, no Budget representative was around nor was there any kiosk. We tried to contact a Budget rep by phone, but that wasn't going anywhere.
We contemplated going with Hertz, which did have a kiosk at the airport, but the rep was busy with other clients and eventually they disappeared.
It was now about 5:30pm and Julie and I were worried. A taxi driver offered to take us to El Calafate to visit the Budget office in person. After thinking about it, we decided to take the taxi into town, which was about 23km away.
Greeted by howling, dessicating winds and a wind chill, we put our stuff into the taxi and headed into town. The taxi driver drove quickly through the paved two-lane roads every so often swerving due to the force of the strong Patagonian winds. We knew going into the trip that it was windy down here at the Roaring 40s, but it didn't take long to appreciate the ferocity of these winds. "So that's what they meant by it was windy in Patagonia," I thought to myself.
And so a few minutes later, the taxi driver took us into El Calafate, which looked like a charming little tourist town with shops and restaurants lining Avenida del Libertador. As he drove through town, we were beginning to wonder where the Budget office was.
But when we went further west of the busy tourist zone of town, the taxi driver made a left and up into some quiet residential area. I started to wonder if he was taking us for a joy ride or something because he eventually went onto an unsealed road.
Finally at 6pm, he pulled up into a yard where there were four small rental cars and a shack with a Budget logo stuck on a window. The door was closed so we were immediately worried about the possibility that no one was there. Being on the outskirts of town, what were we to do if we didn't have our rental car?
Julie was knocking on the door then was frantically calling the Budget number on her cell phone. She would hand me the phone to listen to a message in spanish. That message made it clear no one was going to answer as it said they were out of the office, which I translated to Julie.
The taxi driver gestured as if he wasn't waiting around so I paid the taxi driver the requisite $50 pesos.
Apparently, we didn't tip the taxi driver enough as he began to drive off even though it was now apparent that no one was going to be reachable at the Budget office.
But before he did so, he rolled down the window and said, "Nothing is easy in Patagonia, eh?" Perhaps he knew we were in for a hard time.
In any case, he pulled away and drove off. Even at Julie's urging, I waved at the taxi driver, but he kept driving away. So here we were at the start of our trip in the outskirts of a town unfamiliar to us with our luggage, no rental car, a foul mood, and our trip in serious jeopardy.
To further aggravate the situation, the howling winds didn't help Julie and her irritated contact lenses.
Now, we started to accept the fact that Budget wasn't going to be around despite our pre-trip reservations. Since our trip was based on a self-driving itinerary, Julie urgently started calling other car rental agencies in town.
It was difficult since her spanish was limited and mine wasn't nearly fluent enough to comfortably get things worked out over the phone (especially when things needed to be negotiated). Besides, this being the holiday season, most car rental companies didn't have cars (at least the cheap compact ones) available for the week and a half that we needed it. We were supposed to make the three-hour or so drive from El Calafate to El Chaltén tomorrow morning.
Time was running out as we feared businesses were closing for the day. We thought our trip was going to get screwed.
"I'm never going to go with Budget again!" she exclaimed. "This pisses me off!"
Given our flat tire experiences in Iceland and New York (both with Budget) and Julie's dumpy-car experience in Aruba, that was enough bad experiences with one company to make good on her exclamation, I reckoned.
With our deflated morale, we took our luggage and began walking the unsealed road back towards town. We weren't sure how far we had to walk to get back into the main part of town, but we knew the general direction we had to go. Besides, we had no choice but to walk anyways.
We hoped that each car that drove the dusty road past us might have been a representative from Budget, but no such luck.
Instead, we walked the unsealed road, which minutes later then became a sealed road downhill towards Av. del Libertador.
During the walk, Julie managed to call back Hertz. Someone at the office there knew some english so Julie was able to talk to them somewhat. Still, no booking would be done over the phone, but at least they'd be expecting us in town. So it was decided that we'd show up to Hertz's office in person.
When we finally arrived at the main street, we saw the Hertz office across the street and wasted no time getting there. It was now about 7pm and we were merely glad that there was at least one car rental place that was still open at this time (even though there was plenty of afternoon light outside).
It turned out that Hertz didn't have any cheap compacts for the time we wanted, but they did have a Diesel Toyota Hillux 4wd for hire. At nearly $200USD per day, it was a lot more than the $40USD we expected to pay for a compact through Budget. But with the trip in serious jeopardy without a car, we weren't in any position to do any negotiating for cheaper options. Still, given Budget's apparent lack of organization and accountability, it wouldn't have surprised us if their quoted price was too good to be true.
But in the end, we hired the big 4wd (not exactly my most desired option given that I'm not a big fan of gas guzzling SUVs) and our trip was salvaged.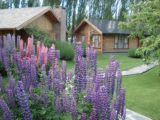 With our newfound relief, we finally drove into the main part of Avenida del Libertador and to the homey and charming Santa Monica Aparts for our first of three disjoint nights in El Calafate. It was now 8:30pm.
We still had business to do like go grocery shopping for water and snacks to hold us over on long drives and hikes. So we went across the street past a handful of stray dogs to a humble-looking grocery store called La Anonima.
The first thing that caught our eye about this place (besides how busy it was) was that you had to bring your own bag to the store to carry out your groceries. Apparently last year, they stopped issuing paper and plastic bags. How's that for environmental stewardship?
When we left the grocery store and headed back to our accommodation, someone honked at us as we crossed the street. It turned out to be the husband-and-wife team at the Hertz rental car. They seemed immensely relieved to have flagged us down. Then, they explained why.
Apparently when they rented us the truck, it still had loads of someone's luggage under the hood in the back of the truck. When we all arrived at the Santa Monica Aparts, they wasted no time opening up the hood of our rental truck. And when we saw what was underneath, all of us collectively said, "Whoa!"
There were at least 3 big backpacks and a few smaller packs. I immediately understood the urgency of their situation, especially since they knew we were taking the car to El Chaltén. Fortunately for them, they flagged us down before we took off and left their other clients without their packs. Could there be any more drama on this strange start to our trip?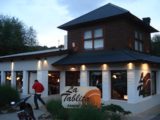 At 9:30pm, we finally had ourselves a dinner at one of the ubiquitous Argentinean parillas (steak houses) called La Tablita. After the filling dinner, we passed the night watching an old flick (titled "Misery," which was strangely appropriate for our Budget experience) while getting cleaned up.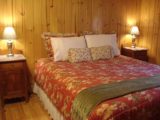 Finally at midnight, we entered the warm and cozy bedroom for some much needed sleep. Hopefully, we'd be mentally prepared for tomorrow and the true start to our Patagonian trip.