Day 4: SANDBLASTED
At 6:30am, Julie and I awoke and immediately prepared ourselves for the big hike today. Today, we were determined to do the hike known as Laguna de Los Tres. The three (as the name suggests) pertain to the main peaks of the Fitz Roy Massif – Cerro Poincenot, Aguja de la Silla, and Monte Fitz Roy (3405m). Getting to the lagoon right at the foot of these peaks that dominated the skyline required a grueling hike of at least 4 hours each way. We knew it wasn't going to be easy so we brought 2 1.5L and 2 600mL bottles of water as well as a few books, maps, and snacks – all of which weighed down our packs.
After a simple breakfast of toasted breads, freshly squeezed OJ, and milk, we proceeded to drive the truck for a few minutes to the trailhead of the Sendero Fitz Roy.
We arrived just before 9:30am and there were already a handful of cars parked at the lot just on the north end of town. Obviously, we didn't get an early start. But what was more discouraging was that the gorgeous views we had yesterday were nonexistent today as clouds seemed to have obscured most of the peaks. Still, we knew the weather tended to change very quickly in Patagonia so we moved forward with the hike.
The winds were still blowing and they were cold enough to force us to wear our light jackets initially. But the relentless climb of the initial part of the hike soon caused at least me to take off the jacket and let the cold, arid, breezy air cool me down.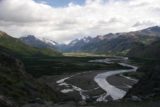 Upon the initial ascent, we were treated to views of the valley of the Río de Las Vueltas. Even with the overcast conditions, the valley was quite picturesque so we paused for a few moments to take photos and catch our breaths from the climb.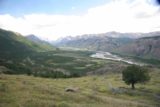 The trail continued to climb, which made the valley below seem even more distant.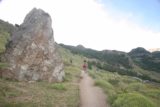 After over an hour, the trail started to level out somewhat. Quite a few hikers passed us, which made us feel rather slow. The skies remained overcast and the winds were still blowing. It wasn't much longer before the trail started going into a canopy of trees though the trail continued to climb.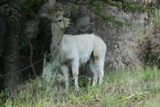 Julie said she heard screaming from some woman. When we got to the apparent source, we saw a few guanacos with packs on them as well as a couple of people tending to one other guanaco. Julie reckoned the screaming was probably something to do with the guanaco and the woman.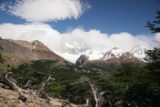 By 11am, we arrived at the Mirador de Los Tres. It was a somewhat open outcrop with majestic views of the Fitz Roy skyline. Unfortunately, clouds continued to cover the peaks despite the sun coming out and giving the rest of the scenery a pleasing color and liveliness.
We spent some moments taking photos at this spot before continuing on with our hike. Looking far off into the distance, we could see the switchbacks that appeared to lead to our destination. Julie reluctantly pushed forward as she worried the obscured views would make the remainder of the hike not worth the effort. Nonetheless, onwards we went.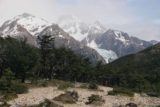 As the hike continued, I started to notice an interesting glacier coming down towards the right side of the massif. The glacier was probably El Glaciar Piedras Blancas (The White Rocks Glacier). It had an alluring blue color to it and seemed to drop steeply below the peak known as Cerro Eléctrico.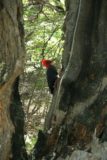 After descending into more woods, a woodpecker caught our eye and I was preoccupied trying to take photos of it without scaring it off. This woodpecker really reminded me of that cartoon character Woody Woodpecker because of its bright red head and dark body.
Unfortunately, the zoom on my camera was only 17-85mm so I had to get close to it in order to get a decent photo. It's times like these where I really wished Canon would come out with a flexible lens that can go from 17mm-200mm for both wide angle and telephoto zoom.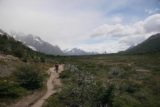 The trail then started to follow a stream called Chorrillo del Salto. It was the very stream responsible from the waterfall of the same name we saw yesterday afternoon.
Julie remarked how the water was very clear.
"I could see why the water is drinkable in this park," she said.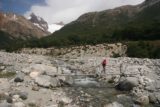 The valley we were in was quite open and hence exposed to the winds, which remained strong. Looking to our left, clouds still dominated the scene and obscured the majestic peaks of the Fitz Roy. It was too bad the weather wasn't as cooperative today as it was yesterday, but such is the case with Mother Nature. She doesn't care about how we want things to be so we had to deal with it.
At 12:45pm, we finally made it to the Campamento Poincenot. I could see how if you were carrying a pack what a central and strategic site this would be. The number of people we've seen on the trail up to this point had already indicated to us that this was a pretty popular hike, but the campsite made it even more apparent how many people endure the physical abuse of carrying over 60lbs. of gear up hilly terrain and strong winds.
At 1pm, we were at a shelter just before the final climb up to Laguna de Los Tres. Seeing how we knew it wasn't going to be easy going up and having hiked over 3 hours to get here already, we decided to have ourselves a brief lunch of Doritos and water with some breakfast bars before heading off again.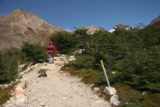 We were greeted by a sign saying how this section was the most worn part of the park while urging us to follow the yellow poles. A few steps up the exposed switchbacks made us realize why. As we rose above the vegetation, it was clear many people opted to take shortcuts instead of the switchbacks in the past and hence there were quite a few false trails and badley eroded spots.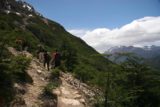 Nonetheless, it seemed the trail was in decent shape though there were a few steep obstacles on the already steep climb. It seemed this side of the hill was sheltered from the winds as it was very hot and tiring. We kept passing then falling behind then passing this German group of hikers.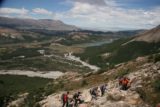 "We meet again!" one of the hikers would say.
By 2pm, we finally made it to the top of the climb – or so we thought. Next, we saw there was still another saddle to get over, but at least it wasn't nearly as long as the stretch we just did. Moreover, the scenery up ahead of us looked like something out of the Himalaya treks I've heard about from National Geographic.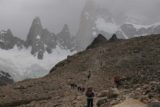 There were at least two of the Fitz Roy peaks (the tallest one was partially covered in clouds) towering over the train of hikers struggling against the gusty winds. At this point, we were so well above the vegetation, there were nothing but boulders, rocks, and sand along with snow and glaciers higher up.
In contrast to the long, hot climb we just did, we were really exposed to the winds now. The gusts were so strong that it was difficult to maintain balance (and we weren't topheavy with backpacks either!). Often, the gusts would blow so hard that it would kick up sand and pebbles and pelt us as if we were being sandblasted!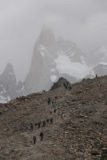 They sure stung like beebees!
There were still some steep slopes off to a side of the trail and it always crossed my mind that the wind might actually blow us into one of those slopes and make us have a bad fall.
So slowly Julie and I moved forward. Julie was very reluctant to press forward, but I knew we were in a terrible spot to stop as this saddle was totally exposed to the winds.
So I took the initiative and pressed forward.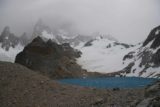 And a few minutes later, we passed over the saddle and saw the final destination!
There in front of us was a white-capped lagoon – La Laguna de Los Tres. Immediately behind the lagoon, mountains rose sharply ultimately culminating in the Fitz Roy peaks immediately behind.
Oh what an incredible sight! I could only imagine how surreal it would be if the clouds didn't obscure Cerro Fitz Roy.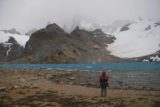 Of course the winds were still blowing so Julie and I took the obligatory photos near the shores of the frigid lagoon. Our noses were incessantly running given the wind chill and even horizontal rain droplets would pelt us even though the rain wasn't necessarily directly above us.
The turbulent scene seemed so otherworldly that this Midnight Juggernaut's song called 20,000 Leagues kept playing in my mind. For some reason, their electro-dance music takes me someplace far away – like another galaxy or something.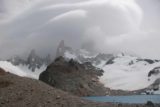 Just as we were about to leave La Laguna de Los Tres (3pm), I noticed immediately above the peaks were these strange cloud formations. We had noticed these lenticular clouds or some variant of them before, but this particular one almost seemed as if there was some sort of being rising out of the three big peaks of the Fitz Roy Range.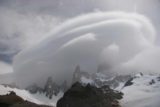 Mesmerized by this little phenomenon, I took several photos despite the persistent gusts. Julie didn't wait around and she was already on her way back having had enough of the winds.
When I had my fill, I quickly caught up to her and a few other hikers making their way back. All of them were struggling with the steep gravelly terrain which made footing tricky and slippery. The winds didn't help either and we started adopting this strategy of just squatting if the winds got too strong.
So after moving then squatting out the strong gusts, then moving again, we finally made it off the turbulent saddle.
By now, the sunny skies that seemed to bake us during the climb up was gone and we could see squalls just to the north of us. Good thing we brought the ponchos I thought.
Anyways, now we had to go down that very long exposed and damaged stretch we had climbed earlier. Even though it seemed this side of the hill was sheltered from the winds, every so often a gust would come and still pelt us with sand and pebbles all the while knocking us off balance.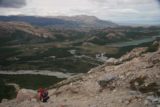 Julie fell once but fortunately didn't hurt herself except for a little bruise and hyperextension of her wrist.
By 4pm, we finally made it back to the shelter. Our feet felt like they were threatening to blister considering the steep slopes and numerous steps taken so we decided to rest for another 15 minutes or so by eating more Doritos and water.
We saw other hikers doing the same though perhaps not resting as long as we did.
Julie even noted one couple where it seemed like the female was carrying the pack and the male wasn't carrying anything. "What a jerk making her carrying everything," Julie told me. Ah yes, sometimes it's nice there are guys like that to help lower the bar a bit and make her appreciate the things I do for her *wink* *wink*.
Grudgingly, we had to get off our keester and continue the hike back to the start. It was now 4:30pm, but we were surprised that there were still a handful of people still just starting the climb up to Laguna de Los Tres.
The hike seemed much more tame at this point considering the terrain was much flatter than the ascent and descent we had just endured. However, the winds would still gust from time to time.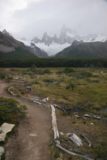 When we got to a part where we could see the Fitz Roy Peaks again, I kept stealing glances and photos back at the skyline. And in Mother Nature's ironic ways, I swore I could now see the tallest peak Cerro Fitz Roy in the mist.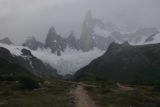 Invisible to us when we were at the lagoon, it seemed like the clouds have momentarily parted for a moment revealing the majestic peaks.
But onwards we walked as we couldn't wait to return to El Chaltén and a nice dinner.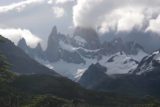 By 5:30pm, we were back at the Mirador de Los Tres. Even though we were looking against the afternoon sun, we could see that the clouds weren't as low as they were this morning. So we seized the moment and took a few more photographs while resting and finishing up our Doritos.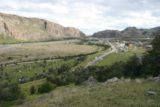 We knew at this point we were around 90 minutes from the start. So we dragged our weary bodies off the bench and continued our descent into town.
I don't know if we were slow hikers or not, but it seemed like more groups of people (mostly with large packs) passing us than us passing other hikers. There was even this guy trail running solo then choosing to go off trail and do scramble up a boulder like Spider Man before continuing his trail running.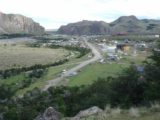 Finally, we made it to the final descent. With our sore knees and feet, we could start to see the neighboring campsite and El Chaltén in the distance. We could even hear someone playing a flute from the campground as we got closer to the end.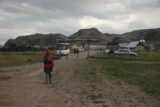 At 7:30pm, we finally returned to the trailhead. I wasted no time opening up the truck, getting the gear off my back, and changing out of smelly boots and socks into Chacos.
We then drove to Terray, which was next door to Ruca Mahuida where we had eaten last night.
We were one of the first ones at the restaurant, which at first made us think that dinner was closed or something. Anyways, we had ourselves a filling dinner with bread, lamb, and trout.
Soon, there would be a tour bus crowd joining us for dinner which kind of livened up the atmosphere a bit. But by that time, it was time to leave.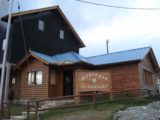 Back at Hostería El Paraiso, we had ourselves a nice hot shower and crashed. We had no trouble sleeping this night and resting our tired bodies. The winds were still howling, but they were background noise on this night.