Day 5: BETTER WEATHER
It was 6:30am when I awoke. Julie had trouble waking up. Still, it was before breakfast, and I went to go to the dining area/lobby to look out the window and see if the weather had improved. As I looked out the window, I saw that there were blue skies behind a scattering of clouds obstructing the Fitz Roy peaks.
I couldn't tell if the weather would improve or not, but the plan was to hike to the Mirador de Los Tres before returning to El Calafate if the weather cooperated.
The Hostería proprietor also woke up to get breakfast started. I asked in spanish if he thought the weather would be good for hiking today.
He replied in spanish that it was because the clouds were moving in a more northerly direction. As I looked out the window, it still looked somewhat iffy to expend the energy to do the hike, but who am I to argue with someone who's lived here for many years?
When Julie first looked at the window, she insisted it was too cloudy and not worth it. But I couldn't ignore the proprietor's words. So after breakfast, I loaded up the truck while Julie paid the bill in US dollars to check out. We waved good-bye to the proprietor and headed to the trailhead for the Fitz Roy hike again.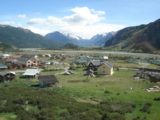 The plan was to divide and conquer. Since Julie didn't want to do the hike again, I compromised with her that I'd do the hike while she'd tour El Chaltén and check out other accommodations for her travel agency. We'd meet back at the truck at 11:30pm.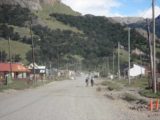 At least she'll get to experience the Wild West-like town more thoroughly, while I'd log some more kilometers on this morning.
And so off I went at 9am. With the sun bright and intense while the winds were calm, I lathered on sunblock, wore my had, and wore shades. The jacket was off and the boots were laced.
I made quick work of the initial ascent this time as I knew not to stop at the intermediate lookouts of Río de Las Vueltas. Hiking solo, I knew I could do at my own pace and I was passing all hikers who had set out before me except for an elderly man who went at an even more brisk pace.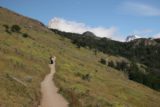 When the hike started to plateau, I could see the top of Cerro Fitz Roy. It was the first time that I had seen its top in the morning and it hastened my steps even more to get to the Mirador de Los Tres.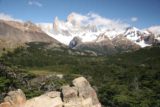 By 10:15am, I joined the elderly man at the lookout and reveled in the blue skies and majestic skyline in the mid-morning light. I kept thinking to myself how awesome this would've been if it were sunrise and the skies were clear.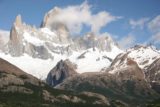 In the native tongue, El Chaltén translated into something like "fire" as a reference to the clouds that would emanate like the peaks were burning, but I'd bet early birds would think of something else when they see the Fitz Roy peaks burn with alpenglow.
Anyways, it was only 10:30am and I did really well on time. So as I pried myself away from the Mirador, I decided to check out the Laguna Capri, which was only 20 minutes from the trail junction not too far from this lookout. I thought to myself, why not?
And so I hastily made my way to Laguna Capri knowing that I was supposed to be back at the car park by 11:30am. It wasn't long before I passed another campsite with a bunch of tents. It was very quiet so I tread lightly past them. They must've still been asleep, I thought.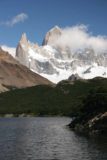 Not long after the campsite, the deep sapphire blue lagoon (more like a lake) presented itself before the picturesque skyline of the Fitz Roys. Wasting no more time, I took plenty of photos of the waters fronting the mountains.
When I was about to leave, one of the campers stopped me and told me there was another lookout on top of rocks that were even more unobstructed and complete. He said not only could the peaks and lagoon be seen but so was the glacier as well!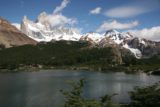 It was getting late, but that bit of advice didn't stop me from seizing the moment and getting awesome landscape photos of the divine scene. It was like the camper said. Sapphire blue waters fronting snow-capped Fitz Roy peaks stretching further north to Cerro Eléctrico with El Glaciar Piedras Blancas sprawled beneath the reddish snow-capped peak.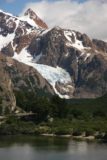 After getting as many photos I could of the scene, it was now a little past 11am and I knew I had to hurry to get back to the truck by the promised time of 11:30am.
So off I went walking as fast as I could and trail running where it was flat or downhill without other hikers around.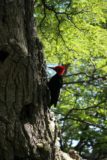 The trail running actually seemed to pay dividents on the downhill portions as I imagined myself being one of those bighorn sheep or llamas who gingerly took steps down steep terrain while still maintaining balance and control. Maybe those creatures knew something about traction and control that us hikers could use when trying to go downhill?
Anyways, I was moving at a frenetic pace until I saw a group of hikers going the other way. Time to slow down. But just as I approached them, many of them stopped. One of them pointed in the sky and said, "¡Mira!"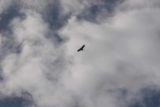 And so I turned around and looked up at the sky. And hovering high up there was a condor with wings spread and gracefully gliding through the crisp Patagonian air.
All of us looked up in both awe and amazement. It's not often we see condors in America anymore. So I tried to take photos of the bird (without a telephoto lens) while just admiring the scene at the same time. I knew it was getting late, but this was just something you don't see every day.
When the condor finally decided to fly elsewhere, I continued my frenetic downhill pace. By about 11:40am, I finally got back to the truck at the trailhead again. But since I left the keys with Julie (usually she beats me to the meeting place when we arrange this divide and conquer compromise), I was locked out of the truck because she still hadn't arrived.
So with shoes and backpack off, I saw on the bumper of the truck waiting for her. Finally at around noon, she had arrived. Apparently, she underestimated how long it takes to walk along Avenida San Martín as well as tour the hosterías in town. But together we were once again.
Before leaving town, we decided to stop by Del Bosque for a quick lunch and home made ice cream. The food was both cheap yet delicious. Julie was also mad at herself for buying a pair of sunglasses by Julbo which she then consequently chipped when she dropped it right after buying it. I told her she could give those glasses to me if she didn't want them while she could go out and get her own later.
By 12:45pm, we finally left El Chaltén. As we got back on Ruta 23, the winds were picking up again. However, the hood on the back of the truck started coming loose.
I was afraid that if the hood ended up breaking that it would eventually turn the truck into a kite and then we'd really be in danger of rolling over. So I stopped the truck to see if I could tighten the hood.
But when I got into the wind and saw that some of the rope holding hown the hood were splintering, I knew this wasn't going to work. So I proceeded to take the hood off and hope to return it to the Hertz in El Calafate.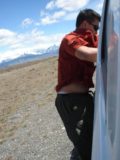 All the while I was taking the time to remove the hood, Julie was having a ball photographing me as the wind would blow up my shirt and expose my love handles.
With that little escapade out of the way, we proceeded to whiz down Ruta 23 and then south on Ruta 40. We made really good time and it was kind of nice to have the high clearance of the truck, which got through all washboards and potholes on the unsealed parts of the road like they were nothing.
By 3:30pm, we were back in El Calafate. After returning the hood to Hertz, we checked back in to Santa Monica Aparts and also filled up on diesel.
We ended up spending the rest of this rather warm day just walking around town while helping Julie shop for new sunglasses. Nothing was purchased, but we did give ourselves quite a good tour of El Calafate trying not to mind the sad stray dogs and broken glass strewn about the otherwise very tourist-friendly town.
We ended up having a big late lunch/dinner at some corner cafe called (appropriately) La Esquina. I think for the $25USD we spent for the both of us, the portions were way too much to finish. But not one to waste food, we managed to finish the food and really stuffed ourselves. Sometimes I wonder when will we learn that in Argentina, the portions are huge and the prices are generally not.
By the end of the day, we relaxed and watched some Jurassic Park on the tellie. With the rest, we anticipated the next part of our Patagonian trip, which would be to Chile and the Torres del Paine…