Day 10: IMPROVISING IN BUENOS AIRES
After having toured Patagonia for the past week or so, we were anxious for a little change of scenery. The next part of the trip would be touring Buenos Aires and then a free day in Miami before going home in time for New Years.
Our flight schedule wasn't very friendly however as we had a long day of doing nothing in El Calafate before the next phase of our trip would continue.
We made attempts both yesterday and today to try to secure an earlier flight back to Buenos Aires, but all of them failed. So much for trying to get to Buenos Aires early enough for a little bit of exploration this evening. Our flight wouldn't take off until around 6pm and there was a connection in Bariloche. So our flight wasn't even scheduled to be in the city until around 10pm or later. We also learned yesterday that our original time was supposed to be around 5pm so the flight was delayed. Given our previous experiences in Argentina, this was hardly a surprise.
So after another one of the familiar breakfasts of freshly-squeezed orange juice, milk, croissants, toast, and an assortment of spreads from jams to caramel to Ilolay cheeze courtesy of Santa Monica Aparts, we spent most of the morning just packing and taking our time. I think we took so much time that we ended up checking out a little after the stated checkout time of 10am, but they didn't charge us the extra day.
However, in Julie's haste to get everything together at the last minute, she managed to break the lid of the coffee maker. They didn't let that one slide as we had to fork out $50 peso so they could replace it. Yet another instance of haste makes waste.
We had the accommodation call us a taxi to take us to the airport at 2:30pm. So we figured we had at least four hours to walk around El Calafate some more; a town we were quite familiar with at this point.
Not much more went on this day as we just shopped around for more souvenirs, walked around the National Park Visitor Center, and ate a reasonably-portioned lunch at parrilla.
By the time we got back to the Santa Monica Aparts reception office, there was still a little over an hour before our scheduled pick up. So we took this opportunity to take a nap.
At a little after 2pm, the cab driver arrived. This was half an hour early, I thought, but in any case, we took our belongings and headed out to El Calafate airport. Better early than late.
We arrived at the airport at around 2:30pm. But we could tell it was crowded the moment we walked in. Well at least the check-in line wasn't too bad. But the waiting area and cafeteria all outside the security checkpoints were very full and hectic.
So we checked in (realizing that our flight was going to Ezeiza instead of Aeroparque – meaning we have another hour's taxi ride to get to our hotel in Palermo), got our boarding passes, paid our departure tax, and then looked for a spot to wait in the cafeteria – seeing that we still had a couple of hours or so before boarding.
That little bit about arriving in Ezeiza instead of Aeroparque put a wrench in our plans to have dinner tonight (at least at our usual time of around 6pm-9pm). I guess we'll have to improvise on that.
In any case, it looked like one of the flights before us was delayed, and when they were finally called to line up for the security screening, all hell broke loose. Lots of people left the cafeteria (opening the door for us to have a seat) and the main hallway was packed with people in line for the security at the same time as people trying to check in as well as people trying to pay the airport departure tax. Pure chaos!
Anyways, after a few uneventful but hectic hours of waiting for our flight at the airport, we were finally off to Bariloche as scheduled.
The flight was turbulent, which wasn't surprising given the Patagonian winds. It almost seemed like the wind even aided the ascent of the airplane on takeoff as it ascended at a seemingly steep angle.
And so we bid farewell to El Calafate and within a couple of hours, we arrived at Bariloche. The mountains here looked jagged like down by El Calafate and El Chalten, and the immediate surroundings still looked barren. Maybe some day we'll check this part of the country out. But not on this trip.
After picking up the connecting passengers, we continued further east to Buenos Aires.
By now, night was closing in and we could see flashes of lightning briefly illuminating the skies. It felt like we were flying through such thunderclouds en route to our landing at Ezeiza, but I knew from science that we were in a Faraday cage so if we were struck by lightning, nothing would happen – at least in theory.
Anyways, we finally landed at Ezeiza after 10pm. We had to take a little shuttle bus from the airplane to the baggage claim terminal, but that passed rather uneventfully.
However, we did end up meeting a very well-educated and ambitious young lady from Northern California named Trina. She was on a month long trip in Argentina and was taking a break after finishing her grad school while holding down a job at some medical technology company. Talking with her about random things regarding travel and work helped to pass the time waiting for the luggage.
Even though there was a complementary bus service to take all passengers to Aeroparque, we knew this would take much longer than if we had just hired a taxi to go straight to our accommodations across town in Palermo. It turned out Trina was going to Palermo as well so we took a Remisse (slightly higher end taxi than the ubiquitous Radio Taxis) together and passed even more time chatting as we rode through Buenos Aires for the nearly hour-long drive across town.
While Julie and Trina was mostly doing the chatting, I looked out the taxi and noticed how so many people were out dining at this time of night (at least in what appeared to be the Palermo neighborhood). I had read that people in Argentina tend to start their evenings late, but I actually got to see it in action! This was also the first time we really got to see some of the barrios in Buenos Aires (though I wasn't sure which was which at the time) and it was clear that there were some rough neighborhoods and some happening ones – not unlike the disparity between the suburbs in Los Angeles, I reckon. But I knew that we weren't going to do much exploring in the dark on this night.
By the time we finally arrived at our hotel, it was past 11pm and Trina was already dropped off at her hotel. We rang the doorbell and the receptionist unlocked the gate and let us in.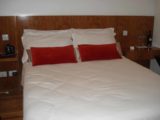 The hotel as well as our room really had a modern look to it. It was in contrast to the more rustic or spanish-style furnishings we've been exposed to our previous South America endeavors. Still, it was comfortable, clean, and suited our needs.
After we checked in, the real helpful receptionist – a tall, European-looking guy named Gustavo – recommended this place called "The Roof." Julie wanted to try a place called Dominga, but it was booked solid so we had to go with Gustavo's suggestion. Since Julie and I hadn't eaten anything substantial since lunch, we were really hungry.
Gustavo helped call the taxi for us, and while we waited for the taxi, we also got Gustavo to book us at a tango show for tomorrow night called El Viejo Almacén. He had recommended the Tango Rojo, but we feared the dress code was too formal for our no-checked-luggage-on-the-international-flight wardrobe and decided on the traditional tango show. When the taxi arrived, we were on our way to our midnight dinner at The Roof.
The Roof was kind of an eccentric modern Argentinean restaurant. We weren't sure what they specialized in so we asked the waitress (who spoke no english) what the famous dishes were. We ended up buying what she recommended. It turned out to be plenty of food at a reasonable price (by US standards).
Julie had paella (spanish rice with spices and other ingredients), which I'm normally not a fan of. But the paella they served here actually tasted real good and had a lingering seafood fresh flavor to augment the subtleties of the dish. I had some kind of meat dish where beef and ham (jamón) was wrapped around some kind of egg. Very unusual and distinct, but pretty good nontheless.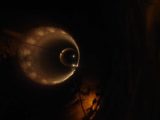 When each of us made trips to the bathroom, we couldn't help but notice a giant deep hole on the floor with a thick glass serving as part of the floor covering the hole. It was both spooky and unusual, and looking down that hole really induced some weird sense of being suspended in air. The restrooms also had an unusual rocky slab as the sink diverting water to a disconnected drain.
We returned to the hotel some time after 1am and finally slept. I wasn't sure how much rest we'd get on this night, but we knew tomorrow we'd have a full day of finally seeing Buenos Aires in detail.