Day 11: DON'T CRY FOR ME, ARGENTINA!
Given that we had slept late last night, we didn't get up until after 8am. After having a breakfast of freshly-squeezed OJ and omelettes, we sought advice from a different receptionist (named Patricio) regarding the sights to see and how to get oriented with the maps we had.
And after he marked up a hotel-provided map with his suggestions of sights, we were finally out the door at 10am.
Originally, the plan was to take the taxi everywhere, but Patricio convinced us that it was reasonable walking distance to see most of the things we were up for, and the metro line we were taking was reasonably safe. The only catch was that it was around 30 degrees Celsius (i.e. in the 90s in Fahrenheit units).
So we walked to the nearest metro station a couple of blocks away and paid a ridiculously low price of about $0.70 peso (about $0.23 USD) each way.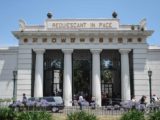 We got off at Pueyrredón station and walked a few more blocks to the Recoleta cemetery. We took a roundabout approach to the entrance not knowing which way was in so we ended up walking through a bunch of street market stands. Nonetheless, we finally got into the cemetery, where there was apparently some service going on for some other well-to-do person that was deceased.
Inside the cemetery, it seemed like we were in a city within a city. There were actually little streets you had to navigate where each tomb was like a little house on the block. Anyways, we were looking for the tomb of Evita Perón, the famous wife of Juan Perón, who managed to rally the country's working class and less fortunate during a turbulent time in the history of the country.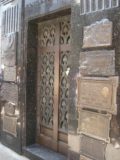 Lots of other tourists were also looking for her grave so when we saw a mob of people before a humble-looking building with numerous plaques flanking a black-barred cage before a closed door, I had suspected this was it. In fact, it was actually the tomb of the Duarte family, in which Evita's maiden name was Eva Duarte. At first Julie didn't know this, but after inspecting the plaques full of Evita commemorations, that proved to her that this was the right place.
Needless to say it was difficult to even get a photograph in while there were mobs of people around seemingly conspiring to sabotage our photo. Still, there wasn't anything all that special about this particular tomb. Perhaps that's how a champion of the people would've wanted it anyways – i.e. no more gaudy than the next person. Of course, being in the Recoleta cemetery meant you were still a person with wealth and stature so I guess that puts her and anyone else in there above the crowd.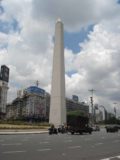 After the cemetery, we did a lengthy walk along some busy street towards Av. Cerrito. It was here that we saw the familiar 4 parallel streets passing by the symbolic obelisk in the center of the city. Finally, we got to walk around this part without whizzing by it on a taxi in a mad dash to go from Ezeiza to Aeroparque.
Some more minutes later, we cut into a diagonal street that ultimately led us to Av. de Mayo, which linked the Congressional building with the famous Plaza de Mayo – the location of the pink building with the balcony where Evita addressed the people.
Can you say, "Don't Cry for me, Argentina!"?
Knowing we were between the two landmarks and that it was about 2pm at this point, we decided to have a lunch. Julie had read about the Cafe Tortoni and wanted to make sure our experience in BA didn't leave this out.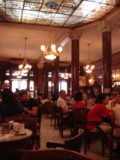 There was a line outside the cafe and we waited for around a half-hour before we were finally let in by the door man. Inside the cafe, there were high ceilings and columns. It was quite unusual for a cafe, and I guess this is really what people were after when it came to dining here – the ambience. As for the food, it was pretty typical (albeit overpriced but still somewhat reasonably priced by US standards) burgers, salad, and milkshakes. Nothing really special. Just the interior decorating was something worth noting.
After the late lunch, we then proceeded to walk to the Congress building. After walking a few blocks, we were in the big plaza, which actually had quite a dated and worn look to it.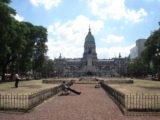 "This part looks ghetto," Julie said. And I'd have to agree.
There were bums gathered about near a pile of trash at the base of the plaza. In the grassy areas, some people were taking naps while some kids were running around. The building itself looked like it was quite worn.
There were also loud popping and cracking sounds that were happening periodically. Worried they were gunshots instead of fireworks or fire caps, Julie hastened our pace… back towards the Plaza de Mayo.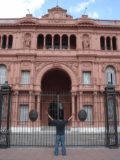 By 4pm, we were finally at the famed Plaza de Mayo. There were numerous signs in spanish talking about political things such as having enough of capitalism, spending Christmas without a home nor work, etc. Riot police were stationed on the perimeters of the plaza with some fence barricades set up. It seemed like on this day they weren't in use, but I guess they're preparing for demonstrations in the near future. I wasn't sure what the demonstrations were going to be about, but we were glad things were peaceful on this day.
Anyways, Julie and I took the obligatory photos of the pink building where Evita and Juan gave their public speeches or rallies.
We then checked out a nearby Cathedral. Not that we were religious or anything, but we did sit inside for a few minutes to check out the grand gothic architecture and a momentary relief from the humid city heat.
After the leaving the cathedral, we headed towards Puerto Madero. There was a charming and quiet walkway alongside a series of dikes. Across the dikes, there looked to be some restaurants. But knowing that we'd already book a tango show and restaurant this evening, we didn't bother crossing over any of the bridges to the other side.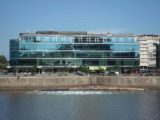 So we passed the time taking some photos while also taking a nap on one of the park benches.
By the time it was 5pm, we got up and walked over to the neighboring barrio San Telmo. The neighborhood was a charming mix of tight cobblestone streets and several businesses closed for siesta. Fortunately, there was an ice cream place called Freddo's that sold some really delicious ice cream. Boy could we really sense the Italian influence in this ice cream as it was soft and almost like gelato (unless they were gelatos; I couldn't tell the difference).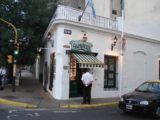 When we finally found the restaurant right across the street from El Viejo Almacén, we were allowed to chill out in the lobby and even have a drink while flipping through a couple of coffee table books. We still had an hour to kill, but at least we were out of the humidity and heat of the city and chilling out in the air-conditioned facility.
By 7pm, we were finally allowed to go upstairs and have our fixed course dinner. Nothing extraordinary about this stuff, but at least it was a filling dinner and the drinks were included. I might have had a bit too much to drink as I was buzzed when we left.
By 8pm, we lined up for the show. Once we were inside, we had gotten one of the side seats. Since it was all assigned, I didn't think it'd make a difference whether we lined up earlier or later. I guess if you paid more, you can get front and center.
The way things were laid out, it really reminded Julie and I of those old comedy club shows back at home. Everyone was getting served drinks as they sat at small tables. There were also a pair of balconies that were probably reserved for tour groups. The stage was elevated.
As the lights were turned out and we could hear the Italian-influenced (almost a mix of mafia-like music with some mix of Spanish and French as well with the accordians, bass guitars, pianos, and violins, etc.), we were treated to a blend of passionate tango dancing, instrumentals, and vocals.
But Julie and I could see why Gustavo recommended the Tango Rojo because there would always be people walking in front of us (especially the waiters) while the show was going on. Very annoying!
We didn't wait around for the entire show to end. We basically beat the crowd out the door when the show was on its last performance. After hailing a taxi, we returned to the Vain Boutique Hotel, finally got cleaned up, and had no trouble sleeping to recover from this very long day in BA.