Day 12: SUNDAY IN THE MOUTH OF BA
With today being a checkout day and our flight not taking off until 11pm, we took this opportunity to explore parts of Buenos Aires that we didn't see yesterday. So prior to our 11am checkout, we had the familiar breakfast of OJ, hot chocolate, and omelettes. Little did we know that they also sprung forward an hour as well.
That wasn't apparent to us until the receptionist told this to us when we checked out. So while we thought it was 11am, it was really noon already!
I don't think we were charged for the extra day, but in any case, they offered to store our luggage while we were out and about for the day.
The first order of business was to take the metro all the way to Plaza de Mayo. We figured we could at least save on the cab fare by taking it from Plaza de Mayo to La Boca.
La Boca, which means "the mouth" in spanish, was a barrio that we didn't see yesterday. Julie had read it had lots of character even though the neighborhood itself was mostly what they call back home a 'hood. In other words, no aimless walking over there. Better hail one of those Radio Taxis.
So with that, we were took the metro as planned and the taxi to La Boca as planned. Though, the first thing that hit us as we left the AC comfort of the Vain was how hot it was this Sunday. The news said 35 degrees C, which is upper 90s in F.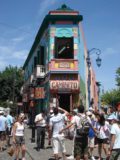 When the taxi dropped us off at the charming El Caminito in La Boca, we knew we were in an oasis amongst the slums. Here, there were heaps of people crowding the narrow streets amongst colorful buildings with street performers and people attractively dressed in tango attire looking for tourists to take photos with them for a fee.
Opposite El Caminito was a very smelly and stale body of water. Not exactly a good place to be walking along on this day so we stayed with the crowds.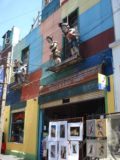 Given the stifling heat, I'd bet those tango people must be real sweaty in those garbs.
I fancied having one of the female tango dancers in her bright red and black outfit and stiletto heels wrap her leg around mine for a tango pose and photograph (stifling heat and sweat and all). But we were low on pesos, which we had to make sure we had enough for the taxi ride back to the airport later today. Besides, I didn't think Julie would appreciate my indulgence.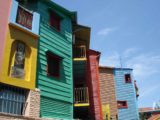 In any case, Julie and I immersed ourselves in the Carnival-like atmosphere. We didn't really sit down at any of the eateries of buy anything. We just soaked in the lively scene beneath the colorful houses and took photos as we went while drinking bottled water that we bought along the way.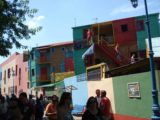 It wasn't long before Julie was ready to hail one of the numerous Radio Taxis again and this time have him drop us off at San Telmo.
With this being Sunday as most businesses were closed, it was the day to be out and about for the street markets. El Caminito was kind of one of them. But San Telmo looked like a whole different place from the subdued atmosphere of yesterday afternoon.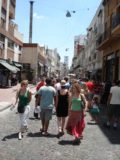 Now, the cobblestoned Avenida Defensa was packed with street vendors and tourists walking the streets between them. Lots of souvenirs and other odds and ends were lining the streets watched over by vendors hoping for a purchase.
The Freddo's Ice Cream place was packed so we wouldn't treat ourselves to another one on this day.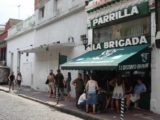 For a late lunch, we waited for about a half-hour for San Telmo's most popular parrilla – La Tablita. Inside its air-conditioned confines, we treated ourselves to the most tender part of the steak we could buy. Even at a total of around $30USD for the whole lunch, it was a steal by American standards. Imagine having something like Filet Mignon for each person at the table for $30 for the whole meal.
Still, the medium-rare beef needed chimichurri sauce for a bit of flavor. No such thing as A-1 down here.
Julie and I then walked down Av. Defensa all the way back to the now-familiar Plaza de Mayo. We still had a bit of time to kill so we figured we mind as well check out the shops along Avenida Florida. We didn't do it yesterday so why not check out that scene and see what it's about?
And so we did that. The heat and humidity apparently caused enough thunderclouds to form because it briefly rained as we walked through part of the semi-outdoor "mall."
"So this was where the malls were," Julie said as she finally saw a conventional looking mall with the usual brand name stuff like Gucci, Versace, or whatever else they usually peddle at these places. The AC in that mall was a relief from the heat and humidity.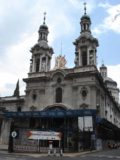 By about 4:30pm, we walked back to the Catedral station on the D-line and took it back to the Plaza de Italia in San Telmo. From there, we returned to the Vain Hotel where we had some time to chill out in the air conditioned lobby before calling for a taxi to bring us to Ezeiza International Airport.
During that time, I went ahead and tended to my oral hygiene knowing that we'd be taking a red-eye flight to Miami tonight.
Julie was glad to see the familiar face of Gustavo, and they both chatted about various things while I was sequestered in the restroom.
When 6pm rolled around, the taxi driver showed up, and it was time to leave. Gustavo exchanged kisses on the cheek with Julie and then myself (seems customary to do this in Argentina and perhaps Europe as well), and we bid a fond farewell.
The taxi driver was another friendly guy eager to make small talk in spanish (as quite a few other drivers were willing to do on our trip).
And by a little before 7pm, we were back at Ezeiza.
The airport wasn't very crowded at first, but since no one was checking in any US-bound passengers, the terminal quickly became crowded and crazy as the lines got ridiculously long. The greenhouse effect (thanks to the glass walls and ceilings) kept things very warm and this didn't help matters, either. Nonetheless, I guess it was a good thing we showed up nearly 4 hours early.
When we finally got through getting our boarding passes, paying another airport departure tax, and getting through security, we chilled out at a hidden cafe on the backside of all those duty free shops the airport tried to channel us through. It was amusing to see that the busyness of Ezeiza even made the news.
Anyways, 11pm rolled around eventually, and our flight took off without any incident.
With all the touring we had been doing on this day, we managed to be able to sleep on the plane. Even though it wasn't comfortable (it never is on a plane), it was better than nothing.