Day 13: SO RANDOM!
It was about 6am when we arrived at the Miami International Airport. Always worried about delays and incoveniences in the customs and passport processing, we wasted no time walking as fast as we could to get in line the moment we disembarked from the plane.
Being that it was quite early in the morning and our flight back to LA wasn't until 6pm, we took our time taking care of business at the airport…
…like removing hiking boots in favor of Chacos
…like stowing away our carry-ons at the luggage storage, which charged a lot of money (sheesh)
…like figuring out how to get to South Beach without paying some $30USD each way to hire a taxi
When we stowed our bags, I also discovered that my tiny little Hefty bag of liquids was gone. I don't remember where or how it disappeared, but all we knew was that it was lost. Oh well, we can eventually replace the DEET, sunscreen, and Scope bottles that were in the bag.
In any case, we walked over to a bus terminal and tried to figure out their system so we could get to South Beach. It wasn't exactly a straight forward system, but it was still a bit dark outside so we had some time to figure this out.
Eventually as Julie made a few calls on their help line, some volunteer guy, who was a very big African-American guy walked up to us. He ended up being quite helpful in imparting some advice regarding the lines we should be taking. I did think he also got a little carried away in encouraging us to visit some of these other shopping centers and spots around Miami within a day. Given that we only had around 8 hours today, we preferred to take it easy and stay in the SOBE (short of South Beach) area.
Anyways, his advice did confirm what Julie heard on the help line regarding which buses to take to South Beach. The guy also recommended this Cuban restaurant called Puerto Saguá. Since we were up for trying authentic Cuban food, we were all for it.
So we eventually caught the J bus and rode the packed vehicle east. Given the many stops the bus had to make, it took over an hour before the friendly driver finally indicated the stop we were supposed to get off. Clearly, we were doing as the Romans do in Rome as they say, except in this case, we were making like Miami locals.
Not long thereafter, we caught a connecting bus taking us further south. That was where we got off near some shopping district near Lincoln Ln. But given that it was still a little after 8am, nothing was open.
Julie was hungry for breakfast so we proceeded to walk further south in the direction of that Cuban restaurant the guy at the bus terminal recommended. Eventually, we'd find Puerto Saguá, but they didn't have any Cuban stuff on offer for brekkie. So after some ordinary omelettes (regretting not having their plantain omelette), we proceeded to start heading towards the beach for some walking around over there.
The red light in front of the restaurant at 7th St. seemed abnormally long. But it was during that time that someone kept yelling "Johnny!" in the distance. I didn't really give it a second thought because there are many people named Johnny. But when the yell got louder and I looked up, I was shocked to see who was standing before me.
"Oh, what?!?" I said in disbelief.
So stunned was I that I didn't even say "hello" or the usual pleasantries like "how are you doing?".
But after the initial shock wore off, I shook his hand and he asked in jest, "What, are you stalking me or something?"
The guy was Alex, a Russian kitesurf-loving coworker back in Los Angeles. He was basically on holiday checking out the Florida keys while trying to get in some kite surfing as well as some partying in between.
He timed his trip apparently so he could count down New Year's Eve in South Beach.
Ahh, the bachelor life.
When he explained that he had gotten up only to check to see if his parked car wasn't ticketed, the first thought that raced through my mind was how weird and random this moment was.
After all, Julie and I waited at a red light for what seemed to be longer than usual after having just gotten out of the adjacent Cuban restaurant. We could've easily missed each other by a few seconds if the light wasn't red and we were on our way to the beach, or if Alex had gotten up even later after a previous night of hard partying, I reckon.
So we briefly divulged to him that we had just gotten back from Argentina and that we had a layover for most of the day before flying home to LA. Afterwards, we exchanged phone numbers to see if we could hang out later and were back about our own business – Alex to his car; and us walking along the sandy beach.
By now it was 10am. The heat of the day was already starting to manifest itself even though winters in Miami are about as mild as it gets from what I understand. Julie and I were walking hand-in-hand along the fine sand of Miami's famed South Beach. The water seemed quite calm and somewhat clear. It reminded Julie of her Carribean experiences.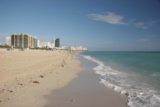 To the left of us as we walked north were a bunch of lawn chairs with umbrellas over them. Apparently, they belonged to various resorts who staked a claim on the sand and only allowed certain guests to use them. High rises were further inland.
Plenty of people were already out and about frolicking on the beach and the shallow end of the ocean. There were families with their kids running about. There were scantily-clad attractive women in bikinis (essentially with their buttocks showing). There were other couples holding hands and enjoying each others' company. And yes, there were even nude people (I thought it was a family beach) of both the eye-candy varieties as well as the not-so-pleasant-to-the-eye varieties.
Of course with Julie by my side, she made sure my attention was on her except when I was taking photographs of harmless subjects.
There were even these pulsating plastic-looking transparent condom-like things on the sand. We saw a couple of them, but one in particular really got our attention. In fact, Julie couldn't leave it alone. And thinking it was some strange inanimate object, she tried to pop it with one of the rocks lying around.
I don't think she was successful, but something told me that this thing was actually an organism and we were being cruel to it.
Anyways, onwards we aimlessly walked north. Eventually, we'd get so far north that we had to go south again to find Julie's Lincoln Lane Mall area. When we did find it, we were reminded of something very similar to the Santa Monica Third Street Promenade. It was basically an outdoor walking area lined with shops, cafes, and restaurants.
There were no street performers though.
In any case, Julie was after a gelato place she saw featured on some Travel Channel show (probably Samantha Brown's). Eventually, we found the place (it was called Gelatini) and the creamy gelatos provided somewhat welcome relief from the building heat of the day.
When we were done with that, we walked back towards the beach and strolled along the boardwalk. By now, it was really getting hot and the action as the beach also picked up as well.
Numerous people were on the boardwalks already and we could tell the beach was getting crowded. By now, it was about 12pm and we figured we ought to return to Puerto Saguá for some Cuban food finally.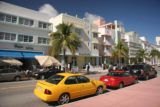 We had to walk by a couple of blocks of closed streets before Art Deco buildings, which I guess were being cordoned off in anticipation of the New Year's countdown tonight. Ever so opportunistic, the adjacent restaurants encroached upon the newly vacant space to convince passer-bys to come try their happy hour. Many of these places pulled out all the stops to get you to dine with them. They did things such as trying to engage you in conversation to handing out fliers to putting very attractive women out in front.
Competitive, indeed!
When we returned to the Cuban restaurant, it was considerably busier than this morning. Still, we had no problems getting a seat and proceeded to order food. I got myself their famous ropa vieja ("old clothes") while Julie got some kind of fried fish dish. Both of our meals came with rice and plantains.
As we ate, we noticed Alex again.
"Hey Alex!" I yelled out over the raucous of the restaurant.
Alex acknowledged me and had lunch with us. He brought along an Israeli female friend. No doubt they were tired and hung over from some partying. Perhaps they were psyching themeselves up for some more partying tonight.
In any case, we had a pleasant lunch although service at the restaurant was terrible. But that didn't stop us from catching up on how our holidays have gone as well as discussing things like tango, salsa (Alex was an instructor back at home), the Florida keys, and places we want to go, among other things.
Alex also explained to us that that condom-looking pulsating plastic was a man-o-war. Hopefully, Julie didn't get stung by its tentacles.
During the course of our conversing, I couldn't help but think about how random and how weird it was to be having lunch with a coworker back from LA in South Beach, Miami without even knowing about each others' plans. What a small world!
Fully stuffed from the big portions of the Cuban food, we parted ways. As Julie and I started to tire from a combination of the heat and walking we had done up to this point, it was time to catch the bus back to the airport. It was only 2:30pm at this point.
So with that, we walked to a northbound bus stop and they dropped us off at the nearest stop where we could walk across a busy street to catch the J Bus back to the airport.
After catching the bus, we briefly took a nap since the ride was about an hour. Even the bus driver took a break to stretch out and recharge himself at an empty stop (I had never seen that before, but it made lots of sense for someone who's behind the wheel for a long period of time each day). Of course, napping had its hazards because we couldn't get too deep into sleep and miss our stop (the interarrival times of the buses at each stop were around 15 minutes or more at each stop).
Anyways, back at the airport we were at around 4:30pm. After recovering our bags, getting our boarding passes, and passing through security, we spoiled ourselves at the familiar Islander Grill in Concourse D (for their coconut shrimp and some expensive cocktails). After the filling snack on top of the filling lunch we had not much earlier, we waited patiently for our Los Angeles flight fully sated.
Now we still had old Venezuelan bolívares that were left over from our Venezuela trip where we were unable to change back to dollars at the end of the trip. Tomorrow would be the first day they'd switch to the strong bolívar (bolívar fuerte) while allowing 6 months to phase out the old money. So we were hoping to be able to find a Venezuelan interested in changing money at a very generous rate so our Venezuelan money doesn't become useless paper money.
The odds were slim, especially since there was a Caracas flight that took off from our gate just before people were piling on for the Los Angeles flight. There was one that would leave from our gate a couple of hours after our flight takes off, but who comes to the gate that early?
Anyways, time passed and we weren't successful. Actually, we didn't really try. I guess we just didn't have the guts to go up to a stranger we thought was Venezuelan and ask for the exchange (assuming the person was indeed Venezuelan).
I can imagine some stranger coming up to you asking if you want to change money. I'm sure the first thing you'd think would be, "OK, what does this guy want from me?"
On an aside, the gate next to us, which was bound for Denver, was packed with passengers waiting to get on a flight that was actually supposed to take off before ours. Well, we overheard announcements that first said something like, 'Attention passengers on American Flight XX bound for Denver. We have a minor leak in the cabin door (or something to that effect). The flight will be delayed by 15 minutes.'
Then another announcement saying something like, 'We're awaiting the arrival of a replacement door (or something like that). The flight will be delayed for another hour.'
Then, as time went on, another announcement said something like, 'There is a problem with cabin pressure (or something to that effect). The flight will be delayed to 8pm.'
That's almost another 3 hours from now!
Boy were we glad that wasn't us. But we couldn't help but feel sorry for those passengers on that flight who's New Year's Eve plans were probably ruined by this. It just goes to show you how flying is usually the worst part of a trip as you just never know when things like this happen.
And so when time came to board the plane, we got on, put up our carry-ons, took off our shoes, and tried to relax. We were surprised at how crowded and full this flight was. Julie had picked this flight because it was cheaper and we thought it wouldn't be as crowded considering most of the world is busy finding a spot to celebrate the New Year on terra firma.
I guess we'd still be back in LA a few hours before the countdown, but still, I never counted on such a full flight. Shows what I know, I guess.
Anyways, Julie and I had aisle seats for this 757 so there was an empty window seat at the moment. We secretly hoped for a Venezuelan passenger would sit there so we could ask to change our soon-to-be play money.
But then came a very attractive, well-dressed, statuesque lady who gestured to us that she was sitting in that window seat. Both of us got up to give her room to go in, but she also needed help to put her smaller carry-on in the overhead compartment. That was because that carry-on wouldn't fit under her seat so Julie had me help put her smaller pack overhead (even though you're only supposed to have one piece instead of two up there).
I guess that broke the ice because after that, both Julie and I had an easy (and fun) time conversing with her.
We ended up passing perhaps the next three hours chatting about ourselves, our trips, and our work. She seemed genuinely interested in our travels saying that we were "inspiring" her.
We heard much about her ordeal with her lost luggage situation, which she managed to recover just in time for this return flight (she never did get to use them on her 3-day trip). Julie and I knew the perils of checked baggage (especially since it's holiday season) so we were strategic about packing everything into our carry-ons for this trip. We relayed some pointers to the lady (a San Diego resident by way of Seattle named Suzanne) as well as other travel tips as Julie's travel knowledge was on full display. You go, girl!
Julie also discussed lasik eye surgery with Suzanne, who was apparently a success story. I know with Julie's experiences such as dust getting into her eyes on this trip or losing the hard lenses in Norway, she was very open to the potential freedoms gained after this surgery. Having been through arthroscopic knee surgery, I was skeptical of going under the knife, especially with the strange things going on in the medical and pharmaceutical industries these days.
But she was giving Julie everything she wanted to hear (I swear she could've been a spokeswoman for Lasik) and so I'm sure Julie's going to give it a go when we get home.
Anyways, the conversation with Suzanne about numerous random topics really passed the time well. It's times like these that airplane flights are not as painful as they usually are. In fact, this one was kind of enjoyable – learning about other people with an open mind for travel and life. I was very thankful of this fortuitous random circumstance.
But even on this flight, Julie was getting tired and slept. Both Suzanne and I wanted to continue talking, but Julie's command to me in Mandarin to the effect of "stop talking" put a stop to that. Even though Suzanne didn't know Mandarin, she knew it was time to not talk anymore.
So eventually, I dozed off too while another repeat performance of "No Reservations" was going on. I can't count how many times this movie has been on in the past month or so.
But before we knew it, we awoke and we were already about to land.
The flight was early as we managed to land a few minutes before 9pm. I figured there would be some time left to celebrate the New Year, but I had the feeling that we'd be too tired to bother.
When we de-planed, we hastily walked into the zoo outside the LAX terminal area while bidding Suzanne a fond farewell and happy new year.
After returning from the shuttle to my car, we loaded it up and headed home. Slowly, reality started to creep back in again and moments of this recent trip started to become pleasant memories.
Then, Julie suddenly asked me, "So was she cute?"
"Uh…"