This itinerary was actually the first 11 days of an epic six-week itinerary covered the countries of Morocco and Spain.
Each country could be considered in their own separate itineraries, which was how I've broken it up to better modularize the trip logistics.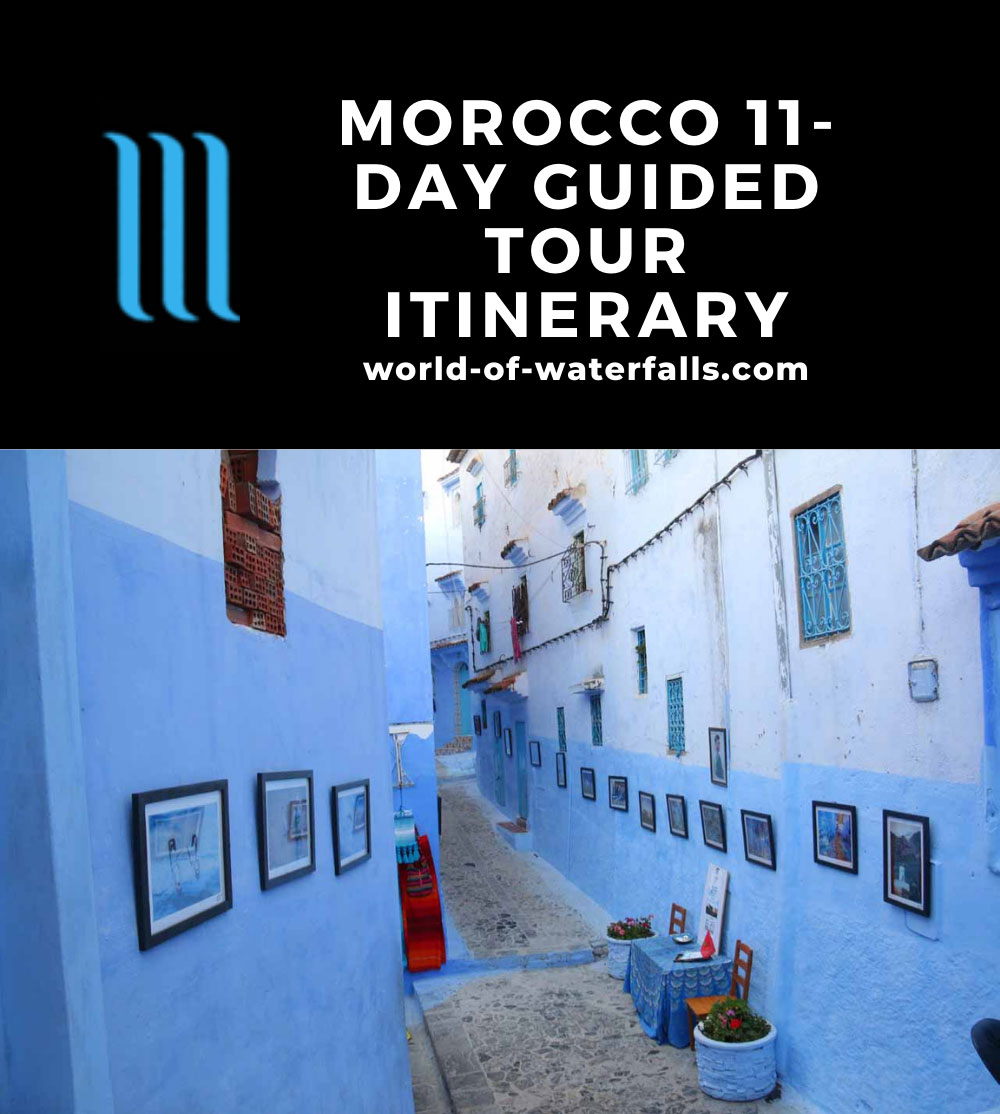 Even though I've broken this out into two itineraries, there were definitely considerations to make jointly between the two countries. After all, this trip took place right at the end of Spring and the start of Summer. So we knew that it would get hot the further south we were. Thus, we essentially started in the south (in Morocco), then worked our way up north eventually to Northern Spain.
Little did we realize that Summer had already started unseasonably early in Morocco so we were already facing desert heat in the high 90s and low 100s right from the outset. But what was even more surprising about this trip was that generally the waterfalls in Morocco had better flow than the waterfalls that we encountered in Spain.
Below is a summary of the highlights and trip logistics of how we made the Morocco leg of this epic trip happen…
Trip Highlights
Jemaa El Fna – this bustling square in the heart of Marrakech really comes to life in the evenings where snake charmers, foodie stalls, , trinket stalls, and tourists from all over the world converge in this place of boundless energy and Moroccan charm. It's one of those places you have to experience for yourself as pictures really don't do this place justice.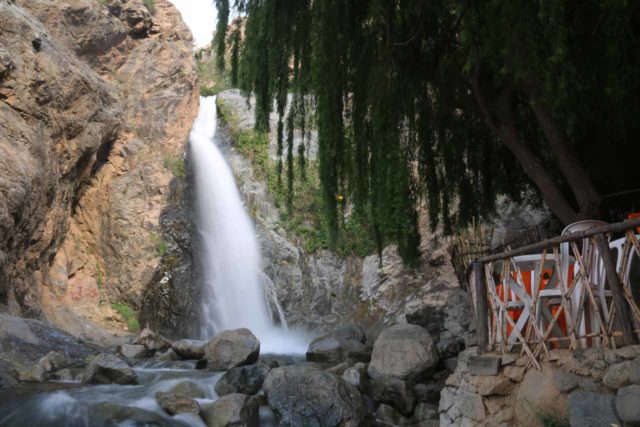 Cascades de Setti Fatma – This series of waterfalls was our first exposure to the waterfalls that could be seen in this desert country. It certainly helped that the Atlas Mountains were essentially rain catchers, which then drained into the hot and dry deserts below, and that's what gave rise to places like this. It was roughly a two-hour drive south of Marrakech to get here.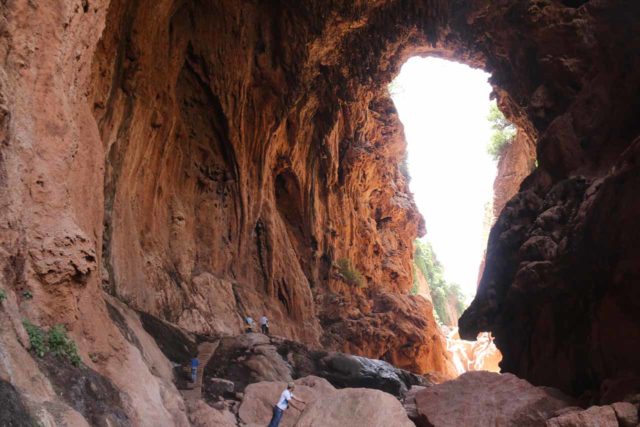 Imi n'Ifri – This was a cavernous natural bridge that was one of the tallest ones we've seen. It was probably once a cave where large sections of it had collapsed. We did a loop walk to take in this whole experience, including some surprise waterfalls.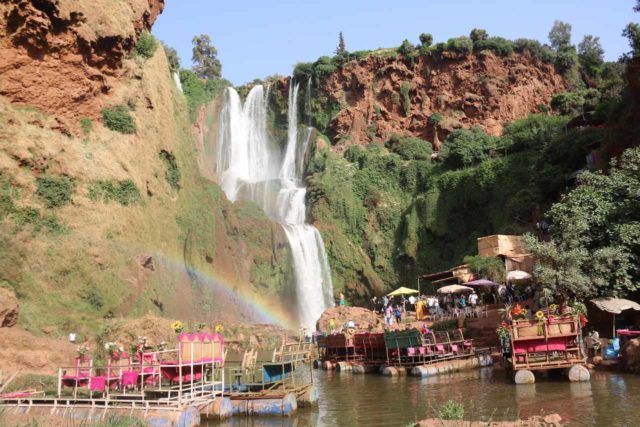 Cascades d'Ouzoud – this was the main waterfall draw that opened our minds to exploring Morocco. And while there were numerous other sights and experiences that we got as a result of our travels here, this waterfall certainly lived up to the billing as its size and contrast with the red cliffs and green thriving in its waters and spray all blended into a waterfall experience that's unexpected in a desert country…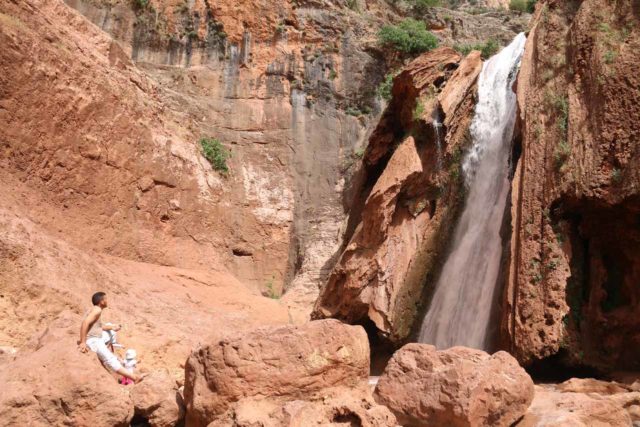 Sources Oum er-Rbia – this was one of the more unique waterfalling experiences we undertook in Morocco. While we knew a waterfall in desert scenery was unusual in and of itself, the walk through a creek-side village while also enjoying a pseudo-outdoors oven-cooked tagine chicken lunch (one of the best we've ever had) further added to the atmosphere and overall experience.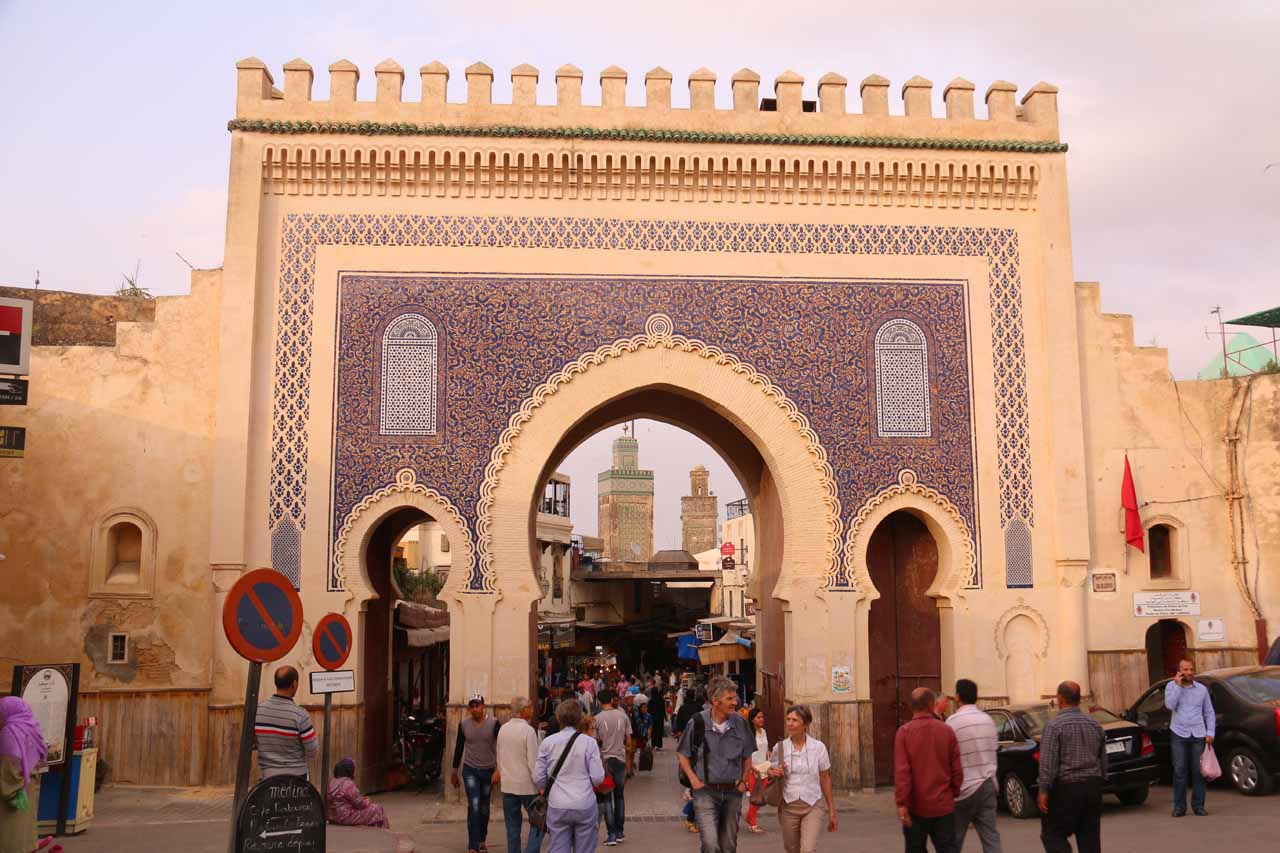 Fes – one of the oldest cities in Morocco, the haphazard maze of streets, stalls, and buildings within its medina created the kind of place where it was both scary and exhilirating to get lost wandering its streets. Not only did we explore hidden atriums, rub elbows with hordes of people cramped within the alleyways, and get a top down look at the leather tanneries, but we just simply let our senses get overloaded in a way that made us feel alive.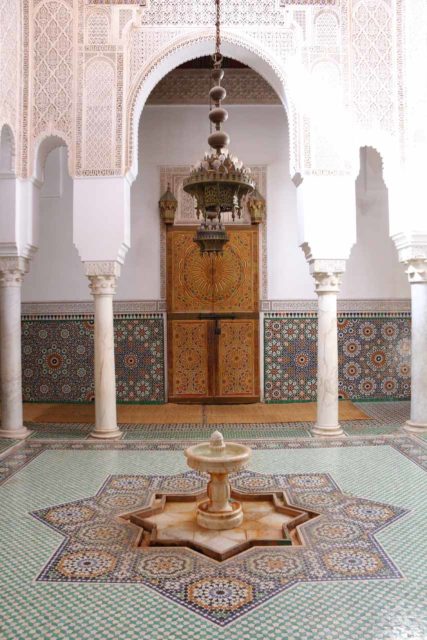 Hidden Medersas – One of our guides explained to us that Moroccan culture values what's inside more so than what's outside. This seemed to be best embodied by the amount of detail and care that went into the hidden atriums found in medersas and riads that otherwise would not have been noticed from the outside. Indeed, we started to make the connection between the atriums we see at home and we'd also start to see the Moorish influence that was definitely present in Southern Spain later on in this trip.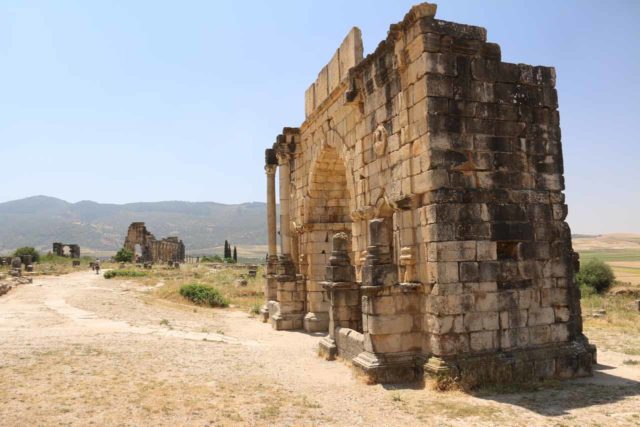 Volubilis – Who knew that there were Roman ruins to be seen in Morocco? But indeed, this seemingly out-of-place series of ruins contrasted the other sights and sounds we got to experience in the country. While most of these ruins leave much to the imagination in terms of its former glory, it was still a relaxing and eye-opening experience.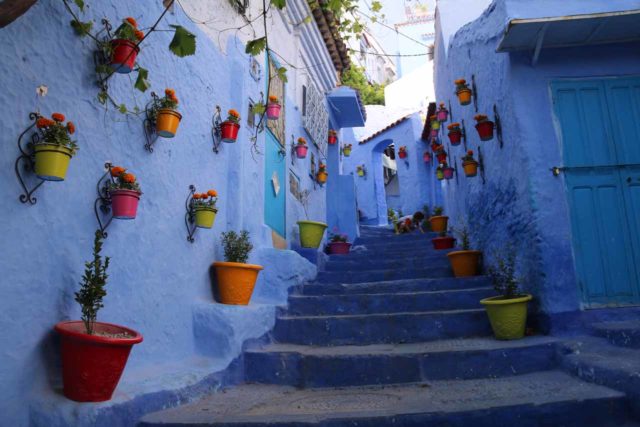 Chefchaouen – While on the topic of unique experiences, walking within the medina of Chefchaouen had to have been perhaps one of the biggest highlights of our Morocco trip. We were definitely seeing blue everywhere we went, which was apparently due to the Jewish influence when they inhabited this area (the blue possibly having something to do with the blue in the star of David). In addition to the medina itself, we were also able to check out the sunset at the Spanish Mosque as well as checking out the eccentric spring at the Source de Ras el-Maa.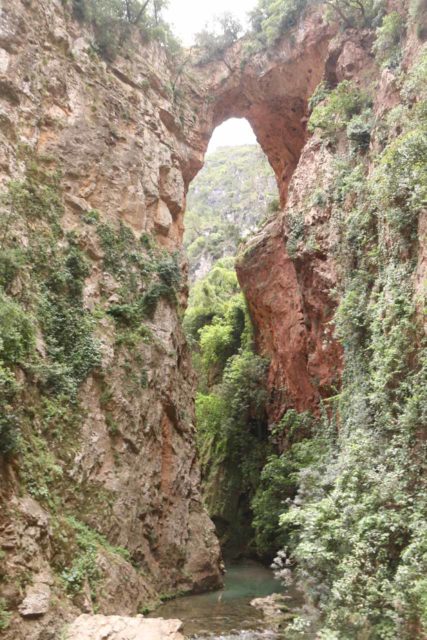 Bridge of God – this tall but narrow natural bridge actually required a bit of a rugged hike to reach. With the help of some local guides, we managed to reach this heavenly natural bridge before concluding the day with another adventure to see impressive waterfalls.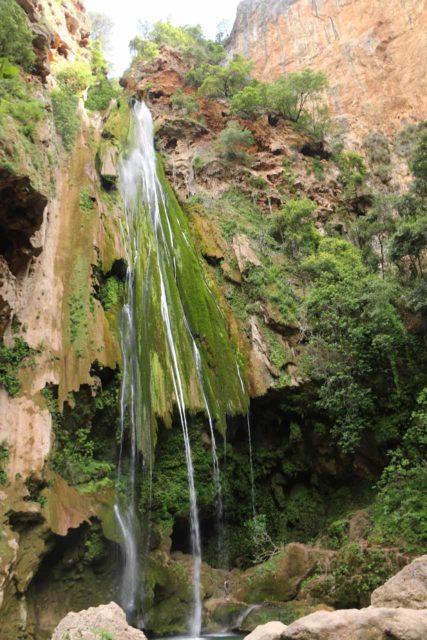 Cascades d'Akchour – even though it was pushing it to visit both the Bridge of God (Pont Dieu) on the same day as the main waterfall, I did not regret it one bit. The main falls was tall and flanked by jagged cliffs that made me wonder if I was transplanted back at the Havasupai Indian Reservation in the Grand Canyon. Regardless, my guide and I had to trail run and work real hard to be back before dark, but it was worth the sore knees and shortness of breath to do it!
Trip Advice
Morocco was one of those places where it seems to be at a crossroads in culture – from its European neighbors to the north versus the more traditional Saharan African neighbors to the east and south. And, oh yeah, the Berber presence was definitely felt as they appeared to be one of the original peoples to first settle in this area.
Given all this cultural cross-pollination, we learned quite a few things on this trip…
Mostly Good Weather in May: Aside from a thunderstorm downpour (with hail) when we drove from Oum er-Rbia to Fes, we actually enjoyed pretty much clear skies, which really brought out the plethora of colors in both the rocks, the skies, and even the glow of the architecture and stalls within the Moroccan medinas. That said, we were also starting to get some of the desert heat as Summer appeared to have started early on this trip.
Waterfalls in High Flow: A benefit of all that hot weather meant that we might have accidentally timed our visit for the peak snowmelt from the Atlas Mountains. Thus, it really brought out the high flows of the waterfalls, and in some cases, it looked like there was evidence of some flooding that washed out certain bridges and trails. The waterfalls here really exceeded our expectations of them struggling to flow since we're talking about a desert country here!
Touts and Baksheeshing: When you visit a developing country, you have to expect that there will be touts looking to somehow get some of the tourism benefits since life can be difficult enough as it is when there's overpopulation and a high disparity between rich and poor. While you alone can't bear the burden of the societal ills of such circumstances, we definitely had to learn to say "no" (or "la") a lot while still being as polite as we can about it.
We also had to tip (baksheesh) a lot so it definitely helps to have a lot of spare change handy. This comes from the mentality that people take care of each other, and the baksheesh is a basic aspect of this culture. So forget that the word "tips" really stands for "to insure prompt service" and take it for what it is – a small way for you to help out some people in need.
Travel Insurance: Because this was part of a long trip with a lot of potential things that could go wrong, it was wise for us to have this insurance just for that peace of mind in case the unthinkable happens (illness, cancellations, injuries, etc.).
Travel Itinerary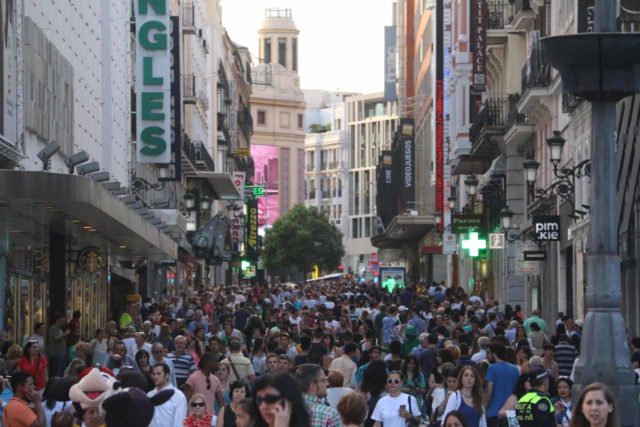 Days 1-2: Fly from Los Angeles to Madrid
Overnight: Hotel Maydrit (Madrid, Spain)
This was basically a travel day though we did have the evening to at least get a taste of Spain before coming back here after our Morocco trip.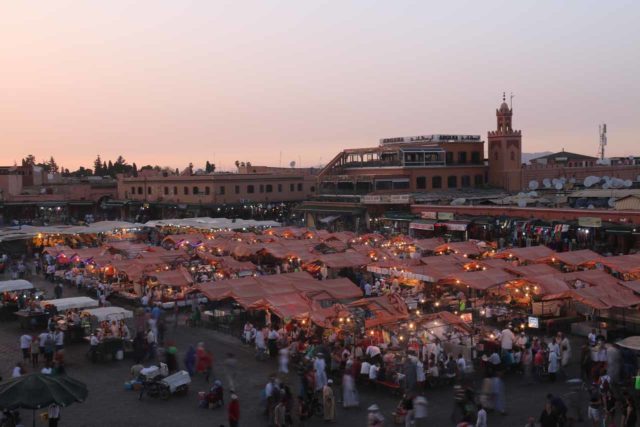 Day 3: Fly from Madrid to Marrakech
Overnight: Riad Lorsya (Marrakech, Morocco)
We first completed the travel by flying into Marrakech. Then, we were escorted to our riad within the Marrakech medina, which was tricky without our host. Afterwards, we were on our own to explore the medina, where we visited both the Koutoubia Mosque as well as spending the evening at the Djemaa el-Fna Square.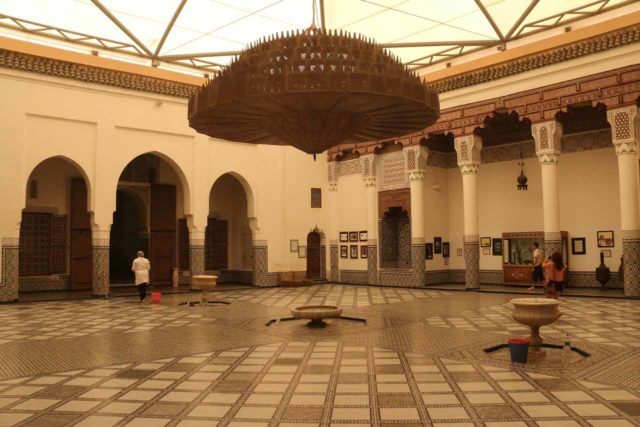 Day 4: Marrakech
Overnight: Riad Lorsya (Marrakech, Morocco)
On this day, we did a series of small visits and tours. This included the impressive Ben Youssef Medersa, Mnebhi Palace, the Old Medina, the Saadian Tombs, and the Kasbah Quarter. In the late afternoon, we did a half-day tour out to the impressive Cascades de Setti Fatma.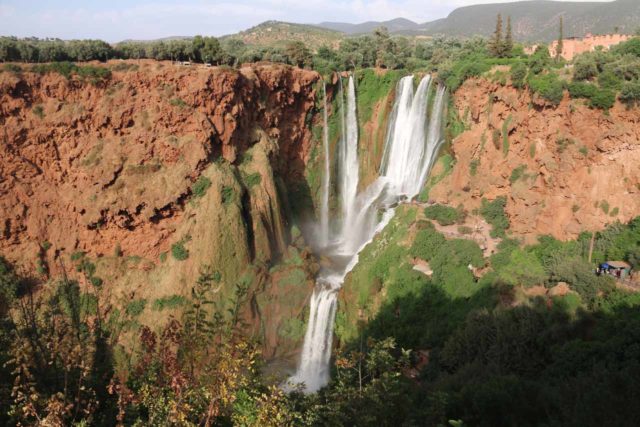 Day 5: Drive from Marrakech to Bin el Ouidane
Overnight: Hotel Chems du Lac (Bin el Ouidane, Morocco)
This was a long driving day, but along the way, we made sure to visit a couple of the scenic highlights of Morocco – Cascades d'Ouzoud and Imi n'Ifri.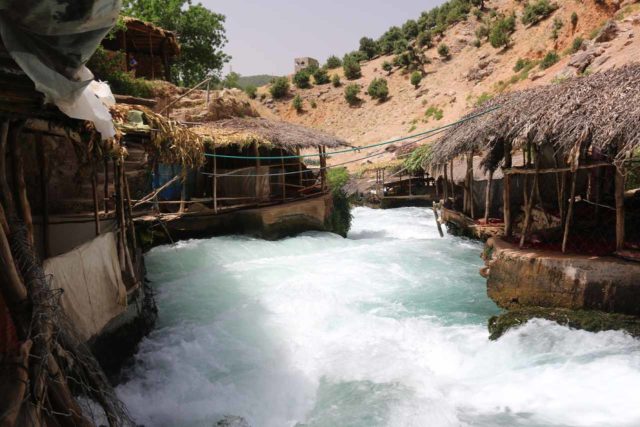 Day 6: Drive from Bin el Ouidane to Fes with detour to Oum er-Rbia
Overnight: Riad Ahlam (Fes, Morocco)
This was another long driving day as we drove out to the impressive waterfall at the Sources Oum er-Rbia where we also had an excellent outdoor tagine lunch. Then, we drove to Fes where we got a taste of the chaotic but enjoyable scene in its old medina.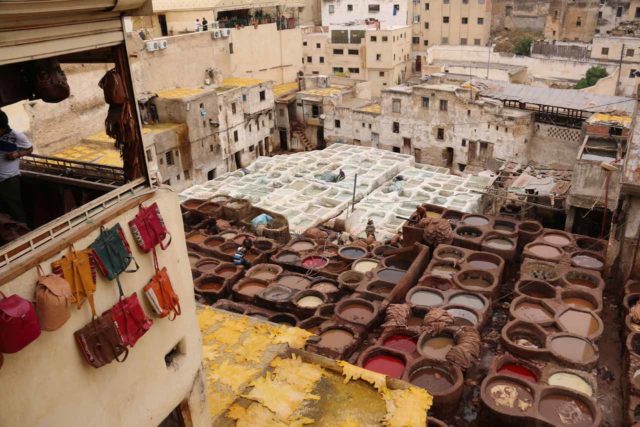 Day 7: Fes
Overnight: Riad Ahlam (Fes, Morocco)
This was a day where we pretty much spent the whole day touring in and around Fes. This included the Medersa Bouinania, Place Baghdadi, Nejjarine Fountain and Museum, Tanneries, Attarine Medersa, and the Souk el Henna. Outside the medina, we checked out the Royal Palace Gate and got an overview of Fes.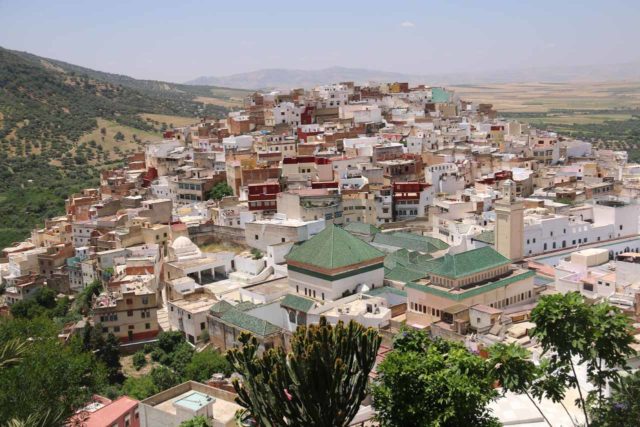 Day 8: Day Trip to Volubilis, Moulay Idriss, and Meknes before returning to Fes
Overnight: Riad Ahlam (Fes, Morocco)
This was more of a driving day though it probably felt rushed (especially in Meknes) as we could have used an earlier start and some more time in this smaller version of Fes. Along the way, we checked out the Roman ruins at Volubilis, got to look-but-don't-enter the holy town of Moulay Idriss, got as much of the Meknes experience as we could, and spent the evening getting lost in Fes all over again.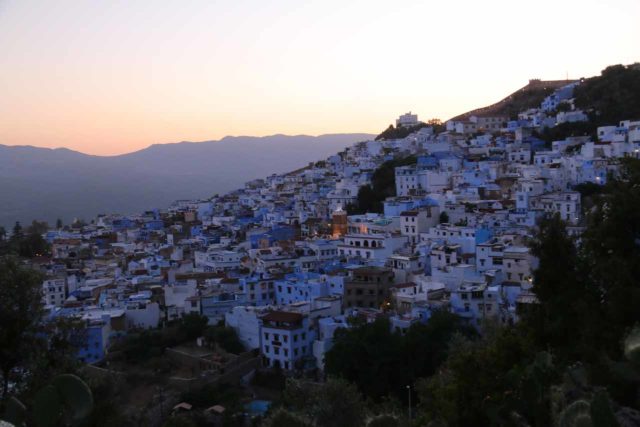 Day 9: Drive from Fes to Chefchaouen
Overnight: Casa Perleta (Chefchaouen, Morocco)
We left Fes after breakfast and made our way to Chefchaouen, where we had a lunch before spending the rest of the afternoon in its blue medina. Prior to the lunch, we checked out the Source Ras el-Maa. We ended off the day watching the sunset at the Spanish Mosque.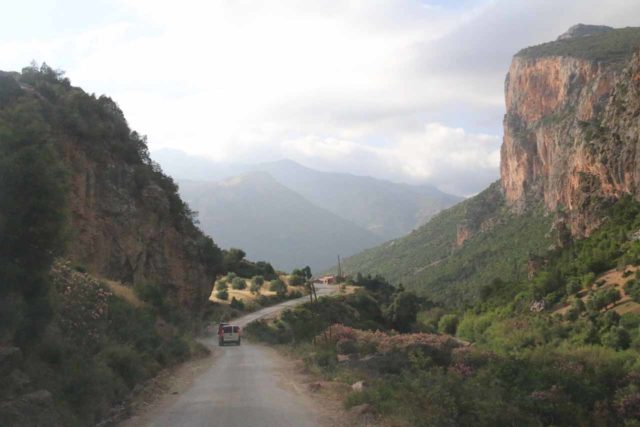 Overnight: Casa Perleta (Chefchaouen, Morocco)
This was a full day of exploring the Akchour area to see a tall waterfall there as well as the impressive natural bridge known as the Bridge of God. Then, we returned to Chefchaouen to savor our last evening in Morocco
Day 11: Catch the Tangier MED Ferry to Algeciras, Spain
This was a hectic travel day that was further complicated by the fact that our ferry was delayed, which caused us to miss our pickup of our rental car in Algeciras. In hindsight, we probably should have spent one more night in Tangier before moving onto Spain.
Best Places We've Stayed At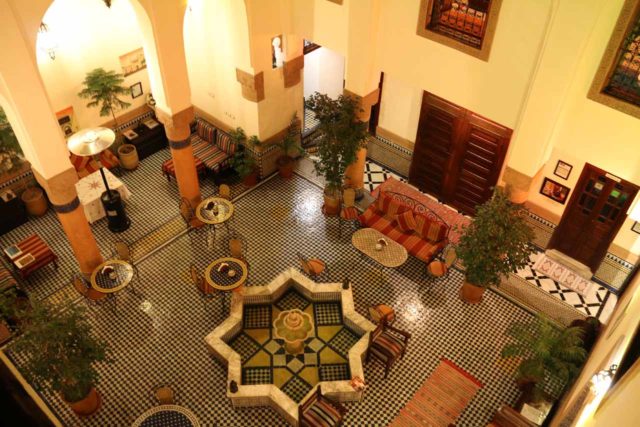 Riad Ahlam (Fes) – This accommodation really stood out to us given its charming and spacious room, the overlook into the beautiful indoor atrium, the authentic Moroccan food and tea, and the warm and very friendly staff that really made us feel at home.
Indeed, this mom-and-pop establishment was also centrally located in the Fes medina so we were able to walk wherever we wanted to go in the city, and we were glad to have spent three nights here. It was really hard to bid farewell to the staff here when it came time for us to leave for Chefchaouen.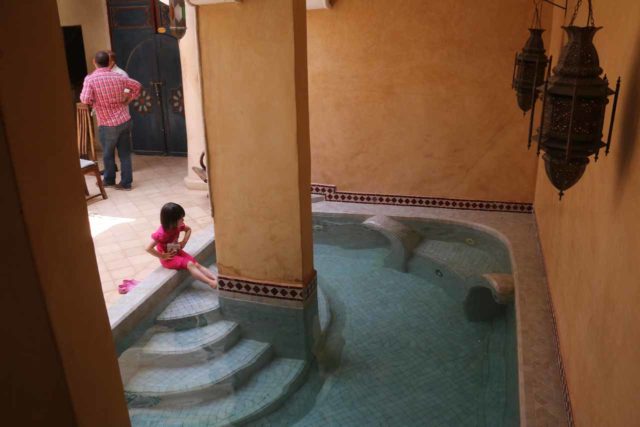 Riad Lorsya (Marrakech) – This accommodation was a little tricky to find if you didn't already know where to look. But once we got our bearings, we appreciated the central location that was just minutes of walking to the Djemaa el-Fna Square, and the riad itself was spacious with a charming atrium as well as a little wading pool. The hosts were very friendly and welcoming, and we've come to learn that when it comes to accommodations, you can't go wrong with riads. It's almost as if you're staying at a smaller scale medersa or something.
What to Bring
What to Bring
In addition to the equipment that we bring on all of our trips, we've also found the following items were especially useful for this particular trip.
Child Carrier: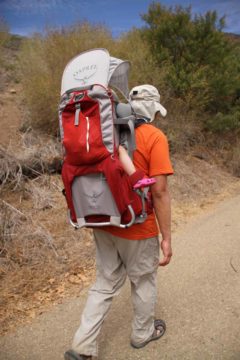 Because we brought our daughter along on this trip when she was over four years old, this framed carrier was very handy because it freed up my hands to take pictures, lug a pair of rolling luggages, and it ensured that our daughter stayed with us the whole time.
It was certainly way more flexible than using a stroller.
Plus, when our daughter wanted to sleep, she could while Julie and I could still tour.
The only downside was that I had to carry her weight the whole time, which was harder on my knees, especially as she was growing.
Plus, I had to be careful of things sticking out onto the trail or walkways as well as low ceilings.
Car Seat: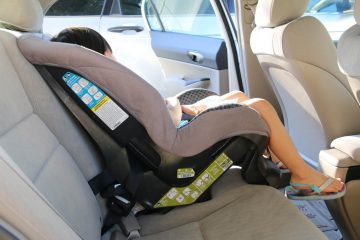 Even though we had a custom tour with a Berber driver, we still hooked up this car seat to his car.
So we knew she'd be secure just in case we would get in a wreck or something.
Since we had already bought this car seat from previous travels, why not take advantage of it? (especially since ours had a five-point harness)
Car Seat Bag: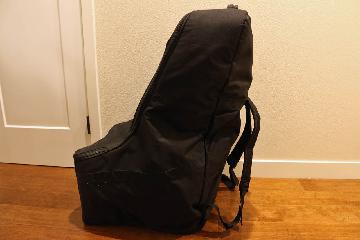 Since we brought our own child seat, we also needed a car seat bag.
The key feature of the car seat bag (besides protecting the child seat) was that it had backpack-like straps.
Therefore, we could sling the car seat on our back, which freed up our hands to do other things.
This was especially handy when we were at the airport as well as in the mass transit systems (trying to get from place to place on foot).
Related Trip Reports
Waterfalls included in this itinerary
Visitor Comments:
Got something you'd like to share or say to keep the conversation going? Feel free to leave a comment below...
No users have replied to the content on this page