While there are thousands (maybe millions) of backcountry equipment lists out there, I've found them to be pretty generic and not particularly helpful or induce a kind of paralysis by analysis as you wind up frozen with too many choices and things to think about.
So with this page, I'm taking a different approach.
I'm only going to highlight what I've noticed that we tend to bring on just about every one of our backcountry overnight backpacking trips to complement some of the primary essentials we tend to bring on every other trip. Admittedly, we don't have the greatest sample size in terms of number of overnight backpacking trips we've roughed out in the great outdoors, but we do have a fair enough sample size to determine what is useful and what is dead weight.
Nevertheless, we hope that you may find some use in this page as this covers the essential gear. As far as other gear that may not show up on this list, I think there comes a point where it's down to personal preference and comfort level as we're always trading off between weight carried versus camp comfort.
Internal Frame Backpack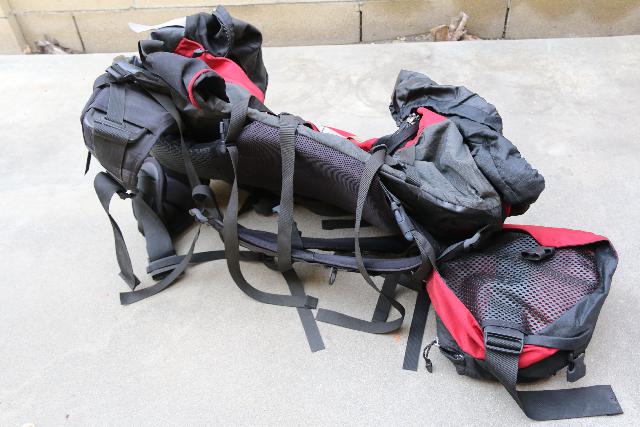 Probably the most important gear on a backpacking trip has to be the pack you're carrying around.
Not only must this pack be sturdy and capable of carrying and protecting all the gear you're bringing with you, but it also has to keep you relatively "comfortable".
After all, the weight should be resting on your hips and legs instead of your shoulders and back.
I happened to buy my internal frame backpack
at an REI Used Gear sale back in 2002 I believe.
It was a Gregory Palisade, and I still use it to this day, which attests to its durability and construction.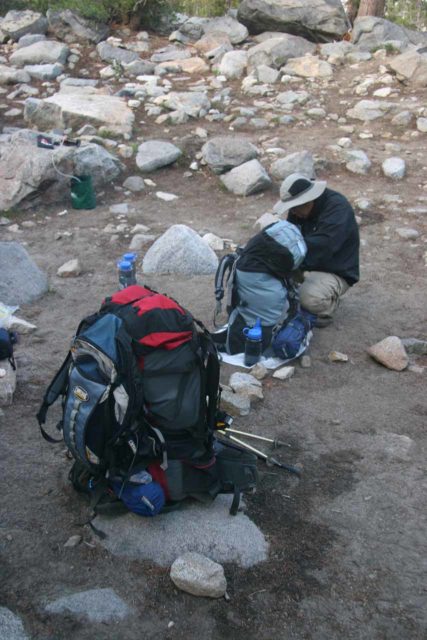 It has some pretty thick and sturdy foam padding in the hip belt as well as on the over-the-shoulder straps.
Perhaps the thing that wore out or broke first has been the clips – the one going across my sternum was the one that broke first and I had to put a replacement one there.
Knock on wood, so far everything else remains functional, including the all-important hip belt.
I remembered the folks at REI helped adjust the straps for me in the shop so it was adjusted to my particular body.
So far I haven't found too much issue with its use though every once in a while, it seemed my shoulder blades might get sore.
I suspect that perhaps one side of the pack was heavier than the other due to uneven weight distribution (could be more user error on my part as opposed to an equipment malfunction).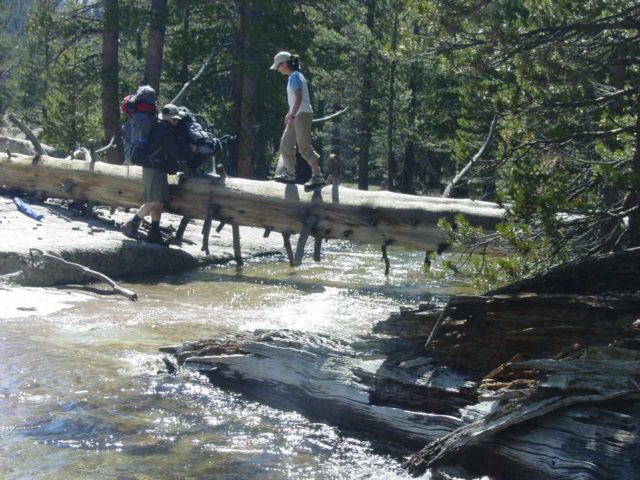 Finally, this pack I believe held 80 liters in its main compartment.
I believe it weighs between 6 to 7 pounds by itself.
I'm sure there's certainly lighter frame packs out there these days.
Believe me, every pound saved matters because your legs (especially the knees and hips) will get sore after several hours of carrying more than 40 pounds and hiking at altitude.
Three-Season Backpacking Tent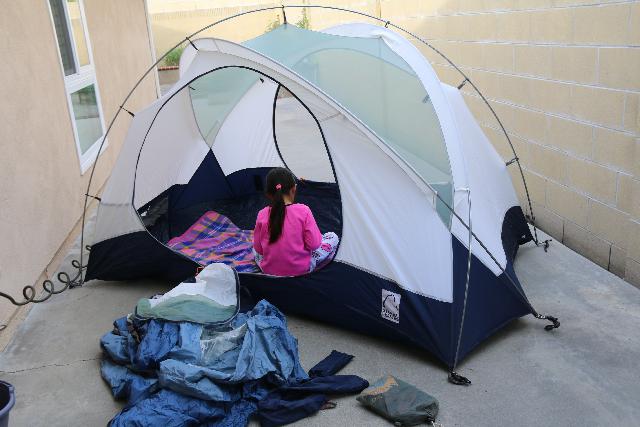 Obviously, one of the most important things about roughing it in the outdoors is having shelter.
With backpacking tents, I was able to carry it with me into the backcountry.
But when unpacked, it was roomy enough to hold two fully grown adults laying side-by-side.
For all of my years of backpacking so far, I've been using a Sierra Designs Meteor Light CD three-season two-person tent
since 2003.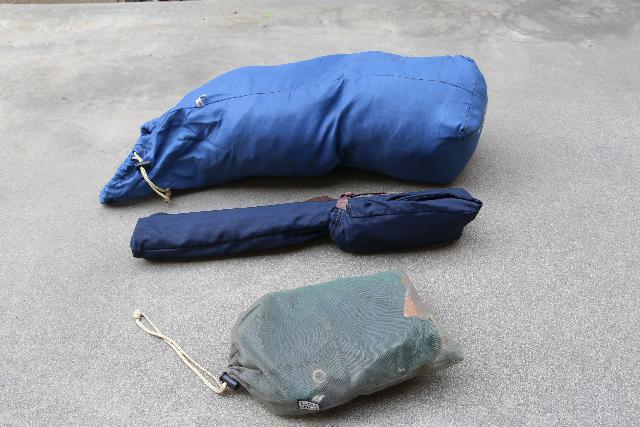 What I like most about this tent is that it's free-standing and very easy to pitch (I can spend less than 10 minutes setting it up).
The vestibule area is also pretty spacious so some things can be left outside the main area of the tent but still underneath the rain fly.
The only downside is that its pack weight was on the order of 6 pounds.
Perhaps with more expensive or modern tents, they might have improved the tent pole materials (e.g. carbon fiber poles, perhaps) as well as lighter yet durable materials for the tent itself to save a little more weight.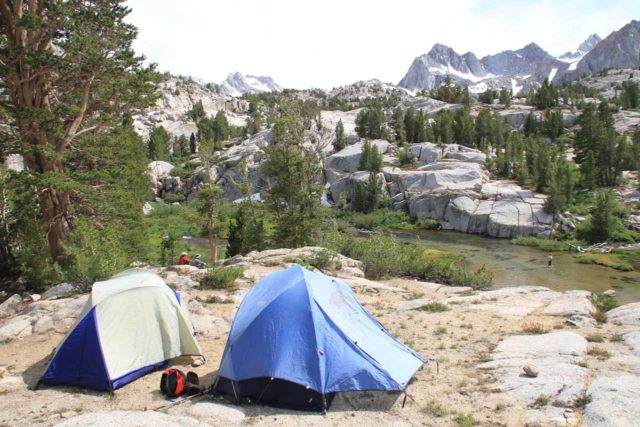 As for maintenance, the company was good about re-stringing my tent poles when they lost their elasticity back in 2011.
They still stood by their product when I had the tent poles re-strung again in 2019.
That said, things do wear, and I noticed that on a backpacking trip in 2013, it appeared the seam seals for the rain fly may need to be re-sealed because they were slowly leaking water during a thunderstorm.
Also, the elasticity of tent poles was always something I kept a close eye
Sleeping Bag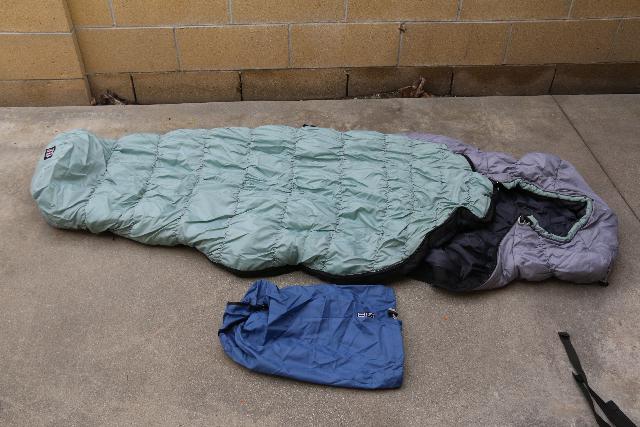 When it comes to camp comfort, a mummy sleeping bag certainly helps you to maintain your body heat while asleep.
I've slept through nights that dipped into the 30F area (water freezes at 32F) though typical nights in the Spring and Summer typically are around the 40F-50F range.
We own a Sierra Designs synthetic sleeping bag
as well as a Marmot goose down sleeping bag
(which I typically give to Julie so she stays warm).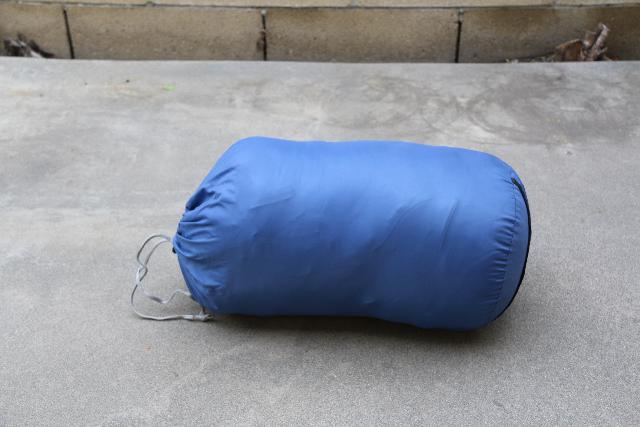 I've found that synthetic bags do the job pretty well and they're more resilient to getting wet should that happen (though you really want to try to keep it as dry as possible).
With the goose down sleeping bag, I've found that I often sweat in it (which gives you a good idea of how warm those are.
I suspect that is why they tend to be much pricier than their synthetic counterparts).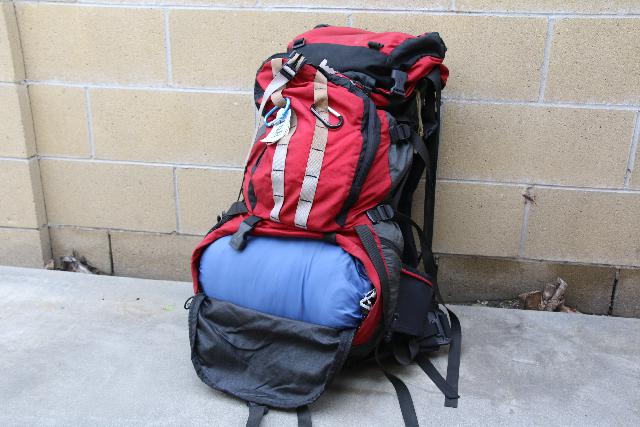 Regardless, you can't underestimate the value of having a good night's sleep and a quality sleeping bag goes a long way towards accomplishing that.
As for pack weight, these things typically take around 2 pounds though there's a trade-off with weight and amount of fill (more fill means more warmth).
Sleeping Pad - Inflatable or Foam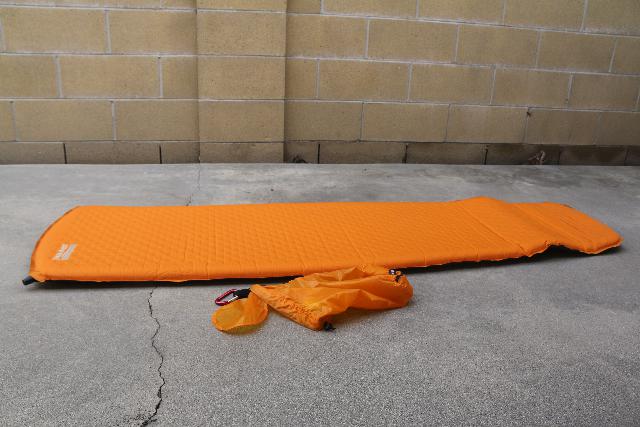 While on the topic of having a good night's sleep, another important piece of equipment is the sleeping pad.
Its critical function is to keep the body from making contact with the ground, which tends to suck body heat away from you and into the ground.
The greater the spacing, the better the thermal isolation between your body and the earth.
Moreover, the thickness also governs how much "cushion" you're getting above the hard ground.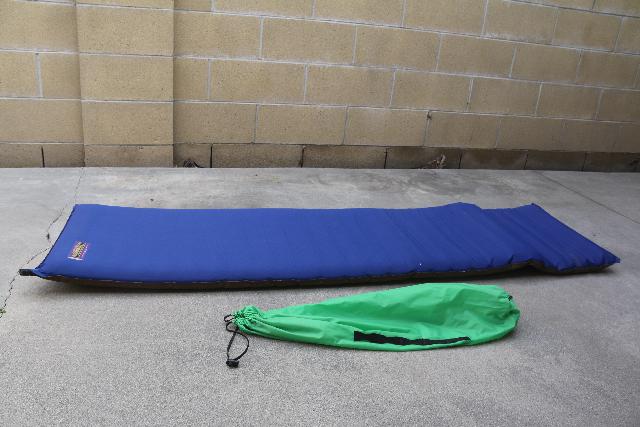 Again, there's another trade-off here between an ultra-light but not-as-comfortable inflatable pad or a heavier but more comfortable inflatable pad.
I own an orange Therm-a-Rest Ultralight pad
that gets me maybe an inch above the ground and weighs in at less than a pound.
I also own a dark blue Therm-a-Rest LuxuryMap
, which gets me at least 2 inches off the ground but weighs a little over 2 pounds.
While I've only exclusively used inflatable pads on my backcountry trips, I have used a foam pad provided by a tour operator in Thailand.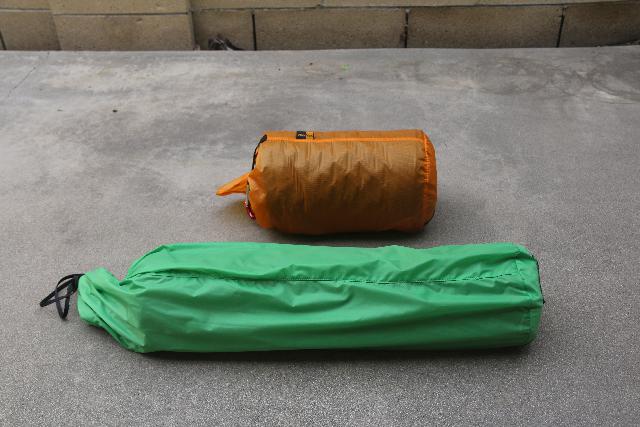 And I can tell you that while they're much lighter and sturdier (i.e. not prone to punctures and leakage), they're also not very comfortable.
They are also not durable since the pad (and hence the isolation with the ground) gets more compressed over time.
Still, I know people who are minimalists and swear by the foam pad.
Water Procurement
Since the human body cannot go without water for about three days, hydration is absolutely essential.
However, you can't carry two- to three-days worth of water with you because that adds way too much weight to your pack.
At the same time, you can't drink from lakes and/or streams untreated because you don't know where wildlife had defecated nor do you know what pathogens are in it.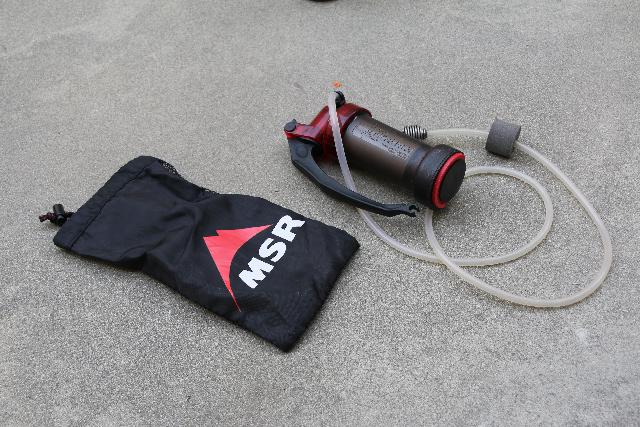 In other words, you don't know if you're going to get sick from drinking untreated water.
Indeed, if you get hit with a water-borne illness, that can really ruin your trip.
After all, it wouldn't be pleasant if you're constantly having stuff going out of your body at both ends at the same time (or worse if your gut has an infection or parasite).
So having a filtration system can at least get rid of the vast majority of the pathogens without needing to wait for the water to boil (if you were to do it the way our ancestors did it).
I tend to use an MSR MiniWorks EX Microfilter Water Filter
.
This is a carbon filter pump, which is not unlike how a bunch of sand or a porous cave system can filter freshwater naturally.
I also find that this filter is pretty easy to take apart and maintain so it has also served me for many years.
That said, I know some people who swear by sterilization with a zapping UV pen or iodine tablets.
But so far, I haven't had problems with my carbon filter system except if the output tends to slow down due to clogging or if there's too many things stuck in the carbon filter.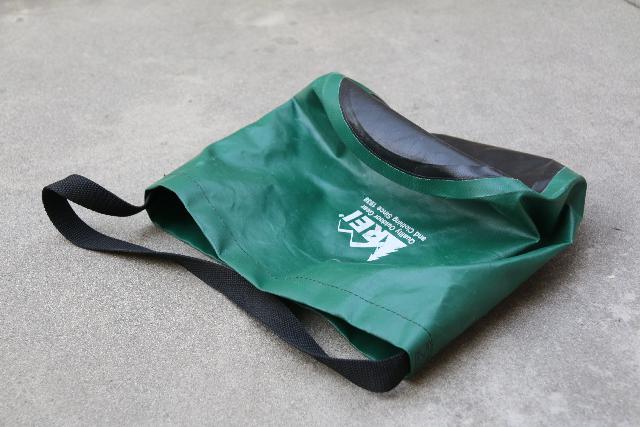 As for water procurement, I tend to fill from a stream or lake with a collapsible bucket.
Then, I filter right out of that bucket.
Usually a single scoop can last most of the night shared between three people.
It can also be used for washing and cooking before making another trip to the water source. Since the bucket also collapses, it's lightweight and not bulky.
Perhaps the only drawback is that if water is left standing around in the bucket, it can be a breeding ground for mosquitoes who love water that doesn't move.
Regarding pack weight, the combined weight of the filter and bucket is probably less than 2 pounds (maybe even closer to a pound).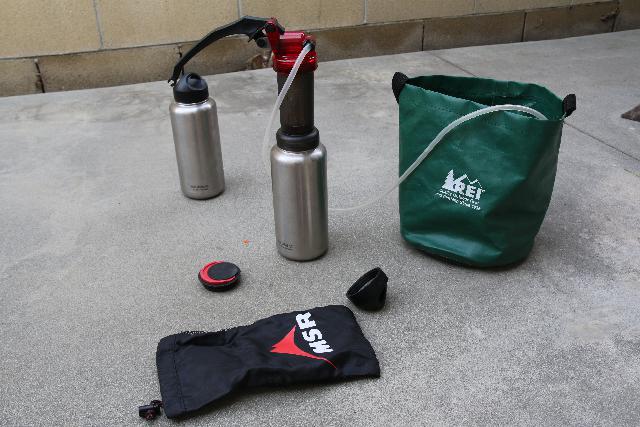 However, each Klean Kanteen 40oz bottle
was about a half-pound each without any water in it.
I'm sure Nalgene bottles
are even lighter and dent-proof, but I stopped using them because I don't trust the chemicals in the hard plastics that leach into my water.
Cooking Gear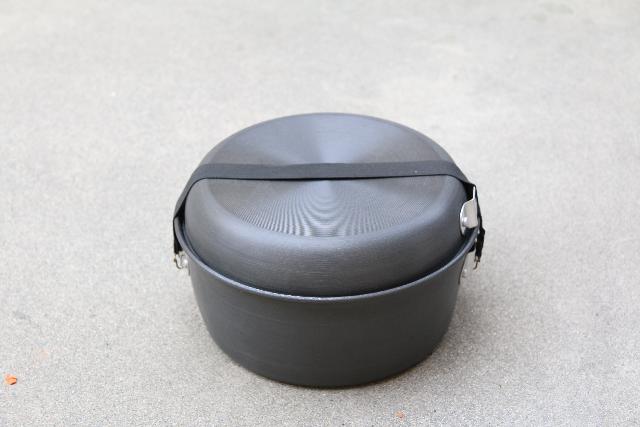 When it comes to camp cookware, I have my own stainless steel as well as non-stick pot set
.
However, I might revert back to stainless steel to minimize chemicals (from the non-stick) despite them being harder to clean.
As you can see from the photo above, a lot can fit into the bulk of a single pot and lid.
That's why I always favor this set due to such compactness without losing out on function despite such minimal bulk and weight.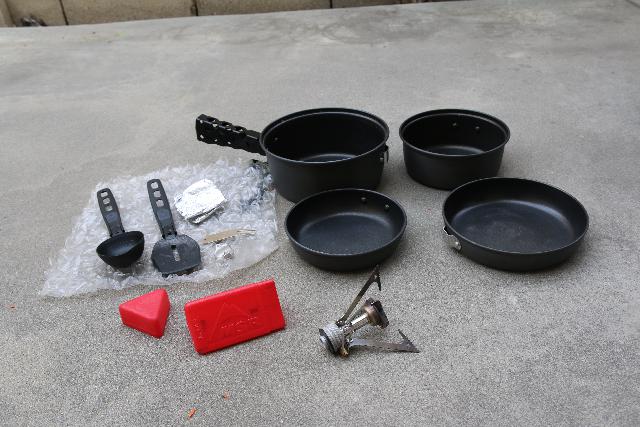 Among the things I can fit into this pot set are a second pair of a pot and lid, a spatula, a spoon, wind screen, a Pocket Rocket stove, and a potholder or handle.
Speaking of the stove, in order to heat up the food or boil water, I tend to favor the MSR Pocket Rocket
.
This is mostly because of its simplicity and its compact size.
After all, it easily fits into my camp pot set when collapsed, and it's perfect for keeping the bulk and weight down.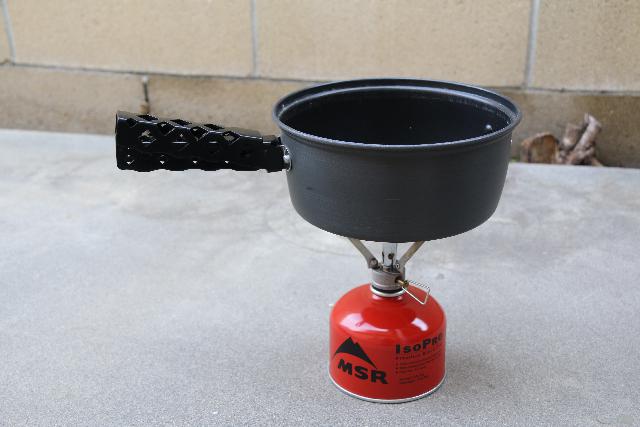 Moreover, it does an adequate enough job to boil water as well as to stir-fry certain foods or make quesadillas.
There are indeed bigger stoves that can output more heat but also burn through more fuel (so they'd need bigger cannisters of natural gas).
It really comes down to how you want the backcountry eating experience to be, and trade that against bulk and weight of your pack.
The combined weight of my pot set with stove is around 2 pounds (not counting the Isopropylene fuel).
Carabiner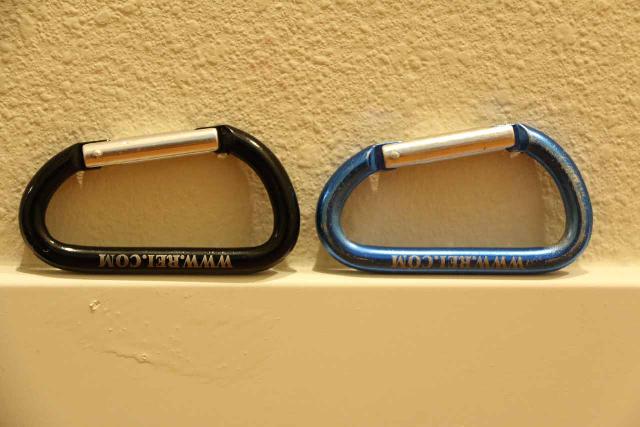 This is an easily overlooked but necessary piece of equipment.
I tend to use carabiners mostly because it allows me to attach stuff to my frame pack that otherwise wouldn't have fit or not be easily-accessible had it been packed inside.
Case in point, I use carabiners
to attach camp sandals on the outside.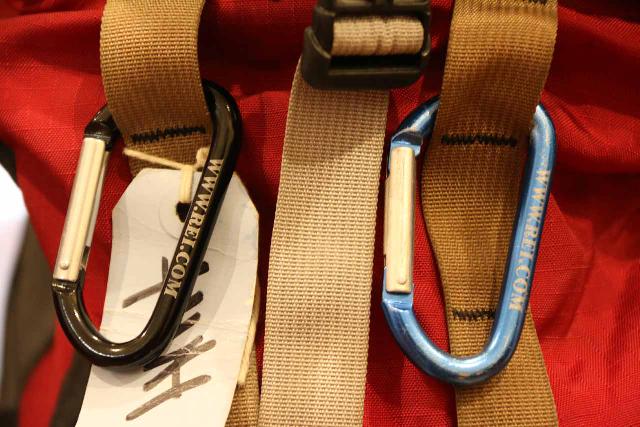 I also use a carabiner to ensure that my pouch for holding my handheld GPS unit is secure.
I even hang stuff to dry or keep out of reach of critters with carabiners.
It's so important that I always attach at least two of these to my pack and not even think about it.
I could easily attach more if I wanted to go overboard with it.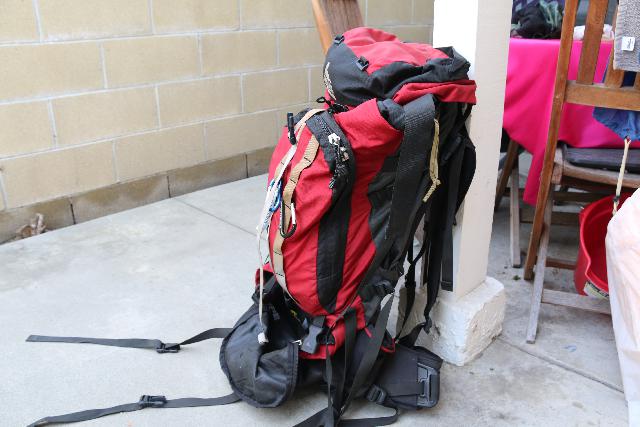 However, I've found in my experience that at least two is the minimum set I bring along.
Obviously, the more you bring, the greater the pack weight.
Camp Sandals
This was one of the more overlooked items in my list of backpacking gear.
After all, when I'm done hauling over 40 pounds of gear and finally make it to camp, the last thing I want to stress about is my hard-working feet that has already taken a pounding while confined in a heavy pair of backpacking boots.
I generally use a really cheap and lightweight pair of sandals or flip-flops that can hang on the outside of my pack (usually by the bottom beneath my Therm-a-rest so it can also help my frame pack stand by itself).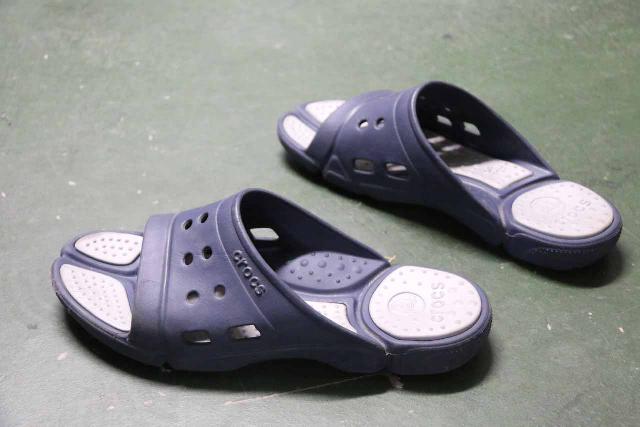 The main benefit of this is that I can walk around camp to get water or move about without something jabbing or penetrating the bottom of my foot from the ground.
If you've watched a show like Naked and Afraid
, then you know how difficult walking around bare-foot can be.
Meanwhile, my feet can breathe and dry out so there's less likelihood of having a fungus or infection.
Of course, because it's really cheap and light, I'm not able to walk very far with it.
I certainly wouldn't take it on a day hike as it would carry a lot of risk (e.g. twisted ankles).
So on the opposite extreme, I have brought Chacos before, but that's way heavier.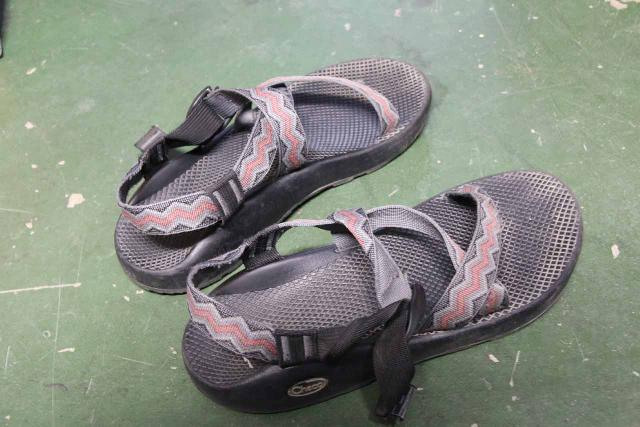 The main benefit of having Chacos is that I can confidently walk farther and through more rugged terrain since it's made to be more multi-purpose than a cheap pair of camp sandals.
Ultimately, it comes down to how much weight I'm willing to take on versus comfort and flexibility when I'm not in my backpacking boots.
To give you an idea of the weight difference, my Croc sandals were about 0.75 pounds while my Chacos were between 2-3 pounds!
Bear Cannister
Because we've been primarily backpacking in California's Eastern Sierras as well as in Yosemite, having a bear cannister
is actually mandatory.
That's because the California black bear have learned to associate humans with high energy foods, and they're smart enough to break into cars or steal backpacks to get at human food or food-like stuff.
The main purpose of these cannisters is to prevent a bear from getting the human food or even scented stuff like toothpaste or deodorant.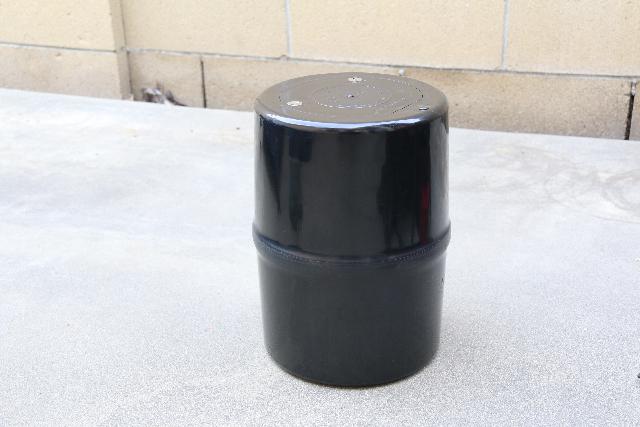 This is important for ethical reasons, but it's also a way to minimize bear attacks as well as maintaining your own limited food supply.
It can be a real downer if you ended up losing your food to bears, and then wind up going without that food for a few days!
In some places like Yosemite, there maybe some High Sierra camps where bear lockers have been installed, but that's more of the exception rather than the rule.
The major drawback for having such bear cannisters is its bulk and weight.
In order for them to be effective, they must be sturdy, and they must have lids that are difficult for bears (but easier for humans) to open.
My friends have a cannister made of see-through plastic so they know what's inside of it.
I have an old school one that gets the job done but you can't see what's inside of them until you stop and open it.
As for how to pack with these things, we generally strap these on the exterior of the frame pack or have it resting between the top of the pack and the fanny pack attachment.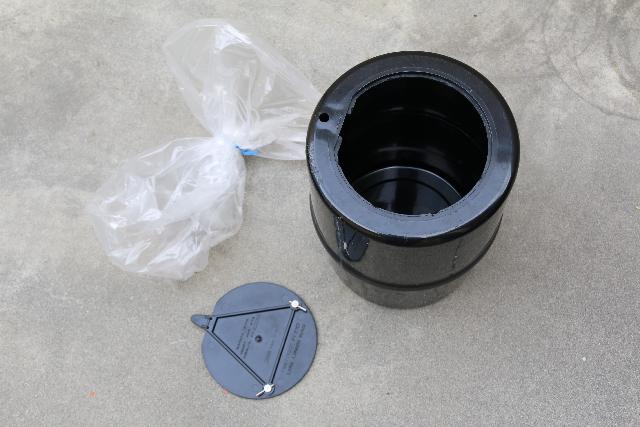 That way, if we happen to hit wet weather, it doesn't matter if the cannister gets wet or not.
Plus, it doesn't take up precious real-estate within the frame pack where more vital things like sleeping bag and tent need to be better protected.
These cannisters are sufficient for a weekend backpacking trip (3 days), but they're also a hefty 3 pounds without anything inside of them.
I'm sure there are some lighter versions than the one I have that can improve on this number.
Travel Essentials worth reiterating for a Backpacking List
Although I have these items on my typical travel essentials list, I'm reiterating them here in this backpacking equipment list because they're worth repeating.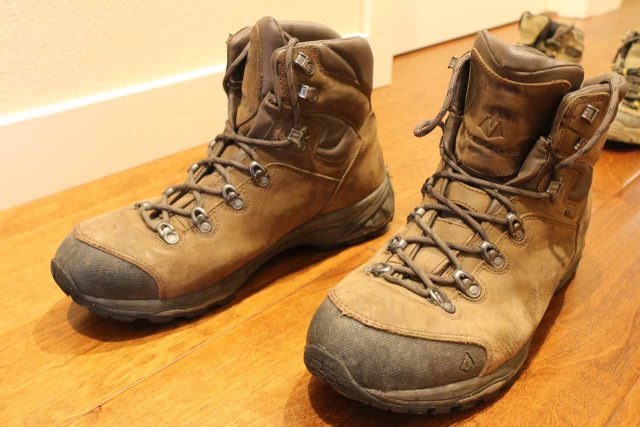 First and foremost, I need a sturdy pair of backpacking boots
.
It's very necessary to protect the feet from the pounding it will take from carrying around more than 40 pounds for hours at a time and going upwards of 5 miles or more (sometimes even more than 10 miles) in a single day with all that weight!
It also needs to be high-top so there's ankle support as a sprained ankle in the backcountry can easily degenerate into a survival situation.
Moreover, it has to have good treads for grip in potentially slick places as well as Gore-tex to keep the feet from getting wet when crossing shallow streams.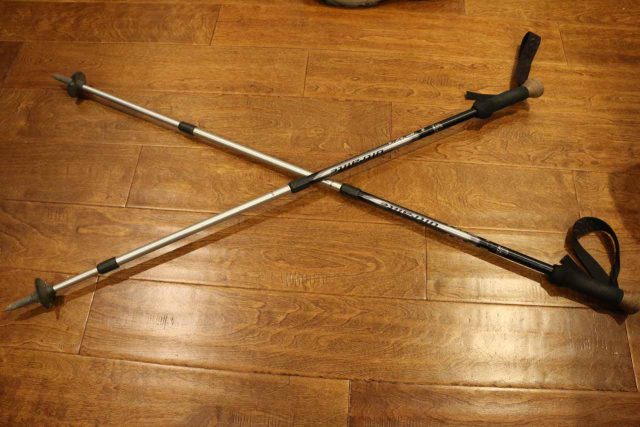 Next, I tend to use trekking poles
as a means of weight distribution.
Although some people find them to be more of a nuissance, I tend to find them helpful.
For example, I can use these poles to push off with when climbing.
I can also lean on them to rest while standing.
Furthermore, I can use trekking poles for balance when going across streams or rockier terrain.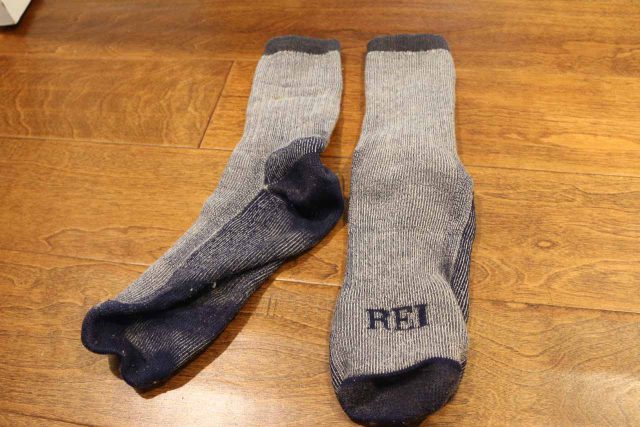 Regarding the wool socks
, this is more of a protective measure to keep wicking away moisture from the feet as it swells and sweats.
I also keep a spare pair in my pack just in case one gets too wet (whether by excess sweat or from a stream or deeper body of water).
Wet socks can definitely make one prone to getting blisters.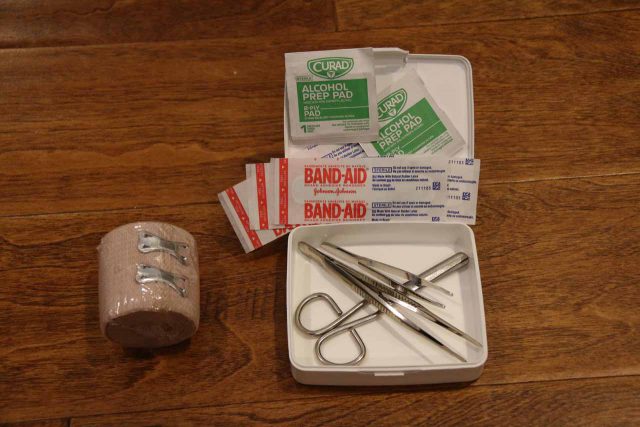 Regarding the first aid kit
, you never know when calamity strikes.
And when it does (notice I say when not if), it definitely helps to overcome mishaps with something to dress an injury to prevent infection, or having tweezers to remove a tick, etc.
After all, you wouldn't want a little mishap like an injury to blow up into a life threatening survival situation!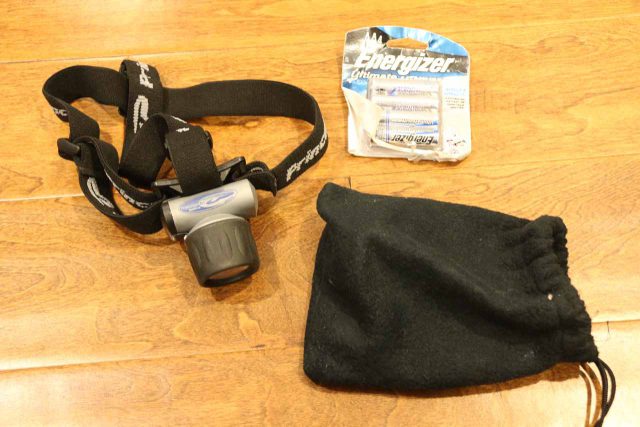 Regarding a light source, I've been caught out in the dark on a couple of occasions.
I have also found them to be vital when fumbling around in the dark for stuff or needing to walk to a spot away from camp to heed Nature's call.
I tend to prefer a headlamp
for hands-free lighting.
I also carry around a back-up compact flashlight
, which was an old CMG Reactor that works with info-lithium batteries.
Both of these things have been in use since 2003 and they still haven't died on me.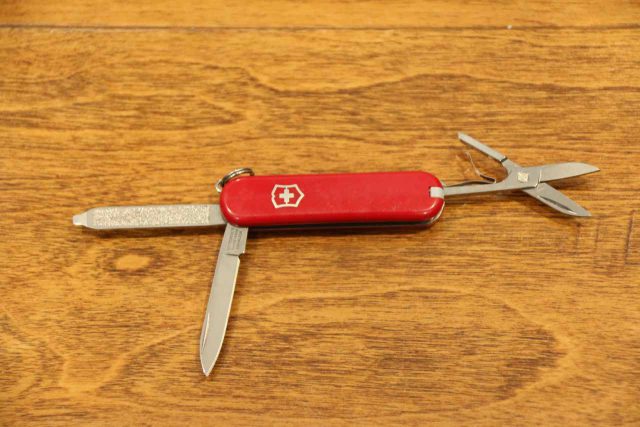 Finally, the well-known Swiss Army Knife
is a multi-purpose tool that always comes in handy when you least expect it.
Heck, we've used it to cut up fruit, file or clip a nail, uncork a bottle, cut a cord, you name it…
Conclusion
So that's pretty much my run down of the backpacking gear that serve the most important functions as far as I'm concerned. That said, I tend to go backpacking with a group of friends or acquaintances so we tend to work as a team.
That means not everyone has to bear the brunt of having a super heavy pack. In fact, between my friends and I, they usually carry the footstuffs and bear cannisters while I carry the pots, pans, water filters, buckets, etc. That helps to manage the bulk in addition to the weight.
Of course, we all carry our own tents, pads, clothing, hygiene stuff, and sleeping bags as well as basic essentials spelled out above. But as we work together, it helps to make the experience a bit less painful and more enjoyable in the process.
Lastly, although this equipment list was by no means an exhaustive one, it gives you an idea of what I always remember to bring. I'm sure there are others that I've left out.
So, what did you think of our list? Anything you think we missed, or that you've found particularly helpful for your own backcountry excursions?
Let us know and keep the conversation going by commenting down below…
Visitor Comments:
Got something you'd like to share or say to keep the conversation going? Feel free to leave a comment below...
No users have replied to the content on this page