This Napa Valley and Sonoma Weekend Itinerary summarizes how we managed to do a quick 3-day getaway to Northern California's premiere wine and food area.
That way, you can look at our itinerary and treat it like a sample itinerary for your own trip planning purposes since you can get a sense of how long we took to accomplish the various activities that we've included on this brief weekend trip.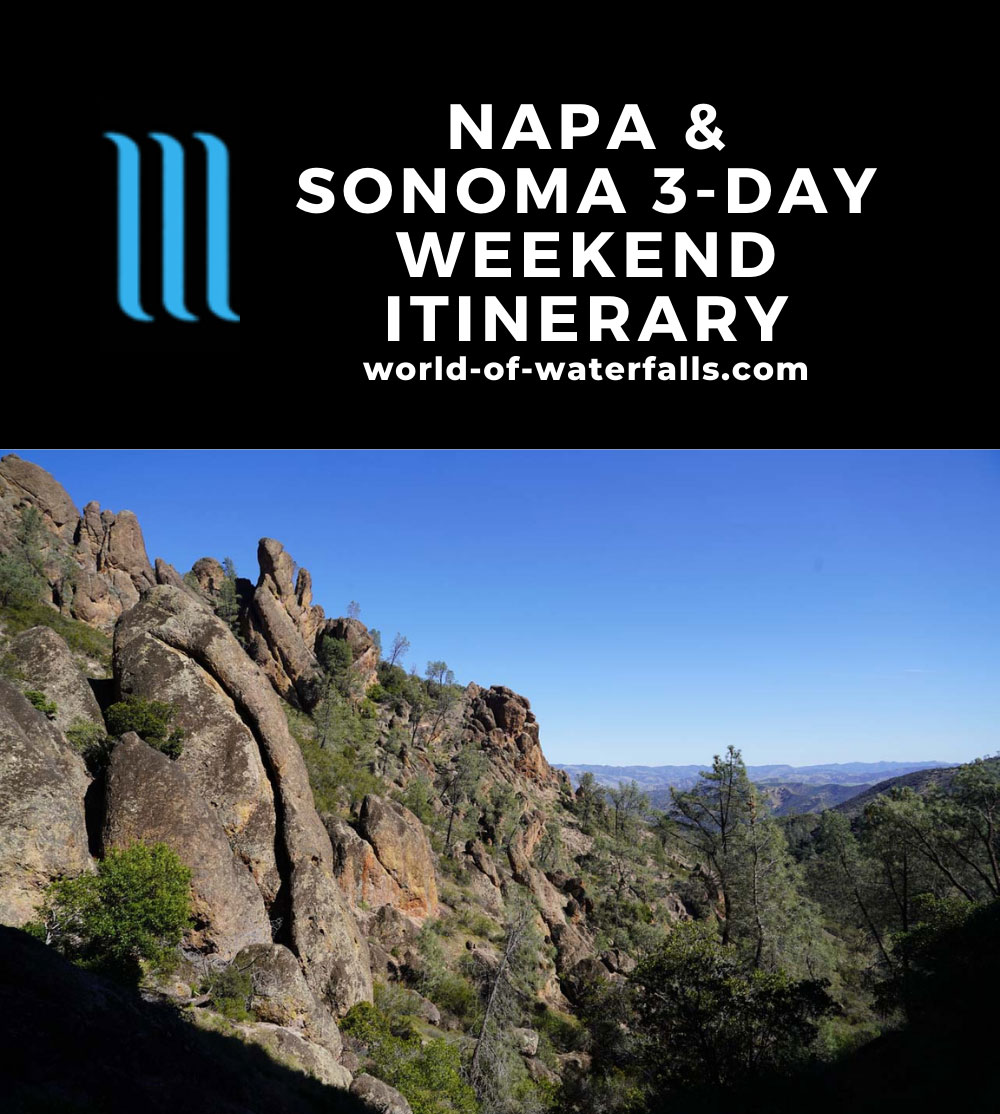 That said, the main reason for this trip was so Julie could finally satisfy her curiosity about doing a spa treatment and mineral bath or pool in Calistoga. So we also targeted some time there in addition to the usual self-guided Napa and Sonoma foodie tour, but given Julie's gut dysbiosis issue, we had to figure out a way to be as Plant Paradox compliant as possible even though it was difficult to do whenever you eat out.
Of course, I used any opportunity I could get to visit some waterfalls to get some real Nature as well as a contrasting experience to the crowds that tended to make Napa Valley feel more commercialized. Such excursions in Nature tended to have calming and de-stressing effects, and thus I had to believe that they'd support a Plant Paradox Lifestyle (as I'd argue diet is only a part of the overall measures you have to take to restore your health)…
In any case, the following is our brief summary of what we managed to do on this trip…
Trip Map
This map and its markings were produced by this app.
Trip Highlights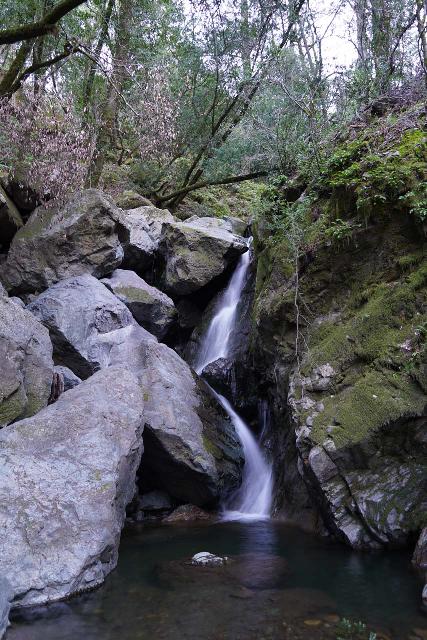 Sonoma Creek Falls – this waterfall really surprised us with its flow since we have had a very dry January and February. Even the day we showed up to Sonoma County was very quite hot (in the 80F range) and yet it felt quite cool in this little pocket of Adobe Canyon within Sugarloaf Ridge State Park. It was also quite serene and contrasted mightily with the traffic (i.e. road rage) and crowds seen in both Napa Valley and Sonoma.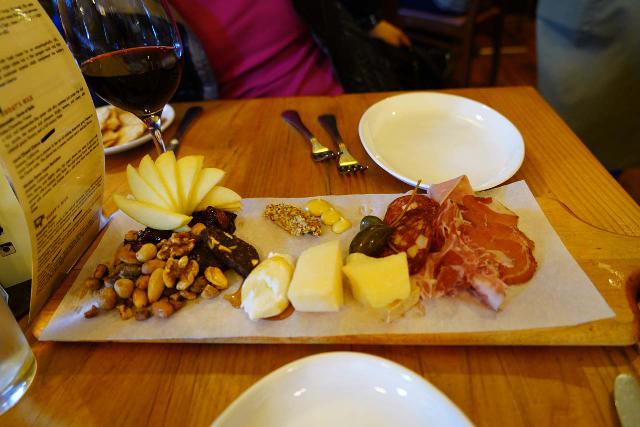 The Food and Wine Scene – generally where an area is known for wine, there's also good food. And so we naturally splurged a bit on each lunch and dinner that we were able to do in both Napa Valley and Sonoma. Our favorite experience was a lunch at the Girl and the Fig in Sonoma. Our trip also included dinners at the Michelin-rated Grace's Table in Napa, The Bird and the Bottle in Santa Rosa, and The Farmstead in St Helena in Napa Valley…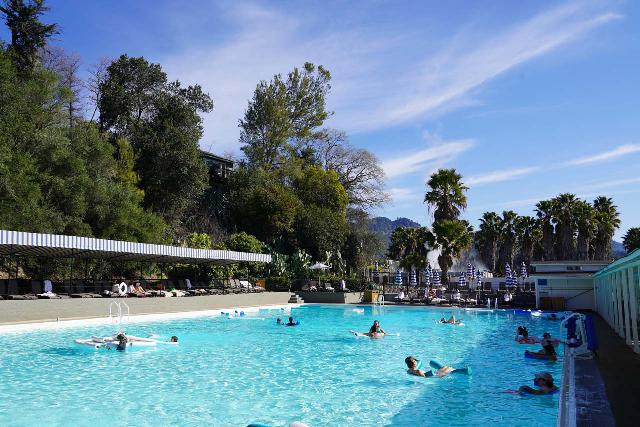 Indian Springs Resort and Spa – this was the very reason why Julie needed to include a visit to Calistoga in the far north of Napa Valley. Not only did our visit include an hour-long couples massage, but we also spent some time (albeit very limited) in the geothermally-heated swimming hole as well as vegging out at the Buddha Pond after our massage.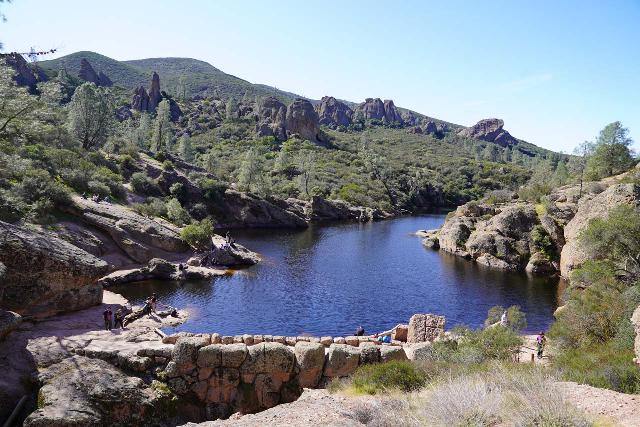 Pinnacles National Park – in order to break up the long drive home, we made a detour to this remote reserve roughly 90 minutes drive south of San Jose and 90 minutes drive north of Coalinga. In addition to seeing a few waterfalls (despite the unusually dry Winter), I also finished the signature hike in the park – the High Peaks Trail. This put me face-to-face with the countless namesake pinnacles as well as taking me up to the top of the park to see both its western and eastern sides…
Trip Advice
At first blush, our Napa Valley and Sonoma Wine Country 3-day weekend trip was nothing more than a foodie and spa kind of trip. However, we managed to include some legitimate Nature on this trip, which was a welcome diversion from the weekend crowds and the associated traffic (and road rage) that we witnessed in the area.
Here's some other lessons learned from this trip…
Minimizing Exposure to Crowds: We witnessed just how busy it was in Napa Valley, but in contrast, it was a bit less busier in both Sonoma Valley and as far as Santa Rosa. While those places are also pretty busy, they didn't reach the crazy levels of Napa Valley, where it was extremely difficult to make left turns if there weren't traffic lights to help. We saw some unsuspecting drivers wait upwards of five minutes or more trying to figure out how to make left turns onto the main road from some of the side roads, and they had to give up after all that time to make a right turn then figure out how to U-turn. That gives you an idea of how bad it can get here.
Making Restaurant Reservations: Apparently, using Open Table or the restaurant's own websites might yield dining times at unreasonable hours (think Lunner around 3pm or 4pm). However, just to ensure we would have a spot, we went ahead and booked the times anyways, then we'd show up and see if there was stand-by seating so we wouldn't have to skip meals to accommodate such hours. Since Winter time seemed to be kind of low season for Napa and Sonoma, our strategy kind of worked though it was still quite busy and parking was a bit crazy too.
Chilly Temperatures: One thing that surprised us about our visit to Napa Valley and Sonoma was how cold it became in the evenings. Indeed, the temperatures dropped as low as in the mid-30s F while the highs would break 80F! I guess that's a testament to how dry it can get this far inland from the California coast as well as the San Francisco Bay. So we definitely needed warmer clothing for such evenings, but then layer down when we were doing activities during the day.
Pinnacles National Park Parking Situation: Like with almost all national parks these days, the parking situation can be frustrating. However, with the eastern side of Pinnacles National Park, they do have a shuttle service that takes you between the visitor center and the Bear Gulch Nature Center (which was the best spot to do the epic loop hike encompassing the High Peaks Trail and the Condor Gulch Trail). Thus, all is not lost if you get shut out of the limited parking spaces at the Bear Gulch Day Use Area as you can still park in the more spacious visitor center area by the park entrance, and then take the shuttle to do the hiking at the cost of a few more minutes to accommodate the shuttle.
Being Plant Paradox Compliant: With Julie's gut dysbiosis situation that she had been living with for nearly 4 years now, she has figured out that the Plant Paradox Diet came closest to allow her to manage her gut health and overall health as a result. However, whenever you eat out, there's an oxymoron in terms of healthy foods versus tasty foods that make money. So the way to deal with this was that Julie would always ask for any sauces on the side, and she'd have to not order things if they can't accommodate that. She also avoided gluten so that meant no breads for her (even gluten free products may have bad chemical substitutes). However, she did allow herself to drink red wines since they contained polyphenols, which apparently are good for the gut. Apparently, white wines didn't have them since they'd come from grapes that lacked the deep reds which would indicate the presence of polyphenols.
Travel Itinerary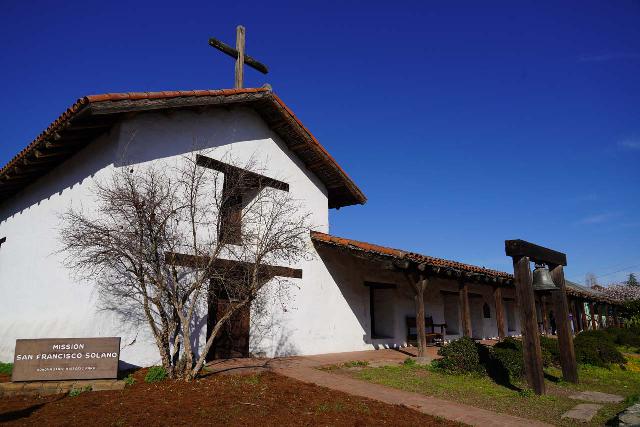 Day 1: Drive from Los Angeles to Santa Rosa
In order to minimize the amount of time wasted in traffic, we left our home at around 6:30am (I actually preferred earlier), but it at least allowed us to make it up to Sonoma at around 1pm. That was just in time for a lunch there at Girl and the Fig. Then, we did an afternoon hike to Sonoma Creek Falls before checking into our accommodation in Santa Rosa for a late dinner at the Bird and the Bottle.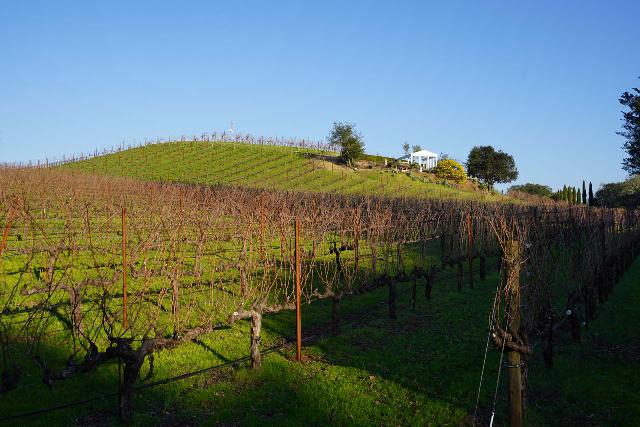 Day 2: Calistoga, Napa Valley, and Sonoma Valley
After having done our waterfall hike yesterday, today was a day at leisure to incorporate a few hours at the Indian Springs Resort and Spa in Calistoga before going on a foodie run with one wine tasting visit to the Benziger Estate (though we missed the tram tour due to slow service during lunch at the Farmstead Restaurant in St Helena). The day ended off with a brief macaron run in Yountville at the Bouchon Bakery before having dinner at Grace's Table in Napa to end off our foodie and wine part of this weekend trip.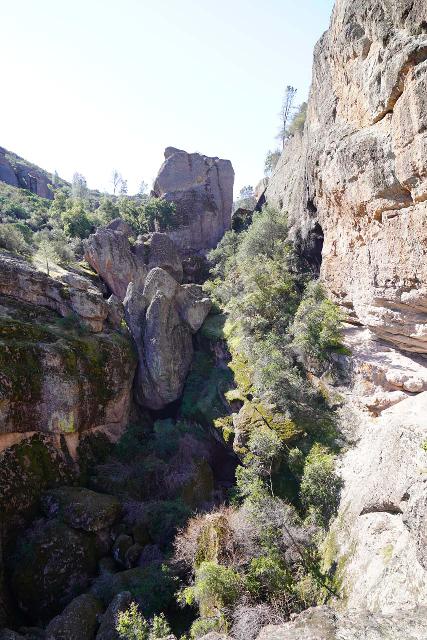 Day 3: Return to Los Angeles
Similar to the long driving involved in beating LA and Bay Area traffic to make it all the way up to Sonoma and Santa Rosa a couple of days ago, we had a long drive ahead of us in the opposite direction. So to break it up, we made a detour to Pinnacles National Park, which we had never visited until now. That said, in order to mitigate the parking situation, we needed an early start and we wound up leaving Santa Rosa by about 6:15am (still later than I had hoped), and we didn't make it to Pinnacles until around 9:30am.
I ended up starting the hike at about 10am (after struggling to find parking), and then we finally left for home at around 2:30pm with a late dinner stop at Raffi's in Glendale. We didn't get home until after 9pm, but at least we seized the moment and milked every bit of time we could with this long weekend trip…
Trip Reports
Waterfalls included in this itinerary
Visitor Comments:
Got something you'd like to share or say to keep the conversation going? Feel free to leave a comment below...
No users have replied to the content on this page