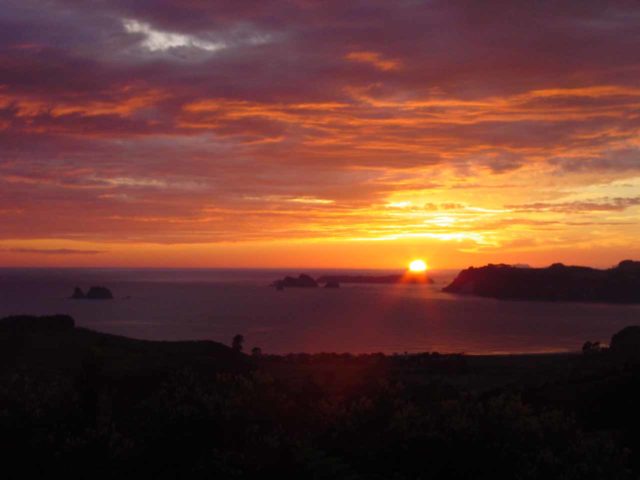 10-November 2004 to 12-November 2004:
You may ask what a destination wedding in New Zealand has to do with waterfall adventures (which is what I normally talk about in these travel blogs). Well I consider this the trip that expanded our waterfall hunt into a global scavenger hunt. In addition to being a very special time for both Julie and I, it also opened our eyes to the world outside the usual American tourist destinations. Indeed, it was the trip that essentially changed our lives in many ways.
When I look back at the photos of this destination wedding taken by Susanna and her nephew, I still get misty-eyed. It was one of those rare times when all of my expectations were exceeded. I'll never forget the Tuscan hospitality and language lessons from Giorgio and Margherita. I'll never forget the genuine heartfelt music of Sasha and Natarani. The smiles on everyone's faces in Susanna's photos said it all. The risk that Julie and I took thinking outside the box to do this really paid off…
Day 4: PREPARATIONS
After spending an entire day in Auckland tending to errands for the destination wedding (e.g. picking up the men's tuxes at Frank Casey in the CBD, meeting up with cousin Nicole, following up with vendors in person and on the phone, etc.), the time had come to make the three-hour drive east to the town of Whitianga in the Coromandel Peninsula – site of the big day!
We loaded up the car, picked up cousin Nicole (who stayed at her friend's place), and got Julie's brother (King) and her mom to follow us.
During the drive, we made a brief stop in Thames at 9:30am. Julie's floral arrangement was done at a shop here and we were making sure the deliveries were in order and some of the last-minute loose ends were tied, so to speak.
After driving through a windy two-lane road on SH25A, we finally stopped by Admiralty Bay Lodge, where my parents and relatives were staying. They were off sightseeing enjoying the warm and bright sunny day. But after a little while, they showed up.
In the group were my parents, Auntie Amy, Auntie Jean, Auntie Vickie, and my parents' close friends who resided in Auckland. Nicole was going to stay with them.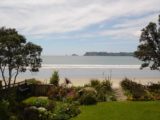 Things looked like they were shaping up as most of the small wedding party were already here safely. We mingled with one another before we we continued onwards to Mercury Bay Lodge, where Julie's mom and King were staying.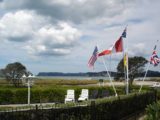 They had a real nice ocean-front view of Mercury Bay. After shooting the breeze with them for a little bit, we left them to rest and do what they needed to do. Julie and I continued up the hills looking over the bay to our accommodation.
As we drove up the hilly residential road, we could already see a regal-looking house perched high atop the hills. We know it must be the place we were staying and having the wedding ceremony…
…the Villa Toscana Lodge!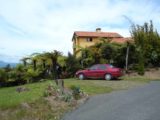 It felt strange knowing that we're going to be spending a couple days there. It almost felt as if we didn't belong because we weren't royalty or rich or anything like that…
So onwards we drove. After passing through a residential neighborhood, we then went up a very narrow driveway with a steep incline. Good thing this rental car could handle it!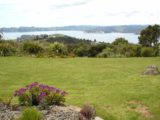 And then we finally parked the car, got our stuff, and entered the grand yet homey three-story lodge. Inside the lodge, we received a warm Italian welcome by the husband and wife team of Giorgio and Margherita. Some of the helpers were there to greet us as well.
Giorgio and Margherita joked that I didn't exist because they never heard from me the whole time Julie collaborated with them while making the destination wedding plans. Now that they saw me in the flesh, I guess Julie's fiancee wasn't imaginary after all 😉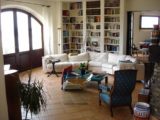 The more we explored the Villa Toscana, the more we were blown away. All the rooms had high ceilings and antique furniture. The main living room on the middle floor had a large glass double door that swung open into a terrace overlooking Mercury Bay and Whitianga below. That terrace, by the way, was where the wedding ceremony would take place so we were totally hoping for the good weather to continue tomorrow.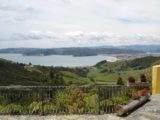 The garden was huge and intricately tended to. It certainly made sure the lodge blended in well with its surroundings. Down at the bottom floor, where Julie and I stayed, there were two bedrooms – one for before the wedding and one on the night of the wedding – as well as a large living room area with a kitchen. A staircased passageway separated the bottom floor from the middle floor. Inside the passageway was a wine cellar, where Giorgio showed us the finest imports from his native Italy as well as other parts of the world. Even with the mess of preparing for the destination wedding, the place still had a classically royal European feel to it.
At 4pm, it was almost time for the rehearsal dinner. It was kind of strange that the Kiwis Julie collaborated with for the destination wedding never heard of the concept of rehearsal dinners. Anyways, the folks staying in town arrived at VTL (which I'm going to use to abbreviate the Villa Toscana Lodge). They too were awestruck by the place.
Shortly thereafter, the celebrant and her partner – Stephanie and David of Simple Weddings – stopped by to see what they were supposed to do on the big day. Jan Polak, the videographer, also showed up to survey the scene. We hired the videographer to capture the event in addition to a photographer so we could bring home some live footage for a second reception for those who couldn't make the long journey to New Zealand.
About an hour or so later, the rehearsal ended and the family headed back into Whitianga for the rehearsal dinner at a waterfront restaurant called the Fireplace. With an excellent mix of local meats, veggies, and seafood, we enjoyed each other's company and did our own little pre-celebration before the big day.
When the dinner was over, we all headed back to our accommodations. But Julie and I still had set up the dinner table and party favors back at the lodge.
But before that could take place, we spent some quality time with Giorgio and Margherita over some grappas, which was a strong alcoholic Italian beverage. Of course with the weather on our minds for tomorrow, we asked Giorgio what he thought. One of the channels on his TV had the weather forecast in terms of wind direction and pressure systems. Neither Julie nor I could understand it, but Giorgio indicated that it wasn't looking good for tomorrow…
Not exactly what we wanted to hear, but we couldn't control it and so we hoped for the best…
Anyways, it was now 10pm. Giorgio and Margherita were headed upstairs to sleep. Now, Julie and I could get to work…
So into the late hours of the night and into early morning, we set up the table with its beach and sea theme. The shells and favors were actually bought in the States and shipped to New Zealand. Needless to say, the shipping costs probably outweighed the material cost. But when it came to a bride's perfect day, nothing was holding us back.
Finally, it was 1am. Julie was beat and went to sleep. I tried to coerce her to join the outdoor spa with me, but she couldn't. So I lived it up a little bit in the spa before cleaning up and catching some z's with her.
Day 5: "…AND WITH THIS RING, I WEED YOU"
Even though I only got three hours of sleep, I had no trouble waking up before the sunrise. Julie was still sound asleep so I went ahead and got the camera to start shooting photos – knowing we were getting good light.
The skies were kind of puzzling as it looked both menacing and hopeful. As I looked east, I could see the imminent orange glow about to come over the horizon. However, it was a little dark to the west with menacing-looking dark clouds. I sure hope Giorgio wasn't on target with his weather interpretation, I thought.
And so there I stood on the terrace, waiting for the sun to come up. It wasn't long before I witnessed one of the most scenic sunrises ever – and I've seen my share of them as I tend to be an early bird.
It was mesmerizing to see how the early morning sun painted the skies and the clouds orange. I could see the contours on the land surrounding Mercury Bay. I could also still see the few lights where Whitianga stood.
By the time I was done with my morning session, I went back into the lodge to start the day.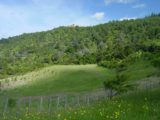 I had thought it was bad luck to see your bride the day of the wedding before the actual ceremony, but Julie – who was wide awake by now – only cared that I didn't see her in the dress beforehand. So with that out of the way, she had to meet her makeup and hair people. I would take her into town and leave her alone until she was done a couple hours later.
…so that meant I had to run some errands…
I had spent most of the morning picking up boxes of floral arrangements as well as the wedding cake. Fearful of messing things up, I didn't think I had ever driven slower nor with more caution in my life! I also made sure the table settings were finalized as well as choreographing the first dance in my head so I'd know what to do. Interspersed with these errands, I got to meet Giorgio and Margherita's kids and Giorgio's mother. I also got a brief Italian and French lesson from Margherita (who also knew French) and Giorgio.
It got put to use when the mother saw the place settings on the table and she said to me, "Bella!"
And in my newly learned Italian, I said back to her, "Molte Grazie!"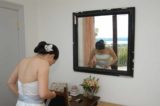 At 11:30am, I returned to town to pick Julie up and drop her off at the lodge. When that was done, it was time for me to get ready, and that would be the last I would see of her until the wedding…
Back in town at my parents' room, people were in a jolly mood. No one had gotten ready yet, but they were about to. Meanwhile, I had gotten dressed, but the increasing heat of the day kind of made things a little uncomfortable in the tux.
Despite what I had seen earlier in the day, the weather was partly cloudy and looked encouraging. When the sun was out, it was really bright and warm. For Julie's sake, I kept my fingers crossed for the rain to stay away on this day.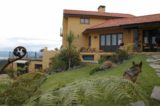 Finally it was 3pm. The whole group started making their way to the Villa Toscana Lodge. King and Julie's mom were already there. Also there before us were the celebrants David and Stephanie, the videographer Jan Polak, the musicians Sasha and Natarani of Heartstrings, and the photographer Susanna Burton along with her nephew Elliott.
VTL certainly had a totally different feel to it. With all these people around, it started to feel more like a wedding, but it still felt kind of weird. I was used to showing up to other peoples' weddings, but I had trouble adjusting to my current role as the groom.
Anyhow, people mingled. Margherita and Giorgio were working hard in the kitchen while some of their assistants brought out the incredible homemade Italian h'ordeuvres. I don't think I ever had Italian food that came close to being this good!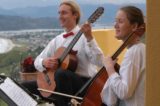 Sasha and Natarani played live classical music with their string instruments. Susanna, Elliot, and Jan were busy doing their thing. The parents had no trouble mingling. I was pretty much keeping busy just talking to everyone.
The skies started to darken as clouds came overhead. I was very worried about the skies dumping rain on us. Still, there was nothing we could do, but I couldn't help but worry for Julie…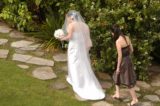 Then, 4pm came around and everyone took their places. I stood on the terrace waiting for Julie as she was escorted by her mom. Nicole was trailing both of them to make sure Julie's dress didn't get caught in the steps nor the foliage of the garden they walked through.
And so the cermony started. Now all the attention was focused on Julie, the celebrant, and the onlookers. The weather was no longer on our minds as we looked into each other about to exchange our vows.
Seeing the people most dear to us in one place gathered in this one moment (except for those who couldn't make it out this way), I started to feel overwhelmed with emotion. All of the sudden, time stood still and the moment hit me like a ton of bricks. I couldn't fight back the tears and even Auntie Amy had to bring me tissue during the ceremony in a bit of a comic moment.
Julie, on the other hand, was tough as nails. She didn't cry at all and it must've been quite a role reversal for those who witnessed the event.
Once I gathered myself somewhat, we were able to continue with the exchange of our vows and our rings. Julie had to repeat after the celebrant first – line by line. Then, she put the wedding ring on my finger.
At first this struck me as strange. What did a weed have to do with the wedding?
Then I quickly realized I misinterpreted the Kiwi accent.
Oops!
I quickly interjected saying, "Oh, I wed you! Sorry! Sorry!"
Everyone busted out laughing. It certainly was the comic relief necessary to break up the otherwise emotional moment.
And with that Julie and I kissed. Then rose petals were tossed in our direction as the destination wedding ceremony was about to end and more homemade authentic Italian h'ordeuvres were served.
Next came the first dance. It was the usual box-step dance that we had practiced and rehearsed in the weeks prior to this day. We moved to the classical Louis Armstrong tune of "What A Wonderful World." I know millions of people have danced to this before us, but hey, it worked.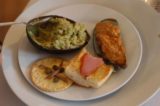 After some initial socializing with everyone again (including Giorgio and Margherita) along with more photographs, it wasn't long before Susanna and Jan took Julie and I to Simpson's Beach. The skies had mercy on us and didn't rain. Even some sliver of the late afternoon sun broke through some of the threatening cloud cover.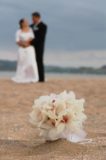 The beach was as serene as could be. No one was there except for a couple of kids who watched innocently. And so Susanna and Elliot took the obligatory beach shots while Jan was filming it all.
There were a couple of moments where the photographer and videographer seemed to get in each other's way, but in the end, it worked out.
Back to the VTL we went. By the time we arrived, it was time to sit at the dinner table. In addition to the friends and family who were there, we were also joined by Susanna, Elliot, Jan, Sasha, and Natarani.
We really had to pace ourselves as the quantity of food overwhelmed us. The main course was Vitello Tonnato with Nizza capsicum Ratatouille. There were lots of other dishes I had never seen before so both Julie and I knew this was a taste of what real Italian food was like. All of this was complemented with the rare wines that Giorgio brought up from his cellar.
While everyone was having a good time, auntie Amy sang to all of us. That was certainly one of those spontaneous moments that stays with you forever.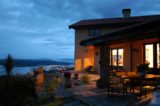 Then, we had the wedding cake. It was a bit sweet and we had to make room for it after all the food we had eaten up to this point. Nonetheless, it was a great way to cap off a most memorable day. When it got late and people had to head back to their accommodations (Jan actually drove that evening back to Auckland!), we exchanged pleasantries and happily bid our farewells.
And so ended a destination wedding to remember. Julie and I unwound from a tiring day in the outdoor spa. Giorgio and Margherita left us alone as they went to bed.
In our relieved state, it was 2am when we finally went to sleep – in the other bedroom right across from the one we had spent the night before.
Day 6: "A FOND FAREWELL…"
Both Julie and I slept in this morning. Even in our semi-jetlagged state, we still managed to get up not long after sunrise.
All the relatives surprised us by showing up back at the VTL. So we took this time to take more photos, talk some more, and even have them get to know the hosts more.
The weather was beautiful again. Margherita said to us, "See? It didn't rain after all. The Mafia scared it away!"
There was a guest book sitting in bottom floor living area. I already got teary-eyed when I was thinking of what to say in here. Heck, words simply couldn't describe what Julie and I had experienced. So I said what I could in the limited Italian I learned using superlatives wherever I could by adding -isimo to any adjective I could think of.
It was 1pm. By now, the family were on their way back to Auckland. We said our final farewells to Giorgio and saw Margherita (who was running an errand) on the way out. And so Julie and I headed south to start the honeymoon and resume our waterfall hunt.
But first, Giorgio and Margherita had made recommendations to check out Otama Beach to the north of us at Whitianga before heading south. Even then, we still wanted to visit Cathedral Cove and maybe Hot Water Beach at Hahei before seeing our first waterfall in a few days at Wentworth Falls.
We still had to drive all the way south to the the Bridgeway Motel in Tauranga late in the evening. So we knew there was going to be a lot of driving ahead of us.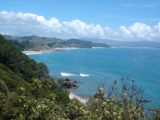 So first thing's first. We went north even though we knew this might cut into whatever time we had originally allocated to do what we had planned to do earlier. At about 1:30pm, we started to see the pretty quiet Otama Beach with some gorgeous colorful waters cradled by the crescent beach.
We saw the rental vehicle that Dad and the folks were driving, but they were on their way out while we were on our way in.
When Julie and I finally made it to Otama Beach, sure enough we almost had the entire beach to ourselves. It was too bad that we had planned on doing so much on this day because this could've easily been another place to just chill and relax. I wondered how often could we say that we visited a white sand beach with so few people on a sunny day?
After having our fill of Otama Beach, we then drove south through Whitianga and eventually towards the signposted turnoff for Cathedral Cove. There were quite a few people here, but we still managed to find parking without too much trouble and then proceeded to do the walk to the famed natural arch at Cathedral Cove itself.
In doing the hike, we could see why this place was so popular. There were turquoise waters in view throughout the hike, which was along the white-cliffed bluffs overlooking both the beaches below as well as the colorful waters beyond. There were also plenty of bush-clad scenery flanking the trail reminding us that we were in the Land of the Long White Cloud, after all.
When the trail eventually curved towards some steps, that was when we descended towards a beach. And right at the bottom of the steps was the Cathedral Cove arch itself!
Julie and I walked through the cool natural arch before emerging on the sunny beach on the other side of the arch. Hoho Rock was the rock formation seen through the arch, and it was a pretty cool photo subject. Indeed, the beach was popular but it didn't feel nearly as overwhelming as the crowds we were used to back in the beaches in Los Angeles.
We eventually had our fill of Cathedral Cove as it was getting pretty late in the afternoon with still a waterfall hike left to do.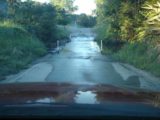 And so we left the sunny and sandy scenery of Cathedral Cove, hiked back to the car park, and then took off at around 5pm. We wouldn't arrive at the Wentworth Falls Trailhead until around 6:15pm. By this time, Julie saw that the hike was going to be pretty long (at least over an hour or so) and so she stayed in the car. I'd have to do this hike solo and quickly.
And with that, I took off. The trail was pretty easy to follow as it was well-signed. There were a handful of mine entrances though it didn't look like I could go in any of them (which would probably be a bad idea if it was available to begin with).
In any case, there werer a couple of stream crossings that looked like they'd get my hiking boots wet, but I managed to get through them no problem without drenching my hiking socks. Eventually, I'd get to an overlook with a frontal view of Wentworth Falls, but I couldn't see a way to get down to the base of the falls even though I had read that it was possible to do so.
I even continued hiking to the top of the falls where I saw the creek start to go over the impressive 50m falls, but there'd be no way I could find the way to the base of the falls. Oh well. With it now getting past 7:30pm, I knew I had to scram to get back to the car park and continue the long drive to Tauranga.
In the end, it wasn't until about 8pm when we would finally leave the trailhead and continue the long drive south along the eastern coast of the Coromandel and into the Bay of Plenty. Eventually at around 10pm, we'd finally check in late to our accommodation. Aside from finding out the hard way that Julie's battery charger for her camera didn't have a converter to take 220V (thereby frying her converter and scorching the electrical socket), we would have a restful night's sleep.
Unfortunately, all the picture taking pretty much came down to my own camera as there was no way Julie's camera could be recharged…
Visitor Comments:
Got something you'd like to share or say to keep the conversation going? Feel free to leave a comment below...
No users have replied to the content on this page