Day 6: "A FOND FAREWELL…"
Both Julie and I slept in this morning. Even in our semi-jetlagged state, we still managed to get up not long after sunrise.
All the relatives surprised us by showing up back at the VTL. So we took this time to take more photos, talk some more, and even have them get to know the hosts more.
The weather was beautiful again. Margherita said to us, "See? It didn't rain after all. The Mafia scared it away!"
There was a guest book sitting in bottom floor living area. I already got teary-eyed when I was thinking of what to say in here. Heck, words simply couldn't describe what Julie and I had experienced. So I said what I could in the limited Italian I learned using superlatives wherever I could by adding -isimo to any adjective I could think of.
It was 1pm. By now, the family were on their way back to Auckland. We said our final farewells to Giorgio and saw Margherita (who was running an errand) on the way out. And so Julie and I headed south to start the honeymoon and resume our waterfall hunt.
But first, Giorgio and Margherita had made recommendations to check out Otama Beach to the north of us at Whitianga before heading south. Even then, we still wanted to visit Cathedral Cove and maybe Hot Water Beach at Hahei before seeing our first waterfall in a few days at Wentworth Falls.
We still had to drive all the way south to the the Bridgeway Motel in Tauranga late in the evening. So we knew there was going to be a lot of driving ahead of us.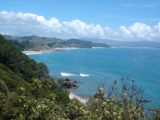 So first thing's first. We went north even though we knew this might cut into whatever time we had originally allocated to do what we had planned to do earlier. At about 1:30pm, we started to see the pretty quiet Otama Beach with some gorgeous colorful waters cradled by the crescent beach.
We saw the rental vehicle that Dad and the folks were driving, but they were on their way out while we were on our way in.
When Julie and I finally made it to Otama Beach, sure enough we almost had the entire beach to ourselves. It was too bad that we had planned on doing so much on this day because this could've easily been another place to just chill and relax. I wondered how often could we say that we visited a white sand beach with so few people on a sunny day?
After having our fill of Otama Beach, we then drove south through Whitianga and eventually towards the signposted turnoff for Cathedral Cove. There were quite a few people here, but we still managed to find parking without too much trouble and then proceeded to do the walk to the famed natural arch at Cathedral Cove itself.
In doing the hike, we could see why this place was so popular. There were turquoise waters in view throughout the hike, which was along the white-cliffed bluffs overlooking both the beaches below as well as the colorful waters beyond. There were also plenty of bush-clad scenery flanking the trail reminding us that we were in the Land of the Long White Cloud, after all.
When the trail eventually curved towards some steps, that was when we descended towards a beach. And right at the bottom of the steps was the Cathedral Cove arch itself!
Julie and I walked through the cool natural arch before emerging on the sunny beach on the other side of the arch. Hoho Rock was the rock formation seen through the arch, and it was a pretty cool photo subject. Indeed, the beach was popular but it didn't feel nearly as overwhelming as the crowds we were used to back in the beaches in Los Angeles.
We eventually had our fill of Cathedral Cove as it was getting pretty late in the afternoon with still a waterfall hike left to do.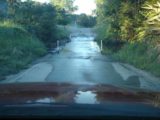 And so we left the sunny and sandy scenery of Cathedral Cove, hiked back to the car park, and then took off at around 5pm. We wouldn't arrive at the Wentworth Falls Trailhead until around 6:15pm. By this time, Julie saw that the hike was going to be pretty long (at least over an hour or so) and so she stayed in the car. I'd have to do this hike solo and quickly.
And with that, I took off. The trail was pretty easy to follow as it was well-signed. There were a handful of mine entrances though it didn't look like I could go in any of them (which would probably be a bad idea if it was available to begin with).
In any case, there werer a couple of stream crossings that looked like they'd get my hiking boots wet, but I managed to get through them no problem without drenching my hiking socks. Eventually, I'd get to an overlook with a frontal view of Wentworth Falls, but I couldn't see a way to get down to the base of the falls even though I had read that it was possible to do so.
I even continued hiking to the top of the falls where I saw the creek start to go over the impressive 50m falls, but there'd be no way I could find the way to the base of the falls. Oh well. With it now getting past 7:30pm, I knew I had to scram to get back to the car park and continue the long drive to Tauranga.
In the end, it wasn't until about 8pm when we would finally leave the trailhead and continue the long drive south along the eastern coast of the Coromandel and into the Bay of Plenty. Eventually at around 10pm, we'd finally check in late to our accommodation. Aside from finding out the hard way that Julie's battery charger for her camera didn't have a converter to take 220V (thereby frying her converter and scorching the electrical socket), we would have a restful night's sleep.
Unfortunately, all the picture taking pretty much came down to my own camera as there was no way Julie's camera could be recharged…
Visitor Comments:
Got something you'd like to share or say to keep the conversation going? Feel free to leave a comment below...
No users have replied to the content on this page