Day 16: WINDY WELLYWOOD
We awoke at 6:15am. Yeah we wanted to sleep in a bit longer, but we knew we wanted no complications when it came to the ferry ride from Picton to Wellington.
At 7:50am, we left the Commodore Court Motel in the outskirts of Blenheim. Unlike yesterday, the skies were cloudless although it was very windy. Why couldn't we have this weather when we're actually sightseeing as opposed to a travel day like today?
The drive up to Picton was pretty uneventful and smooth. We filled up when we got to Picton at NZ$1.75/L instead of NZ$1.65/L in Blenheim. I guess my assumption that Picton wouldn't be a ripoff was wrong. After turning in our car hire and checking in our large luggage, we were waiting for boarding at the ferry terminal by 8:45am. Our ferry boarding wasn't until 9:30am and the ferry wasn't taking off until 10:05am.
At 9:40am, we got on the ferry. The skies were still beautiful, and I tried to take photos from the front deck of the Inter-Islander ferry. It was too bad we couldn't have had this weather two days ago while touring the Abel Tasman National Park. Then again, maybe the karma improved after seeing Linda, Roger, and Jason yesterday.
The ride on the ferry started off by passing through some scenic (but difficult-to-photograph) inlets in the Marlborough Sounds. Lining these inlets and sounds were what looked to be vacation homes and maybe even the legendary New Zealand bach (pronounced batch), which are like rustic beach or oceanside holiday cottages.
As we got further out into the sounds, we started to notice some hills with strange ghostly trees. We weren't sure if they were native or not, but they certainly didn't have that feel as they seemed rather out of place. Then, we started to see denuded hillsides that were clear cut. If anyone doesn't think New Zealand is having deforestation and resource depletion problems, they really need to get out there and see for themselves. I don't think I recalled this much development and their consequences five years ago on our first visit.
After getting into the rougher waters of the Cook Strait, the ferry was bobbing a little bit so I stopped organizing photos and started to put my head on the table to rest due to the onset of seasickness.
Once we got to the North Island, the winds got real gusty. We could see some pretty massive waves crashing and engulfing rocks as we looked towards the land. But the photos still looked a little flat. So rather than flooding our hard drive with photos that don't turn out, we'll just make do with our mental pictures of the beauty of the scene that couldn't be captured in photos.
At 1:30pm, we got our hire car at the ferry terminal in Wellington. We requested and got a Toyota Corolla, but it was disappointing that this so-called Corolla wasn't the type of car we were expecting. We ended up with a hatchback that had even less trunk space than the Ford Focus we had been driving in the South Island. Plus, there were some funky designs regarding cup holders or lack thereof making us have to make do with less of the minor things we took for granted (like a place to put our notepad, cables, chargers, etc.) for the last couple of weeks.
At least the windshield wiper and blinkers were flipped around in a more intuitive manner like we were more used to in Australia. I guess since they also drive on the left in Japan, this was rather natural, I guess.
We spent the next 20 minutes finding our way to the Capital Motor Lodge, which was kind of far from the city centre relative to other accommodations we had been staying at so far on this trip. Yet it also involved going on a motorway (like a freeway) as well as a handful of U-turns and blind turns in order to get here. We were wondering if this was a Golden Chain Motel thing or not.
At 2:05pm, we were all checked-in and put our bigger luggages into our spacious and clean room. Now, we headed out towards the Mt Victoria Lookout to get that quintessential view of Wellington, what with all the clear skies we were experiencing today; quite rare!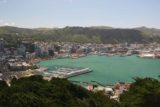 About a half-hour later, we drove alongside the bustling wharf area where it looked like a happening place. The parking looked difficult, but we'll worry about that later. Instead, we kept on going trying to find our way up to the famed lookout. Eventually, we found the roads required to get up to the summit, and these roads were very steep, winding, and narrow. There were even locals' vehicles parked in these roads making it a little difficult to support bi-directional traffic not to mention all the additional blind turns to accommodate as well.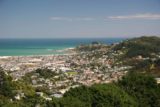 Once we got up to the lookout, we could see numerous vehicles and tour buses there (wondering how some of those buses even made it up here). So we took in the 360 degree views of the city and the Cook Strait. We could see off in the distance that some dark clouds were held at bay momentarily, but I reckoned it was only a matter of time before our nice weather would give way to rain again.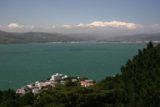 So we took photos of a cannon, learned that a Southern Cross memorial points towards the South Pole (where apparently the Antarctic air blows straight to here if they get Southerlies), and experienced firsthand why Wellington was a consistently windy place.
We were back at the car a little after 3pm. And fifteen minutes later, we found a sheltered car park where we were willing to pay a fixed rate to park for longer than three hours. Sure we could've paid less by finding one of the outdoor spots right on the wharf, but why go through the stress of trying to find parking?
Our walking tour started off by heading towards the Queens Wharf. There was a bit of pedestrian traffic, but the only reward we had for coming to this section was getting some delicious gelatos here. Other restaurants around here didn't appeal to us or were closed.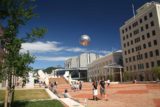 Next, we walked towards the Civic Square. There, we saw the suspended ball, which was quite an interesting photographic subject juxtaposed with modern buildings. I was also entertained watching some young Maoris breakdancing.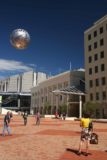 Julie and I were having fun taking fun photos with that suspended ball; most of it having to do with pretending to play basketball with that suspended ball.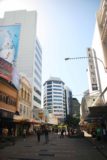 Then, we left the square and walked into Cuba Street. This was an attractive walking arcade with limited vehicular traffic. Restaurants, cafe, and bars as well as shops lined this street.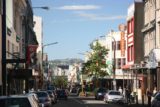 Unfortunately, the eateries we were hoping to enjoy like a seafood place or a French bistro were all closed until tomorrow. So we came up empty handed except for a brief stop at a Cambodian restaurant for a shared bowl of Malaysian laksa.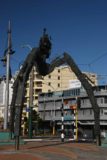 We next went in the direction of Mt Victoria along Courtney Place in search of another restaurant. This time, we were looking for Hangi food, but the place no longer existed. Along the way, we saw an old school movie theater that reminded me of the one-movie-only theaters in Westwood Village back by UCLA or the Mann's Chinese Theater in Hollywood. Except this time, the featured movie was some Peter Jackson flick (you know, the guy who produced The Lord of the Rings
and who was also from Wellington).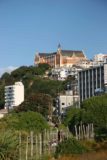 And this in turn reminded me of why Wellington was sometimes called Wellywood. Of course Wellywood was a little dead (except for the gusty winds at times) due to this being the holiday season for Kiwis. Even the Wellington natives Gina and Jennifer, whom we met in Egypt like Linda, Roger, and Jason, had traveled to Australia so we couldn't hang out with them today.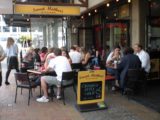 So we ended up eating at this place called Sweet Mother's Cafe. We first thought this place was unattractive because its theme was Southern food, and why would we want Creole food half-way across the world when we could have the real deal in New Orleans?
But once we got our seafood chowder, cajun prawns, and blackened groper, our sentiment changed. We were glad we got to eat something decent when it seemed like everything else was closed in the capital city.
We recovered our car at 7:20pm. At that point, we went to the New World Supermarket by the wharf to replenish our fruits, water, and breakfasts for the duration of our New Zealand trip. By the time we finished our grocery shopping, the skies got ominously dark. I guess that was the end of this run of fine weather, and winds must have changed.
With the remaining daylight, we still had yet to visit the Beehive and Parliament House. So we promptly drove there and did that under some threatening skies. By the time we were finished taking photographs, rain started to fall. After some consultation with Julie about whether today counted as a sunny weather day (the 6th one on this trip), we considered this to be the case despite the late rain.
By 8:20pm, we were back at the motel. There was hardly any parking, which was surprising considering how far away from the city centre this place was. But I guess this place also accommodated campervans with hookups. And by now, another squall came down before the skies momentarily cleared up once again. I guess four-seasons-in-a-day wants to happen again. We'll see what tomorrow brings.
Visitor Comments:
Got something you'd like to share or say to keep the conversation going? Feel free to leave a comment below...
No users have replied to the content on this page