Day 17: DEAD AS
Both Julie and I awoke at 7am. Normally, it's I who wakes up earlier and drives the start of the day, but I couldn't honor the original wake-up of 6am because I didn't sleep well. And I didn't sleep well because apparently I was getting hives from something I ate yesterday. My esophagus wasn't feeling good and everywhere I was getting itchy rashes and welts.
I could only hypothesize that it was either the rather cool seafood chowder or eating the heads of the cajun prawns (I'm more apt to think it's the latter) from Sweet Mother's Cafe. Sure the food tasted good at the time, but the aftermath kind of put a damper into things.
Anyhow, we didn't leave Wellington until 9:40am. But that wasn't before I made two calls to the landowners involving Mangatiti Falls. We were supposed to do it today, but for one reason or another, my emails weren't promptly answered (my only successful attempt was just three days ago), and the landowners themselves never responded electronically or picked up their phones. I guess they too were also on holiday like most of the Kiwis across the country, and we just had to consider this excursion a miss. On the bright side, my hives and heartburn seemed to have diminished.
So with our day suddenly significantly freed up to do just Waihi Falls, we headed north along SH1 before heading northeast on the SH57. Eventually, we made it to Palmerston North, where we checked into the Chancellor Motor Lodge at 11:30am (thankfully there was a room available at that time of day), got settled, and then left at 12:15pm.
From that point, we drove east through the Manawatu Gorge, amongst some pretty heavy traffic (relative to New Zealand standards and nothing like we had seen in the South Island). By 12:40pm, we arrived at Woodville, where we sought a little more guidance regarding which of the routes would be best to get to Waihi Falls.
The lady there told me that it was best to go through Dannevirke because the roads going that way were almost all sealed. So we went ahead and did that.
When we got to Dannevirke, there wasn't any noticeable signs suggesting which road to take to get to the falls. However, there was a sign indicating the Makirikiri Reserve so we went ahead and took that one. Eventually, that turned and joined Weber Road, where we turned right and followed this winding and hilly road through scenery of pretty much exclusively sheep paddocks and farms.
When the Nüvi
told me to turn right onto Oparae Road, I doubted it since I couldn't see any signs indicating I should take this road. So I kept going forward and eventually passed through the town of Weber some 6km further. Eventually, Weber Rd junctioned with Route 52, which I promptly took and followed it for several minutes before a signpost indicated the Waihi Falls on the right going into Horoeka Road.
At this point, the road was unsealed and I followed its twisting path eventually joining up with the Waihi Valley Road (also unsealed). After several more minutes on its sinuous unsealed stretch, I finally junctioned with the Waihi Falls Road. But that wasn't before I saw on our GPS that I had pretty much made a spiral and I probably should've taken the Oparae Road to begin with.
Eventually, we arrived at the Waihi Falls Sceic Reserve at 2pm. A sign at the picnic shelter stated that the reserve was established in 1899, making it the first reserve in the Hawke's Bay area. Another couple in a red truck showed up after we had arrived.
So we went down along the short 10-minute track, which was steep towards the bottom, and it was quite slippery given the loose gravel. I wondered how difficult that last stretch would be had it been raining and muddy.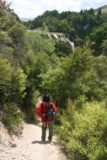 Anyways, we could see that this 25m falls was indeed quite scenic. It was almost like a shorter version of Whangarei Falls for given the Waihi River's current flow, it was segmenting into parallel columns.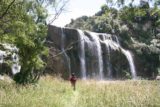 The two other folks that were here turned out to be locals from around here. The guy said he visited this falls 20 years ago, and that a few years ago, some guy broke his back trying to kayak over this falls.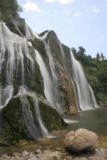 After the locals had left, we got closer to the falls and took profile shots of it. That lasted until we started to notice sliding pebbles and rocks coming down the cliff nearby. That caused us to bolt from that spot since we feared the unstable cliffs the signs warned us against up at the top might result in a little landslide that might engulf us.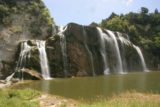 Anyways, this falls was way off the tourist radar, and even LP
and DK
doesn't cover the Northern Tararua area like this. Not much further south, we had hoped to see the Mangatiti Falls, but I guess it just wasn't meant to be. Still, we enjoyed this falls, and pretty much had it to ourselves after the locals had left.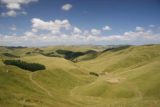 We returned to the car at 2:45pm. Then, learning from past mistakes, I took the first major right turn after exiting the Waihi Falls Road and followed its road (which was initially unsealed before slowly becoming more and more sealed) towards the Waihi Valley Road, and then eventually the Oparae Road.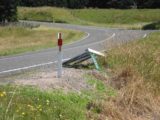 When we returned to the Weber Road at 3:10pm, we noticed that the sign pointing the way to Waihi Falls had been blown over. No wonder why we missed it the first time!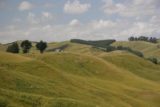 Then, we were back on the Weber Road headed northwest to Dannevirke. Eventually, we arrived in the town centre along Miller Street though we could've gone out the way we came in on Makirikiri Road near the Dannevirke town and bypassed the town centre altogether.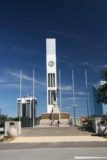 By 4:25pm, we returned to Palmerston North. There, Julie got to satisfy yet another gelato craving as we conversed with one of the Kiwi workers at the cafe. Then, we walked around looking for "Sweet As" shirts just to show the folks back home that we're hip to the Kiwi lingo (though I swear this wasn't used as much or at all five years ago). There wasn't a whole lot going on in town and it seemed like most of the places were either closing or closed. I guess "Dead As" was probably a more appropriate Kiwi saying to describe our experience in this town.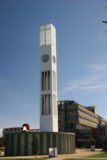 After paying the shopping area and then The Square a brief visit in the middle of town, we headed back to the car, and returned to the motel at 5:20pm. We eventually headed out for dinner at 6:45pm, but again most of our first choices around The Square were closed. I guess our sentiment that this place was rather "Dead As" was challenged when we happened to witness some hideous shouting of two Maori gangs hurling insults and even bottles at each other. It looked like some Maori females from a block away started heading in the direction of the commotion to join the fray. Even one guy chased a car that was leaving the hullabaloo. Shortly thereafter, some cops showed up and handcuffed two Maori girls.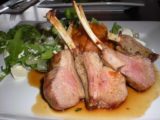 Well after leaving this commotion, we continued our restaurant hunt. At least this place called Barista was open, and I had some decent rack of lamb but Julie wasn't all that excited about her duck confit (should've gotten the aged rib-eye steak, which was another thing this restaurant won an award for according to the decorations on the wall).
And so ended a long driving day that saw us miss the Mangatiti Falls but hitting on the Waihi Falls. All in a day's work.
Visitor Comments:
Got something you'd like to share or say to keep the conversation going? Feel free to leave a comment below...
No users have replied to the content on this page