Day 18: THE FESTIVAL OF LIGHTS
We awoke at 6:15am, and after our now routine process of freshening up, packing, and eating breakfast, we were out the door by 8am.
I wasn't quite sure how to tackle today knowing that I'm supposed to see Curtis Falls and Bells Falls in the next two days. But for some strange reason, I had this idea that perhaps we should make a detour to see Raukawa Falls since we now have favorable light (unlike the last time we were here when the light was against us late in the afternoon).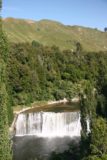 So it took a little less than an hour to get from Palmerston North to Wanganui, but then the detour northwards on the SH4 in the direction of Raetihi lasted roughly 45 minutes. It was consistent with what was said in our book, but I get the sense that 60 minutes would be a more comfortable pace. The winding roads certainly made the detour much longer than anticipated, and I began to wonder whether we should've passed on this.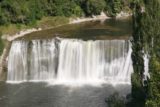 Anyways, we were committed. And mercifully by 9:45am, we were at the familiar parking bay for the waterfall lookout. And as expected, the light was in the right place and there was even a faint rainbow within the aerated water of the falls.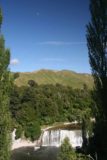 By 9:55am, we headed back southwards to continue the long drive. I actually contemplated continuing northwards to Tongariro National Park and maybe try a waterfall that was suggested by a DoC employee who saw our website and suggested we check it out. Unfortunately, it was 4-5 hours of walking, and it was kind of pushing it considering we had to get to New Plymouth by tonight as well.
Anyways, the sunny weather in Wanganui eventually gave way to overcast skies when we got closer to Mt Taranaki. We could easily see that this volcano was literally a cloud magnet.
By 12:05pm, we arrived in Stratford. We took a lunch break here and inquired about the feasibility of Bells Falls. I got the sense that if I acted quickly, we might be able to do it today, but I knew it might be a stretch. Unfortunately, if we wait until tomorrow, the weather is expected to be rainy with gale force winds possibly up to 70km/h.
Anyways, at 1pm we continued northwards and eventually by 1:30pm, we checked into the Coronation Court Motel in New Plymouth. This place was quite dated, and we continued to get that sense that the Golden Chain Motels really were substandard compared to most of the motels we booked ourselves. In any case, we're here for two nights, so we'll have to suck it up.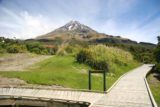 At 1:40pm, we headed back out on the road and headed to the North Egmont Visitor Centre. We got there at 2:05pm, and to our surprise, Mt Egmont showed its peak! In fact, the weather around here was beautiful. It was totally contrasting the overcast and dreary conditions back around the towns at the base of the mountain.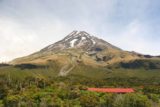 So we were busy taking photos and trying to take advantage of the rare occurrence. However, another inquiry at the Visitor Centre regarding Bells Falls resulted in discouragement in that we had to expect this trek would take 6-8 hours total, and leaving now would be a bit late.
So despite the fact that the weather is expected to be crummy tomorrow, we decided not to do the Bells Falls and headed towards Dawson Falls. We decided against doing the 2-hour excursion to Curtis Falls since the weather seemed to be fine and I had thought that perhaps driving the Surf Highway might yield additional views of the mountain while also yielding coastal views.
At 2:35pm, we left North Egmont and headed back to Stratford. From there, we took the Opunake Road (actually Cecilia Road in Stratford), and then turned north onto Manaia Road, which still narrowed into a nearly 1.5-lane twisting bush flanked road up to the Dawson Falls Visitor Centre.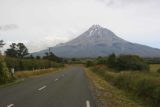 By 3:40pm, we were at the car park for Dawson Falls. And after descending the stairs to the base of this 16.5m waterfall, we noticed that the second plume seemed to be missing, and this gave the falls a bit of an asymmetric look. Plus, the kids around the falls refused to move so we had to use them as subjects and forget about any nature shots we wanted to take.
At 4:05pm, we were back at the car, and then we continued south to Manaia before driving around the western base of Mt Egmont through Opunake along the Surf Highway.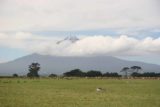 By 5:55pm, we finally returned to New Plymouth, but our nearly two-hour driving excursion was rather disappointing in hindsight as the Surf Highway was never really close to the coast (we had to take some detours for that), and the views of the volcano were covered by low clouds except for a small area west of Manaia. Perhaps we should've done the Curtis Falls instead.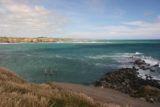 We ate at a restaurant by the Puke Ariki visitor centre and museum, where we had some decent Italian seafood.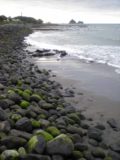 And after a quick look at the Coastal Walkway and a little grocery shopping for the remaining days of our North Island stint, we returned to our motel at 7:45pm.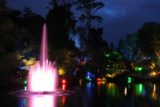 At 9pm, we left the motel again. This time, we were headed for the nearby Pukekura Park for the Festival of Lights, which we were made aware of by all the TSB Bank advertisements as well as our LP guide.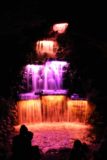 We entered through the Rogan Street entrance not quite sure which entrance we were supposed to take. But with all the cars parked on the lawn and seemingly in areas that probably wouldn't otherwise be sanctioned during the day, we figured we were in the right place.
As we got closer to the action, we could hear the music of Lionel Ritchie performed by a local band beckoning us closer. Along the way, we followed crowds of people going in both directions. And a lit up lake with boats on it as well as a lit up waterfall near the music caught our attention.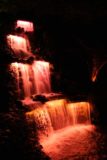 Beyond the waterfall, we got right into the action where hoards of people were sitting on the lawn in front of a stage of performers. We kept going thinking the music and festivities would continue so we headed towards another pond, but this one had a lit up fountain and was flanked by fluorescent lights of varying colors lighting up other foliage.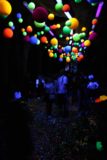 By the time we got to the other side of the lake, we noticed the concert was done. And all of the sudden, the atmosphere was gone. But the lighting still dictated the mood from that of festivities towards something more out of a Knott's Scary Farm without the actors and mazes. We noticed that people wearing white were glowing with the fluorescent lighting, but our hiking clothes did no such thing.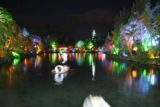 So we explored the rest of the park seeing glowing balls, a glowing fernery, some fake glow worms, and even a very bright bridge allowing us to check out boaters being mischievous on the lake.
And with that, we filed out of the park with the rest of the crowds including families. We eventually got back to our car and returned to our motel at 10:20pm. We were glad we seized the moment and at least did this to round out our day. It was almost reminiscent of the atmosphere experienced during Tas Dance at the Cataract Gorge in Launceston, Tasmania.
For the weather tomorrow was predicted to be rainy, and I'm sure that might put a damper into our plans to do some long hikes to visit other waterfalls we had not seen before in the Taranaki area. I guess we'll have to see how all this plays out…
Visitor Comments:
Got something you'd like to share or say to keep the conversation going? Feel free to leave a comment below...
No users have replied to the content on this page