Day 19: WORTH IT?
With all the early wake-ups and several hours per day of driving, I once again slept in. This time, both Julie and I awoke at 8:30am. And I knew with each hour that has passed this morning, the likelihood of a Bells Falls all-day trek was becoming less and less.
Today's forecast was supposed to be showery with possible gales up to 70km/h. And a look out the window at least confirmed that rain was possible as clouds were hovered over us (though this wasn't anything new since Mt Taranaki was a cloud magnet). Thus, I gave up on Bells Falls and settled for Curtis Falls knowing that it was a rather dimunitive waterfall for the amount of trouble to get to it.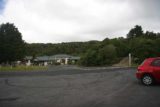 We continued on with the usual round of breakfast and freshening up, and by 10:10am, we were out the door and finally starting the day's activities.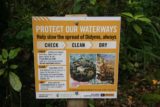 After returning to Stratford and heading west on Pembroke Road towards the eastern slopes of Mt Egmont (or Mt Taranaki), we got to the Mountain House at 10:50am. The Curtis Falls start was right across the road heading into the bush. The partly sunny skies was actually a bit of a surprise considering the weather forecast.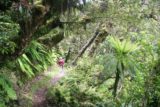 So we went ahead and got right onto the track. The start of it was full of flies buzzing around. There were stoat traps every 100m or so according to a sign, and we noticed that there were eggs (looked like chicken eggs) placed in them to entice the pests. In any case, either some of the traps had dead stoats or yolk flowing out of broken eggs; hence the flies.
The track descended steeply down several steps. The first trail junction was only a few steps down, but it was well signed and we continued the descent down to a dry bouldery stream. Immediately from there, the trail ascended some metal steps before flattening out.
The trail then stayed flat for another few minutes before descending and ascending a few minor gullies with one-sided bridges and some slip-resistant footing. When we could see the noticeably wide Curtis Creek deep down below, we made a very long and very steep descent right down to the stream. All this up-and-down was worrying because we knew we had to do it again on the way back out, and that made up start to question whether Curtis Falls was really worth all this effort or not.
A reassuring sign pointed to our left to continue on to the Curtis Falls. From here, it was a boulder scramble. In a few places, it was a bit awkward as the track was not defined at this point. A tricky stream crossing (at least to try to minimize the likelihood of drenching our feet) was required, but within another ten minutes, we were right in front of the Curtis Falls.
It was too bad clouds have covered the peak of Mt Egmont because this boulder scramble could've been even more scenic had we been able to see the conical peak of the volcano during this stretch.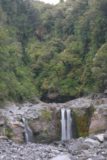 But as it was, we had to settle for an 8m waterfall, and it was an awful lot of work to get to such a puny waterfall. But then again, sometimes it's more about the scenery and the nature as opposed to the waterfall itself. After all, we were the only ones on this track, and the more gaudy scenic waterfalls tended to attract crowds. I guess there's always a trade-off between peace and tranquility versus nice photos and a little chaos from zoo-like atmosphere of the tourist crush.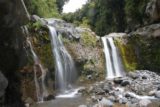 So was this waterfall worth it?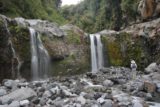 I guess it really depends on your mood. I still wished I could've done Bells Falls, but it just wasn't meant to be today. Perhaps the difficulty of the taxing and hilly 6-8 hour hike that's more typically done as an overnight hike had something to do with it.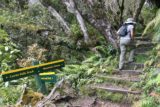 At 1:15pm, we were finally back at the car. Our calves were burning and we were sweating from all the up-and-down walking. But now with a whole afternoon left, we decided at that moment to give Mt Damper Falls a try again. I guess it'd fill the afternoon, and it'd be interesting to see how much has changed since our last visit five years ago.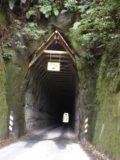 So we proceeded to drive the SH43 (aka the Forgotten World Highway), and like before, it was a very twisty and narrow road leading through the Republic of Whangamoana (yep, that's right, it's a republic and not a town) and eventually through the Moki Tunnel before getting to the Ohura Road turnoff.
From there, we got onto the Ohura Road and the first thing I noticed was that the road was sealed. This made me wonder whether SH43 was also completely sealed now as well.
I knew from last time that it wasn't sealed and it was a long bumpy ride to get to the trailhead. So given this bit of modernization, the unsealed bit of road wasn't until the Mangapapa Road for the last five minutes or so before the car park for the falls (which we got to at 3:10pm).
There were already three parked vehicles here, which was already busier than last time. Anyways, we also noticed there was a Heritage Trail sign (something that wasn't there before), but the start of the walk looked awfully familiar.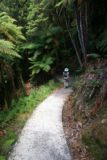 But when we got into the conservation forest across the bridge over the stream that ultimately would go over the falls, we immediately noticed that the path was gravelly. We recalled the last time that this path was more muddier and slippery. Chalk this up to another round of improving infrastructure.
After passing by three parties going the other way (probably belonging to those cars already parked here), we eventually got to the final stairs leading down to the overlook of the Mt Damper Falls. There was even a scrambling path (which I'm sure wasn't there before) leading to a view of that other waterfall on the way down.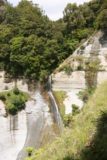 Mt Damper Falls didn't look quite as thick as five years ago, but it was still a very attractive 74m falls. The light was somewhat against us this time of day, but it was still scenic though the winds here tended to bend the plume of the falls making it curve with it.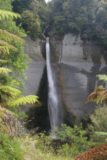 After having our fill of this falls, we got back to the car at 4pm. Then, we trusted the GPS to tell us the fastest way to get back to New Plymouth. And to our surprise, it had us take the Okau Road (a path we hadn't taken before).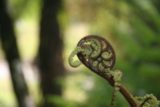 So we obliged by continuing on the similarly lengthed unsealed road before getting back to sealed road. Eventually, we'd reach the SH3 where there was a very well-marked sign for Mt Damper Falls 27km away from this highway. And after zooming our way southwest back to New Plymouth, we were able to have dinner at the Seafood on the Beach takeaway place at 5:30pm.
This place that has won some regional award in 2007 for the best chips (fries) in town was quite busy after we took our order. But knowing that fried stuff was very bad, we opted for grilled fish, pan-seared scallops, and some fish curry considering the proprietors were Bangaleshi.
The curry was excellent, and the seafood was fresh. Even though it wasn't the fush 'n chups (I mean fish 'n chips) they were known for, we still thought the food we had was good and reasonably priced. Who knew?
By 6:40pm, we were back at our motel, which seemed much busier than yesterday. Some rowdy kids were making noise upstairs, and that didn't bode well for us being able to sleep early and wake-up early for our long day tomorrow. Funny how such calamities happen at the worst times…
Visitor Comments:
Got something you'd like to share or say to keep the conversation going? Feel free to leave a comment below...
No users have replied to the content on this page