Day 20: WATERFALLING THE OLD WAY
Today we anticipated a very busy day so we started by waking up at 4am. Then, we skipped our usual breakfast so we could load up the car and get moving at 4:40am.
It was windy outside as well as dark. This early day really reminded me of how we did waterfalling five years ago where we would cram our days with as many waterfall excursions as possible to maximize the amount of daylight available to us. I guess it was kind of a trip down memory lane when I repeatedly did this for our book project
.
So we got going and headed northeast on SH3. With a mixture of curvy roads, big rig trucks going the other way in high beams, and myself going in and out of high beam, we tried to maintain a reasonable speed without careening into oncoming traffic from going into sharp blind turns too fast.
I'm sure this stretch of road would be quite scenic and offer some nice walks (like the Whitecliffs Walkway and the Three Sisters), but it was still too dark. Eventually at around 6am, we got to a point where we at least didn't need the high beam anymore. Another fifteen minutes later, we turned off on a twisty rural road knowing that we had to cut across to SH4 to get to Omaru Falls.
Omaru Falls was considered a big miss on our last trip as far as I'm concerned. I remembered seeing some sign indicating "Scenic Falls 300m" while motoring between Whakapapa Village and Hamilton after finishing the Tongariro Crossing. We weren't sure what falls the sign was talking about so we ended up missing it.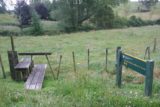 But some follow up research after the trip was over led me to this falls. And ever since that realization, it was always on my mind to visit this place in any future visit to Aotearoa.
Anyways, we eventually got to the somewhat not-so-well-signed turnoff for the falls (very easy to miss), then got to the well-signed car park at 6:50am. The little pulloff for the hike could probably take at least four cars.
So after getting our stuff, we climbed over the stile, followed some wooden sticks amidst a field of tall wet grass, then climbed over another stile to get into the conservation forest.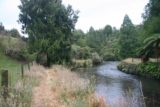 From there, the scenery changed from a paddock to a dense forest full of ferns and trees.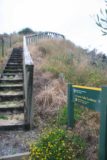 The forest canopy made the trail a little dark, but it was still enough light to navigate. What was hard to see were the spider webs getting into my face (I was the lead hiker). One of the webs must've had a spider on it because my left eye felt something a bit cold, and already suspected then that I must've gotten a spider in that eye. Hope it wasn't toxic, but my eye was itchy which got me worried.
Still, both of us trudged on. Considering the haste we were in, the hike seemed long so they weren't kidding about the 30 minutes each way. And once we got out of the main forest canopy, we crossed a single-person swinging bridge before walking along the boundary of the conservation forest and another paddocks.
At that point, we could see the stream more visibly. And there were even a few smaller waterfalls on the way.
But eventually we'd get right to the overlook with a nice top down view of the impressive Omaru Falls. And going off the memory of our Marokopa Falls visit, we figured this particular waterfall was a little taller but lacked the high flow and squarish shape. Nonetheless, we felt this waterfall was well worth the detour and hike.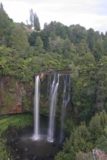 At 8am, we made it back to the car. Now, it was time to go see some glowworms since Julie wouldn't let me hear the end of it after missing the Te Anau Caves.
On the way north along SH4, we noticed that sign again saying "Scenic Falls 300m." And once again, we didn't stop for it because we couldn't see any such falls or some sign saying what the correct pullout or car park was. One thing was clear, however, was that this sign did not refer to the Omaru Falls. But in a strange ironic twist, if it wasn't for this sign, we would've never even known about the Omaru Falls since our miss five years ago based on that brown sign got me to look for waterfalls in this area. So even though the sign was for another waterfall, we ended up seeing a pretty nice falls five years after our initial trip. Not bad for a serendipitous catch.
By the way, it turned out that upon some post-trip research, the falls that was being referred to by that sign was for Madonna Falls. I'll guess we'll have to check it out for sure next time…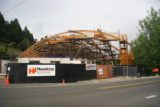 By 8:40am, we arrived at the Waitomo Caves, and the first thing we noticed was that there was a lot of reconstruction and renovation going on. Finally, Julie got to get here glowworms fix after giving me the guilt trip about not doing the Te Anau Caves. After paying for our tickets, we waited at the waiting area, which was a makeshift shelter with chairs. Some signs there explained what had happened regarding the renovation.
Basically, a fire on December 17, 2005 occurred and destroyed the main lobby. But when Julie thought about it, she wondered why there's still so much work to be done four years later. After all, we had seen larger places rebuilt in far less time, and it was almost as if there was some kind of dodgy contracting going on much like back at home where we had seen construction projects drag on for years with cost overruns and little progress.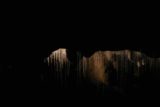 Anyways, our 9am tour began with only a half-dozen people, and since we were the first ones during the day, it was a very intimate tour. Unfortunately, we weren't allowed to take photos, but I did manage to sneak one in without flash when the Maori guide turned on some lights to show the glow worms with their long saliva-like strands which were supposed to catch insects attracted to the light.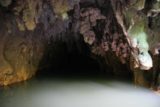 When we got into the boat at the end of the tour, we once again got to see the caverns glowing like constellations of glow worms. It was too bad there wasn't enough light to take any photos or any movies within the cavern. So there was no way we could somehow take this experience with us.
We once again had to make do with our mental images and a few token photographs taken outside the cave as well as that one photo I managed to sneak in of the glowworms with their salivary trap shone under light.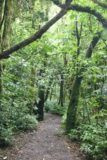 At 9:55am, we returned to our car and continued westward on Te Anga Road to Marokopa Falls; arriving at 10:30am. And after stopping at the familiar car park, we quickly hussled our way to the familiar lookout of the falls, and the falls was pretty much the way we had seen it five years ago.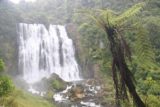 Being the seasoned waterfallers we were, we now looked at this falls with higher regard than five years ago. I'm sure this is going to shake up our Top 10 New Zealand Waterfalls list. Nonetheless, we took more photos and composed them in ways we hadn't done before. Then when another person showed up, that was our cue to leave and head back to the car.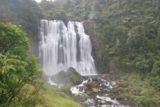 At 10:55am, we left the falls and a half-hour later, we arrived at the Huhu Cafe. We were lured by the promise of some kind of Maori food, but we learned that only their bread was the remaining offering of anything resembling the ethnic food. And even at that, it was really nothing more than bread that you could argue we no different than those you could buy anywhere in a grocery store.
I guess if we really wanted hangi food, we should've gone to Rotorua's Te Whakarewarewa where we could give it a go. We missed the hangi feast the first time around. But other than that, it seemed like it was real difficult to have something authentically Maori the way you might have say Hawaiian food at a lu'au.
At 12:10pm, we left the Huhu Cafe and proceeded north to Hamilton. Once in the city, I managed to fill up at a Caltex that happened to force you to pre-pay for the petrol. I think this was the first and only one so far on our trip where this was the case, but a sign there indicated that they've had a history of people driving off without paying, and that was a shame. Of course, we were totally used to it back at home where paying before you pump had always been the rule rather than the exception.
Next, we continued our drive eastwards in the direction of the Coromandel. Eventually, we got to Te Aroha where a straight-shot road left south from the town centre. The next waterfall excursion was a repeat visit to Wairere Falls, which was still another 25km south of town.
At 2:05pm, we made it to the fairly busy car park. Though I swore that Goodwin Road was a bit more sealed than I remembered it, but then again, it could merely be my memory not quite recalling the details accurately.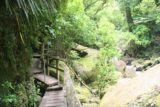 Julie opted to stay in the car as I made my move up to the lookout for the falls, which was roughly 45 minutes from here. And from the last experience, I knew it wouldn't be easy as I'd be going uphill quite relentlessly. Indeed, this was one waterfall where you had to earn your view.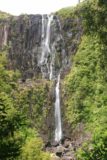 Eventually, I got back to that familiar overlook where the afternoon light was quite favorable for viewing the falls (unlike five years ago when we were kind of looking against the sun). This time the falls had a little less flow than before so the upper tier was actually wispier and even blowing in the wind. Sometimes it would blow upwards, but most of the time, it was swaying left to right and back with the winds.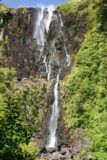 When I had my fill of the falls, I quickly descended down the trail. And when I made it almost to the bottom of the wooden stairs, that was when I heard Julie calling out to me. Apparently, she decided to make her way up to here, and I was half excited that she's up here to check out the falls, but at the same time, I was bumming that I have to climb back up the uphill trail to the overlook with her.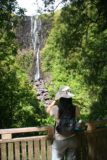 So both of us suffered our way up to the overlook and seized this opportunity to take more photos and movies of the falls. We both discussed that perhaps I was being too generous with its rating based on impressions from five years ago. And like we thought with Marokopa Falls, our Top 10 New Zealand Waterfalls list needs to be retooled.
By 3:50pm, we finally made it back to the car. Somehow the trail seemed a little bit different from five years ago (I'm sure they made it easier in spots), but perhaps my memory was just a bit fuzzy. On the way down, we saw a friendly hunter with a gun strapped to his back. Apparently, he was here to hunt for pests (I hope).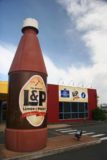 The drive continued from here to Paeroa. At 4:35pm, we arrived at a particular cafe with a large L&P bottle in front of it. Sure the whole Lemon & Paeroa drink was probably a gimmick, but I admit that we fell for this gimmick and made a stop here anyways. We figured we mind as well have one last go at L&P before not having it for a while when we leave New Zealand.
At 5pm, we entered the Kaharangake Gorge where a well-signed turnoff led us to a pullout with access to the Owharoa Falls. This was another waterfall we missed from our last visit to the country. Yet this time around, the afternoon sun was a bit against us.
Nonetheless, we took our photos and even had some fun checking out some local Maoris doing cliff dives off the middle of the falls.
At 5:25pm, we left the falls and continued driving all the way to Whangamata. And finally at 6:05pm, we arrived at La Dolce Vita Motel. After getting settled, we had ourselves a rather indulgent seafood dinner at the Rossini Cafe (it was about 9pm when we were done) before we finally called it a night.
But that wasn't before the motel proprietor came by with a phone in her hand telling us that we had a phone call for us. It happened to be Giorgio from the Villa Toscana Lodge, and through this conversation, we finally got a mutual understanding that we were going to meet them tomorrow. Even though they were busy as were we, we made it a point to see them in the morning in a bit of a reunion since our memorable wedding day at their lodge five years prior.
Visitor Comments:
Got something you'd like to share or say to keep the conversation going? Feel free to leave a comment below...
No users have replied to the content on this page