Day 21: THAT'S JUST WRONG
With last night's late dinner and sleep, the 6am wake-up was once again with a bit of effort. That morning was spent doing the usual routine of breakfast and packing while the leftover time was spent labeling photos.
We left Whangamata at 8:10am. The plan was to meet up with Giorgio and Margherita before 10am at their Villa Toscana Lodge in Whitianga. We really looked forward to it because we knew it would bring back a flood of memories of that wonderful day that was our wedding as well as the time we spent there in the palacial accommodation.
The winding roads were fairly quiet at this time of day, but it still wasn't until 9:50am when we made it from Whangamata to Whitianga. We followed our GPS right up to the familiar steep driveway leading right up to the front door of the property. As we pulled up, we noticed a young guy in a blue car with his grandma having that look like "what are those folks doing in our driveway?"
Well he was headed out, and we smiled at him. He probably didn't realizing that we saw him five years ago when he still had yet to reach puberty. Likewise, we saw the daughter who was watering the gardens. She said hi to us, and Julie mentioned to her that we saw her when she was little. Now, she had grown pretty tall. It was amazing how much had changed in five years.
At the front door, we were greeted by a couple of the workers. The head worker recognized us and had us go towards the dining room area where Giorgio saw us and gave us his charming Italian welcome.
After a few words exchanged between us regarding what each of us had been up to since we were last here, we then headed out to the patio area. But just before we were about to head outside, I heard someone say, "Ahem, excuse me."
When I looked over, there was Margherita smiling. And we embraced before Julie did likewise.
We all sat at the patio basking in the sun. Talking about various things like travel, kids, changes in the Whitianga area, and how Julie was the trendsetter at the Villa Toscana Lodge with the sea shell theme for the wedding decorations. Margherita even showed us a promotional DVD of their lodge where we could recognize many of the photos taken from our wedding and reception five years ago.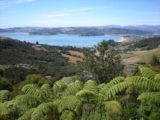 When we looked out on the familiar terrace, we took a few more photos so we could do a before and after comparison when we return home. Giorgio pointed out that much of the hills below us were developed where they were once mostly green foliage. I guess that was kind of consistent with the observation that many of the hills in the Coromandel were also denuded with tracts of deforestation, and this was all probably due to the rapid increase in development countrywide, but especially in this area.
It was too bad Giorgio had to leave for Tairua for a food and wine festival. He had to leave at 11am, but it was so easy to stay in the moment and enjoy each others' company once again. And before we knew it, the time flew and we ended up leaving at around 11:25am. I really hoped Giorgio and his son could make it to Tairua even though they were probably going to be late.
As we left Whitianga and headed to the Cathedral Cove, we were passed by a cop with his siren flashing. We were also being followed by Giorgio and his son. En route to Cathedral Cove, we heard on the radio that there had been a bad accident in Tairua and that traffic may be held up for two hours. This might be why that cop passed us and others so urgently. This might also be bad news for Giorgio and his son in getting to the food and wine festival in Tairua.
At around 11:50am, we reached the familiar Cathedral Cove. However, what wasn't so familiar was that the parking lot was crowded, and there were even cars parked along the narrow residential road even obstructing the flow of traffic. We never remembered parking being this hard to find five years ago. But fortunately, we decided to go all the way to the start of Hahei town and do the park and ride for $2 NZD per person. That was actually a pretty good idea, we thought.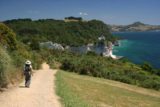 Anyways, we got back to the Cathedral Cove by bus at noon. Under the beautiful skies, we immediately proceeded to do the roughly 45-minute walk to the picturesque sea arch itself.
There were numerous people (mostly young beachgoers) and there was quite a bit of that American accent (more like Californian) from folks like us who were from California. And I guess with this type of atmosphere of visitors from the States as well as many parts of the rest of the world, it certainly felt much busier than we remembered it. There were even sounds of airplanes flying as well as many boats. Definitely more commercialized.
Eventually, we got to the Cathedral Cove itself where the beach before entering the archway was quite busy. When we saw the arch itself, we noticed some signs and wirings restricting access only along a narrow walkway. There were fallen rocks recently, which prompted this latest development.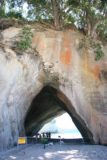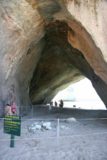 As we checked out the other side, it was still busy there too. High tide was coming in as crossing the back end of the cove required getting wet. I'm sure it wouldn't be much longer before crossing the arch without wading or swimming would be possible.
Before we headed back up the stairs and back along the 45-minute track to the car park, we finally noticed a drink stand right on the beach.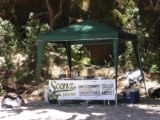 So this was what the radio was talking about.
Apparently, someone licensed this guy to make money by selling stuff right on this once naturesque and pristine beach.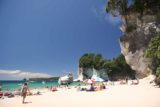 "This is so wrong," said Julie to me. Even Margherita wasn't happy about this development when we spoke earlier this morning. Indeed, this seemed to be the confirmation for us that even a place like New Zealand, which we once thought of as a progressive and very green destination, is not immune to the scourge of greed and overdevelopment. Certainly Cathedral Cove five years prior was better than it is now.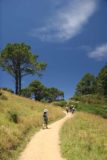 At 2pm, we got back to the car. From there, we returned to Whitianga in the hopes of perhaps rekindling more moments from back in memory lane at this place called The Fireplace, which was the site of our rehearsal dinner. Unfortunately, at 2:50pm, we saw that The Fireplace was no longer there.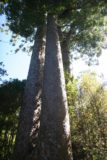 So we got a couple of burgers as takeaways before we headed out of Whitianga and across the 309 road, which was a road I wish we had taken five years ago to find the Waiau Falls (but somehow managed to miss it completely on that trip).
We left at 3:15pm, but it wasn't until around 4:10pm before we finally found the proper car park for the Waiau Falls. There was a Waiau Falls Scenic Reserve sign en route, which made me think there was a trail near that sign and was very misleading. I even investigated a Kauri Grove trail, which yielded no waterfalls, but did yield a sighting of the so-called Siamese Kauris.
Anyways, at the correct spot, we saw a busy scene of both tourists and Maoris alike swimming around the dimunitive 5m falls. But with the vulgar graffiti on the sign and some evidence of broken glass (i.e. past break-ins), Julie stayed at the car to ensure no one does likewise to our car full of stuff.
Speaking of the vulgar graffiti, I guess that was another glaring thing we noticed on this trip that wasn't so apparent five years ago.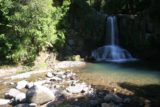 Apparently, there's some anti-DoC backlash and I suspect it has to do with land rights. It's kind of a familiar sentiment what with locals protesting government actions to preserve land thinking it's nothing more than a governmental land grab. I know back at home, there were fierce battles waged against government by Alaskans as well as by those in the Jackson Hole of Wyoming.
At 4:40pm, we finally left the Waiau Falls and proceeded to return to Auckland.
The drive was long and winding, and it was made longer by a line of trucks hauling boats refusing to use slow vehicle bays.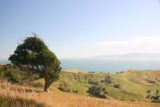 It wasn't until 7:25pm when we were within the city limits of Auckland and arrived at the One Tree Hill. Here, it was cold and breezy despite the late afternoon sun. But the 360 degree views were quite a way to get a sense of the scale of the city and its neighboring harbors. Even the Sky Tower was sticking up out of the concrete jungle below.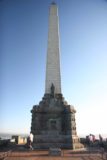 Centered right at the top of this hill was an imposing obelisk structure where even my wide angle lens could barely bring the whole thing into one frame. We didn't do much more concerted reading or any additional insight as to what the significance of the obelisk and memorial was.
However, we did read about why this place was called One Tree Hill and it had nothing to do with that WB
show that Julie likes to watch. Apparently, there used to be a lone tree that grew on this hill that was native. But someone had this idea to cut it down and put in a different non-native tree. And since then, locals have cut that down in protest until the original species of tree was put back again.
So now sits a stump where that one tree was supposed to have been. I guess the more appropriate name now is more like One Stump Hill.
Ten minutes later, we left the One Tree Hill and headed towards the City Centre Hotel. It was the same place where we stayed at five years ago.
By 8:25pm, we arrived at our destination, and the car park arrangements as well as the hotel lobby brought back some memories of what it was like back then. It's funny how our memories work where some of the slightest triggers of familiarity all of the sudden brings back a flood of moments recalled from our past.
Once we got settled, we left the hotel to explore the city for a bit even if it was a little late at 9pm. We had some Thai food before checking out the Sky Tower, and then the Market Square near Prince's Wharf.
Even though the walking for four blocks to get down here from the Sky Tower seemed dicey as the city seemed kind of dead, it wasn't until we finally found the Market Square did we see the only pocket of the city that seemed to still be alive and kicking.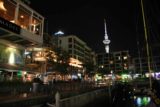 Sure it was mostly young Kiwis out and about on a Saturday night dancing, getting drunk, and socializing while dressed to impress, but we finally found somewhere that had some youthful energy besides Queenstown. However, we did hear some snickers and snide remarks as some of them walked past us and mentioned "Tourists…"
Maybe it was my big camera or that I was still in hiking clothes. I guess I should try to blend in more on our last night in the country tomorrow night…
Visitor Comments:
Got something you'd like to share or say to keep the conversation going? Feel free to leave a comment below...
No users have replied to the content on this page