Day 22: THE LAST HURRAH
We awoke at 7:30am knowing that today was going to be the last day of sightseeing, but that we weren't going to do any extensive driving beyond the Greater Auckland area.
The City Central Hotel had neither a microwave nor a bowl so I couldn't have oatmeal. However, we did manage to finish Julie's rice krispies and our soy milk.
By 9:15am, we left towards the Waitakere Ranges. We were headed to Kitekite Falls. Five years ago, it was only I who did this walk while Julie was with our photographer Suzanna in her suburbian Auckland studio selecting wedding photos for the photo album.
So it would be pretty cool to share this experience with Julie this time around.
En route to the Waitakeres, we did some last minute grocery shopping just so we can have fruits for this last day.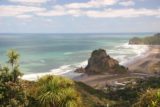 Afterwards, much of the drive was familiar and brought back memories of the last time I did it. We did manage to stop at a familiar overlook of Piha Beach where we could see Lions Rock and the Piha township nearby. It was strange to see a formal paved pullout with a wooden railing this time around. Last time, it was merely the front of a driveway with no other infrastructure suggesting it was a valid lookout. Still, the viewpoint was pretty good.
So we continued onwards on the descent and ended up back at the Glenesk Car Park. There were lots of cars already parked here, and we ended up parking at one of the last spots left at the spillover car park. This was markedly different from the last time where I was only one of a few cars here. We actually got one of the last spots to "comfortably" park in before people had to start parking on the road or partially obstruct traffic.
Indeed, this place was definitely more popular than I remembered it, but then again, maybe that was because it was a gorgeous Sunday morning and there was some kind of performance going on at the beach.
At 11am, we started our walk. One thing we did notice this time around was that there was a grating with brush next to some spray gun. A sign here directed us to wash the underside of our boots with this chemical because Kauri trees were dying off due to some kind of thing called Kauri die-back.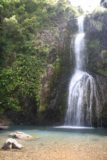 When we got to a fork on the trail where the right fork had a sign indicating the falls was 10 minutes away, we took the other fork since I hadn't done it previously.
And after crossing some bouldery stream, the track descended steeply up some steps before hugging a narrow ledge then finally descending to the familiar base of the falls. There were already at least a dozen or so people at the base. This was all despite the real crappy lighting as the sun was directly right in front of us wreaking havoc on our photos.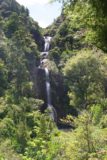 We didn't spend a whole lot of time down here due to the poor lighting so we crossed the stream at the base of the falls and climbed up the stairs on the opposite end. Then, we proceeded to walk the other side (the side I took on the previous trip). And we were making real good progress to the car park before we saw some Kiwis chilling out at a picnic table.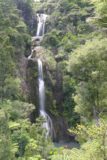 I didn't remember a picnic table on this track before so that caused me to stop in my tracks. Then, I turned around to see what they were seeing, and before us was a real nice view of the falls including the upper tiers that previously weren't visible from the base. In fact, I don't even remember this view being available the last time so perhaps they cut some trees to provide this view.
And as we were taking photos, we conversed with the Kiwis about our trip and about various things regarding New Zealand. When we were done chatting with these folks, another trio of Kiwis conversed with us. And before we knew it, another hour had passed before we continued on with our walk. I guess sometimes the friendliness of Kiwis can be rather infectious and engaging in spontaneous conversations with them comes with the territory.
By 12:30pm, we were back at the car.
Then, I had this brilliant idea (note the sarcasm) that we ought to check out the Piha Beach since we were here. But what I didn't bank on was getting caught in an all out traffic jam where there was virtually no parking and vehicular traffic hardly moved. And since we were going to quieter and better beaches in the Cook Islands starting tomorrow, we changed our minds and headed back up the Scenic Road.
As we were heading east, we saw trains of automobiles going the other way. I guess now we knew where most of Auckland was at. In fact, we were betting that many of the barhoppers from last night at the Market Square near the Princes Wharf were probably here today.
Next on the agenda was to check out the Fairy Falls. I was meaning to do this falls five years ago, but I didn't have the time. Unfortunately, I didn't know exactly where the car park for the falls was.
So we were driving around towards Bethells Beach when we stumbled upon a sign that said Falls Road. That seemed promising, but that drive seemed rather awkward as it passed through an active golf course. I'm sure we must've broken some golfers' concentrations as we criss-crossed through the course.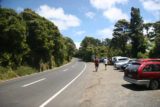 But by the time we reached the car park, I wasn't sure if we were in the right place. Fortunately, I picked up a brochure of the Walks in the Waitakeres and found out that we overshot Fairy Falls while on Scenic Drive.
So given that, we drove back to Scenic Drive in search of the proper car park. Eventually, we found the right car park that was signposted for the falls. Funny we didn't see that before, but then again, the signs were more obvious when we were heading south as opposed to north since the signs were north facing.
So we started the hike at 1:40pm. Once again, there were lots of cars here. We happened to park next to a pile of broken glass, which was worrisome considering break-ins in the country weren't all that uncommon. The sign said it was 45 minutes each way, which we didn't think was that bad.
And once again, there was another station early in the track where we had to spray our boots to try to save the Kauri trees. In this particular hike, we actually passed through several of them, which made this track a bit more memorable than I had anticipated.
However, the trail was going mostly downhill, and it became apparent this was going to be an upside-down hike. So it was going to be real tiring on the way back up. But even with that said, there were numerous people of all shapes, sizes, and ages going back out the other way so it couldn't be all that bad, right?
Well the descent seemed like it went on for quite a while. I was beginning to wonder if the signs saying it was 45 minutes each way were merely quoting the average (like 30 minutes down and twice that on the way back up).
But eventually, the track crossed the stream right above the very top of the falls. And from there, it descended steeply down steps providing views of the multi-tiered cascade. Then, the trail went by a big Kauri tree before crossing over the top of the bottommost tier and then descending some more to its base. And that was the turnaround point of the hike.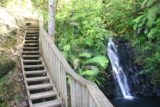 Like Kitekite Falls, this falls was also very popular as evidenced by the dozens of people already down here. Indeed, Kiwis love their outdoors on the weekends, especially in good weather like this.
By 3:10pm, we were back at the car all hot and sweaty. I'm sure we must've worked off many calories on this day so far. Though I was still quite amazed by the fact that the weather remained fine this day even though rain was predicted. I guess that was why the news did weather forecasts in fractions of days instead of whole day predictions because the latter tended to be inaccurate as we witnessed firsthand.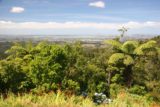 So now we drove out of the Waitakere Ranges and towards the Hunua Ranges for our last waterfall of the day. And since we didn't have lunch yet, Julie had this itch to try a McDonald's burger since she figured the grass-fed cow meat in this country would make for better food than the normal artery-clogging crap we get at the Mickie D's back at home (though Kiwis call them Macka's over here).
We put our book
to the test once again with this falls since it required a bit of navigating some rural suburban streets before getting to the proper roads leading to this place. And I'm glad to say that those directions were quite spot on.
At 4:40pm, we finally got to the Hunua Falls car park, which was very busy. The big car park was full, and there were even cars parked on a larger lawn area where some Maori families were having picnics while campervans were also parked there as well.
Once again, when we parked the car, we noticed some broken glass near our spot. I was detecting a pattern here. For it seemed like the closer to the city you were, the more likely you might be a victim of theft by some urban thugs.
In any case, this time I wasn't as time constrained with this waterfall as I was five years ago. So we were able to see the falls from all sorts of angles and positions.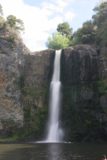 But one thing that was kind of sad was that last time there were lilypads, tulips, and reeds fronting the quiet plunge pool of the falls. But today, those things were gone, and in their place were a large grassy area people were sun bathing or drying off from a cold swim. Meanwhile, there were ducks fed by kids throwing bread at them.
There was definitely a more pronounced Maori presence here. It was quite a shock considering I was only one of two vehicles here around this time five years ago in November.
I even managed to find the masterpiece frame where you could photograph the falls through its empty interior as if you could create your own masterpiece. There was another one of these things at the Arataki Visitor Centre as well. I'm guessing this was popular with ARC (Auckland Regional Council) attractions.
By 5:20pm, we were back at the car, and we could finally call it an end to our relentless waterfalling in the country. By 6:15pm, we were back at the familiar hotel where we emptied out the rental car so we could do some final packing tomorrow morning before heading out to the airport.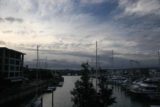 But before calling it a night, we walked back to the Market Square area by the Princes Wharf to have one last dining experience in Auckland. We ended up eating at some place called Kermadec where the food was quite good, and we basked in the moment as we realized this was going to be the last time we'd have fresh New Zealand food in the country.
Afterwards, we treated ourselves to multiple desserts at other establishments. So we ended up having sticky date pudding (which was very bad), banana flambee (interesting), and this gelato place (quite tasty, but we were saturated with desserts by this time).
It was well after 9pm by the time we were back in our room. And as expected, Auckland's city centre was pretty dead. I didn't know if this was symptomatic of the fact that most Kiwis were probably still out holidaying or if all the energy of the city was at the Market Square.
In any case, we were ready to wind down the Kiwi leg of our trip and look forward to the Cook Islands tomorrow to conclude our last hurrah of a trip before we expect major changes in our lives that would restrict our ability to travel the way we had been doing these last five years.
Indeed, the end of this trip was bittersweet, but all good things must come to an end, I guess. And that good thing was our extended honeymoon, which changed our lives in deeply profound ways. We're not sure if we'll ever have the opportunity to travel like this again, but we'll certainly be opportunistic about it…
Visitor Comments:
Got something you'd like to share or say to keep the conversation going? Feel free to leave a comment below...
No users have replied to the content on this page