Day 27: BEING PRODUCTIVE
As groggy as we were, we'd wake up to our alarms, get our stuff together, check out, and head right for the airport in Christchurch. Fortunately this time around, we didn't need to rely on a car shuttle to get to the airport after dropping off the car (especially since the office wasn't open at this time of day). However, after dropping Julie and the luggage at the terminal, I had to drive to the Maui rental office on the outskirts of the airport, and then walk all the way back to the terminal.
Talk about inconvenient!
Anyways, we managed to catch our flight without issue, and when we landed, we had to go through the familiar drill of getting to the rental office to pick up the car hire for today only knowing that we still had some things to do on this day.
First up, Julie had an appointment to meet up with Susanna Burton to look through the photographs that were taken at our wedding earlier this month. When we found her home, Julie and Susanna decided they could do the photo sorting alone without me (which I didn't mind them doing on their own at all), and at around 10am, I left the nice suburbian home and proceeded to take some local Auckland streets towards the Waitakere Ranges in search of a couple more waterfalls I was intended to see in that part of the North Island.
But first, I made a stop at the Arataki Visitor Centre, which happened to be along the way on Scenic Drive at around 11am. After looking around the centre for some additional literature that I might find useful, I then proceeded to drive west on the winding road through the Waitakeres ("wai-TAH-kur-rays") until I'd eventually get to an overlook of Piha Beach at around 11:30am.
The scenic beach featured a large rock formation called Lion's Rock. It was a quiet place on this day, and I eventually found the car park for Kitekite Falls. So following the trail, I'd eventually get to the pretty multi-tiered and tall waterfall, where I'd descend some steps leading right to the base of the falls.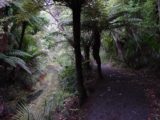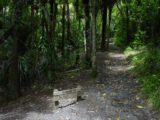 There were a handful of people on the trail while I was hiking with them. But when I was at the waterfall itself, there were some abseilers rappeling down the falls.
I guess there's no way I'd get frontal photos of this waterfall without people in it, but it was fine. The waterfall was nice, and then I'd get my fill before returning to the car park at around 12:20pm. So next, I quickly made my way to Piha Beach itself just to check out the beach.
Again, it was very quiet and peaceful at this beach. There were also flowers in bloom amidst the foliage growing on the fringes of the sand. So I just meandered about taking photos and just wishing Julie was here sharing this beach experience with me. I'm sure she'd totally enjoy it here being that it was a beautiful beach where I was only one of a handful of people here.
After having my fill of Piha Beach at 1pm, I got back in the car, then drove up towards the overlook of Piha Beach again. Then, just past the overlook, there was a narrow spur road leading to Karekare. So I went ahead and took this narrow road (where I had to be careful about the bi-directional traffic despite the narrowness of this road).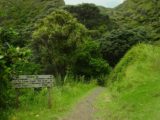 Eventually, the road flattened out, and then I'd ultimately get to a small car park or pullout by the Karekare Falls at around 1:20pm. The walk was only a couple of minutes, and pretty soon, I found myself by a picnic table where I was before an attractive thin flowing waterfall that might be around 25m or more (the upper sections were sloping before going over the main drop).
After having my fill taking pictures, I then followed its stream towards Karekare Beach. Apparently, the movie "The Piano" was filmed at this beach. And once again, it felt quiet and there was hardly anyone around. Again, Julie would've loved this place, but alas, all I could do was to show her the pictures.
At about 1:50pm, I was back in the car and drove back to Susanna's house. I figured by this time, Julie and Susanna should be done sorting through wedding photos.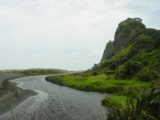 So at around 3pm, I was back at Susanna's house, where as I suspected, they were done picking the photos to go in the wedding album. And with that, Susanna could finish the rest of her work and send us the finished product in 1-2 months time.
In any case, Julie and I left in the rental car once again, and with still some time before returning to the Auckland International Airport to catch the red-eye flight back home, we drove out to the Hunua Ranges in search of Hunua Falls.
The drive was pretty uneventful as we followed our GPS and map that I had traced out earlier in the trip. And by about 4:15pm, we finally made it to the large car park for Hunua Falls. And since it seemed to be fairly late in the day, we were one of only a handful of people that were at this waterfall.
Again, it was quite peaceful as we took time taking photos of the falls from a bridge with the falls reflected in its stream as well as from a lawn area across its plunge pool where I was some pretty cool lily pads and daffodils on the fringes of the plunge pool.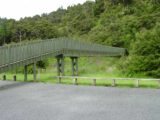 I thought it was a nice was to cap off our waterfalling adventures in the Land of the Long White Cloud, but with it being well after 4:30pm, the time had now come to drive back to the Auckland International Airport, drop off our Maui rental, and then move on to do all the travel formalities before catching our late evening flight back home.
And so ended our epic destination wedding and honeymoon trip, which really opened our eyes to the world, and ultimately expanded our lifelong waterfalling endeavour into one that went global.
Yep, New Zealand held a special place in our hearts, and we both were all smiles as we would get back to life and back to reality…