Day 10: REARRANGING PLANS
Julie and I left Napier and headed to the Tangoio Falls Scenic Reserve. We had passed by this place yesterday, but we didn't have time to fit in this hike as we were checking in to the McLean Park Motor Lodge in Napier.
It didn't take long before we showed up at the well-signed reserve where we then proceeded to walk on the trail leading first to Te Ana Falls before making its way uphill towards Tangoio Falls. Along the way, there was the White Pine Bush Trail, which we ultimately didn't take since we were targeting the two waterfalls here.
After spending a couple of hours on the trail while seeing both Tangoio and Te Ana Falls, we got back to the car and went along the Thermal Explorer Highway.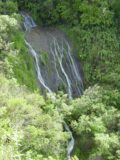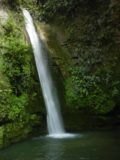 In looking back at this waterfalling experience, we'd have to say that Te Ana Falls seemed to be the more pleasing of the two falls. Tangoio Falls was taller but strandier and seemingly less accessible as we could only see it from a distant lookout.
There wasn't a whole lot to see here so we followed everyone else and zoomed along the fast-paced two-lane SH5. Of course in our haste, I noticed a Pungahuru Falls sign too late and passed it. We didn't bother trying to U-turn and check it out.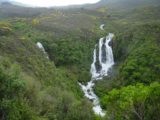 At about 11:30am, we made it to a signed turnoff for Waipunga Falls. If there was a spot to stop on this road, it was this one – and I wasn't alone in this thinking. There were heaps of other people who also made a stop here to see the triple-columned segmented waterfall tumbling some 40m below the lookout. It was quite impressive.
Continuing along SH5, we finally made it into Taupo at 1pm. We made a quick stop into the i-SITE in town. Of course what was on my mind at the time was the conditions for the Tongariro Crossing that I hoped to do tomorrow. I tried to keep things flexible so even if tomorrow was bad, we still had a shot for the day after tomorrow. However, the weather report had predicted bad weather until Friday.
Unfortunately, it was Tuesday and I worried our hoped-for Tongariro Crossing hike was in jeopardy. So I had to rearrange our plans. I was holding out hope that the predicted bad weather would clear up by Thursday, but I was doubtful.
Obviously, the hike wasn't going to happen tomorrow so I decided we ought to visit the southern slopes of Mt Ruapehu in search of Mangawhero Falls (a waterfall featured in the Lord of the Rings movie) and Waitonga Falls on that day.
Meanwhile, we had a brief lunch while checking out the busy town. It seemed like a happening place though we were going to stay in Turangi tonight.
At 2pm, we headed over to Huka Falls. This place was packed with people. It had facilities, a souvenir shop, heaps of tour buses, and a wheelchair accessible path to some of the lookouts of the 9m falls. We had to wait for some of the crowd to disperse before we could get to the fenced overlooks.
The churning Waikato River and the falls had a very powdery-blue color. Apparently there were plenty of volcanic minerals and soil saturating Lake Taupo, which fed this watercourse. That along with its power and accessibility probably made this such a big tourist attraction.
When we had our fill of Huka Falls, we headed over to the Craters of the Moon. This was one thermal area where you didn't have to pay an admission fee, but donations were accepted. I'd have to say there wasn't a whole lot special about the area after having seen other thermal features in Rotorua and earlier in the year when we went to Yellowstone.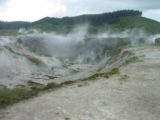 It was 3:15pm when we headed south along the eastern shores of Lake Taupo towards Turangi. We stayed at the Tongariro River Motel, which was kind of dumpy. Nonetheless, the proprietor was nice and gave us a spot on recommendation for this place called the Anglers Paradise for a place to eat. So after getting settled and unpacked, we went right to the main part of town in search of the restaurant.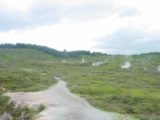 Anglers Paradise wasn't easy to find. From the outside, it was basically a humble-looking place nestled in some motel, which happened to be called the Anglers Paradise Resort. I guess once we made the association between the restaurant and motel, we finally found the restaurant and went inside. And once there, we were immediately treated to a rather unique dining experience…
We basically were asked to sit in a lounge area by the fireplace. There were a few other guests and it was really a chance to engage in small talk while deciding what to eat. Even though the empty and set dinner tables were there, no one was to be seated until told to do so.
After several minutes, people finally started to get escorted to their seats – pretty much in succession in one continuous moment. It wasn't long after we got settled when the dishes came out.
Knowing Turangi and Lake Taupo were known for trout fishing, we ordered some kind of freshwater fish dish – despite the fact that the trout here couldn't be caught commercially. So we didn't have the big trout the area was famous for, but Julie and I were blown away by the fresh fish we had eaten. I didn't think I ever had better fish than this and Julie had similar thoughts. It totally caught us off guard considering we weren't sure about the Tongariro River Motel proprietor's recommendation and the dumpy motel we had to stay in. We certainly owed him one here.
So when the pleasantly surprising dining experience ended, we returned to our accommodation. Seeing how we were on our honeymoon and we realized the motels weren't quite what we expected, we decided to splurge a little and book two nights at the Chateau Tongariro starting tomorrow (despite having already pre-booked a room at the Ohakune Court Motel in Ohakune for those two nights). Besides, I thought it might help us for the Tongariro Crossing hike I was still hoping to do. Moreover, Julie's birthday was tomorrow and I didn't want her to be disappointed.
Thus, we roughed it at the Tongariro River Motel this night. We didn't have trouble sleeping and that was good because we had to get an early start tomorrow…