Day 12: THE FORGOTTEN WORLD
When we woke up, our fears were true. The weather was terrible. So much for the Tongariro Crossing on this day.
So I had to think on the fly about what to do. I had originally planned to do the big day hike today so we could drive through the Taranaki area en route to Hamilton tomorrow. Since Mother Nature had other plans, I thought about doing a very long Taranaki loop that started and ended at the Chateau. Perhaps this would give us one last shot at doing the Tongariro Crossing tomorrow…
After drawing this conclusion, I told Julie the new plan and we headed out. I guess that was the benefit of spending more than one night in a spot so we could evaluate the situation and adjust on the fly.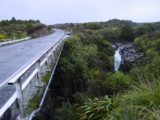 But first, when we headed back down the mountain to the SH47, we drove briefly north in search of what LP labeled Toakakura Falls, which looked to be right downstream from the Mahuia Rapids we thought we saw yesterday. However, when we looked for it, all we saw was a very small waterfall, then a red arrowed pole that pointed right into the bush. Unfortunately, after following this trail and wetting my wants from brushing against all the moist foliage in the process, it didn't seem like finding the falls was going to be trivial (or even possible?).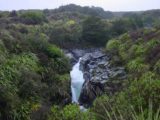 So with that, I declared defeat and then continued on the long driving day.
The long Taranaki loop encompassed a stretch of twisty highway called the Forgotten World Highway. From one of the brochures we picked up at an i-SITE, I had noticed a big waterfall that I had not seen in my research previously and was determined to see it. The directions weren't too specific, but thankfully, it showed up on our Tumonz map in our laptop so we at least had something to go off of.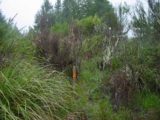 It was 8am when we made it to a township called National Park. Seeing how we were running low on petrol, we waited for the place to open shop before filling up. Then, we headed north to Taumarunui. We didn't linger long in town as we knew we had a long day ahead of us. SH43 headed west from Taumarunui and so we took this road and began our Forgotten World Highway adventure.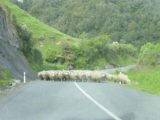 There wasn't a whole lot of literature about this part of the country. Perhaps that's why this section of the Taranaki District could be thought of as the Forgotten World. Anyways, SH43 was a twisty road that could be narrow in places, but it was always two lanes.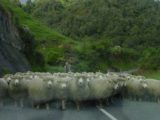 The scenery was predominantly green with patches of remote farmland and some Maori communities strewn along the way. There was also a fairly lengthy unsealed section deep in the stretch of highway as well as a sheep crossing where heaps of sheep were being herded along the highway by some rancher. They actually surrounded our stopped rental car as they passed by us with sheep droppings all over the road.
The drive continued rather uneventfully for another while until we got to an unsealed section of the highway.
When we were about to emerge from the unsealed section of road, we saw a sign for Mt Damper Falls. Encouraged by the sight of this sign, we went into another unsealed road and eventually made it to the car park for the falls at 10am.
The track initially went between some farmland with lots of sheep on it. The familiar sounds of "baahh" were prevalent. Then, we crossed a bridge with a gate that kept the sheep out of the reserve. The trail continued into a shady forest area with some slippery parts of the track as there was some muddy areas. Eventually, the terrain started to open up and we could hear Mt Damper Falls.
As we got closer to a set of stairs leading to its wooden overlook platform, we did notice a tall unnamed waterfall nestled in the back of a canyon. The view of it was distant and blocked by a hill before it so we didn't dwell on it too much.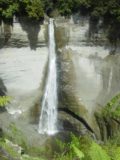 Finally, we made it to the overlook. The falls was about 73m tall and it was every bit as impressive as the brochure I had seen that inspired us to go here. It was 11am when we decided to head back and continue the winding drive down the Forgotten World Highway.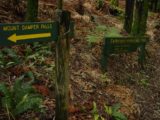 I started to get driver's fatigue as the scenery more or less remained constant. The Moki Tunnel broke up some of the monotony, but we had to drive another couple of hours before we finally arrived in the bustling town of Stratford.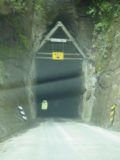 During the drive, we saw more rolling green hills, which was idyllic but also mesmerizing. I was driven by the hope of seeing Mt Taranaki as we approached Stratford. Even though it might have been a false hope, I was still motivated to stay away and keep on the lookout for a place to stop for such a view if it existed.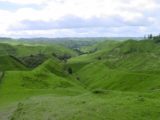 It was 1pm and Julie and I decided to have a lunch here. After the positive meat pie experience in Wairoa, we decided to have more meat pies here.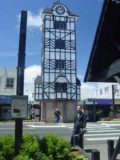 We also paid the Visitor Center a visit. Julie noticed a natural arch on a brochure that I had not seen before on my research so we were determined to see this one. When we found out that it was near Waverley and it was on the way back to Ohakune via Wanganui, we determined to go there.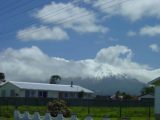 While we were in town, I was a little disappointed to see that we weren't going to get a view of Mt Taranaki from town. For it seemed like there was a combination of cloud cover, plus the town was a little built up and not really meant for taking photos of the mountain from within this bustling part of town. Plus, as we were approaching the town from the end of the Forgotten World Hwy, it didn't look like Mt Taranaki presented itself.
So with our Stratford stuff out of the way, we then had to get to Dawson Falls before moving on, since that was our waterfalling excuse to make it all the way over here.
By now, the weather had improved considerably. There were still clouds that would obscure the otherwise perfectly conical shape of Mt Taranaki. However, there was plenty of sun and warmth. The drive to Dawson Falls took over 30 minutes. The nearly single-lane sealed road up to the Dawson Falls Visitor Center had plenty of blind turns to keep us on our toes.
Finally, we parked at the Kapuni Loop Trailhead and did the brief walk to the falls. It kind of reminded me of a miniature Havasu Falls with its dual side-by-side falls, but it didn't quite have the travertine scenery nor the turquoise calcium-carbonate-rich waters to go with it. Nonetheless, it was a pleasant diversion from all the driving.
Next, we briefly checked out the Dawson Falls Visitor Center, which had some replicas of the way mountain huts were. They looked primitive to say the least, but it was quite interesting. Since we were going to do the Milford Track later on this trip, I had the feeling we were going to be staying in something like that.
We left Stratford at 3pm and eventually made it to the township of Waverley at 4:30pm. We took a detour that headed towards the beach. After some maneuvering to get to Wairoa Beach, we left the car and didn't have to walk far before Julie spotted the sought-after natural sea arch.
"There it is!" she exclaimed.
Unlike the brochure, we showed up during higher tides so we couldn't get close to the arch without going for a swim. However, we did spend time at the nice and secluded beach. For such an accessible place, I was very surprised that we were the only ones there. Anyways, maybe I was just jaded by the crowds in the beaches back in LA.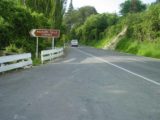 We continued our drive back to the Chateau Tongariro at 5:15pm. We passed through the city of Wanganui, which was quite impressively large. But we didn't linger and headed north directly on SH4. The late afternoon sun was telling us it was getting dark and we had to at least see Raukawa Falls before then.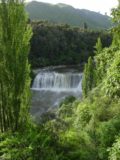 So after going through more twisty and hilly roads, we finally made it to the roadside waterfall at 6:30pm. The falls was already in shadow and we were kind of looking against the setting sun, but it was a memorably wide waterfall nonetheless.
As we made our way back home, Julie and I decided on a whim to have dinner in Ohakune. We already had our fill of the fine dining at the Chateau Tongariro so we opted to try something different for a change.
So we arrived at Sassi's Bistro in the Alpine Motel in Ohakune at 8pm. We didn't expect much out of the humble place, but the dinner was surprisingly good. Julie had some freshwater fish and I had lamb. It seemed like everywhere we went they had mussels and lamb. Still, we liked the food and happily returned to the Chateau Tongariro at 9:30pm.
Before we slept, we hoped against hope for the Tongariro Crossing hike tomorrow and called one of the shuttle companies for a booking early in the morning. Fortunately, someone picked up and told us we were good to go…